---
10 July 2014, 10:00 PM ET, Meriden, CT
Hello there. Time to catch up again. I almost abandoned US1 today. It took me 4 hours to ride 45 miles. I was annoyed. And hot, even though the temperature was lower today. I think the highest speed limit during that 4 hours was 35 miles per hour. I lost the road more than once, it is simply not well marked. I have to keep referring to my smartphone to see if I am still on US1, and if not how to get back to it. I decided to give it another hour, and then decide. During that hour, I made 20 miles, so I have stuck with it so far. This is in the greater New York area. Riding is supposed to be fun. This was not.
I had already decided that my advice to anybody thinking of riding US1 is a definite NO. Maybe ride the parts out in the country, but bypass the parts in cities. Not only is it slow and tiring, it is boring. I would redo Route 66, Route 50, and all the other rides I have done, but NO WAY would I redo US1.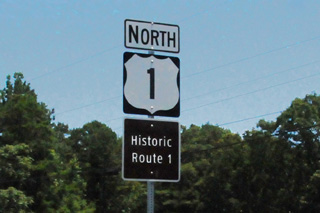 It may be historic. But this ride of mine will also be historic.
While I am on the topic, let me give you the statistics for today. I rode 178 miles, about 85 were on US1. I now have a total of 1,966 miles. I counted 406 traffic lights today. Yes, that is correct, 406.And that was in about 85 miles, almost 5 lights per mile. I have counted 1,673 lights so far on US1.
Before leaving the Thorpes this morning, I had to get a picture of the Hudson River and the Tappan Zee Bridge from their deck. Imagine waking up to this view every morning. The sun was shimmering on the water.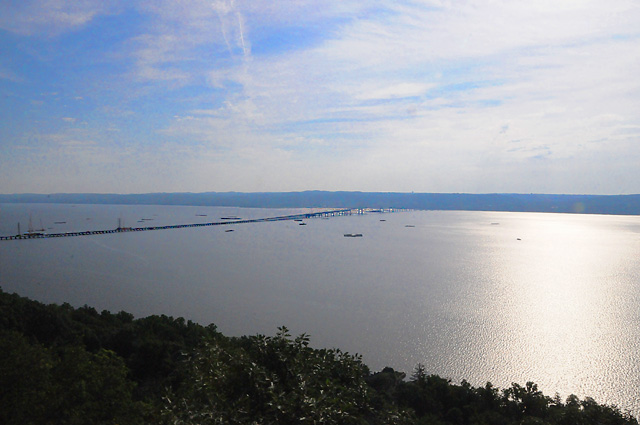 After I left the Thorpes, I headed down the Palisades Parkway to the George Washington Bridge to resume my US1 ride. As I told you already, the next 45 miles was torture. This is not for the faint hearted. If you cannot tolerate being waterboarded, or having your fingernails pulled out, this part of my ride would not be for you.
I finally made it to New Haven and got off US1 to head to Hartford, the capitol city. This picture is the front of the capitol. It looks quite different from any other capitol I have visited in the US.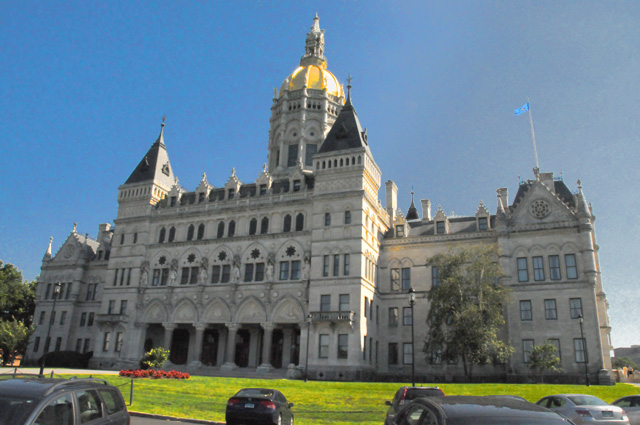 The back of the capitol was in the sun, so I will show you that also.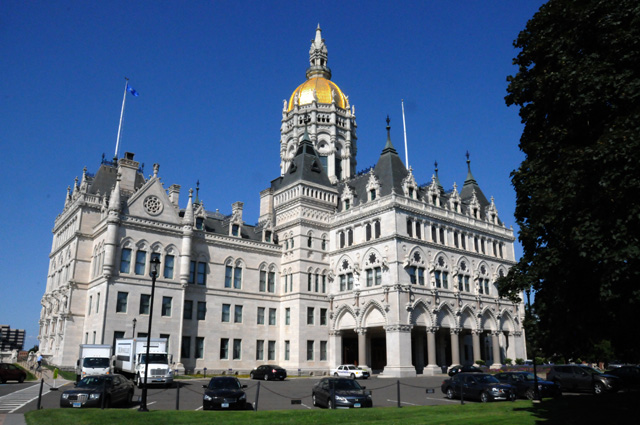 If you wish to compare this capitol to the others I have visited, be my guest on my US Capitols page.
I left Hartford going back to New Haven, but I decided to call it a day. I am about halfway back to US1. In my original tentative schedule, I thought I might be as far as Portland, Maine tonight. Shows how good my planning was for this ride!
---