---
14 July 2014, 10:45 PM ET, Calais, ME
OK, let me deal with some numbers first. Today Kurt and I rode 265 miles. That consisted of riding about 20 miles on US1 to start the day, then 19 miles going back on the same part of US1, then going to Acadia National Park, then going 20 miles on the same part of US1. Yes, you understood that correctly. That 20 mile stretch of US1, we wanted to make sure we would remember it. Here's how that came about. I had wanted to go to Acadia, but didn't take the time before we left to discover that we were already at the turn-off point. So, the 20 miles we rode had to be undone. You get the picture? After Acadia, we went along US1 until we broke off to go to Quoddy Head, the most eastern part of the United States mainland. Then back to US1 to continue riding toward its end. We may make it to the end tomorrow, Fort Kent, Maine. True progress on US1 was about 130 miles as I figure it. I have ridden a total of 2,965 miles so far on this ride. I am not half way yet, so it is looking like it will be 6,000 or more by the time I get home.
How about traffic lights? There were 6 today. Can you imagine that? Only 6. My finger was itching to push the button, but there simply were no more lights to cause me to push the button. About three of those six lights we went through three times, but I promise you I only pushed the button once for each of them. The total number of lights now stands at 2,098. The situation now is that the closest guess was you know who. Too bad that I am not eligible to win the prize.
Now to the pictures, and I have a few more today than I have been showing you the past several days. We'll start with a shot of Kurt on his GoldWing. He is looking out at the gorgeous scenery in Acadia National Park.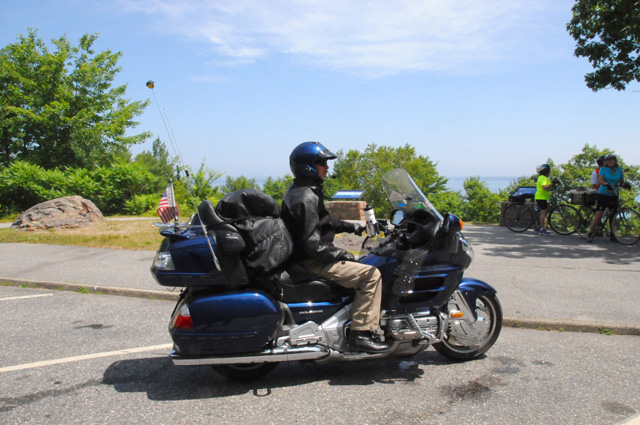 And here's Oscar, the dog of the day.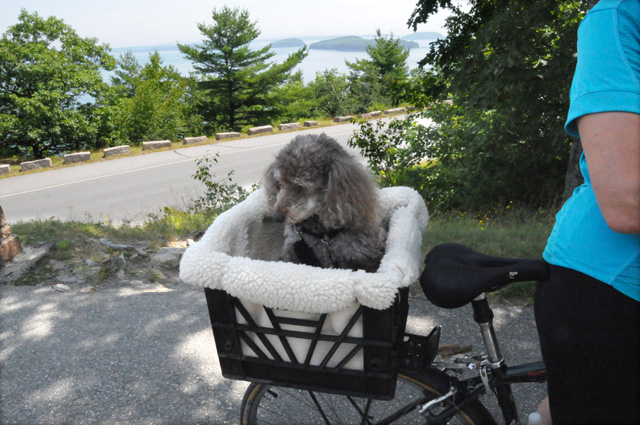 The next several pictures are different views in Acadia.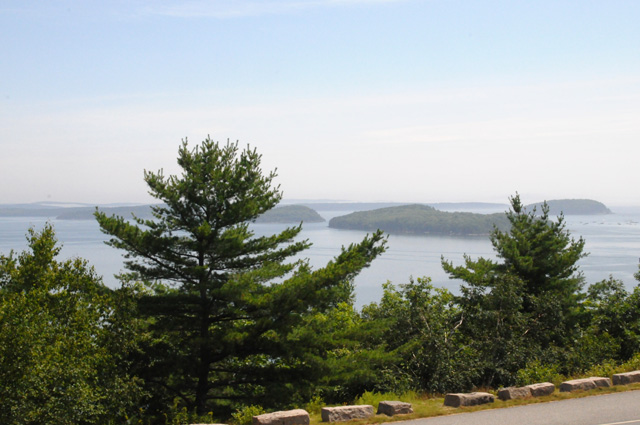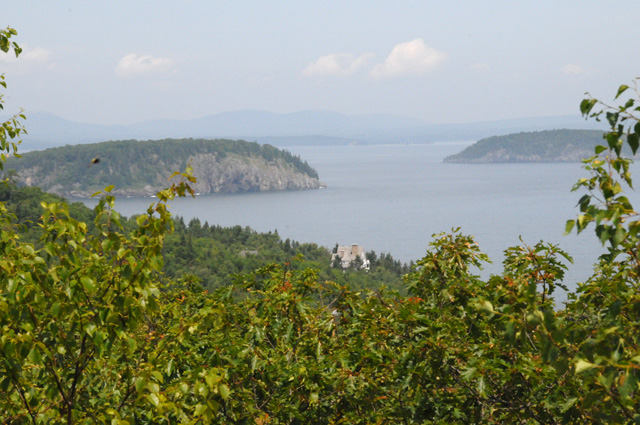 See the cloud/fog bank out there? We had to ride through something like that later, getting to Quoddy Head.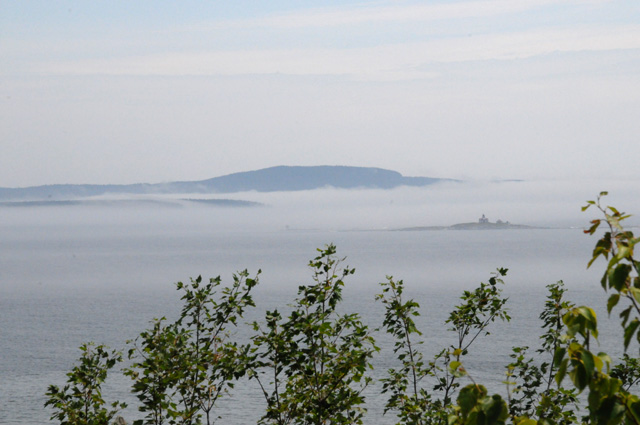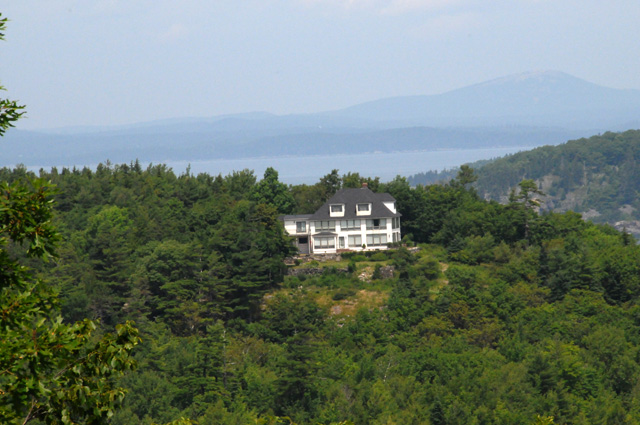 You may recall from some of my previous rides that trees can sometimes capture my mind.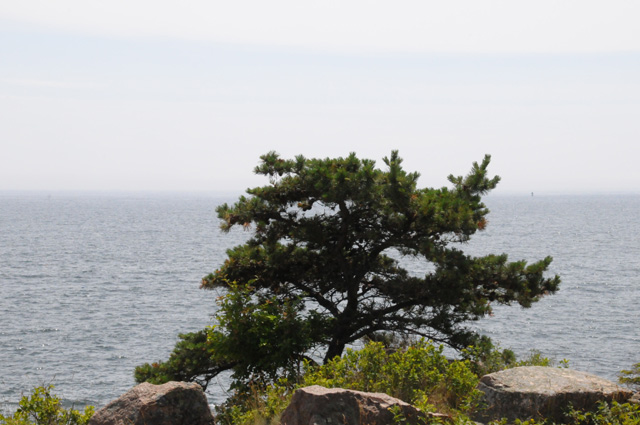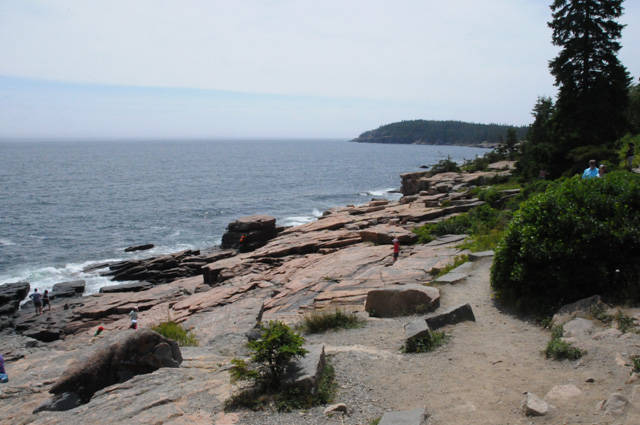 That's Kurt down there.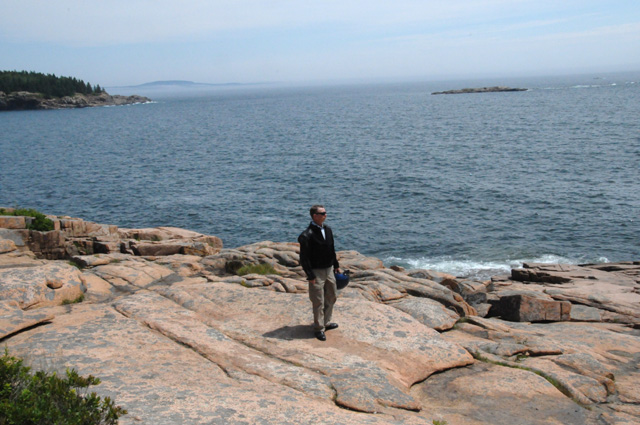 Now we have moved on to Quoddy Head. You can see the fog. The lighthouse, only a few yards away, is almost hidden.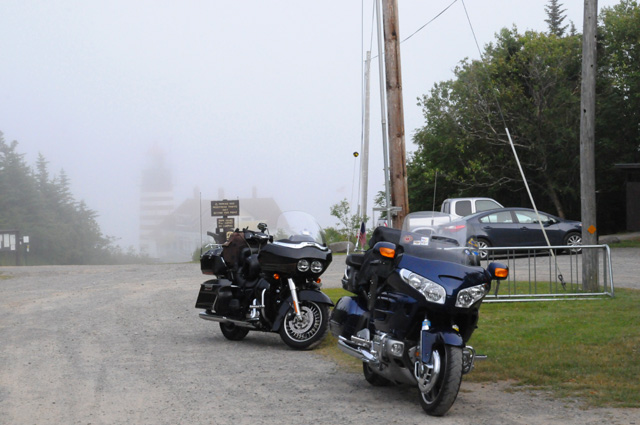 Here's a closer picture of the lighthouse. Still in the fog, but being closer lets you see it better. The temperature here was more than 30&deg lower than away from the coast. Mid 50s versus mid 80s.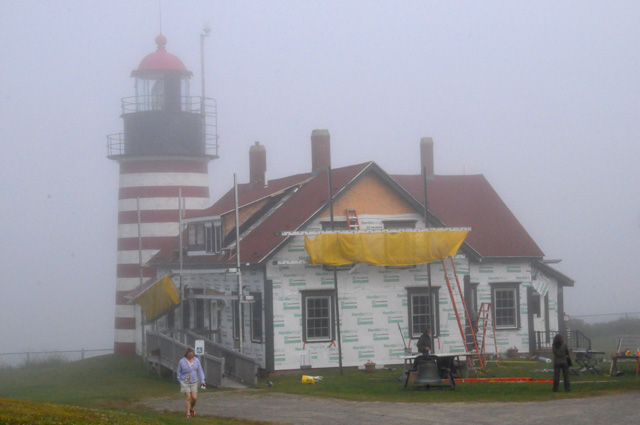 Here's Kurt at the eastern most point of the mainland USA.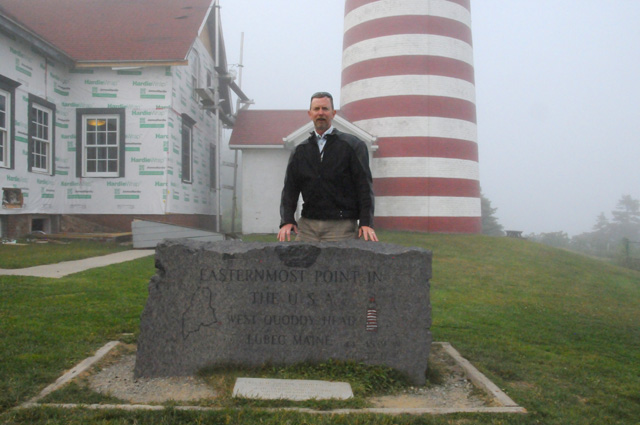 And me.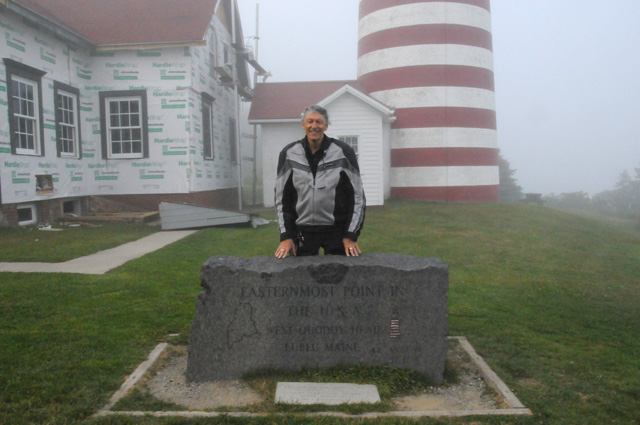 The stone in front of Kurt and me says,

EASTERNMOST POINT IN
THE U.S.A.
WEST QUODDY HEAD
LUBEC MAINE
I'm going to bed earlier tonight, I am tired. Night all.
---