---
24 July 2014, 8:00 PM ET, North Palm Beach, FL
I am home, but not for long. I plan to ride to Key West tomorrow to finish what I started, counting traffic lights on US1. I have not decided whether to count lights on the way there, or on the way back. Because it is about 233 miles each way, it will be a long day. I am inclined to say that I will take my time going and count the lights, then come home fast during the hotter afternoon.
Bentley has convinced me to have a second contest. The winner will get a chocolate shake, just as before. You have to guess how many lights are between Lighthouse Road (not counting that light, because it has already been counted) and the end of US1 in Key West. You don't have long to enter the contest. Get your guess to me quickly. I will releast the count on Saturday the 26th, the day after I go to and from Key West.
Contrary to what I have already told you, I will treat tomorrow as a regular riding day. There will be only one wrap up. I will do that Saturday. There will be no Post Wrap.
If weather seems to not cooperate, I may postpone the Key West ride until Monday. I don't want to do it on Saturday or Sunday, I think there will be too much traffic.
Details for the day are as follows: Miles were 296, total from North Palm Beach up US1 to its end, through Canada, and back south to North Palm Beach were 5,922, which also included a number of side trips, and retracing some roads for whatever ridiculous reason.
The distance from Lighthouse Road to the end of US1 in Key West, staying on US1, according to Google Maps, is 233 miles. Remember that Google Maps said 2,131 from Lighthouse Road to Fort Kent. That makes a total of 2,364 per Google Maps. You may remember that one sign in Fort Kent said 2,390 miles. The monument in Fort Kent said 2,446 original miles. Wikipedia says it is 2,369 miles.
I have updated the map to include the trip to and from Key West. I added arrows to show I went both directions in Florida. The paths were not identical, although they are virtually side by side, one direction was on US1 and the other was on I95.
Now for some pictures. Jim and I had a good visit. We have known each other since about 1985. At that time Jim worked at the FCC and I got to know him because of my work on high definition television standards. I was the Executive Director of the Advanced Television Systems Committee (ATSC). Then in 1989, I believe, Jim also joined ATSC as the Chairman. Jim's job was primarily political, mine was primarily technical and administrative. In 1995 our committee adopted a standard for HDTV, and a little more than a year later, it was adopted by the FCC. Here's the front cover of the standard that ATSC adopted.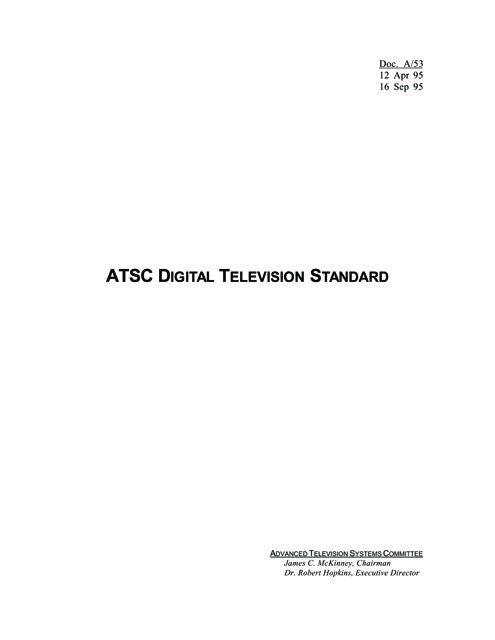 And if you are feeling a bit geekish, you can read the entire document here.
After breakfast, I packed up again, but before leaving we wanted to get a picture.
Jim lives at the Resort Retirement Community of Glenmoor at St. Augustine.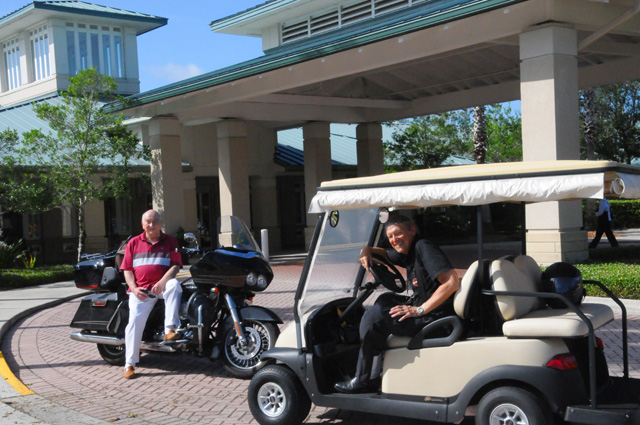 We are in front of the Club House at Glenmoor. We are getting ready for a race, Jim on my bike and me on his golf cart. No question the bike is faster, so we thought we would even the odds by Jim being on the bike. Jim, however, is not a biker. He may not get ten feet. And I am not a golfer, so I don't know how to drive a golf cart. We finally decided the whole idea was foolish and maybe it was time for me to head home.
While Jim may not have any biker stories to tell you, he can tell you about the time that President and Mrs. Reagan surprised him with a birthday cake on Air Force One.
I got ten miles down the road, then realized I left my tripod at the Club House. So I went back and got it. Remember what I said above about miles consisting of some real riding plus retracing some roads for whatever ridiculous reason. This was not the first time on this ride!
After maybe 70 miles, I stopped to take this picture.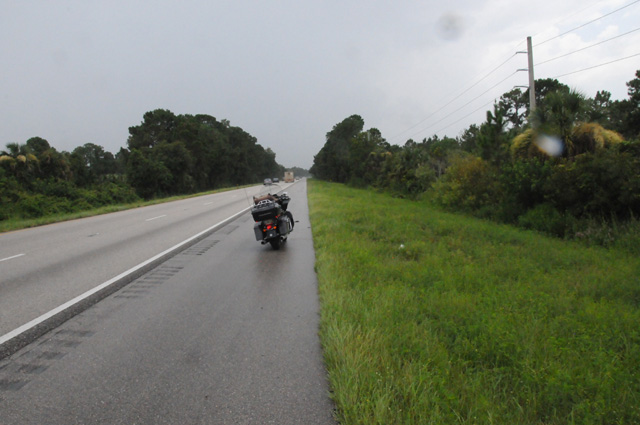 There were two reasons for this picture. One, as you can see, was because of impending rain. You can even see a couple of raindrops on my lens in the picture. I needed to put on my rain jacket.
The second reason is that my poor F-150 (Ford pickup truck) died on this spot about six weeks ago. It was not terminal, it just needed a new alternator and a new battery. To tell you the truth, I have never seen what is in this picture. When the truck died it was 10 PM and pitch black. It took AAA two hours to get a tow truck to us. Here's why. I told them I was exactly seven miles south of Interstate 4 on southbound Interstate 95. How many of you can NOT put your finger on a map exactly where I described? Oh, I see AAA is holding up their hand. That was not clear to them. They did tell us it would be best to get out of the truck and well away from the road because it would be dangerous should a drunk driver hit it. We needed a taxi also because the tow truck could take only me. The taxi driver told us we should have stayed in the truck, there are bears here.
Enough of that. I was in rain three different times today riding down I95. When I got home, with my camera on the tripod I almost forgot at Jim's, I took this picture of Hanna taking a picture of me getting home.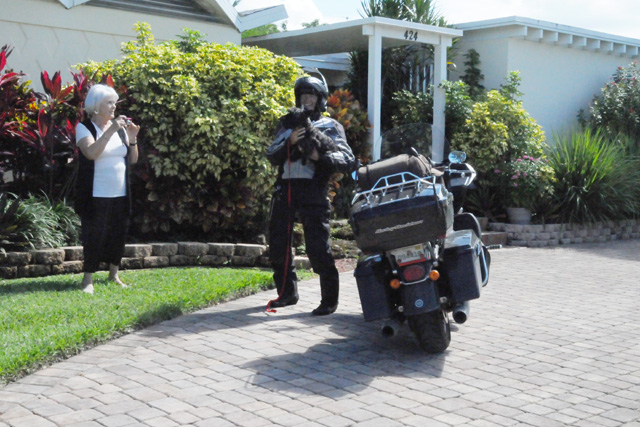 Lest you think Hanna is faking the picture, here it is.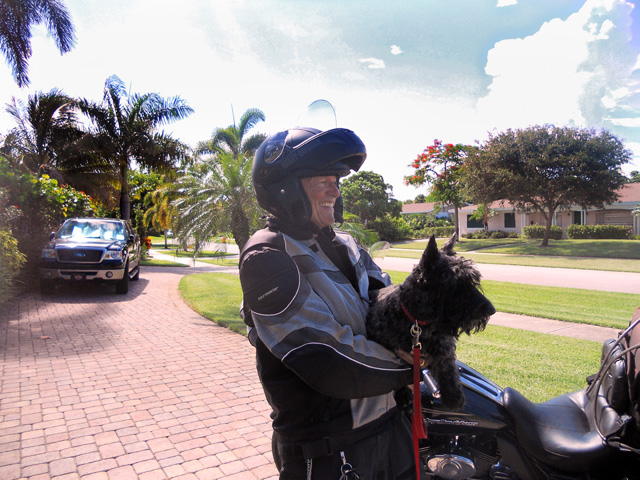 And here's the picture she took of me when I was taking a picture of her taking a picture of me when I left.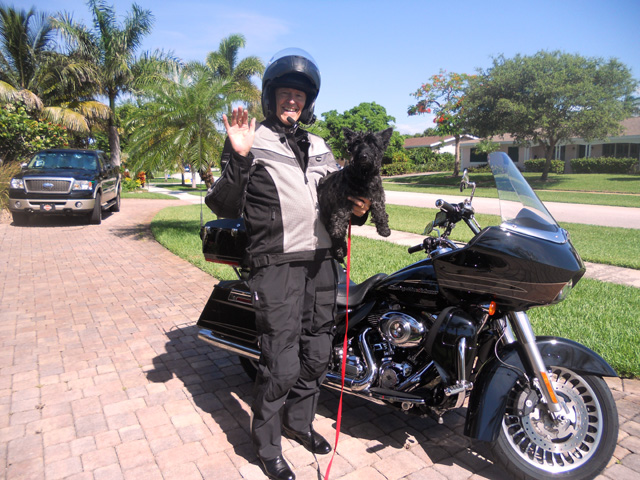 Come back tomorrow and I will tell you about the Key West portion of the ride. However, I will not tell you how many traffic lights there were until Saturday.
---