---
7 July 2013, 8:00 PM CT, Nashville, TN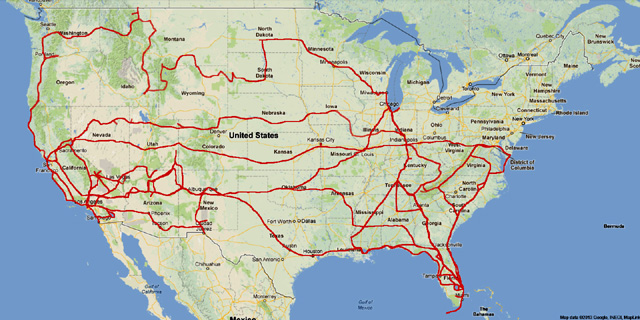 I have started planning my next ride, the US Northeast.
If you look at the map above, I have ridden a bike in every one of the 48 states except Delaware, New Jersey, Pennsylvania, New York, Connecticut, Rhode Island, Massachusetts, Vermont, New Hampshire, and Maine. That is a problem which must be corrected.
That will be my 2014 ride.
This is just an early warning. I will be back sometime later with details. Until then...
---
10 November 2013, 5:30 PM ET, North Palm Beach, FL
Changed - 16 February 2014, 7:00 PM, North Palm Beach, FL
My plans for my US Northeast ride are in process. I plan to ride US1 from North Palm Beach all the way to its end in Maine which I calculate to be 2,131 miles. Then I will ride into Canada passing through Quebec City and Montreal then back into the US.
Riding US1 all the way to its end creates a problem if I don't go into Canada because I have to turn around on US1 for hundreds of miles. By going through Canada it is a shorter distance to Vermont.
My ride will be over 5,000 miles. If I average 200-250 miles per day, that would take 20-25 days. I have made up a rough track (5,044 miles) and schedule (23 days) which is shown on the map below. The red arrowheads show estimated daily stops.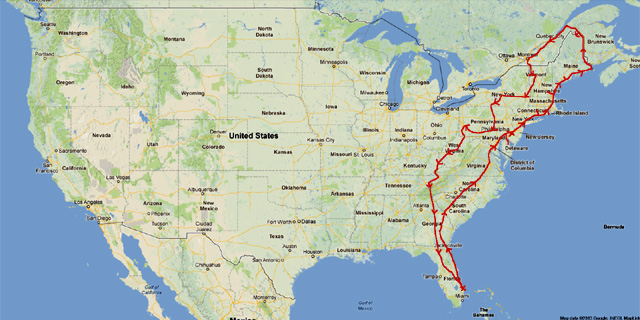 This plan will get me on my motorcycle into the last ten of the lower 48. I plan to ride through each of their capital cities. The next map shows where I will have ridden my bike after this ride is complete.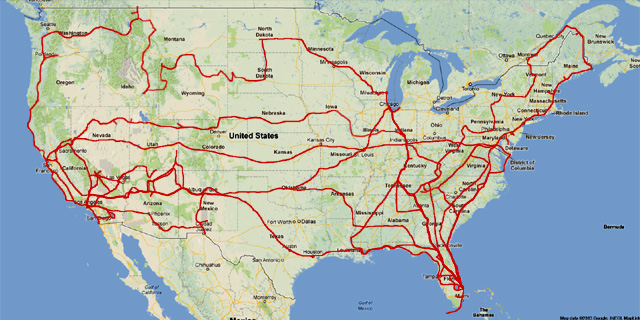 ---
17 February 2014, 11:00 AM, North Palm Beach, FL
Changed - 5 March 2014, 7:00 PM, North Palm Beach, FL
I should have mentioned the date -- my ride will start in late May or late June.
---
19 May 2014, 12:00 Noon, North Palm Beach, FL
I still do not have a departure date -- it looks like my ride will start in late June or early July. Nothing's wrong, it's just been hard to book a 3-4 week period this year.
---
17 June 2014, 3:00 PM, North Palm Beach, FL
Looks like my departure date will be July 2.
---
1 July 2014, 4:30 PM, North Palm Beach, FL
My departure date of July 2 is looking a little shaky at the moment. A storm is brewing off the Florida coast. We have had rain most of the day. The storm is Tropical Storm Arther, and is expected to become Hurricane Arthur over the next few days. The main part of the storm is just off our coast and is expected to move north along the coast - tomorrow night northern Florida. And where do you think I planned to be tomorrow night? Then somewhere along the North Carolina Outer Banks on Thursday night. I was expecting to be in North Carolina Thursday night. So, I may have to slow down a day to stay behind the storm. After North Carolina it takes off and won't be an issue for me any longer. So, I may be off tomorrow, and maybe not.
I am ready to ride, I have done everything I needed to do. Serviced the bike including new tires. Serviced my boots, including new heels. Bought new riding pants. The lining was torn in the old ones and they were no longer water proof. The new pants are Aerostitch. Bought new gloves, made by Raber in Canada. I always wear gloves, I like thin tight fitting gloves with a large gauntlet that captures my sleeves even in the breeze. And I bought a tally counter to keep track of the number of traffic lights on US1.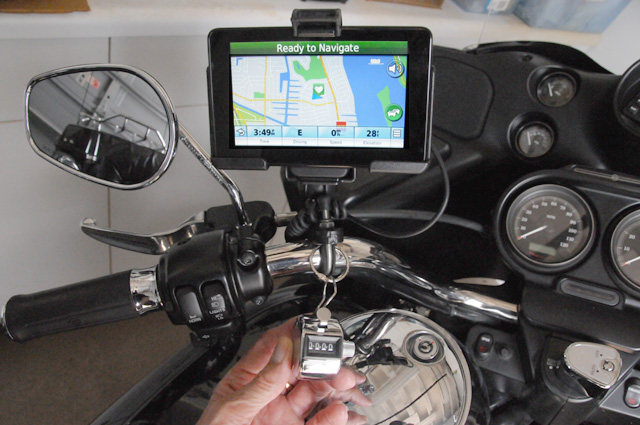 I am holding the counter, it is hanging from the bars with a key ring. I have it set up primarily for my left hand. The right hand will usually be busy with the throttle. I figure I will count the light just before reaching it, not in the intersection. It can get kind of busy in intersections some times. I don't want to count the light after I pass through it, I might forget. After all, my years are such that it happens. I don't want to count it too far ahead, again I may forget and count it two times. I am sure my count will not be precise. So, the contest on guessing the number of lights is not to guess exactly how many there really are, but how many times I push the button on the tally counter. Hopefully they are the same, or at least very close. I will count any traffic light that can be red. A flashing yellow all by itself I will not count. A light at a fire house that flashes yellow but can become red I will count. I am counting lights whether they are red or yellow or green as I reach the light. I plan on telling you how many lights I encountered on a daily basis. So, your guess, to be fair, should be before I start giving you numbers. I may allow a few days, before giving a hard cut-off. Maybe there will be two winners, whoever gave the best number before I give any data, and maybe a second prize for whoever gives the best number after you have seen some numbers. Remember, the prize is a chocolate milk shake.
OK, enough for now, have to watch US vs Belgium. I will write tomorrow even if I don't get away.
---