---
2 July 2014, 9:00 PM ET, St Augustine, FL
I did start my ride today. As I said yesterday (see the page "Prep" on the menu on the left), it was an iffy thing, with Tropical Storm Arthur hovering just off the coast. Looking at the National Hurricane Center site this morning, and looking at radar, I decided I could get off but might run into rain bands of Tropical Storm Arthur. I left home at 10:30 after posing for a picture for wife Hanna. I was waving goodbye while also holding our Scottie, Maggie. Normally Maggie's pink tongue hangs out about an inch, but that doesn't seem to be the case in this picture.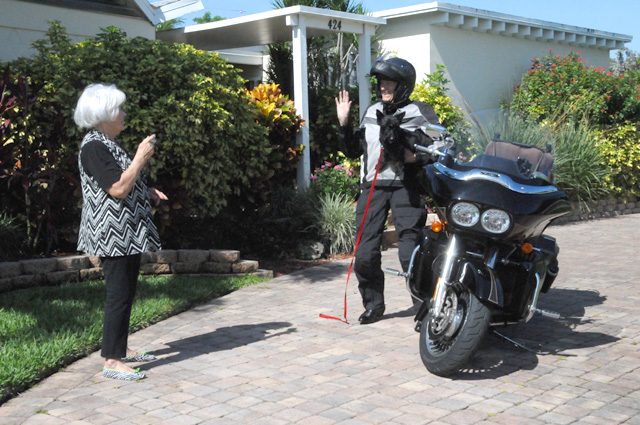 I rode just over an hour, then stopped for a conference call. I often stop at a McDonalds because they have wifi. The picture of US1 below is typical of the Florida "Treasure Coast". You can see the arches on the right.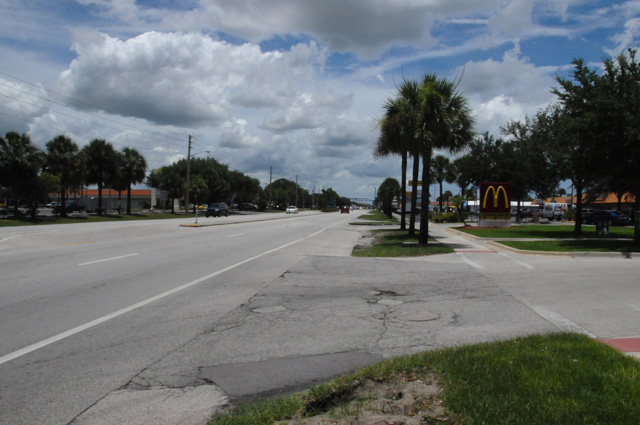 After the stop, I continued north on US1. The sign below is one that I will see hundreds of times on this ride.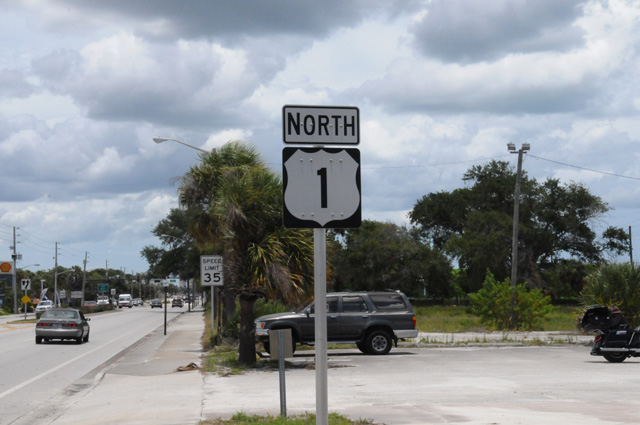 I got as far as Titusville, the sky was looking dark ahead, and it started raining. I quickly pulled into a Mobil gas station and parked directly behind the car of Deb who was in charge of the gas station. Only that one spot was covered by the roof. Thanks, Deb, for letting me park behind your car under the roof. It kept the bike from getting soaking wet. This picture was taken after the rain stopped, and you can see the bike is not wet, while the adjacent parking spots are wet. Thanks again, Deb.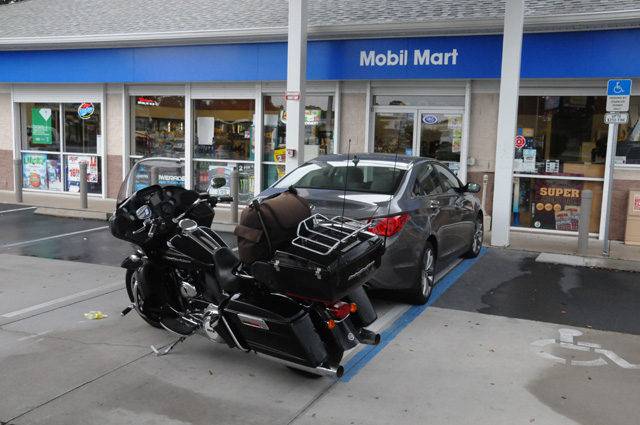 I do ride in rain, but I prefer to sit it out if time permits. Today it did. So I sat it out, having a sandwich while waiting.
After the rain moved on, I continued riding. Somewhat further north on US1, I was taken by how heavy the rush hour traffic was. This picture was taken at 5:05 PM. The cars where whizzing past, but I did manage to get this picture while dodging the traffic. I am looking south, and you can see the storm behind me.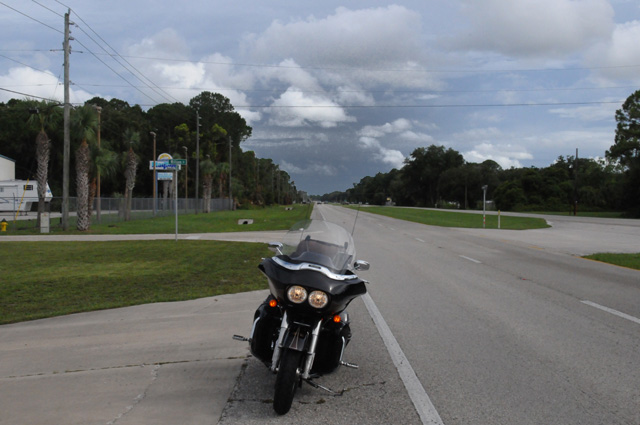 This is Bruce Rossmeyer Harley-Davidson, just north of Daytona Beach. It is quite large. This picture is from the rear, but it was in the sun and the front was not. I didn't need anything done, I just thought the bike would enjoy seeing some of its own kind.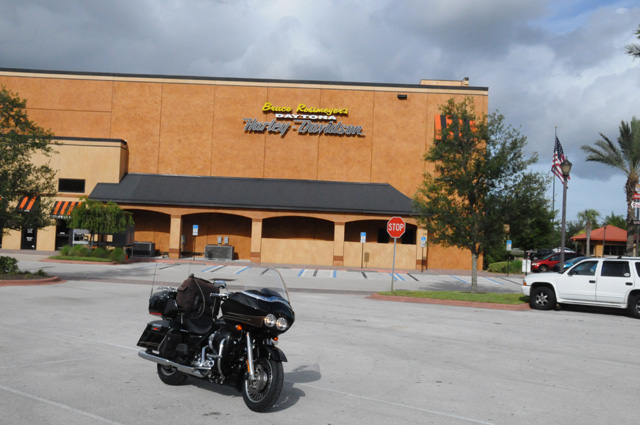 I have stopped for the night. I am at a Best Western on US1 in St. Augustine. When I arrived, I had planned to have dinner at Schooner's Seafood House, about a mile from here. I got my stuff off the bike, and immediately it started pouring rain. So, I decided to not go out for dinner.
Two rain bands affected me today, but neither one got me wet.
I rode 244 miles today, and counted ___ traffic lights. Sorry, I don't think I should tell you how many lights just yet. If you did not already know it, I am counting all the lights on US1 to its end in Maine (see the pages "Intro" and "Prep" on the menu on the left). It is not too late to enter my contest guessing the number of lights.
I will update my map each day to show where I am spending the night (see the page "Map"on the menu on the left). Short blue bars will show where I spent each night. The large blue arrow will point at my most recent location.
That's it for today. Check back tomorrow. I will probably be dodging Tropical Storm Arthur rain bands again.
---