---
I am ready for my next ride. I have been planning it since my ride last year. I will begin by riding up US1 from my home in Florida to the end of US1 in Maine. I will start riding July 2, 2014.
I plan to count the traffic lights on US1. Anybody have any idea how many there are? I will guess that there are 2,131. The first traffic light I will count is at Lighthouse Drive in North Palm Beach. I am sponsoring a contest to see who has the closest guess. Send me an email with your guess. I will buy the winner a chocolate shake. I will count only the lights on US1, not lights on side trips or my return trip. Some enterprising soul may decide to use Street View in Google Maps to count the lights. Please be my guest. It will probably take you longer then me to get the number.
Although I have ridden to Key West in the past, I will go again in the next few months so I can count the lights on US1 south of Lighthouse Drive. I cannot explain it, but I am driven to know how many traffic lights there are on US1 from Key West, FL to Fort Kent, ME.
I am ten states short of having ridden my bike in all the "Lower 48". I will ride through each of them on this trip. That's Delaware, Pennsylvania, New Jersey, New York, Connecticut, Rhode Island, Massachusetts, New Hampshire, Maine, and Vermont. US1 does not go through Delaware, so I will make a side trip from southeastern Pennsylvania into Delaware. US1 does not go through Vermont, so my trip back home will be through Canada to Vermont. Then I will head south with a few zigzags to hit capitol cities that I have not visited on my motorcycle. US1 does not go through all the capitol cities along its route, so I will do side trips to visit them.
In case you did not know, I have been riding my motorcycle through state capitol cities to take pictures of the capitols. You can see my collection at US Capitols.
I have made up a rough track (5,044 miles) and schedule (23 days) which is shown on the map below. The red arrowheads show estimated daily stops.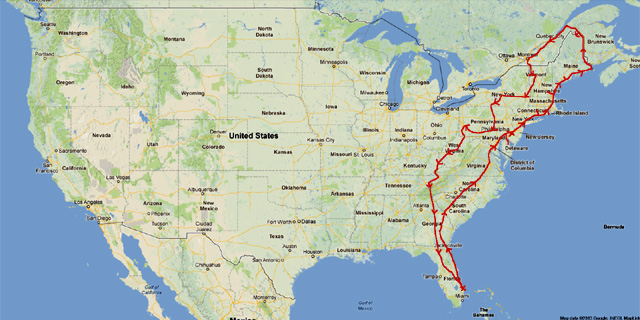 I will do this ride like I have done others, by posting pictures and text every day of the ride. Each day of my journey will be a separate page shown on the menu at the left. You can start at the beginning by selecting the first day, or at the end by selecting the last day. Or, you can have the entire trip on a single page (a long page) by selecting "Single Page". I won't put together the single page until the ride is complete. The little arrows at the top corners and bottom corners of each page will take you to the previous or next page. The map shown near the top of the menu on the left will be updated daily to show my actual track; the small blue bars show where I spent each night; the big blue arrow shows where I am. Any time you go to my travelogue, it will open on my most recent day.
If you are interested in my other motorcycle travelogues, go to the bottom of my home page at http://rhopkins.us/.
---