---
9 June 2013, 9:00 AM ET, North Palm Beach, FL
I'm off. I will be running up the Florida Turnpike until it ends at I-75. I plan to gas up there, the town is Wildwood, and stop at the Steak 'n Shake for a chocolate shake. I can hardly wait.
I was getting ready to go this morning, and suddenly, I felt the bike going forward. I looked back, and Hanna was pushing it, I guess she couldn't wait for me to leave! Or maybe she is tired of hearing me talk about this ride and just wants me to get going and enjoy it. Maggie is licking her chops while wondering, "What the heck is going on here?"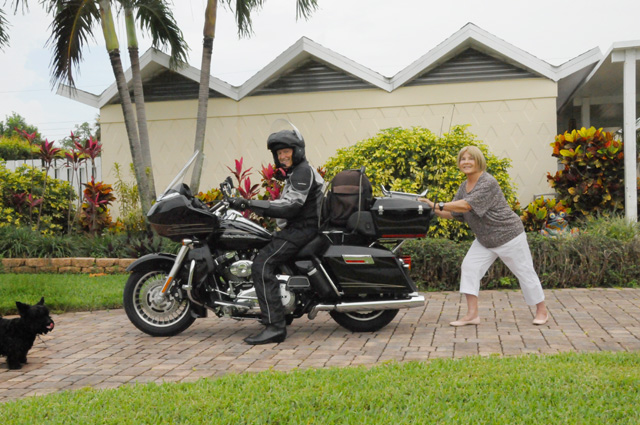 In any event, check back later and I will let you know what else happened today. Weather radar looks good, but we have been having thunderstorms every day here in Florida. Hopefully I will get far enough north before they hit. I may run into bad weather in Georgia. Right now, it looks like the farther north I get the better it will be tonight and tomorrow.
---
9 June 2013, 11:00 PM ET, McDonough, GA
On my way out of town, I stopped at the beach to get a last look at the Atlantic for a while. I will see the Pacific before I see the Atlantic again. This is Juno Beach, same area code as North Palm Beach, just five miles north.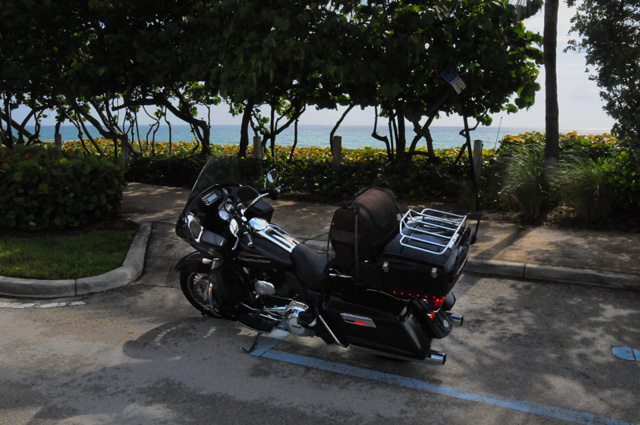 Just as I predicted earlier today, I got gas in Wildwood and had lunch at the Steak 'n Shake. A nice big lunch! The life of a biker sure is wonderful.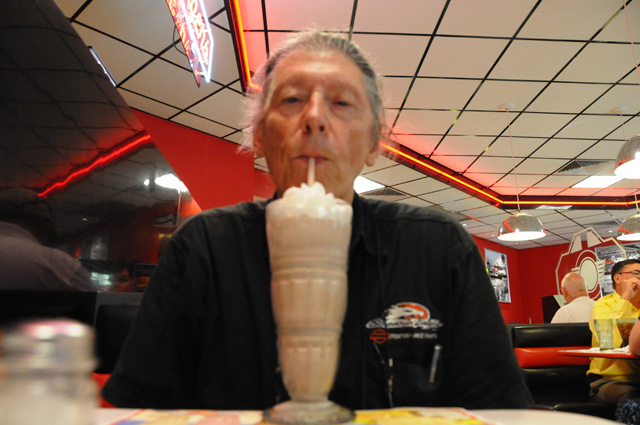 I had more rain today than I did on my entire Route 50 Ride. It started at I-10 and lasted about 40 miles. Some 25 to 30 of those miles were with heavy rain. Traffic slowed significantly. I just followed a yellow 18-wheeler a safe distance back. That made it easier for me, I didn't have to see through the rain, just keep the yellow truck in sight.
Then 60 miles later more rain. This time it was only moderate rain, and it lasted only five miles.
Then maybe another 100 miles later, there was more rain. This time it lasted about 35 miles and was a moderate rain, lasting until my stop for the night.
My motorcycle rain jacket is not working. I am getting soaking wet. It has lost its water resistance. I will get another one as soon as I find a Harley dealer. I stopped at one after the first rain today, but it was already closed. Harley dealers are usually closed on Mondays, so I probably will not be able to get one tomorrow either.
Sorry, no more pictures for today. I leave the camera in the Tour Pack when it rains.
I'll be back with you tomorrow. I am 30 miles south of Atlanta. Atlanta is a state capitol. Some of you already know that I take pictures of state capitols. I have taken a picture of the capitol in Atlanta on a previous ride. Nonetheless, my rule says I have to take another one if it is a different trip. So that will be my first stop tomorrow.
I rode 574 miles today. That may be a one day record for me. I will have to check.
---