---
10 June 2013, 12:30 PM ET, Cartersville, GA
Another rainy day. I have been in rain all morning. I took refuge at a McDonalds with a chocolate shake. I feel much better already. Fortunately, I may be finished with rain today. It looks good where I am going -- to Chattanooga and Knoxville. I have changed my plan. I was going to go northeast into the mountains to the Tail of the Dragon, but it is still raining in that direction and I don't want to be on curvy mountainous roads in the rain.
I stopped at the Georgia State Capitol in Atlanta. It was raining a little, so I made it as quick as I could. I had to ride around the Capitol and surrounding streets several times to find a place to park. It was only sprinkling when I parked, it was beginning a moderate rain as I pulled out of the parking spot. The Capitol is surrounded by close buildings, so it is hard to get a good picture. This was taken with a wide angle.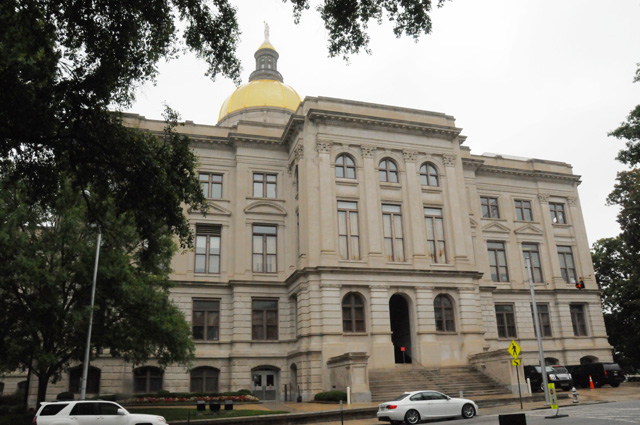 Before going to the Capitol, I went to Harley Davidson Clayton County in Morrow, GA, just south of Atlanta. Thanks Ralph for finding a close-by open-on-Monday Harley dealer for me. They didn't have a rain jacket in my size, normally a Large, I had to settle for a 2XL. They had to search in the back to find that. Otherwise I would have had to get a 4XL. The only advantage to such a large rain jacket is when you are riding 2-up, you wouldn't need a second jacket.
Here's a picture of my new rain jacket.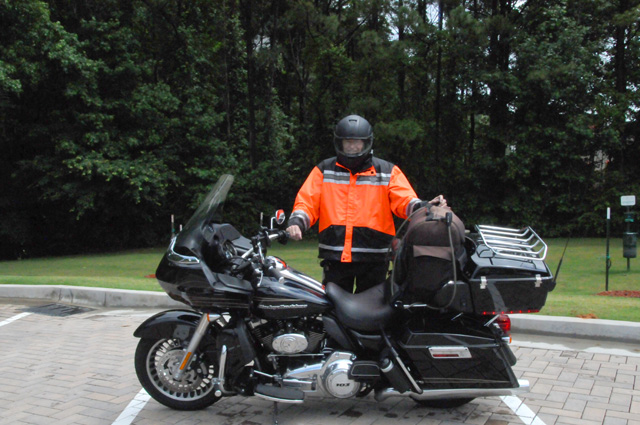 For comparison, here's my regular summer jacket. It has armor and lots of holes in a mesh fabric to stay cool. The rain jacket is like a windbraker, I put it on over the summer jacket.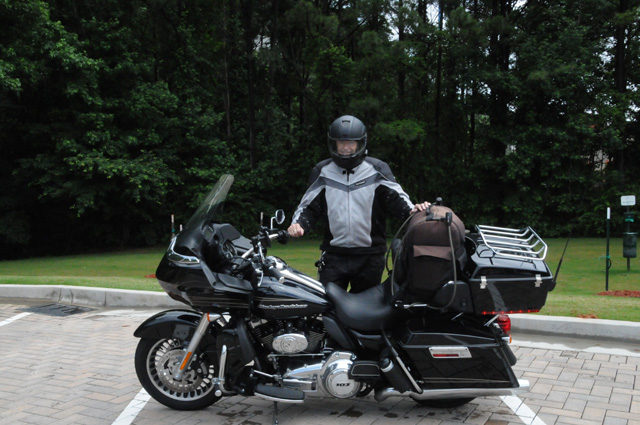 The jacket pictures were taken at the McDonalds. You can see the sun was shining. I will add more this evening. Bye for now.
---
10 June 2013, 10:00 PM ET, Knoxville, TN
I don't have much to add, no new pictures. I did stay dry after lunch. It was a busy day although I rode only 243 miles. I made two long stops during the day, plus I already knew where I wanted to spend the night. As I said earlier, I abandoned my plan for Tail of the Dragon because of weather. I am close to the Dragon, though. Only 50 miles away. If the weather is good tomorrow morning, I will go backwards 50 miles, then forward 50 miles, then on to my next evening stop which will be Pikeville, KY. That's very close to where I was born.
If you take a look at the map on the menu on the left, you will see two blue lines on the map. That's were I was each night. I will update that daily, so you can always tell where I am on my ride. Notice how the red path goes south from where I am tonight and then it ends -- that's the Tail of the Dragon. If I don't do that tomorrow, that little red path will disappear! I update the red path depending on what I actually do. If you had looked at the map last night, you would have seen the red line running from Atlanta to the Tail of the Dragon. That's not what I did today, I went through Chattanooga, so I changed the path to reflect what I did, not what I planned.
Why did I change my route today -- because of the rain. I much prefer to ride an Interstate in rain than a regular road. As far as I am concerned, it is much safer. If the weather is good, and I do not need to get a lot of miles, I would rather be on a regular road.
Talk to you again tomorrow. Good Night.
---