---
19 March 2013, 6:00 PM ET, North Palm Beach, FL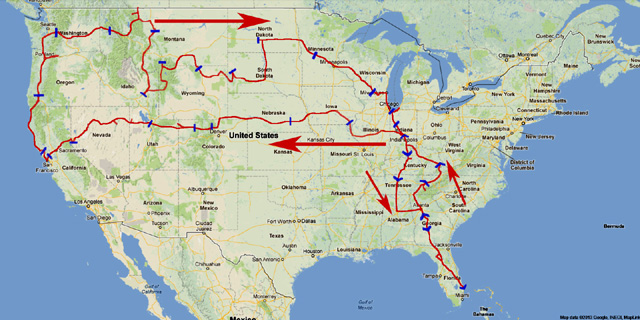 I have started planning my next ride, the US Northwest. I will ride from North Palm Beach, FLorida to San Francisco via Indianapolis, then north on CA1. I want to see the Columbia River Gorge, Mount Rainier National Park, Glacier National Park, the Going-To-The-Sun Road, the Beartooth Highway, Little Bighorn Battlefield, Devils Tower, Crazy Horse Memorial, Mount Rushmore, and the Badlands. I will visit several capital cities, Atlanta, Nashville, Indianapolis, Des Moines, Lincoln, Cheyenne, Salt Lake City, Salem, Olympia, Helena, Pierre, Bismarck, St. Paul, and Madison. Then I will return to North Palm Beach, again through Indianapolis stopping at Purdue along the way.
I have been in every state except North Dakota, South Dakota, Nebraska, and Iowa. I plan to take care of that on this trip.
Nothing is definite yet, including a date. I am thinking of May 2013. I don't want to be too early in the year because there are high mountian passes, and I don't want any snow on the road. I don't want to be too late because it starts getting too hot in June, especially on the ride back to Florida.
I would plan to ride about 500 miles a day if I am on Interstates, otherwise 200-300 miles a day. The trip will be more than 8,500 miles.
I will do this ride like I have done others, by posting pictures and text every day of the ride. Once I start the ride, each day of my journey will be a separate page shown on the menu at the left. You can start at the beginning by selecting the first day, or at the end by selecting the last day. Or, you can have the entire trip on a single page (a long page) by selecting "Single Page". I won't put together the single page until the ride is complete. The little arrows at the top and botom of the page will take you to the previous or next page.
---
25 March 2013, 12:00 PM ET, North Palm Beach, FL
Slight change in plans, I will stop at Purdue at the beginning of my trip, not the end (I may stop both times!). I met with the Head of Purdue's School of Electrical and Computer Enginnering this morning, Dr. Balakrishnan, and learned that the semester will have ended before I make my way back home. I would rather visit when school is in session.
---
25 March 2013, 3:00 PM ET, North Palm Beach, FL
I am continuing to look at a schedule for the ride, and I have discovered that portions of the Beartooth Highway are expected to be closed until about Memorial Day. If I want to ride the entire Beartooth Highway, I will have to start my ride mid-May or later. Also, the Going-To-The-Sun Road is expected to have portions of the road closed until about June 21, or perhaps even later. If I want to ride 100% of the Going-To-The-Sun Road I will have to delay the beginning of my ride until the second week of June. I don't think I want to start the ride that late. I will have to think about this!
---
31 March 2013, 1:30 PM ET, North Palm Beach, FL
I am still looking at my schedule. I have decided that I want to ride the Going-To-The-Sun Road. It seems to me that it does not make sense to schedule my ride when I know I cannot ride that road! So, my tentative plan is to leave North Palm Beach around the 7th to 10th of June. If the weather cooperates and I make no further changes in my general plan, I would arrive back in North Palm Beach sometime the first week of July, probably late in the week.
That means I will visit Purdue when regular semester classes are not in session. Purdue will be in Summer Session, on both ends of my ride, so maybe things won't be completely dead.
As I mentioned already, this ride will take me through the rest of the states that I have never visted before. I am setting another goal at the conclusion of this ride, to ride my bike in all the "Lower 48 States". And I plan to take care of that on my next long ride, to the US Northeast. Only one problem -- Michigan. Therefore, I HAVE to visit Michigan on this ride. I will be within 40 miles of Michigan when I hit I-65 on my return, so I am sure you can guess what I will do. A side trip!
Another destination I have added to this ride is the Columbia River Gorge.
---
16 April 2013, 4:30 PM ET, North Palm Beach, FL
I have added another destination, Trail Ridge Road, the highest major roadway in North America. Trail Ridge Road is in Rocky Mountain National Park, about 100 miles northwest of Denver. Eleven miles of this highway travel above the treeline, near 11,500 feet. The high point is 12,183 feet elevation.
---
24 April 2013, 12:30 PM ET, North Palm Beach, FL
I have made a rough schedule for my ride. Because I do not ride to a schedule, this is only a best estimate of where I will be each night. Obviously it will get less accurate as the ride unfolds. I expect to leave home about the 8th or so of June. I will not decide for sure on a start date until sometime in early June when it looks like the Going-To-The-Sun Road will be cleared of snow by the time I get there. On the map below each small open arrowhead shows my best guess of my location after I leave home. Each arrowhead is one day. I have circled the 7th and 14th and 21st and 28th nights. You can click on the map for a larger image.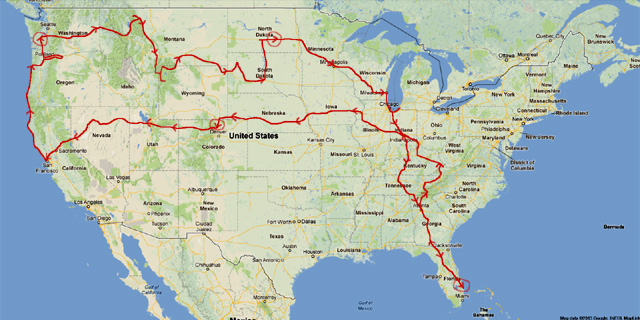 I forgot to mention that I have a new bike. I was starting to have some problems with my other bike (Harley Electra Glide Ultra), and I decided that I did not trust it to take me on this 9,000 mile trip without problems. I now have a Harley Road Glide Ultra.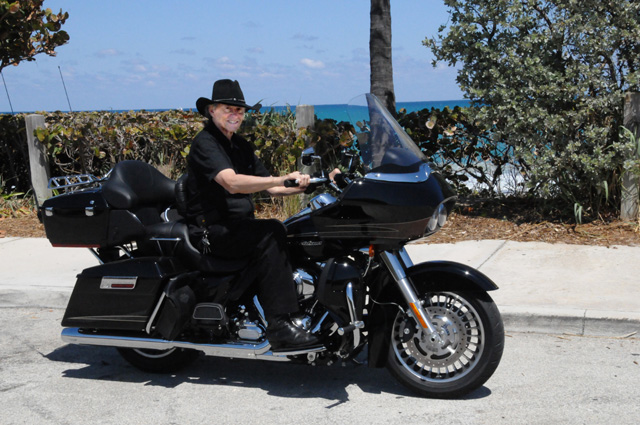 ---
4 May 2013, 3:30 PM ET, North Palm Beach, FL
Today is Kentucky Derby day. I am sipping a Mint Julip and thinking about all the motorcycle rides I have taken. Here's a composite of all the rides I can remember, including what I am planning to do on this ride.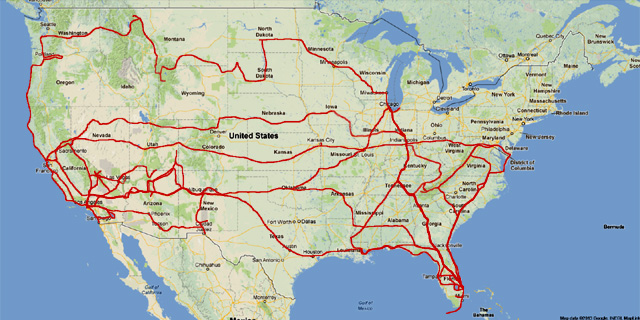 ---
19 May 2013, 11:30 AM ET, North Palm Beach, FL
I continue to check road conditions so I can set a departure date. I am following conditions on the Trail Ridge Road, on the Beartooth Highway, and on the Going-To-The-Sun Road. As of today, they are saying that Trail Ridge Road is scheduled to open May 24, that Beartooth Highway is scheduled to open June 14 (normally they say Memorial Day), and that Going-To-The-Sun Road could be accessible for its entire length on June 21, the nominal date. There should be no problem with Trail Ridge Road, it will open before I leave home. Beartooth Highway should open before Going-To-The-Sun Road, so no problem there because I will reach Going-To-The-Sun Road first. It is Going-To-The-Sun Road that will determine my departure date. My rough schedule says it will take 16 days to reach Going-To-The-Sun Road, so the earliest OK departure date would be June 5. However, I don't trust that date. The opening date for Beartooth Highway is two weeks later than normal. If the Going-To-The-Sun Road opening is delayed for two weeks, it could be early July before it opens, and that would require a departure sometime after June 15. So, as of today, my departure date will probably be sometime between June 5 and June 15, more likely closer to June 15.
---
22 May 2013, 3:45 PM ET, North Palm Beach, FL
I just received an email from "Friends of the Beartooth All-American Road". Plowing of the entire Beartooth Highway is complete. The entire road will open at 9:00 AM on Friday, May 24. So much for the June 14 prediction! Maybe I can stick to my earlier plans leaving closer to the 5th than the 15th.
---
2 June 2013, 2:30 PM ET, North Palm Beach, FL
My tentative departure date is June 10.
---
7 June 2013, 2:15 PM ET, North Palm Beach, FL
My departure date is now Sunday June 9.
---