---
3 July 2013, 11:59 PM CT, Merrillville, IN
We start tonight with another quiz. Does anybody recognize this house?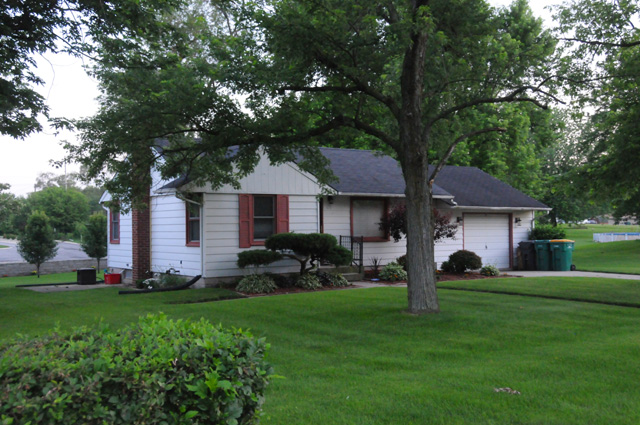 There are very few of my readers I would expect to recognize the house, maybe none. The dateline at the top of the page might help.
The next few days I will be seeing things from my past, about 50 years past. I hope I don't bore you, but so be it. Tomorrow I will arrive at Purdue. I received a BS from Purdue in 1964. I have been back a few times, but this time I will be there for a longer time that I have been before. One week after my graduation from Purdue I was married (the first of two marriages, the mother of my children). This house was where my wife's family lived during our sophomore, junior, and senior years. Here's a picture of the house in 1965, scanned from one of my 35mm slides.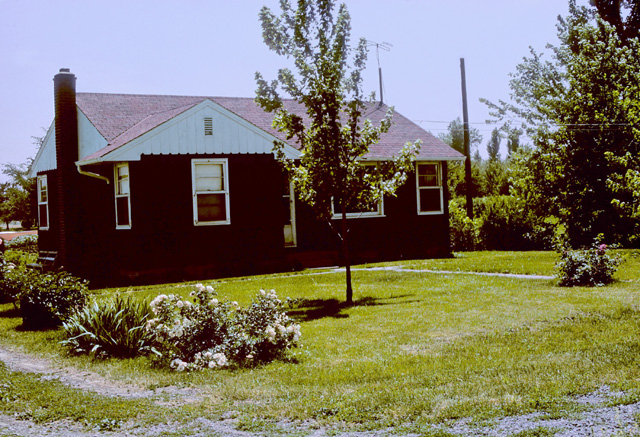 The color has changed, it has a garage now. The tree in front of the house is much larger. And there is a house next door where only fields were in 1965. But the basic house is still there. This is Merrillville, Indiana. I am at a Best Western just off I-65, the Interstate than runs from Gary, Indiana to West Lafayette, the location of Purdue.
It was a rainy day. A miserable rainy day. Leaving Madison, I did not wear my rain jacket. A few miles down the road I put it on. Then the sun came out and I got hot so I took off the rain jacket. Then the sun disappeared and it looked like rain would come any moment, so I put it back on. And the rain did come. I was unable to read my GPS and I needed it to find the Harley-Davidson headquarters and the museum in Milwaukee. I suffered through all that, and then more later. I had to go through Chicago to get to Indiana. Tomorrow is a holiday. Traffic was terrible, and there was the on and off light rain. I was averaging about 1/10 mph on the Interstate. My bike gets hot under such conditions. So hot, that I decided to abandon riding and go to a McDonalds. I did not get a chocolate shake, I already had my daily allotment at the Harley-Davidson Museum. So I had a Coke. After a long wait, I tried riding again. And I abandoned it again. I should have gone around Chicago, through Iowa I suppose. Again I found sanctuary at a McDonalds. Again I resisted the temptation and did not have a chocolate shake. If I had not been strong, I might have had three today! This time I studied traffic from an NBC web site and found that I should go all the way to Lake Michigan on surface streets, and then south staying close to the Lake. I rode down Michigan Avenue, past the beginning of Route 66 at Adams and Michigan. That worked well enough, By 7:00 PM, I was south of downtown and traffic was moving on the Interstate. Here's what downtown looked like just a few blocks before I got there.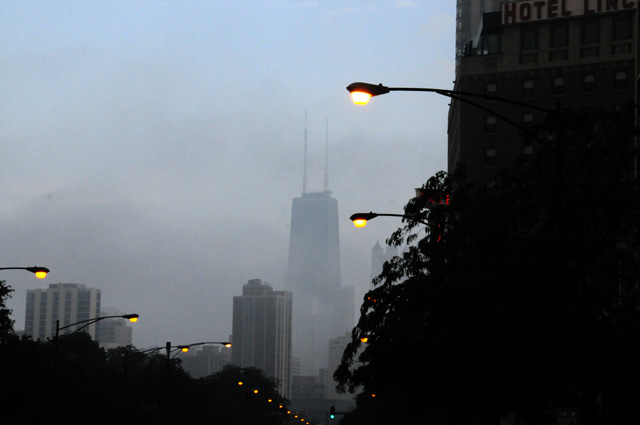 Here's the Harley Headquarters in light rain.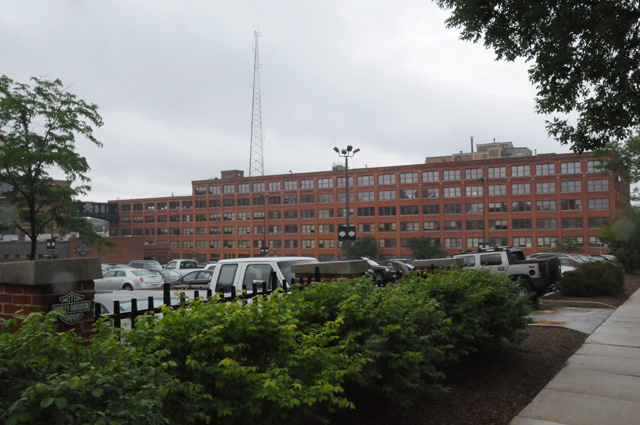 And the Harley Museum under a dismal sky. They are about five miles apart.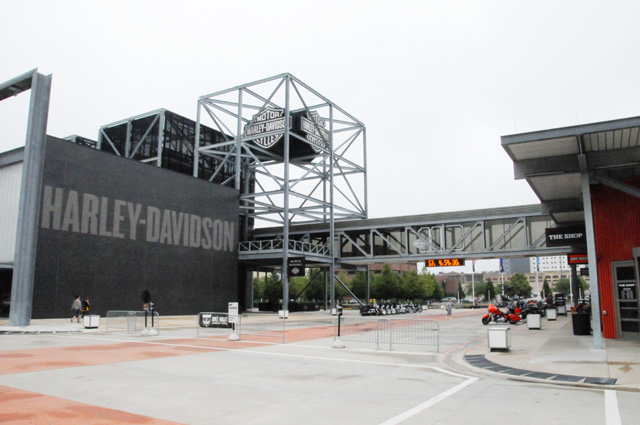 All that's left now is to show you some pictures from the Harley Museum. Here goes.
Here's the first Harley, serial number 1.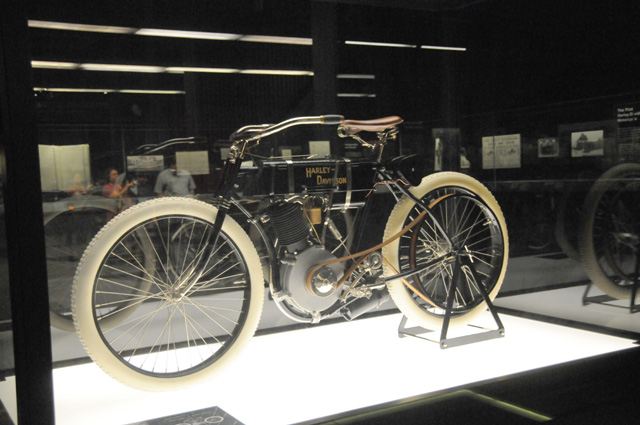 These are Harleys.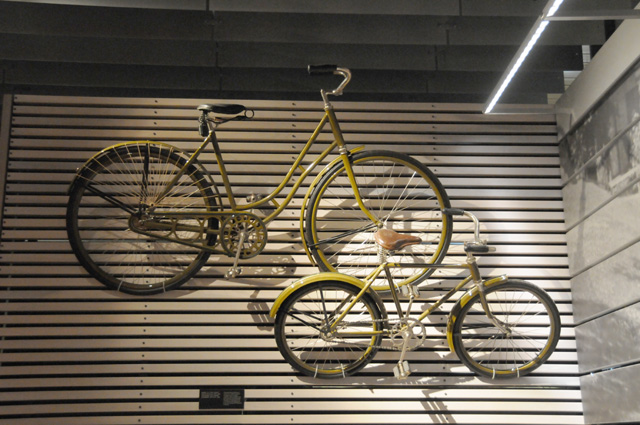 Here are both sides of a 1936 Harley Knucklehead, and a picture of the motor. In many ways, this was a modern bike, or maybe I should say that today's Harleys try to capture the feeling of this bike.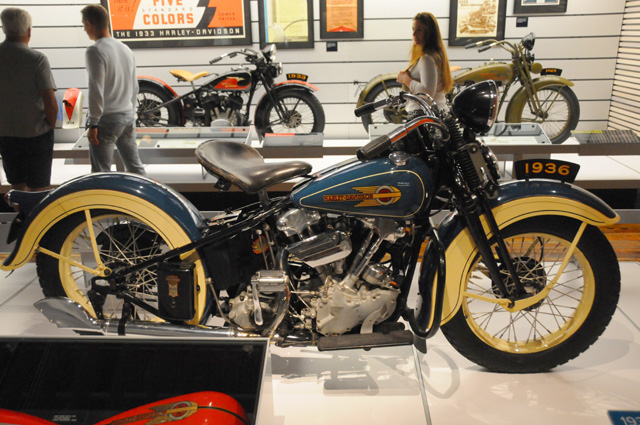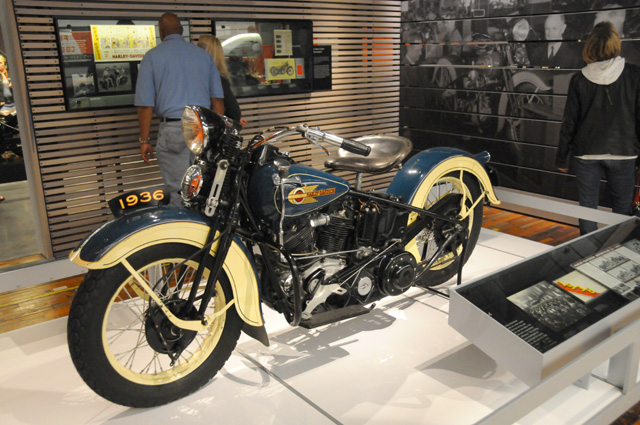 This is a prototype three-wheeler from 2006.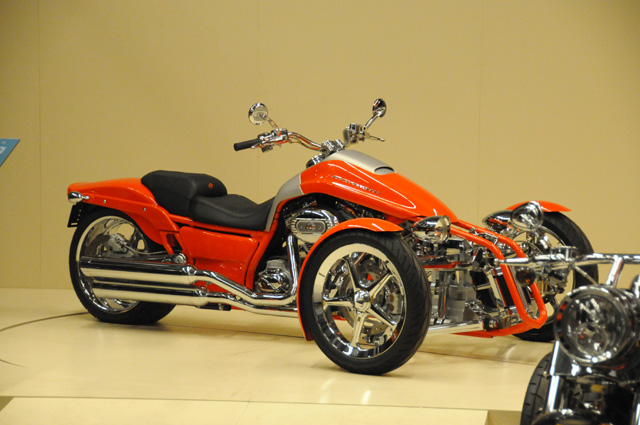 This is a design mock-up three-wheeler from 1999.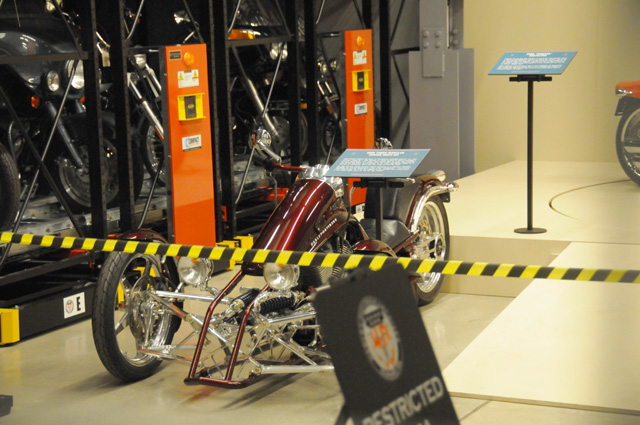 Reproductions of the Billy Bike and Captain America from "Easy Rider", a Columbia Pictures film.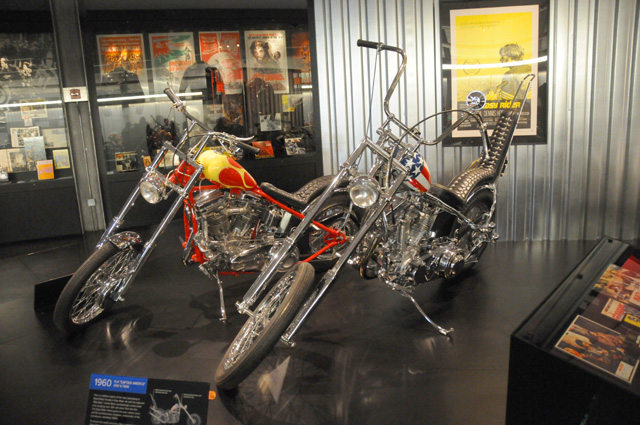 I rode 257 miles today. Well below my average. But it still was late when I finally got to the Best Western. I must get my life in order. That's it for tonight. Tomorrow is a side trip into Michigan so I can say I have ridden my bike in Michigan and then on to Purdue for two nights.
---