---
5 July 2013, 11:30 PM ET, Purdue University, West Lafayette, IN
I am still at Purdue. I had a busy day, and ended up being more tired than when I ride all day. I took a two hour nap this evening! I have not had one single nap on my ride until today! So there for all you people who think riding all day is tiring! I get more tired when I don't ride!
As I predicted a couple of days ago, today was a time to relive old memories.
Let's get to the pictures. First is the Electrical Engineering Building. I would call it the EE Building. I had many classes here. Today the department is called ECE for Electrical and Computer Engineering. When I was a student, computers were part of EE, but a small part. There were no personal computers. There were no work stations. There were a few main-frame computers scattered around the country. I did some programming as a student. We used a language called Fortran. We would type the lines of our program and they would be punched into index cards about 3 inches by 6 inches. Those cards were called IBM cards. Then we would submit the IBM cards to the computer people who would run them overnight and give you some papers the next day showing the results of your program run.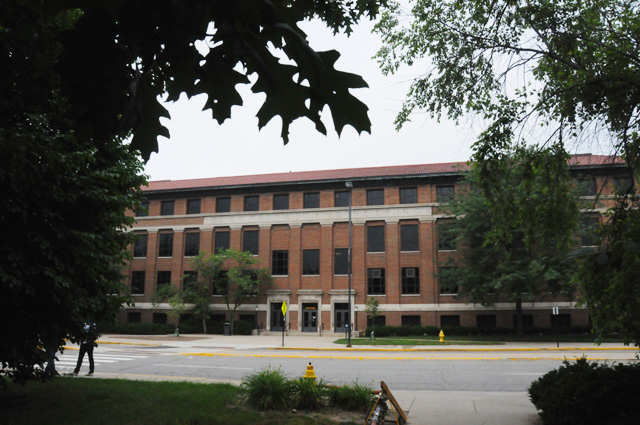 When I was a student, there were two tall towers on the EE Building, supporting a wire that hung between the two towers. That was an antenna for a radio station. The towers were removed in the 1980s.
Next picture is the Physics Building. I had many classes here also.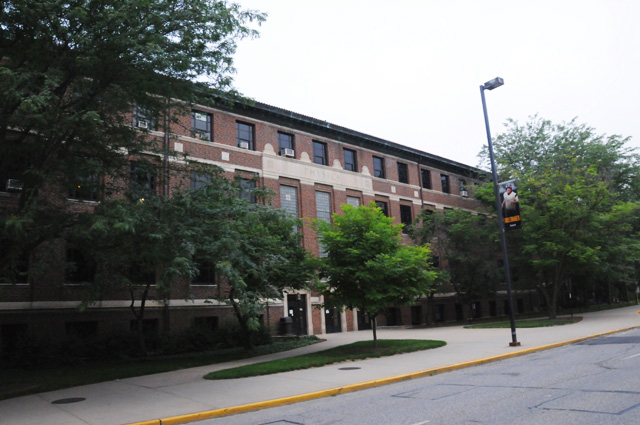 The EE Building and the Physics Building were a few hundred feet apart, and the engineering mall was between them. You could see all the way down the mall to the Hovde Administration Building with a fountain in front. Here's the Hovde Building with its new fountain, which was running today.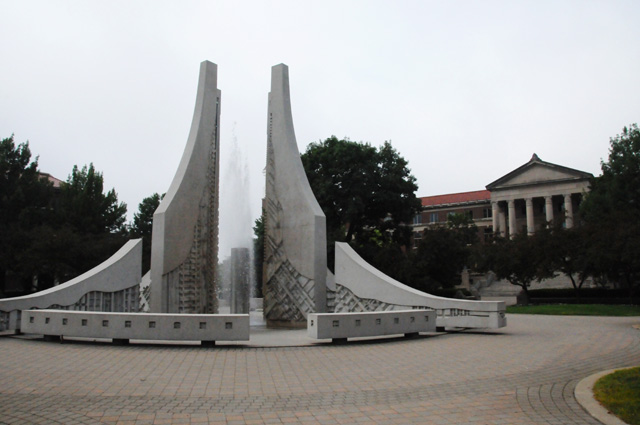 The fountain in front of the Hovde Building when I was a student is the fountain I showed you yesterday that I said had been moved. Today the fountain was running, here's what it looks like with water. Much better.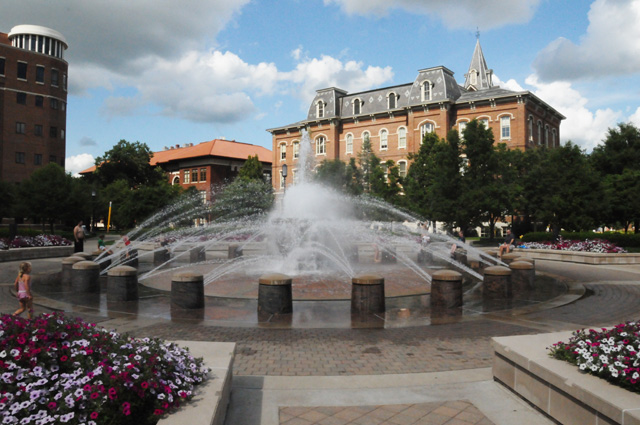 I went to the EE Building at 9 AM to meet with Julia who was going to show me around the EE Building as it is today. On the way to meet Julia, I stepped into the lecture hall and grabbed a picture.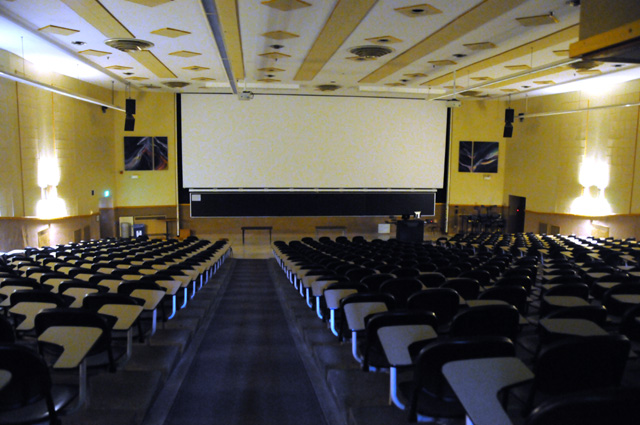 I had a number of classes in this room. Normally a full Professor would give a lecture on the topic of the course, and this would happen a couple of times a week. Then the rest of the week you would meet in smaller classes with a Teaching Assistant, normally a graduate student, for an informal discussion of the topics from the lecture.
Julia was taking me to the area where there used to be a big motor lab, a lab I remember well, but a lab that was removed not long after I left Purdue, and I saw pictures hanging on the hallway wall that showed EE classes from the past. I had never seen these pictures. Immediately I wanted to see mine, from 1964. Here it is.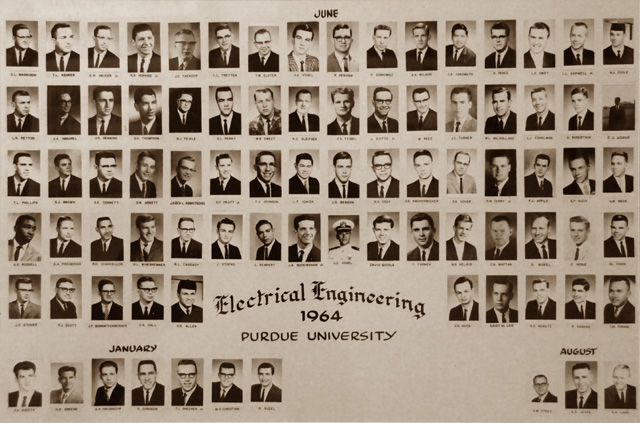 That's me on the top row, the fourth from the left. If you click on the picture you will see a high resolution copy.
After much more discussion and exploring the EE Building with Julia, we headed to the Sweet Shop. That's what I call it. Today they call it Pappy's. The full name is "Pappy's Sweet Shop". What I cannot remember is whether that was its full name back in the early 1960s. I never knew it as Pappy's, only as the Sweet Shop. Among other things, the Sweet Shop serves chocolate shakes. Here's Julia and me getting ready to enjoy our chocolate shakes as soon as the picture is taken. We could hardly wait!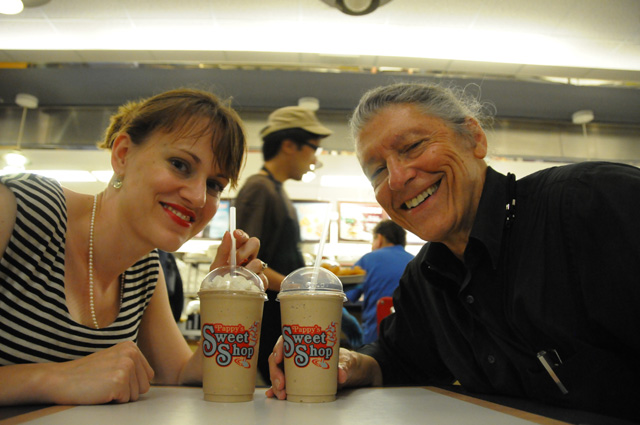 Here's a part of the Sweet Shop that looks familiar to me. I think this is sort of what it looked like when I was there.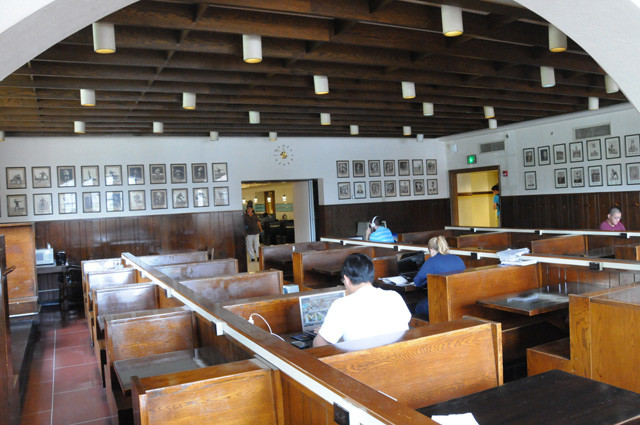 Here's another part of the Sweet Shop, rather Art Deco. I don't remember that. Maybe it was that way, but I remember it more like the picture before.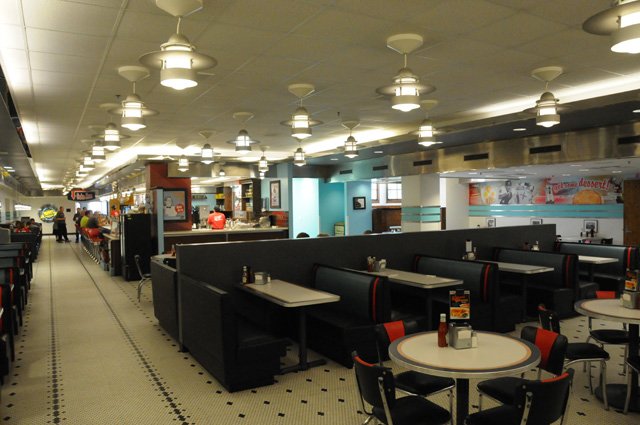 After Julia and I finished our shakes, she headed back to the EE Building and I headed out to explore other areas.
Purdue was a land-grant college. When I was a student, ROTC was required at land-grant colleges. I was in Air Force ROTC. This picture is the Armory. We often marched around inside the Armory.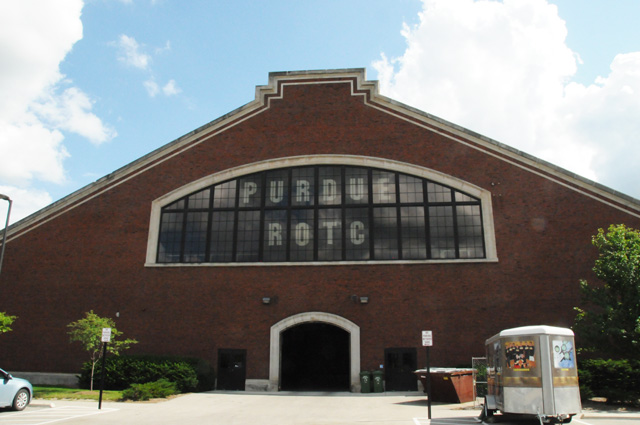 Here's a look inside the Armory.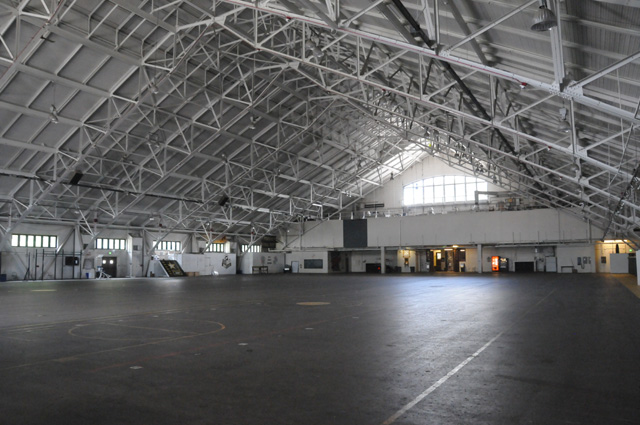 Another part of student life was studying. And I did a lot of that. I had come from a very small country school, 22 students in my class, and I was enrolled in a difficult curriculum. I had to study a lot. This building is the Stewart Center. It has a library inside, with lots of floors. I would often study in the library. There were some small glass-enclosed rooms with a table and four to six chairs. The lady who was to become my wife and I would often meet here in one of those rooms to study.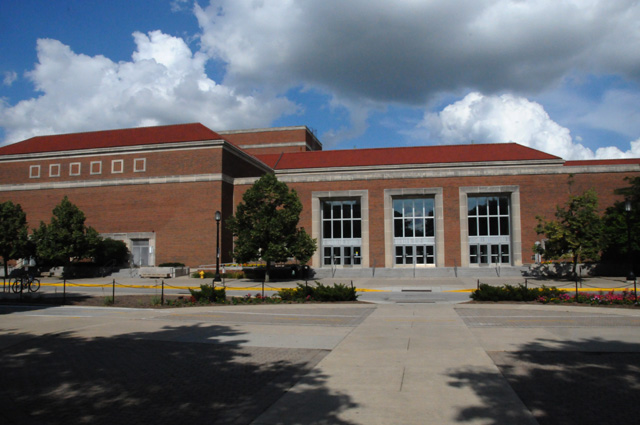 There is a mural at this entrance to the Stewart Center.

To see the mural in higher resolution, click on the picture. The mural was done by Eugene Francis Savage in 1961. It is titled "Spirit of the Land Grant College". The mural was a gift of Mr & Mrs R B Stewart and Mr & Mrs W Scholer. R B Stewart is the person for whom the Stewart Building is named. I knew him. He was an executive at Purdue, and had become a member of my fraternity when he was a student.
During my freshman year at Purdue I lived in a dorm called H2. There were three buildings shaped like the letter "H", and I was in the middle one. This is H2 in the picture below. My room was on the third floor on the left, just about where the tree is.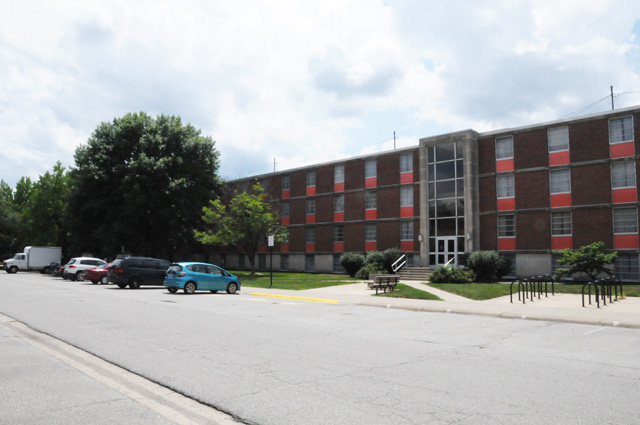 At the end of my freshman year I pledged the fraternity Alpha Chi Rho, or AXP. Here's the fraternity house. I went there today and walked through the house. Some of the guys could not believe there was an alumi from 49 years ago visiting.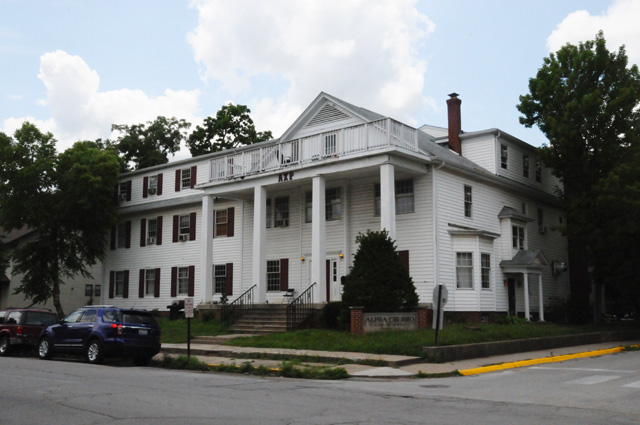 During my Purdue years I often went to the Baptist Student Foundation. During my freshman year it was a regular house, it was replaced with this building when I was a sophomore.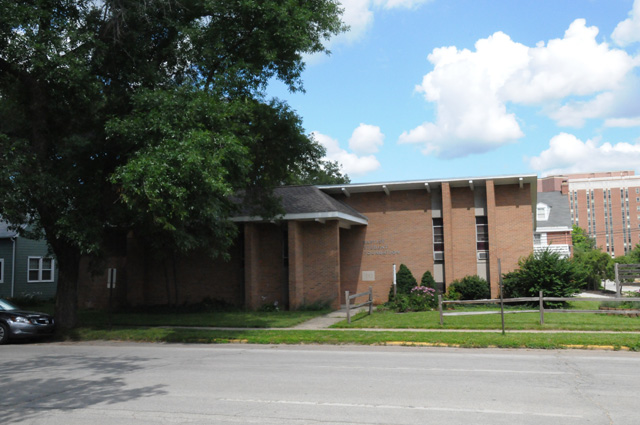 I mentioned my first marriage a day or two ago, here's the church where I was married. It was new in 1964, and I believe our marriage was either the first or second in the church. It looked the same as it did 49 years ago.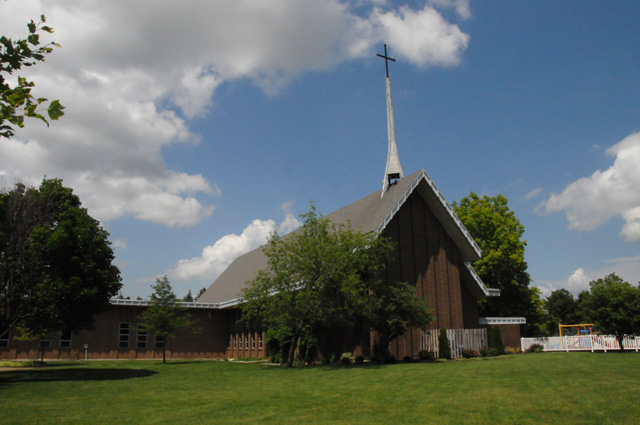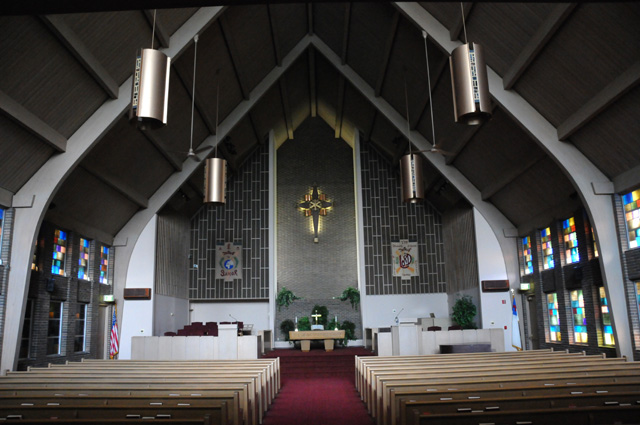 This is a new building on campus. Named after a famous alumni.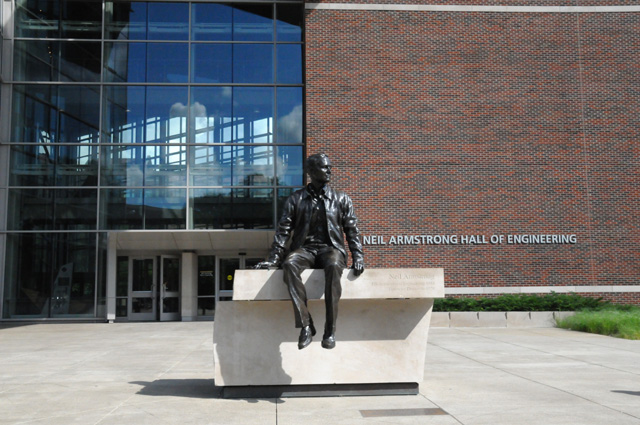 And here's the Sigma Chi house for any of you who may be or know a Sigma Chi.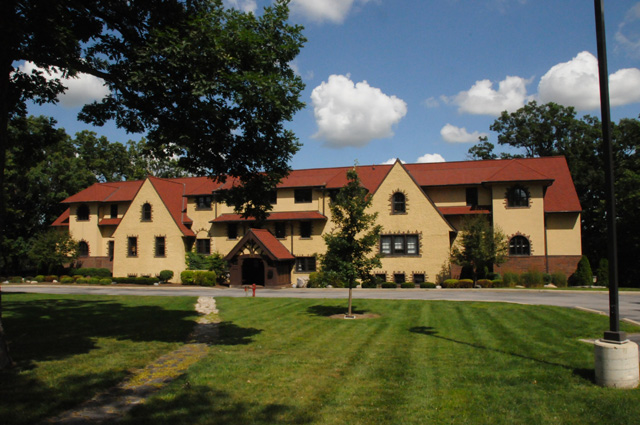 Tomorrow I will be off again. I have been on the road almost a month, and stayed somewhere different every night except for two times, in Salt Lake City and here at Purdue. I will get back home on Tuesday. I rode 32 miles today exploring the area. I have 9,562 total for the ride. I don't know if I will reach 11,000, it will be close. We'll have to wait and see.
---