---
6 July 2013, 11:59 PM ET, Louisville, KY (actually Clarksville, IN very near Louisville)
Today was another rainy day. I left Purdue, and within ten minutes it was raining. I saw sprinkles on the bike before leaving. I was in two different showers on the way to Indianapolis, with very light rain between the showers. I was in Indianapolis for about two hours, and that was dry.
I returned to downtown Indianapolis for two reasons. First was to meet Dean over a cup of coffee. Thanks for the coffee Dean. We have corresponded a number of times with email, but we have not met in person until today. Some time ago, Dean found my Route 66 Travelogue on the Internet and that's what started our discussions.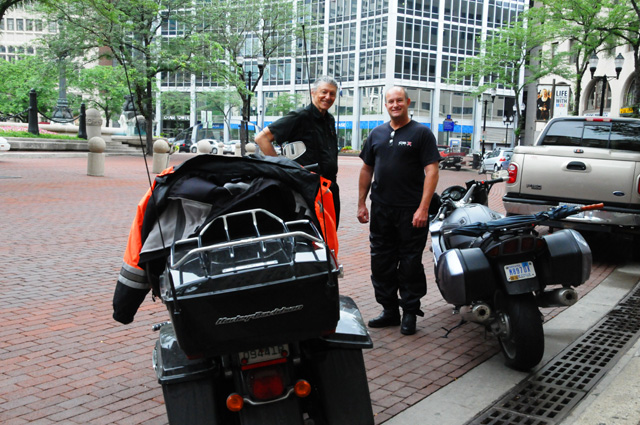 Dean pointed out to me these bears who work so very hard to keep the lamps up that surround the Soldiers and Sailors Monument.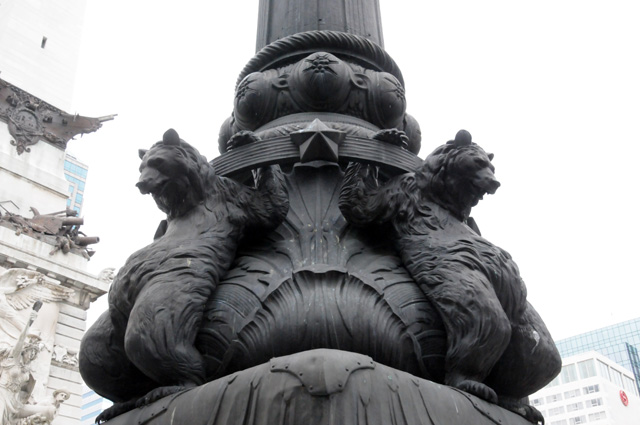 And that leads me to my second reason for returning to Indianapolis. After I was in Indianapolis earlier on this ride, Charlotte told me by email that her father's name was engraved there. I decided that I would find his name on my way back home. It turns out that names are not engraved on the Soldiers and Sailors Monument. The names are at the Indiana World War Memorial. Dean led me there on our bikes and we asked for help. Eventually, we found the name. But first, you have to see the Memorial just as we did. Here's the outside.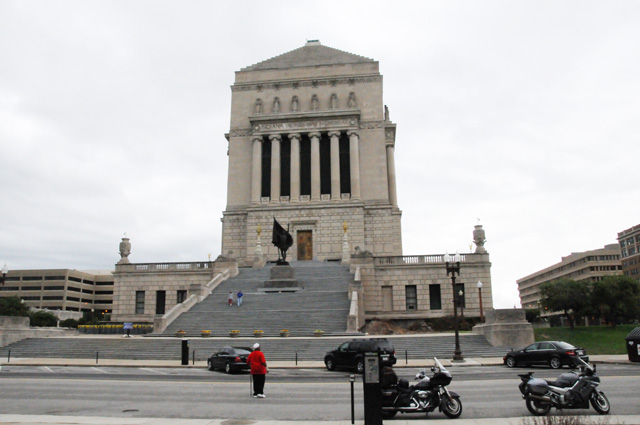 And this is inside the Indiana World War Memorial.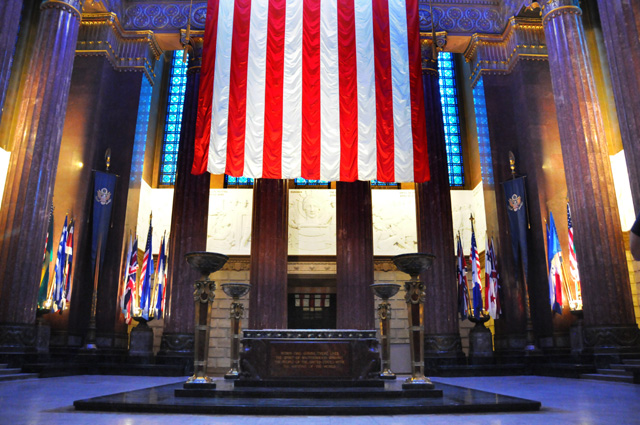 This last area is up some steps (actually many steps) and all along the steps up both sides of the Monument are large frames holding names of World War I Army and Marine Corps Veterans from Indiana. Here's one of those frames. Click on the picture to see a high resolution copy. Look at the fourth column, the fifteenth name from the bottom. You are looking for Charlotte's father, George P. Dennerline.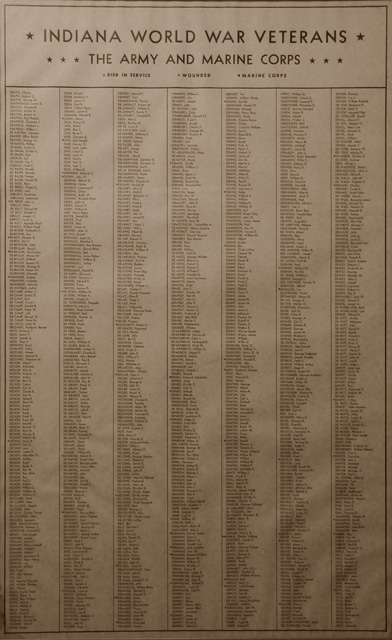 To make it a little easier to find the name, here's a close up photo of only a few names.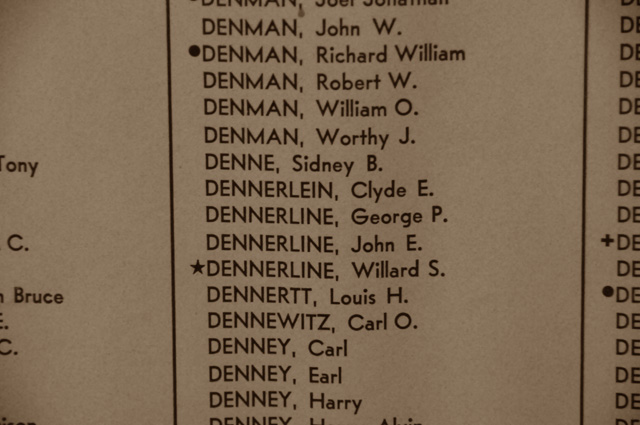 After a couple of hours, I had to leave, and I endured constant rain almost immediately after leaving downtown Indianapolis that lasted until I reached Columbus. Then it was dry the rest of the way.
I had another appointment. In southern Indiana, near New Albany, I met Phil for the first time. The story is the same as you heard just a few pictures ago. Phil and I have corresponded since Phil found my Route 66 Travelogue and got in touch with me. Phil and I had a chocolate shake. Thanks for the shake Phil, I needed it.
I think it is really cool to be able to put pictures and stories of my rides on the Internet and have strangers find them and get in touch because of similar interests.
Thanks Dean and Phil for getting in touch with me.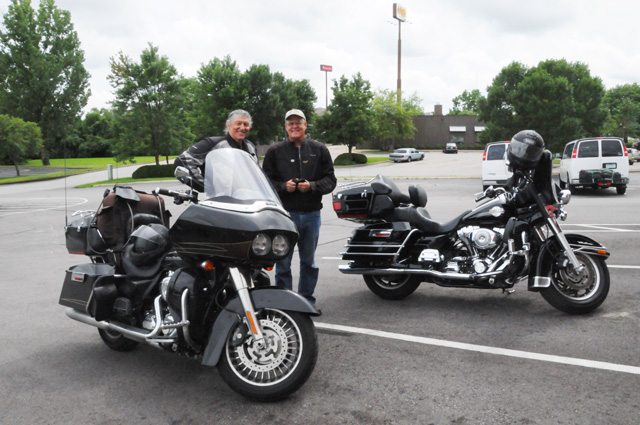 I had only five more miles to ride, and Phil rode ahead of me because it was on his way back home. I had to get ready for dinner. My two brothers and sister and various nieces and families and a sister-in-law and I would share one more meal before I went home. We went to a Texas Roadhouse.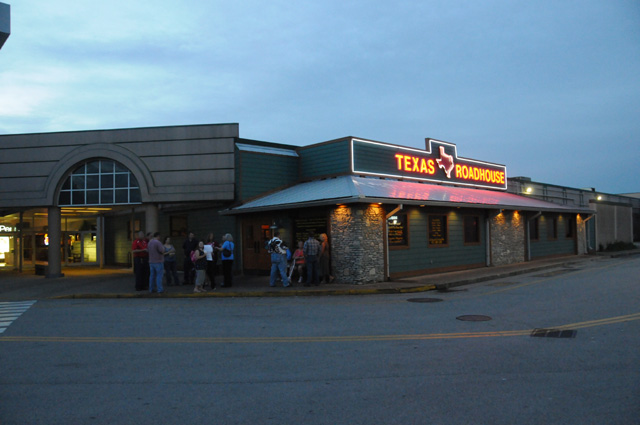 Not only were we to dine at a Texas Roadhouse, it was the very first Texas Roadhouse. It opened on February 17, 1993.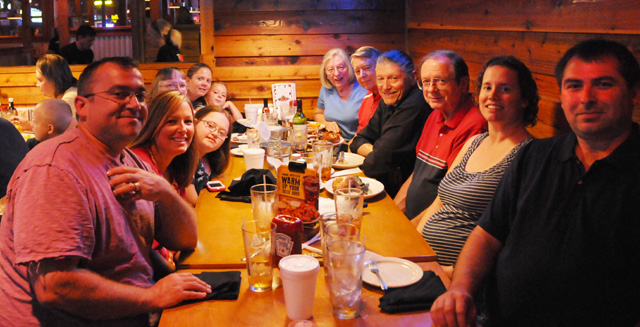 The group above starting at left front is Kelly, Karen, Riley, Bonnie, Jessica, and Olivia. On the right, starting from the rear is Carolyn, Larry, me, Johnny, Amanda, and Justin.
This is Chandra who was very good to us. Thanks Chandra.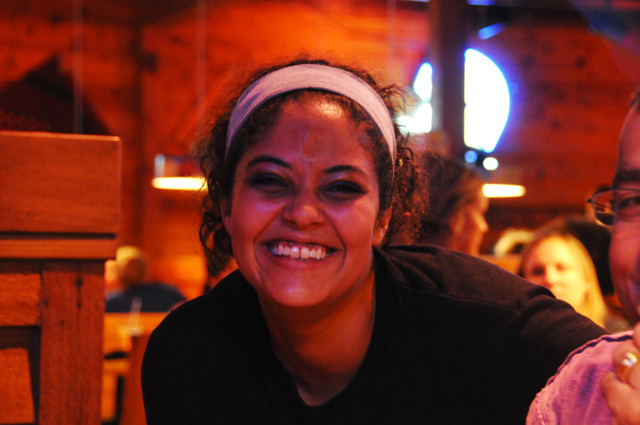 So that's my story for today. I didn't get wet, although I was unable to get my boots on for dinner, they had gotten just wet enough that I could not pull them on. I wear orthotics, and after I removed them I could pull the boots on. I hope they are dry enough tomorrow that I can get them on with the orthotics.
I rode 185 miles. I have 9,747 miles now. I may reach 10,000 tomorrow.
Why the strange byline for today? The family meal was to be in Louisville where my sister lives. In order to be kind to the rest of the family, she suggested we meet on the Indiana side of the Ohio River so they would not have to go through Louisville traffic. As far as I am concerned, though, we met in Louisville. So, my byline.
---