Travelogue -- Dr Bob's US Northeast Motorcycle Ride
Send a message to Dr Bob
---
I am ready for my next ride. I have been planning it since my ride last year. I will begin by riding up US1 from my home in Florida to the end of US1 in Maine. I will start riding July 2, 2014.
I plan to count the traffic lights on US1. Anybody have any idea how many there are? I will guess that there are 2,131. The first traffic light I will count is at Lighthouse Drive in North Palm Beach. I am sponsoring a contest to see who has the closest guess. Send me an email with your guess. I will buy the winner a chocolate shake. I will count only the lights on US1, not lights on side trips or my return trip. Some enterprising soul may decide to use Street View in Google Maps to count the lights. Please be my guest. It will probably take you longer then me to get the number.
Although I have ridden to Key West in the past, I will go again in the next few months so I can count the lights on US1 south of Lighthouse Drive. I cannot explain it, but I am driven to know how many traffic lights there are on US1 from Key West, FL to Fort Kent, ME.
I am ten states short of having ridden my bike in all the "Lower 48". I will ride through each of them on this trip. That's Delaware, Pennsylvania, New Jersey, New York, Connecticut, Rhode Island, Massachusetts, New Hampshire, Maine, and Vermont. US1 does not go through Delaware, so I will make a side trip from southeastern Pennsylvania into Delaware. US1 does not go through Vermont, so my trip back home will be through Canada to Vermont. Then I will head south with a few zigzags to hit capitol cities that I have not visited on my motorcycle. US1 does not go through all the capitol cities along its route, so I will do side trips to visit them.
In case you did not know, I have been riding my motorcycle through state capitol cities to take pictures of the capitols. You can see my collection at US Capitols.
I have made up a rough track (5,044 miles) and schedule (23 days) which is shown on the map below. The red arrowheads show estimated daily stops.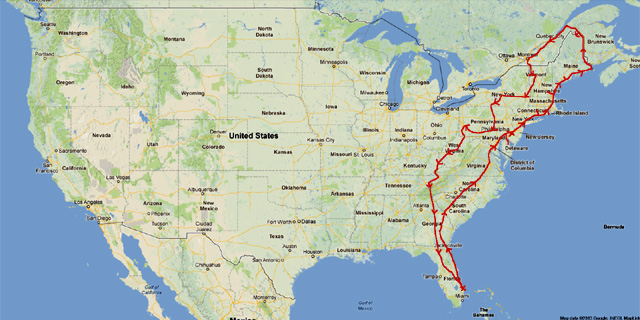 I will do this ride like I have done others, by posting pictures and text every day of the ride. Each day of my journey will be a separate page shown on the menu at the left. You can start at the beginning by selecting the first day, or at the end by selecting the last day. Or, you can have the entire trip on a single page (a long page) by selecting "Single Page". I won't put together the single page until the ride is complete. The little arrows at the top corners and bottom corners of each page will take you to the previous or next page. The map shown near the top of the menu on the left will be updated daily to show my actual track; the small blue bars show where I spent each night; the big blue arrow shows where I am. Any time you go to my travelogue, it will open on my most recent day.
If you are interested in my other motorcycle travelogues, go to the bottom of my home page at http://rhopkins.us/.
---
7 July 2013, 8:00 PM CT, Nashville, TN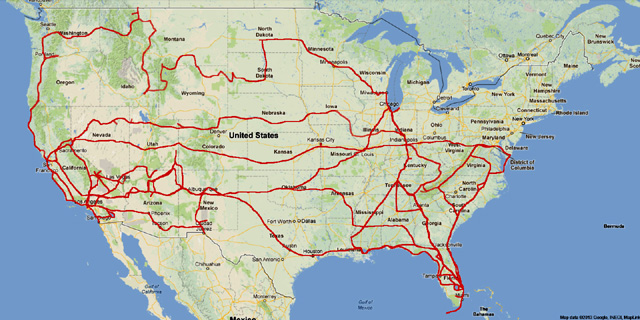 I have started planning my next ride, the US Northeast.
If you look at the map above, I have ridden a bike in every one of the 48 states except Delaware, New Jersey, Pennsylvania, New York, Connecticut, Rhode Island, Massachusetts, Vermont, New Hampshire, and Maine. That is a problem which must be corrected.
That will be my 2014 ride.
This is just an early warning. I will be back sometime later with details. Until then...
---
10 November 2013, 5:30 PM ET, North Palm Beach, FL
Changed - 16 February 2014, 7:00 PM, North Palm Beach, FL
My plans for my US Northeast ride are in process. I plan to ride US1 from North Palm Beach all the way to its end in Maine which I calculate to be 2,131 miles. Then I will ride into Canada passing through Quebec City and Montreal then back into the US.
Riding US1 all the way to its end creates a problem if I don't go into Canada because I have to turn around on US1 for hundreds of miles. By going through Canada it is a shorter distance to Vermont.
My ride will be over 5,000 miles. If I average 200-250 miles per day, that would take 20-25 days. I have made up a rough track (5,044 miles) and schedule (23 days) which is shown on the map below. The red arrowheads show estimated daily stops.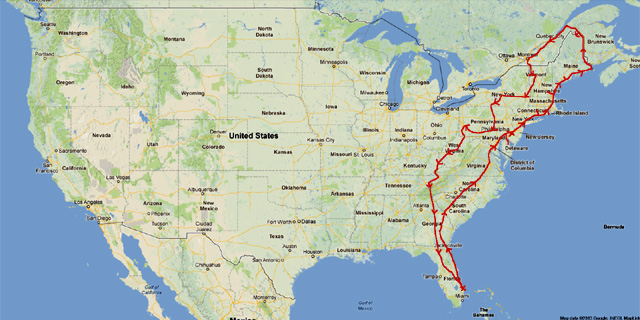 This plan will get me on my motorcycle into the last ten of the lower 48. I plan to ride through each of their capital cities. The next map shows where I will have ridden my bike after this ride is complete.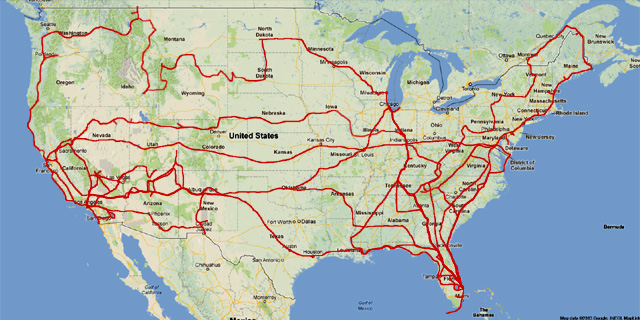 ---
17 February 2014, 11:00 AM, North Palm Beach, FL
Changed - 5 March 2014, 7:00 PM, North Palm Beach, FL
I should have mentioned the date -- my ride will start in late May or late June.
---
19 May 2014, 12:00 Noon, North Palm Beach, FL
I still do not have a departure date -- it looks like my ride will start in late June or early July. Nothing's wrong, it's just been hard to book a 3-4 week period this year.
---
17 June 2014, 3:00 PM, North Palm Beach, FL
Looks like my departure date will be July 2.
---
1 July 2014, 4:30 PM, North Palm Beach, FL
My departure date of July 2 is looking a little shaky at the moment. A storm is brewing off the Florida coast. We have had rain most of the day. The storm is Tropical Storm Arther, and is expected to become Hurricane Arthur over the next few days. The main part of the storm is just off our coast and is expected to move north along the coast - tomorrow night northern Florida. And where do you think I planned to be tomorrow night? Then somewhere along the North Carolina Outer Banks on Thursday night. I was expecting to be in North Carolina Thursday night. So, I may have to slow down a day to stay behind the storm. After North Carolina it takes off and won't be an issue for me any longer. So, I may be off tomorrow, and maybe not.
I am ready to ride, I have done everything I needed to do. Serviced the bike including new tires. Serviced my boots, including new heels. Bought new riding pants. The lining was torn in the old ones and they were no longer water proof. The new pants are Aerostitch. Bought new gloves, made by Raber in Canada. I always wear gloves, I like thin tight fitting gloves with a large gauntlet that captures my sleeves even in the breeze. And I bought a tally counter to keep track of the number of traffic lights on US1.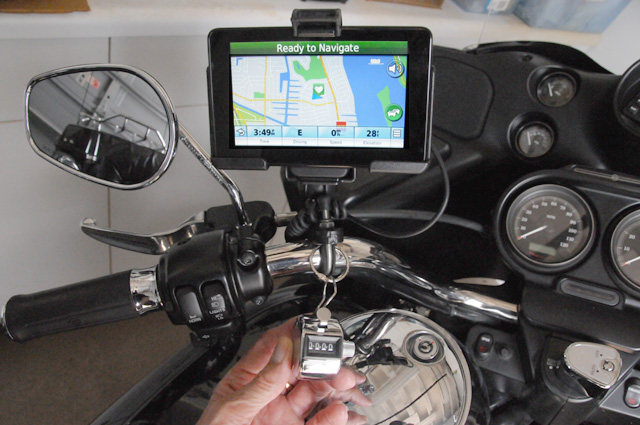 I am holding the counter, it is hanging from the bars with a key ring. I have it set up primarily for my left hand. The right hand will usually be busy with the throttle. I figure I will count the light just before reaching it, not in the intersection. It can get kind of busy in intersections some times. I don't want to count the light after I pass through it, I might forget. After all, my years are such that it happens. I don't want to count it too far ahead, again I may forget and count it two times. I am sure my count will not be precise. So, the contest on guessing the number of lights is not to guess exactly how many there really are, but how many times I push the button on the tally counter. Hopefully they are the same, or at least very close. I will count any traffic light that can be red. A flashing yellow all by itself I will not count. A light at a fire house that flashes yellow but can become red I will count. I am counting lights whether they are red or yellow or green as I reach the light. I plan on telling you how many lights I encountered on a daily basis. So, your guess, to be fair, should be before I start giving you numbers. I may allow a few days, before giving a hard cut-off. Maybe there will be two winners, whoever gave the best number before I give any data, and maybe a second prize for whoever gives the best number after you have seen some numbers. Remember, the prize is a chocolate milk shake.
OK, enough for now, have to watch US vs Belgium. I will write tomorrow even if I don't get away.
---
2 July 2014, 9:00 PM ET, St Augustine, FL
I did start my ride today. As I said yesterday (see the page "Prep" on the menu on the left), it was an iffy thing, with Tropical Storm Arthur hovering just off the coast. Looking at the National Hurricane Center site this morning, and looking at radar, I decided I could get off but might run into rain bands of Tropical Storm Arthur. I left home at 10:30 after posing for a picture for wife Hanna. I was waving goodbye while also holding our Scottie, Maggie. Normally Maggie's pink tongue hangs out about an inch, but that doesn't seem to be the case in this picture.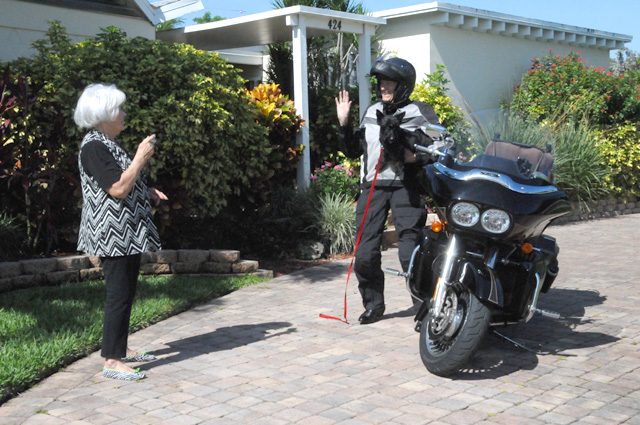 I rode just over an hour, then stopped for a conference call. I often stop at a McDonalds because they have wifi. The picture of US1 below is typical of the Florida "Treasure Coast". You can see the arches on the right.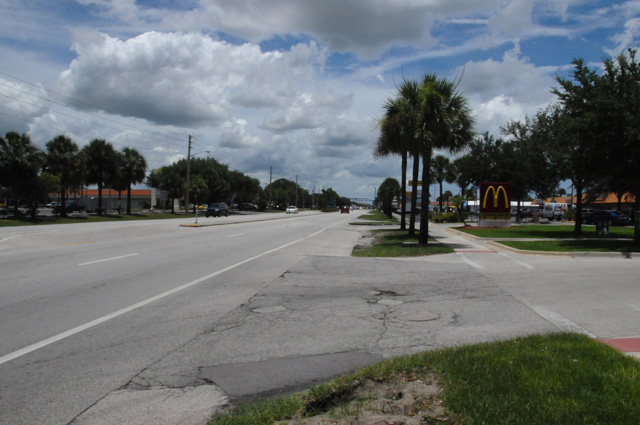 After the stop, I continued north on US1. The sign below is one that I will see hundreds of times on this ride.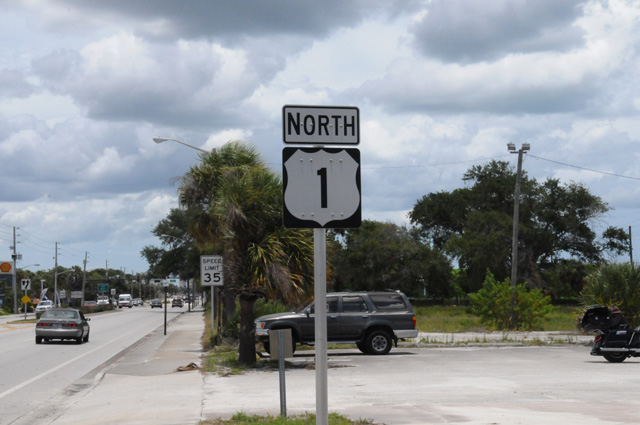 I got as far as Titusville, the sky was looking dark ahead, and it started raining. I quickly pulled into a Mobil gas station and parked directly behind the car of Deb who was in charge of the gas station. Only that one spot was covered by the roof. Thanks, Deb, for letting me park behind your car under the roof. It kept the bike from getting soaking wet. This picture was taken after the rain stopped, and you can see the bike is not wet, while the adjacent parking spots are wet. Thanks again, Deb.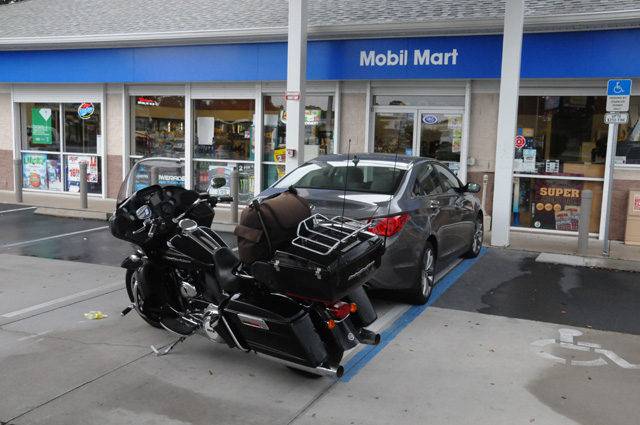 I do ride in rain, but I prefer to sit it out if time permits. Today it did. So I sat it out, having a sandwich while waiting.
After the rain moved on, I continued riding. Somewhat further north on US1, I was taken by how heavy the rush hour traffic was. This picture was taken at 5:05 PM. The cars where whizzing past, but I did manage to get this picture while dodging the traffic. I am looking south, and you can see the storm behind me.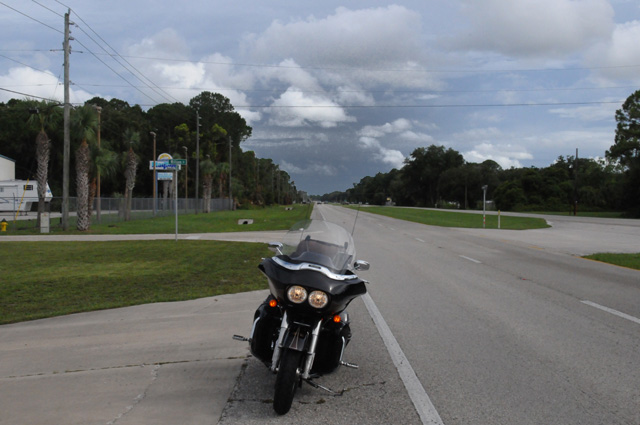 This is Bruce Rossmeyer Harley-Davidson, just north of Daytona Beach. It is quite large. This picture is from the rear, but it was in the sun and the front was not. I didn't need anything done, I just thought the bike would enjoy seeing some of its own kind.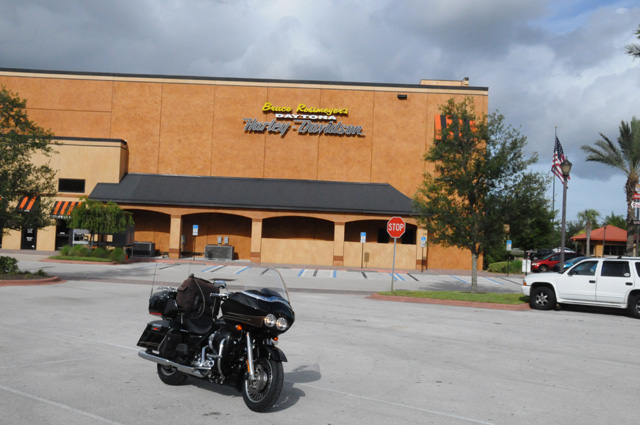 I have stopped for the night. I am at a Best Western on US1 in St. Augustine. When I arrived, I had planned to have dinner at Schooner's Seafood House, about a mile from here. I got my stuff off the bike, and immediately it started pouring rain. So, I decided to not go out for dinner.
Two rain bands affected me today, but neither one got me wet.
I rode 244 miles today, and counted ___ traffic lights. Sorry, I don't think I should tell you how many lights just yet. If you did not already know it, I am counting all the lights on US1 to its end in Maine (see the pages "Intro" and "Prep" on the menu on the left). It is not too late to enter my contest guessing the number of lights.
I will update my map each day to show where I am spending the night (see the page "Map"on the menu on the left). Short blue bars will show where I spent each night. The large blue arrow will point at my most recent location.
That's it for today. Check back tomorrow. I will probably be dodging Tropical Storm Arthur rain bands again.
---
3 July 2014, 11:15 PM ET, Augusta, GA
I headed out from St. Augustine this morning, and immediately went to Schooner's Seafood House hoping they serve breakfast. Well, they don't. Lisa and Ralph had suggested I dine there, they say it is very good. Maybe I will find out for myself some day.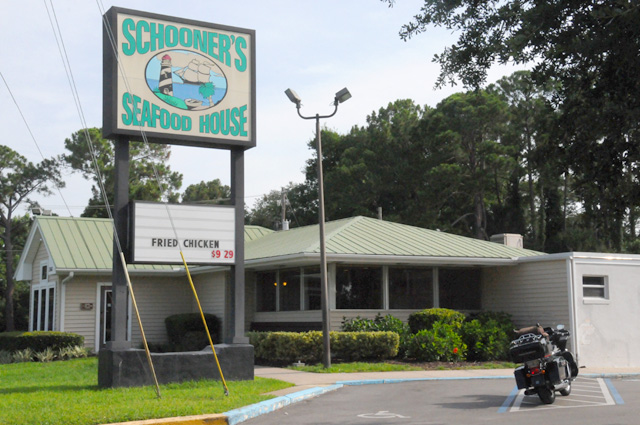 I continued to ride US1 north. When I arrived at the US1 bridge that crosses the Trout River in Jacksonville, I was unable to get on the bridge, the entry ramp was blocked. I followed detour signs, and they took me over the I95 bridge. That's not what I wanted to do. So I rode to the other end of the US1 bridge, crossed going south, then tried to figure out how to go north some other way on the same bridge. I messed around for an unreasonable amount of time, and thought I had figured out how to do it, but ended up crossing again on the I-95 bridge. At that point I gave up. I did cross the US1 bridge, but in the southbound direction, not the northbound direction. The first picture below is the US1 bridge that I crossed once heading south.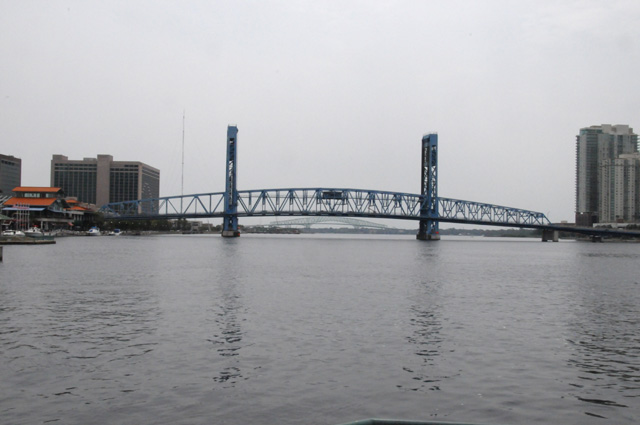 And this picture is the I95 bridge that I crossed twice heading north. These two pictures were taken from the same spot, on the north side of the Trout River, looking east at the US1 bridge and looking west at the I95 bridge.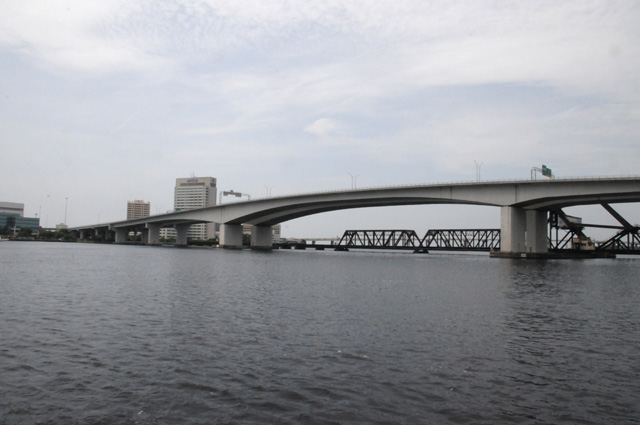 About 3:30 PM I took a break from the heat. I stopped at a McDonalds in Baxley GA and had a tall iced tea. It was a welcome break. I checked the temperature in Baxley at that time, and it was 97&deg. As I was leaving, I noticed a building with a black dome, I had missed it before the break. It was the Appling County courthouse.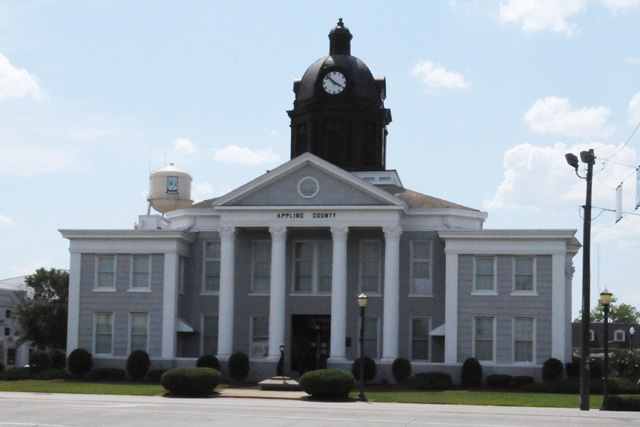 Not long after I left Baxley, US1 became a two-lane road. I expected that to happen at some point.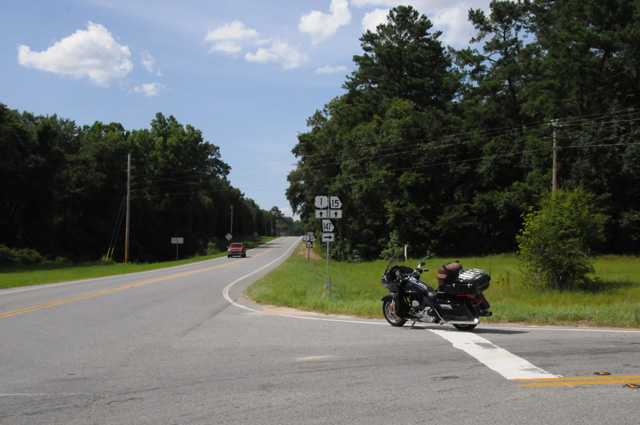 In case you have not been following east coast weather, Tropical Storm Arthur is now Hurricane Arthur. Tonight it is a Category 2 hurricane.
Looks to me like I timed my departure well. Look at the radar map below. This is from 9:25 PM this evening. That is Hurricane Arthur off the coast of North Carolina. Tonight I am where the tip of the blue arrow is. Last night I was at the tip of the lower red arrow. Tomorrow night I will be somewhere near the tip of the upper red arrow. I am in the clear between two bad weather areas. Wow.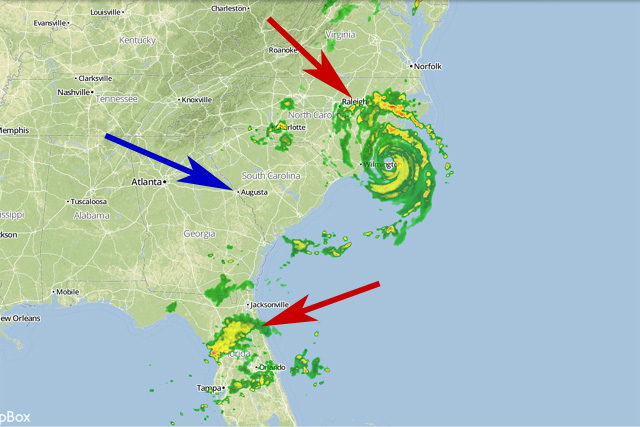 On the other hand, it was rather hot today. It was sunny most of the time, just a few clouds giving a break from the sun every now and then. During the afternoon, the air temperature gage on the bike was a little over 100&deg. Do you know what that means for my shirt? Take a look at it. This was after arriving at the Best Western in Augusta, GA.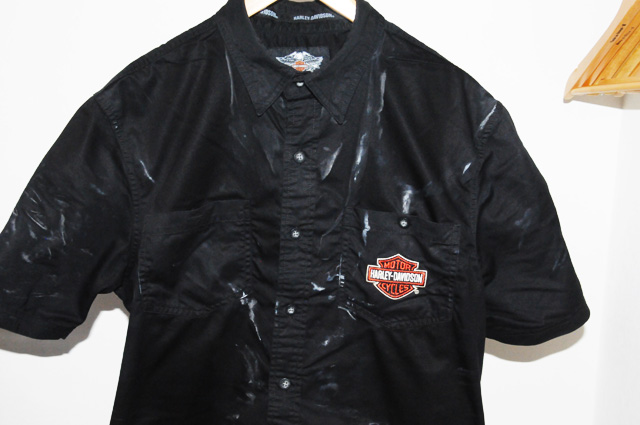 That's not tie-dyed. It is not a zebra striped shirt. It is supposed to be all black (except for the Harley logo, of course). I washed it out in the lavatory, hopefully it will be dry enough to pack tomorrow morning.
Just some numbers to wrap up. I rode 340 miles today, 584 total so far. I counted ___ traffic lights, ___ total so far. Aren't you dying to know those numbers? Maybe I will let you know how the count is going in another day or two. If you want to make a guess, do it soon. If you don't know what I am talking about, read the "Intro" and "Prep" pages from the menu on the left. The rules are simple. Guess the number and send me an email (to send me an email, you can click on "Send a message..." at the top of this page).
Don't forget to check the map ("Map" page on menu to the left) to see where I have been and where I am going. The blue bars show where I have spent nights, the big blue arrow shows where I am tonight.
That's it for tonight. Sleep tight, I know I will. It was a tiring day.
---
4 July 2014, 11:30 PM ET, Raleigh, NC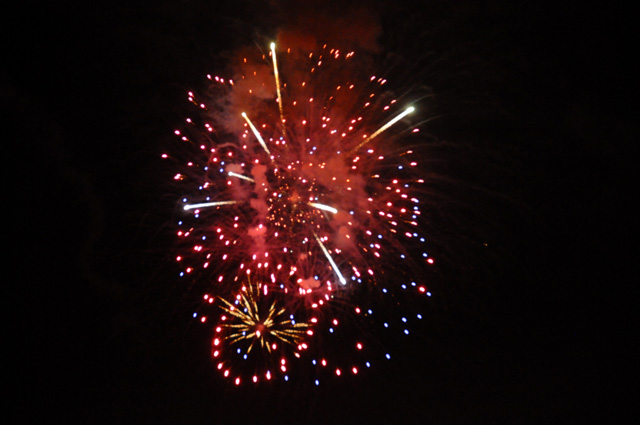 Let me start off with a loud sound, fireworks. Today is the American Independence Day. Those firworks are not from tonight, they are from one year ago when I celebrated the holiday with my niece and her family in West Lafayette, Indiana, at Purdue University (my alma mater), (Hail Purdue!), on my US Northwest Ride.
Today I want to talk about highway signs, or the lack thereof. As you know, I am trying to ride a specific highway on this ride, US1, or Highway 1, or Route 1. It runs from Key West, Florida to Fork Kent, Maine. I am not starting from Key West, but from my home town of North Palm Beach, Florida.
I have done other rides where I want to follow a specific highway, Route 66 and US50.
It is hard to do. Route 66 is by far the hardest, it was decomissioned some time ago, so there is no longer a Route 66. That means that the highway is normally not marked. You have to know where it is, or what the individual pieces are called today. That's why I will always recommend that you pick up maps especially for Route 66. They tell you where the highway is and what it is called today.
A GPS, as far as I know, cannot help you. They will guide you very well (most of the time, at least), but they cannot help you stay on a specific highway. The GPS will take you the shortest way, or the fastest way, etc., but not on a specific highway that you select.
Right now I am trying to follow US1. Sometines there is a US1 sign after an intersection, sometimes there is not. Sometimes you can go a few miles with no sign. Then you start wondering if US1 turned off somewhere, and you missed the sign, or maybe there was no sign.
I have a smartphone. It comes in very handy in this case. If I am unsure if I am still on US1, I simply pull over, grab my smartphone, go to Google Maps, and see where I am and if it is US1. If it is not, I can see what I have to do. If it is US1, I climb back on and continue. My GPS cannot do that, or at least, if it can it is hard for me to figure it out.
Ok, where am I headed with this? This morning I was running along in a 45 mph zone and blew through the intersection shown below. So, am I still on US1 or not? The anwer is yes, I am, but do you see the sign showing US1 turning left? There are so many signs here it is hard to understand quickly as you are flying by. It is the truck route that turns left, not the actual US1. Because I was not sure what the sign said, and because there was no US1 sign after the intersection, I stopped to find out the real story. My smartphone with Google Maps told me I was OK, but I decided to go back and get a picture and share this story with you.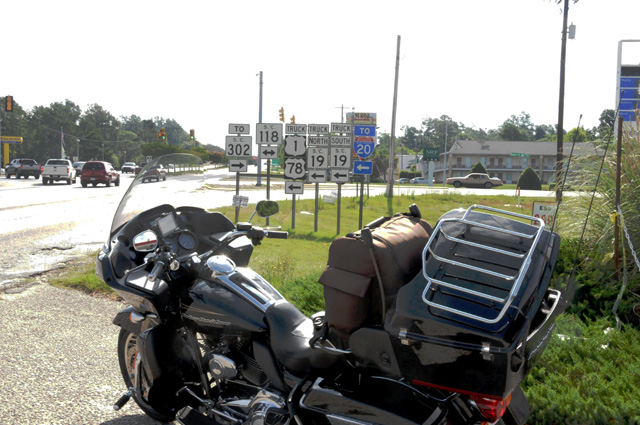 Here's what I am saying. Sometimes it is very hard to stay on a specific highway that runs a long distance. You can't count on the GPS, it might take you on a shortcut. But if I want to be on US1, I don't want to be on a shortcut that bypasses part of US1.
Also, if your want to do Route 66, you really have to get the maps.
I encountered a state capitol today. I was running north on US1, and suddenly on my right was a capitol building. Wow I said, I must stop and take a picture.
You probably know already that I have been taking pictures of state capitols.
This capitol is actually on US1, at least the back side of the capitol is. In the picture below, the road running left and right is US1. I happened to catch a motorcycle running north on US1 in this picture.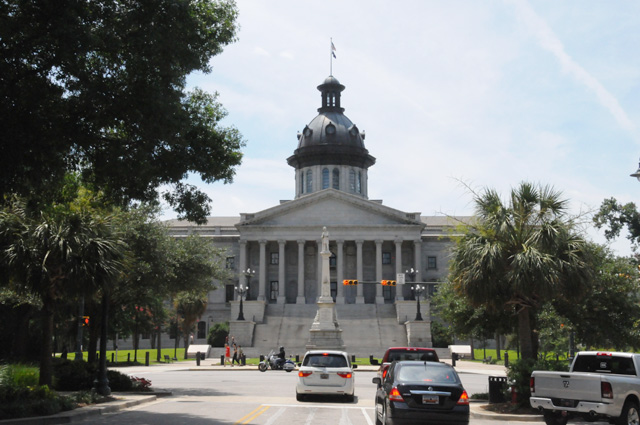 The capitol is South Carolina, Columbia South Carolina. Some of you may know that I have already taken a picture of the South Carolina State Capitol on a previous ride (Blue Ridge Ride in 2010). But my rules require me to take a new picture any time I go through a capitol city, even if I have already visited that city on my motorcycle. So, here we are. New pictures of the South Carolina State Capitol. This is the front.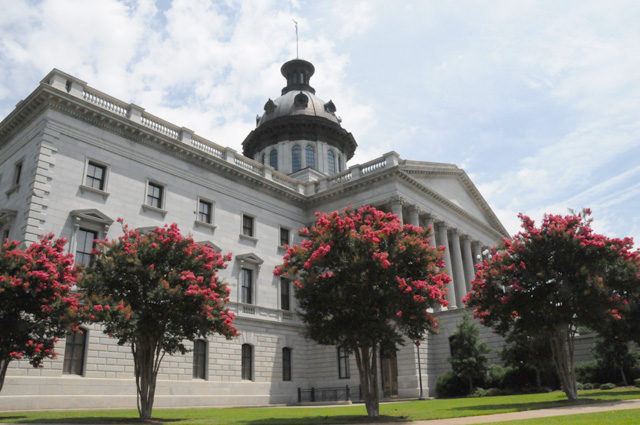 And this is a monument saying that there was another capitol building on this spot (just a few yards away from the current building) but it was destroyed in a war.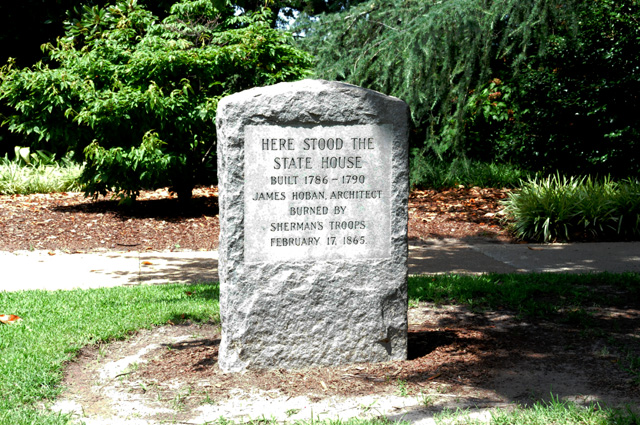 I had a lot more two-lane US1 today. It is really quite pleasant. In this case, there is a railroad beside US1. I have seen that many times the past couple of days, but this time I was able to get a good picture so I could show you.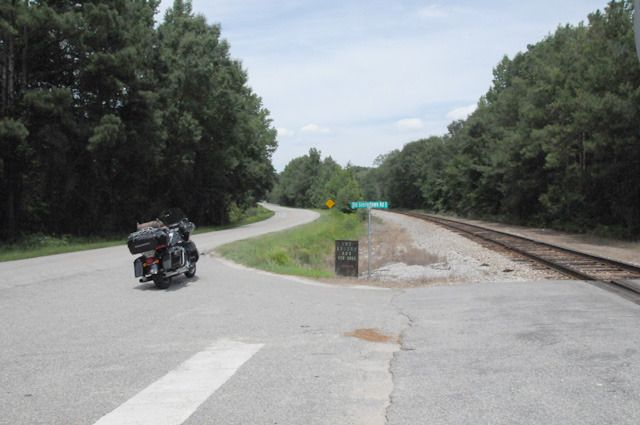 One thing I remember from my Route 66 Ride is that there is virtually always a railroad beside the old Route 66. In fact, if you don't see a railroad, you have proably gotten off Route 66.
And my last picture for today, another shot of a two-lane portion of US1. It is hilly here, and a lot of curves. A pleasant ride.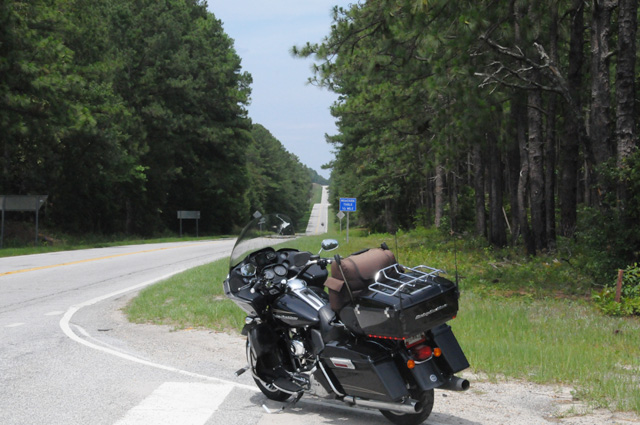 Time to sign off. Tomorrow I hope to arrive in Falls Church where my son and his family live. I plan to spend two nights there, then off again on US1.
I rode 310 miles today, I now have 895 total. I counted ___ traffic lights today, now it is ___ total. I will start giving actual numbers in the next day or two. It is quite interesting. You must enter the contest now or you will miss out on the possibility of winning a chocolate shake.
While on that topic, let me tell you that it is very hard to remember time after time to push the button on the tally counter. You have to do it every time. And never twice. It is hard. Whoever came up with this crazy idea should have his head examined!
---
5 July 2014, 11:59 PM ET, Falls Church, VA
I made it to my son's house, but it was a bit of a struggle. I almost decided to spend the night in Richmond, VA. I was tired and didn't want to go any further. After taking a few minutes and gathering myself up, I decided that I would start in that direction and quit when I passed some hotel and wanted to stop. Well, I didn't stop anywhere. I just kept going. I had planned to ride US1 all the way to the Potomac River where it crosses into Washington, DC. But that's not what I did. I bailed as soon as it hit the Interstate Belt around the greater Washington, DC area. When I resume riding on Monday, I will backtrack to that spot to continue. I must ride ALL of US1, and I must count ALL of the traffic lights.
I rode 314 miles today, I now have 1,209 total in four days. When I drive here it is 1,000 miles and I do it easily in two days. I have ridden 20% farther and taken twice the time. Why? Well, US1 goes much more inland, I95 is pretty much a straight shot. Plus I have diverted a number of times from the route (for example, trying to figure out how to cross a bridge when the ramp was blocked). But there is still one other larger factor, the number of times the speed limit drops on US1 (the fastest is normally 55 miles per hour and it drops many times to 45 and often down to 35 and several times down to 25. And, the lights. I think the traffic engineers have done a magnificient job of making sure you keep hitting red lights.
Let's take a look at some pictures. Not many today, I was riding most of the time. First, the capitol in Raleigh, North Carolina. This capitol is not on US1. However, I suspect it was only one block away in the old days. A boulevard, one block away, runs north and south and becomes US1 after it crosses an Interstate. The Interstate bypassing the city is also US1 until that intersection. So, back in the old days before Interstate highways, I suspect that boulevard was US1, and then they moved US1 to be a bypass. I have two pictures for you, one from the left front quarter and one from the right front quarter. If you look at one of my older rides, you will see a shot straight on. I didn't want to simply do that again.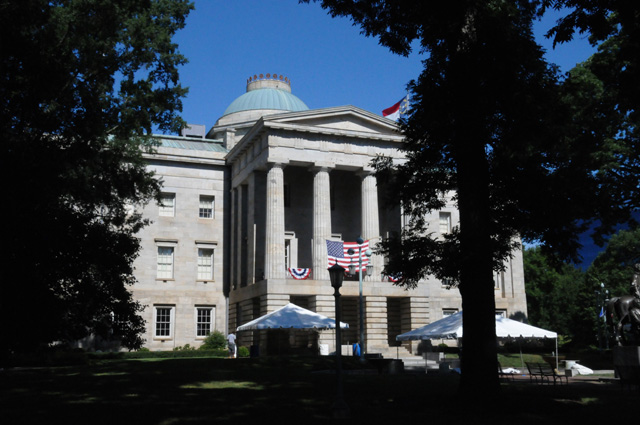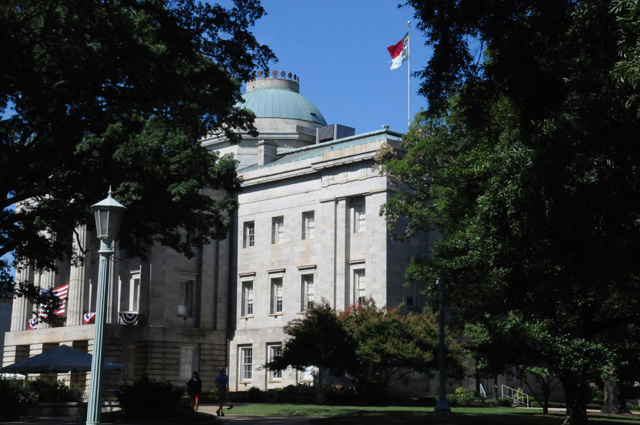 As I was getting ready to leave the capitol, a young couple came by with a very small dog. The dog licked my hand.
Then I headed north to Richmond, Virginia. I saw this sign and thought I needed to get a picture of it. I don't think of US1 as "historic". It is still a vibrant highway. Nonetheless, I guess some people think it is something to advertise. And, I guess I agree somewhat because I am riding US1.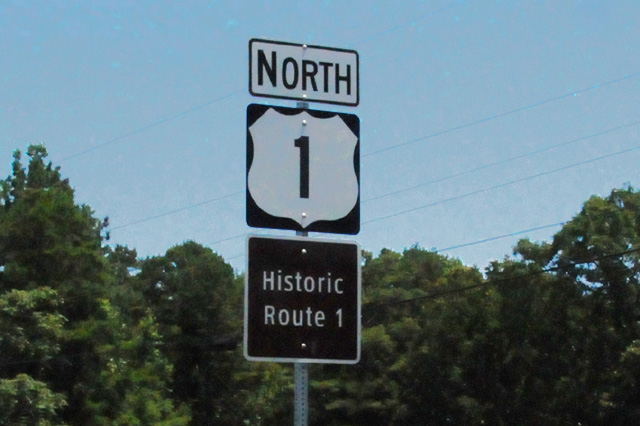 While I was parked on the side of the road taking a picture of the Historic US1 sign, this funny looking tractor came by. I always have to chuckle when I see one like this, they really look funny to me.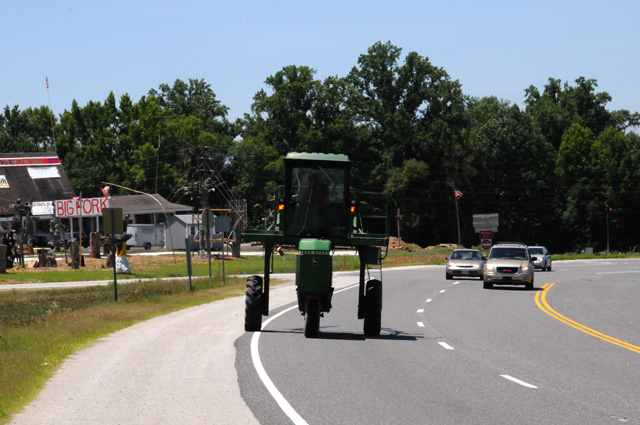 And then I continued to Richmond and took two pictures of the capitol. Again, this is a capitol I showed you on an earlier ride, from straight ahead, so again I took a left front quarter shot and a right front quarter shot.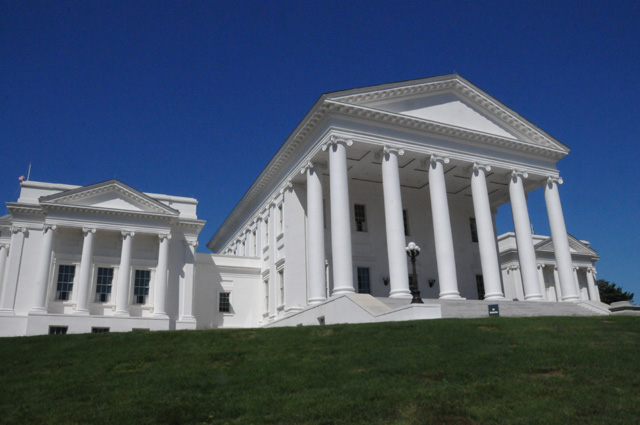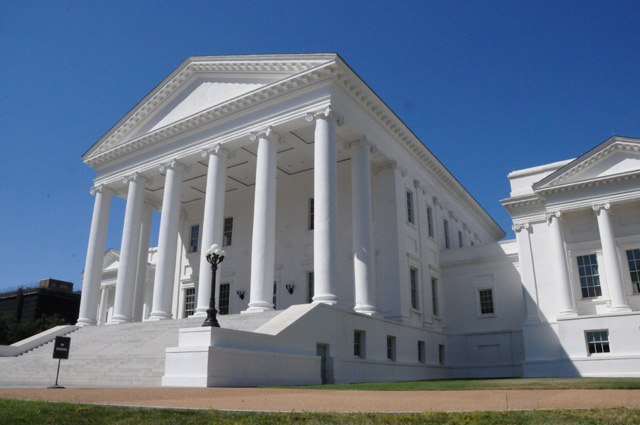 After struggling to reach Falls Church, I was greeted by these little guys. Their names are Chops, Lucy, Tux, and Fang. I couldn't tell you which is which, but I am sure any of my three grandchildren could tell you.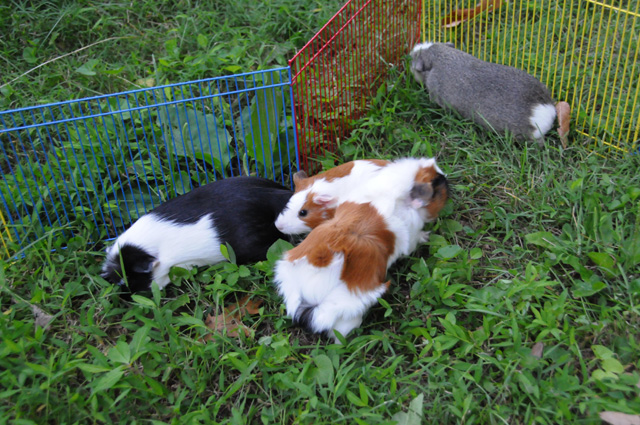 That's it for tonight. See you again tomorrow. It will be an easy day for me, I am not going anywhere. Maybe I will show you a picture of the grandchildren.
Oh, before I forget it, I did count the traffic lights again today. In retrospect, I should have bought two counters, one for the total number of lights and one for how many were red.
Maybe I will give you the traffic light count tomorrow night. I am almost halfway to the end of US1.
---
6 July 2014, 8:00 PM ET, Falls Church, VA
Today I took it easy, just visiting with my son and his family. Not much riding, just around the block about ten times, and to get gas. No traffic lights, I was not on US1. My mileage was low, only 7.1 miles. No change in the map today, I am still in Falls Church.
My first picture was actually from last night. After I had already posted everything, the cats were in the open window (there is a screen) looking at each other. I grabbed the camera and got this picture. I almost added it to last nights page, but decided to go to bed and include it today. So, here are the cats, Pinkie and Ivy.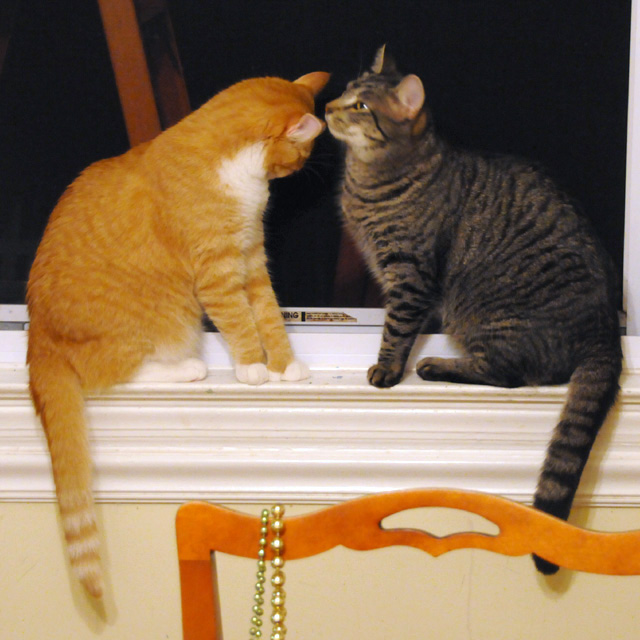 Anbody have any history on how guinea pigs and cats get along? Does one try to eat the other?
The grandkids like my bike.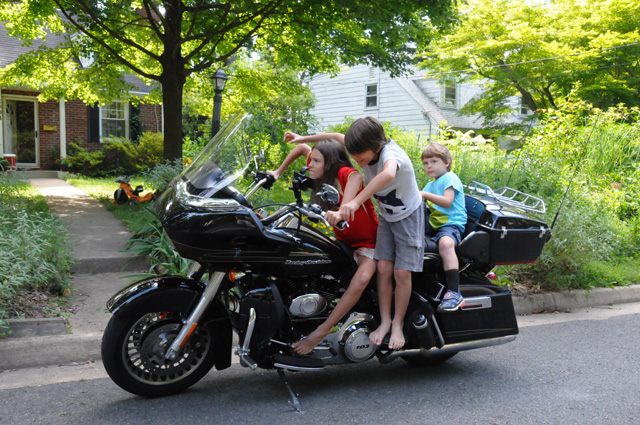 After they were finished play riding, they wanted to go for a real ride. So the youngest, Sam, was first.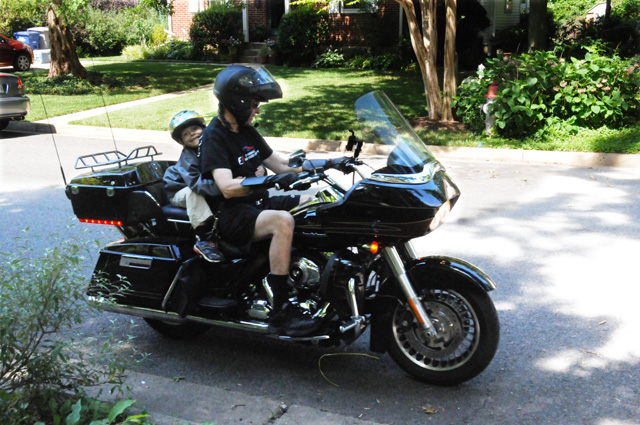 Then Nick, the middle child.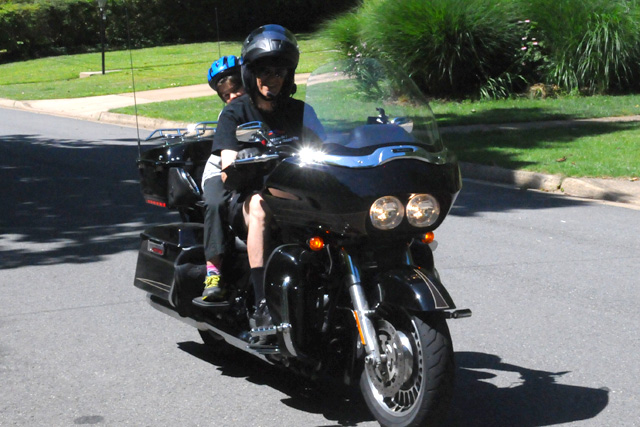 For whatever reason, Sophie, the oldest, decided to skip a ride.
As you know, Washington DC is a capitol city, the US Capitol city. So, following my self imposed rules, I must go there and take a picture. I believe this is the third time I have ridden my motorcycle through here, so it is the third time for a picture. The first time, if I remember correctly, I took my picture from the front. the second time from the rear. This time I did it with my son and his family and from the front of the capitol. (You can click on the picture to see the high resolution image.)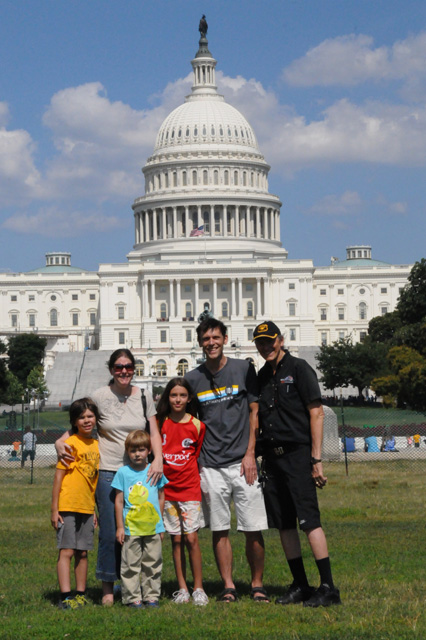 I will leave you with one lasting image. The grandkids and my bike and their play riding.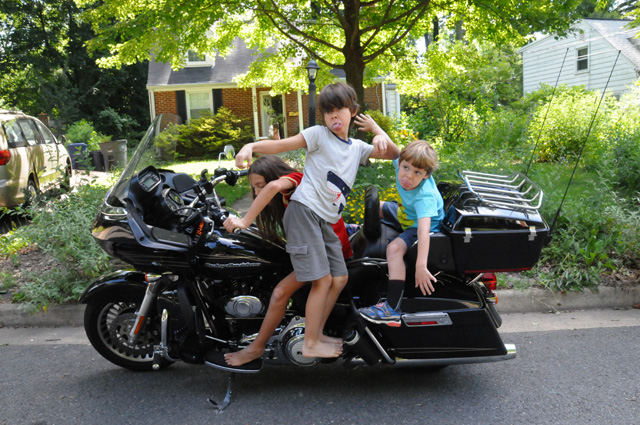 That's it for today. Tomorrow I ride again.
---
7 July 2014, 11:30 PM ET, Dover, DE
Well folks, it's time to talk about traffic lights. Before I tell you how many lights I have counted so far, I thought I would give you an example of what you encounter on US1 in metropolitan areas. US1 goes north and south right through the center of Washington, DC. In the map below, it runs from Alexandria on the south side to just north of the University of Maryland in College Park. I have measured the US1 miles using Google Maps from the Beltway at the south to an IHOP, where I was meeting somebody, on the north side, almost all the way to the Beltway. It is 18.8 miles. US1 runs up just west of the Potomac River, past Washington National Airport, across the 14th Street Bridge, up 14th Street, east on Constitution, north on 6th, then northeast on Rhode Island Avenue (which becomes Baltimore Avenue). So my question is this, how many traffic lights are there in that 18.8 mile stretch? And the answer is -- 116. Shocking, isn't it. That's 6.2 lights per mile.
Let me compliment Alexandria on their traffic light management. There were 30 lights from the Beltway to the 14th Street Bridge. Want to guess how many red lights caught me? And that answer is -- 3. The first light stopped me, but it got me in sync with the lights, then only 2 out of the next 29 were red. AND THAT WAS DURING RUSH HOUR! I suggest that traffic engineers who handle the rest of US1 go to Alexandria to see how traffic manangement should be done.
Back to the total number of traffic lights. You may recall that I guessed 2,131 lights. (See the second paragraph on the page "Intro".) Have you any idea how I came up with that number? If not, then you should see my first paragraph on the date 10 November 2013 on the page "Prep". I said that US1 was 2,131 miles from North Palm Beach to Fort Kent in Maine. So I guessed an average of one traffic light for every mile of US1. In metro areas, there can be ten blocks per mile, or perhaps ten lights per mile. In rural areas you can go miles without any lights. So, I sort of guessed that it would average out to one light per mile.
On my first day, I ran about 200 miles on US1 (244 total miles) and counted 240 lights.
On my second day, I ran 340 miles and counted 116 lights.
On my third day, I ran 311 miles and counted 173 lights.
On my fourth day, I ran about 298 miles on US1 (314 total miles) and counted 244 lights.
Today I ran about 115 miles on US1 (222 total miles) and counted 281 lights.
The total lights right now are 1,054. My total miles right now are 1,438 and about 1,264 of them are on US1. I think that number for miles is a little high, but I cannot pinpoint exactly how high it is. Today, for example, I know exactly how many miles were on US1. First I had to get back to US1 (16 miles) and later I left US1 to go to Dover DE. Anyway, the lights per mile ratio right now is about 0.85, below my guess of 1 light per mile. There's a lot of metropolitan areas ahead of me, Philly, New York, Boston, indeed, the entire Philly to Boston corridor. On the other hand, there are about 500 miles in Maine, and I am guessing most of those miles will have no lights.
About half of you guessed too low. We'll see how the other half sorts out over the next week.
On to my pictures. I said earlier that I met up with somebody at the IHOP, that was Jim. Jim and I worked together at RCA in the early 1980s. We had not seen each other in some time, so we got together this morning. Here's a picture of the two of us appearing to smile at the camera while we are really admiring my motorcycle.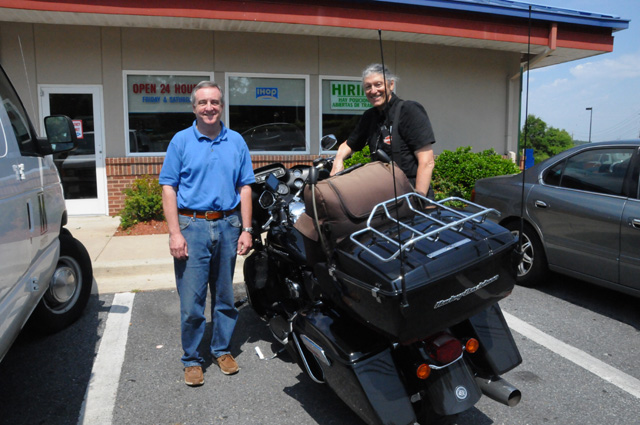 I did make it to Dover, DE to the Delaware State Capitol. I have one photo of the capitol for you. This was difficult, the lighting was not good, the sun was behind the capitol. It would be much better if the sun were rising rather than setting.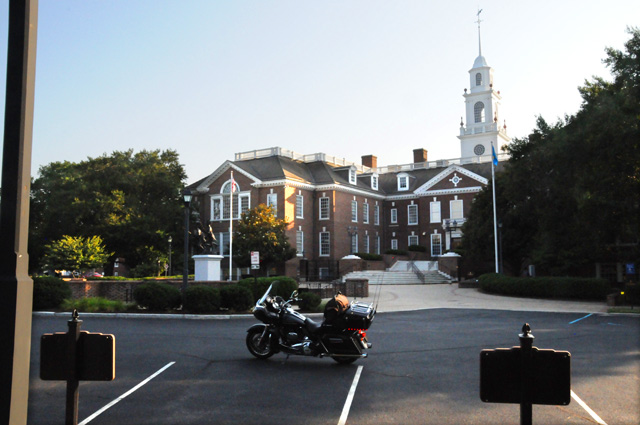 And one other picture, this is the old Delaware capitol, used until 1933. Again, difficult lighting with shade from trees.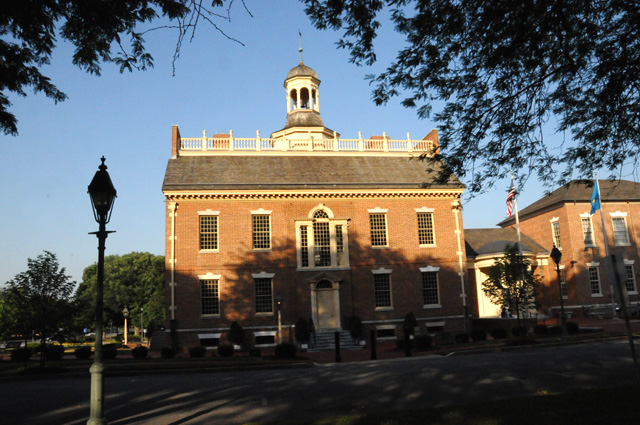 Another tiring day of riding. US1 is difficult. Too many lights, especially red, and low speed limits along much of the way. The combination makes it long and tiring. It has been very warm, and the low speed means I don't get as much wind cooling as I would like. But who am I to complain, I am the one who decided to do this. It will get better as I get farther north, not the red lights and speed limits, but it should be cooler.
See you tomorrow.
---
8 July 2014, 11:59 PM ET, Princeton, NJ
Hi again. When I left you last night, I was moaning about the terrible picture of the Delaware State Capitol. This morning I decided to go back there and get a new picture while the sun was shining on the front. Here it is. I feel much better now.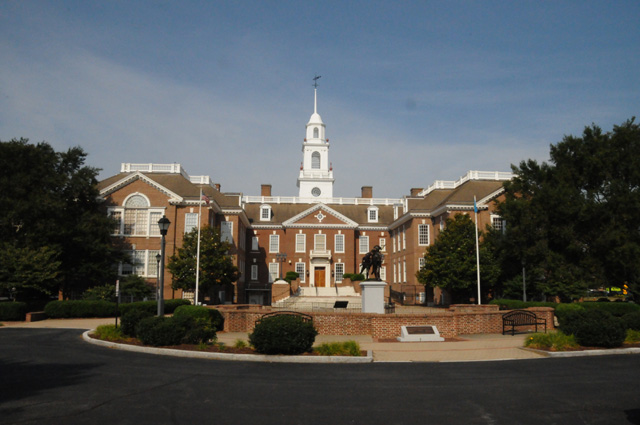 It took an hour and a half to two hours to get back to US1 this morning. I had gotten off just short of Philadelphia yesterday. When I finally got to Philly, I got off US1 again and went through Camden, NJ. Why? Because once upon a time I worked in Camden, for RCA. (As did Jim who you met yesterday.) RCA is no longer there (indeed, RCA is no longer). One of the RCA buildings still stands, though. It was converted into condos I have been told. Here's a picture of that building. I had an office in that building, seems like it was the second or third floor, I cannot remember now. I think it was in a corner, maybe the corner facing us right now, or maybe the corner on the right. Or maybe both corners (but not at the same time.) When you reach my age, you tend to forget some things. But give me credit, I do remember which building it was.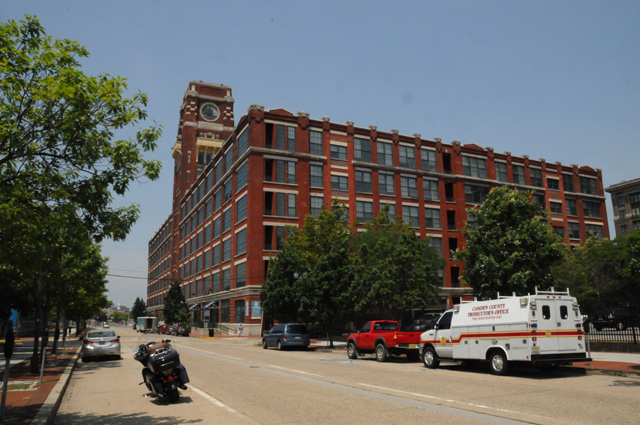 Did you notice that part of the building that sticks up high? (Surely there's a name for that, but I don't know what it is.) Let me show it with a bit of telephoto.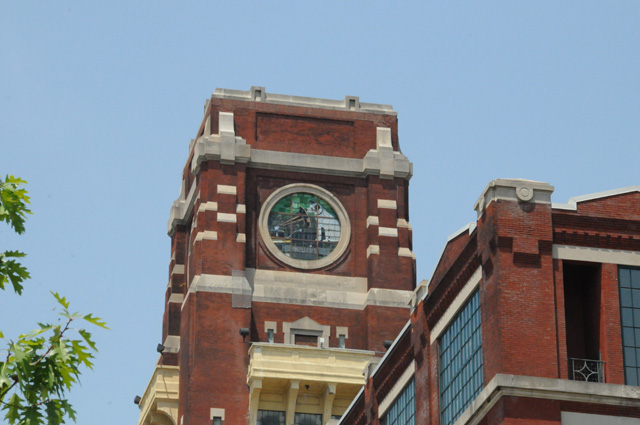 And even more telephoto.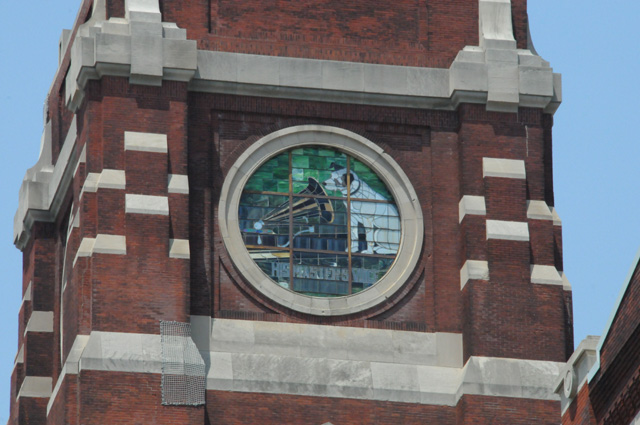 It is Nipper, the RCA doggie. I have heard that the building was missing its stained glass windows when it was converted to condos, but somehow it was discovered where they were, and they were put back in. So, although RCA is dead, Nipper still lives.
After I finished my reminiscing, I decided to take a new look at a place where I once lived. The apartment on the second floor was mine. This is in Marlton, NJ. I had lots of hanging plants on that balcony.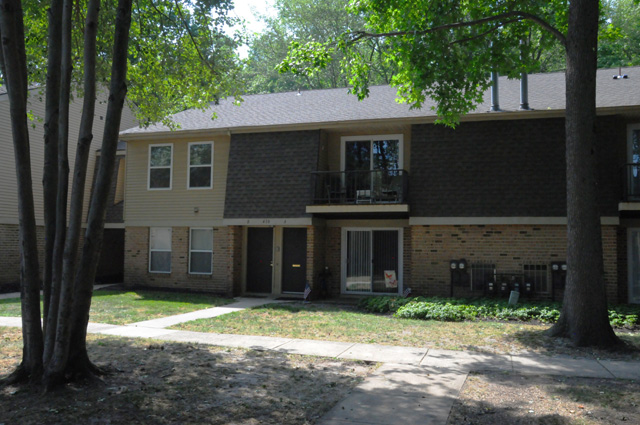 I moved from that apartment to a house, a newly built house, I was the first owner. It was in the same development as the apartment. It was (and still is) called Barton Run.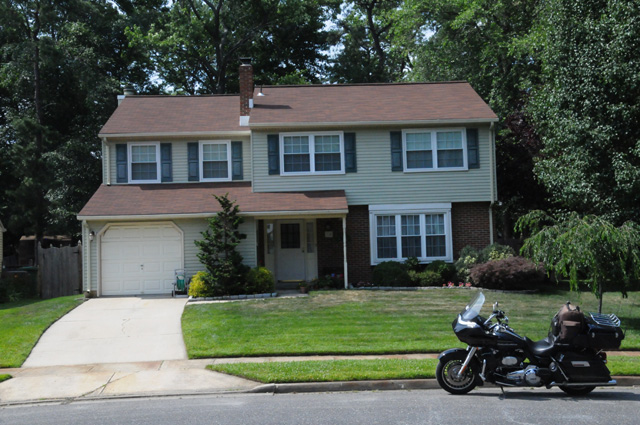 Then I got back on US1 and continued to Trenton, NJ, a capitol city. And you know what that means.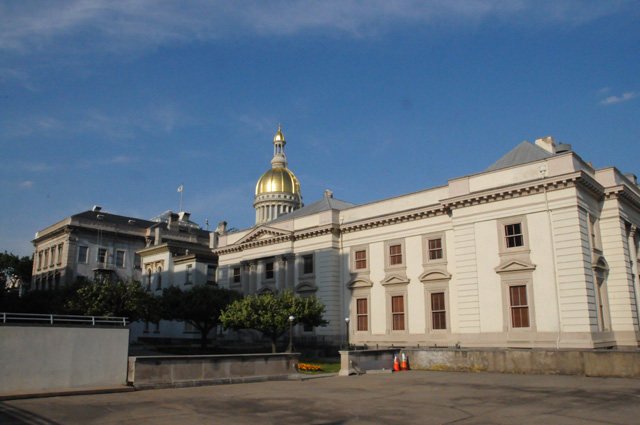 I cannot figure out what is the front and what is the back. I really do believe that the picture above is a side. That is real gold leaf on the dome, I remember when they redid it many years ago.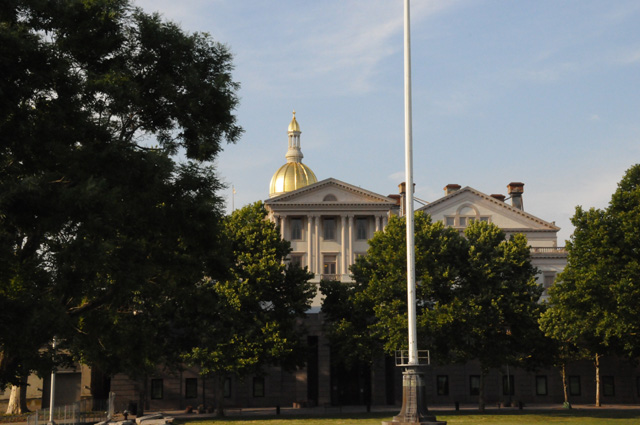 I don't know about this one, front or back.
Then I headed further north, to Princeton, where I am tonight. This picture is what was once the RCA Laboratories, or the David Sarnoff Research Center. I worked there for RCA before I was in Camden. Today it is part of SRI International.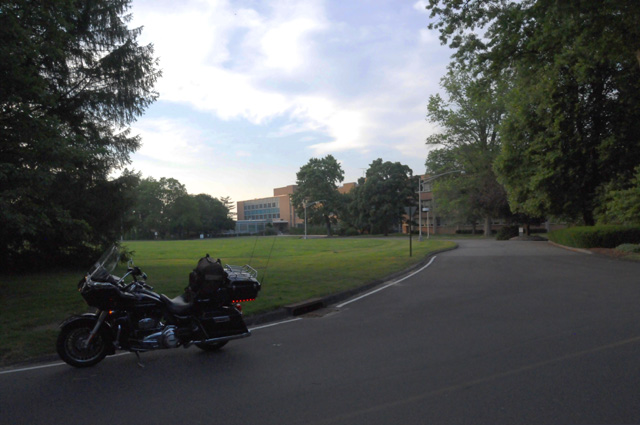 Now for today's statistics. I rode 216 miles, about 90 of them were on US1. I have ridden a total of 1,654 miles now. I counted 127 more lights on US1, that's a total of 1,181 lights. A lot of US1 was freeway today, but I still had to slog it through a lot of red lights in high temperatures on other parts of US1. The off-US1 part went faster with fewer lights, some was high speed toll road. I got an EZ Pass while in Delaware. I have Sun Pass from Florida, but it does not work outside Florida. When I took a break this afternoon, after being at slow speeds with lots of lights, my oil temperature gage read 310&degF. That's hotter than I thought it would get! I'll sleep on that.
Oh, something I have not mentioned. When I started this ride, there were ten states (in the Lower 48) where I had not ridden my motorcycle. I have scratched Delaware, Pennsylvania, and New Jersey off that list. Now it is seven. And I have added two more capital cities to my list, Delaware and New Jersey.
---
9 July 2014, 11:59 PM, Nyack NY
Tonight I am going to make this quick, it is late, it has been a long day.
Let me start with a chuckle, from me. This picture was sent to me by Jim (remember you met him two days ago at an IHOP, an RCA colleague from long ago). I don't remember the date on this, but it is about 1977. Yes, that's me. The hair was all my own.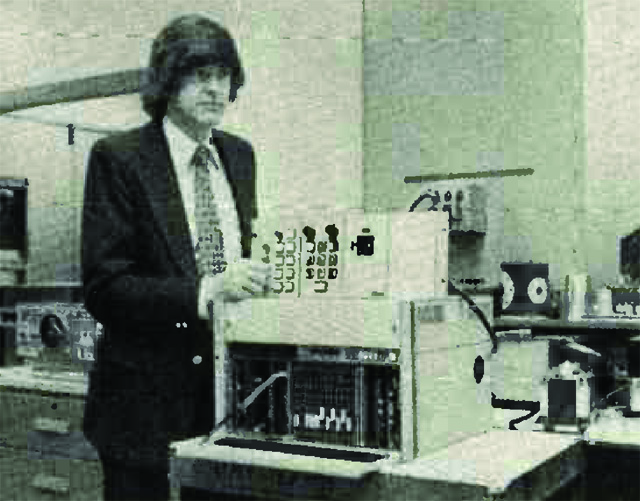 Overnight I was in Princeton, NJ. This morning I rode to Hightstown to where I used to own a home, the home shown below. I guess I like to look up those places where I once lived.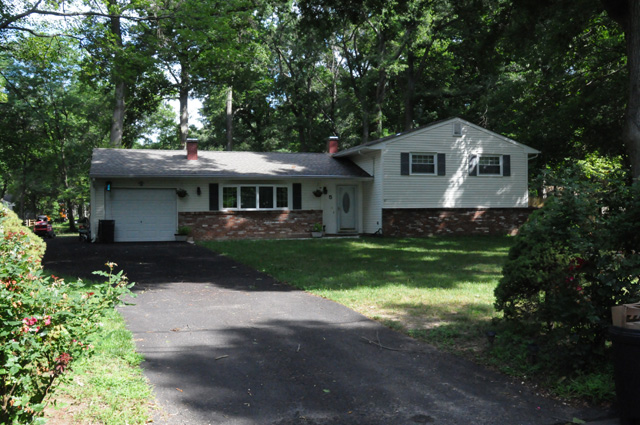 Then I headed north again, on US1, but only ten miles from where I was last night, back to the Rutgers campus where I spend a number of hours from 1964 through 1970 while I was also working at RCA Labs which you saw last night. The building below housed the Electrical Engineering department at the time. Today it is the English department. Electrical Engineering moved to the new campus some years ago.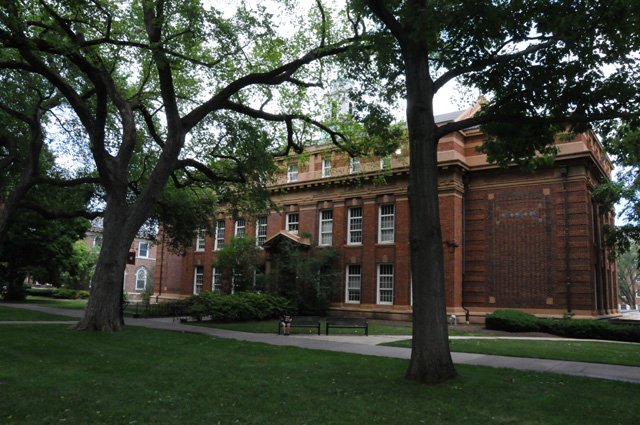 I continued north on US1, and went all the way to the last exit before the George Washington Bridge. I bailed at the last exit to visit my friend Eisuke. We watched the first half, and a small part of the second half, of the Netherlands and Argentina semi-finals match.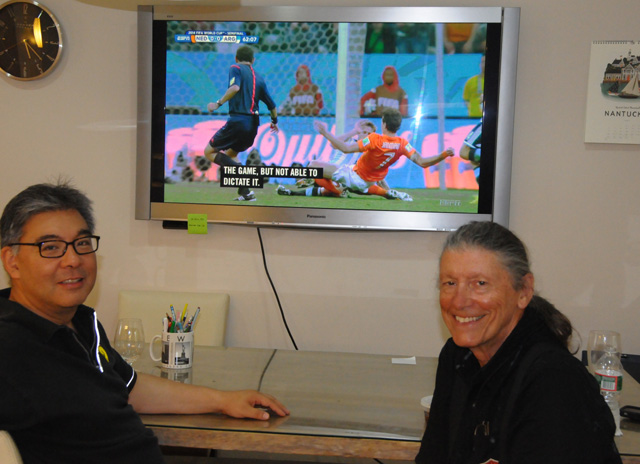 Eisuke got a couple of pictures of me as I was leaving, and sent them to me, and now I am showing them to you.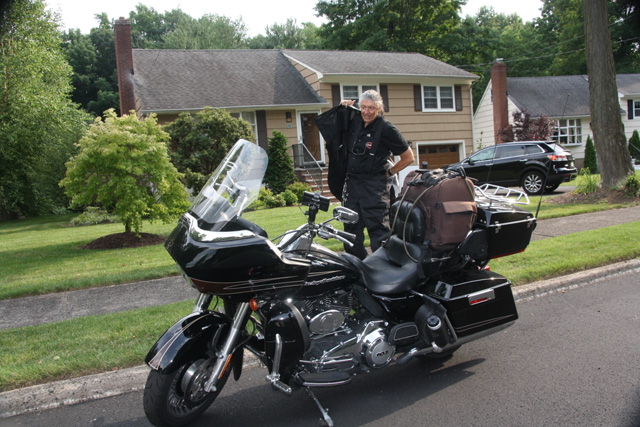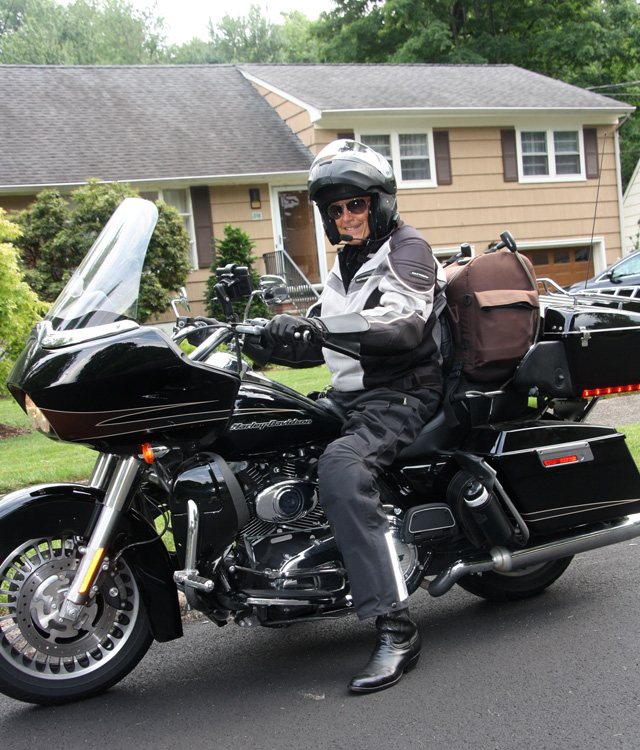 By then I had to take off again (not on US1) to visit friends that date back to my RCA Camden days, Larry and Marie Thorpe. I was hit by some rain from a thunderstorm, but not bad enough to stop and put on rain gear. They have a gorgeous house high up on a hill overlooking the Hudson River just south of the Tappan Zee Bridge. You can see bridge lights out the window.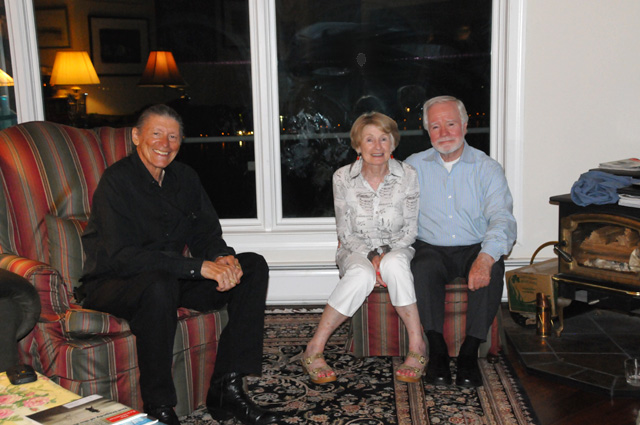 Tomorrow morning I will head back to the GW Bridge to resume my Route 1 trek.
Speaking of which, the last part of my US1 ride this afternoon was a nightmare. US1 is closed going over the Pulaski Skyway, so I was re-routed to the US1 Truck Route. It seems like I averaged about 1 mile an hour.
Today's stats. Total miles on this ride - 1,788. Miles today - 134. Miles on US1 - 50. Traffic lights on US1 - 86. Total traffic lights on US1 - 1,267.
---
10 July 2014, 10:00 PM ET, Meriden, CT
Hello there. Time to catch up again. I almost abandoned US1 today. It took me 4 hours to ride 45 miles. I was annoyed. And hot, even though the temperature was lower today. I think the highest speed limit during that 4 hours was 35 miles per hour. I lost the road more than once, it is simply not well marked. I have to keep referring to my smartphone to see if I am still on US1, and if not how to get back to it. I decided to give it another hour, and then decide. During that hour, I made 20 miles, so I have stuck with it so far. This is in the greater New York area. Riding is supposed to be fun. This was not.
I had already decided that my advice to anybody thinking of riding US1 is a definite NO. Maybe ride the parts out in the country, but bypass the parts in cities. Not only is it slow and tiring, it is boring. I would redo Route 66, Route 50, and all the other rides I have done, but NO WAY would I redo US1.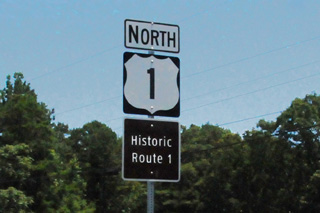 It may be historic. But this ride of mine will also be historic.
While I am on the topic, let me give you the statistics for today. I rode 178 miles, about 85 were on US1. I now have a total of 1,966 miles. I counted 406 traffic lights today. Yes, that is correct, 406.And that was in about 85 miles, almost 5 lights per mile. I have counted 1,673 lights so far on US1.
Before leaving the Thorpes this morning, I had to get a picture of the Hudson River and the Tappan Zee Bridge from their deck. Imagine waking up to this view every morning. The sun was shimmering on the water.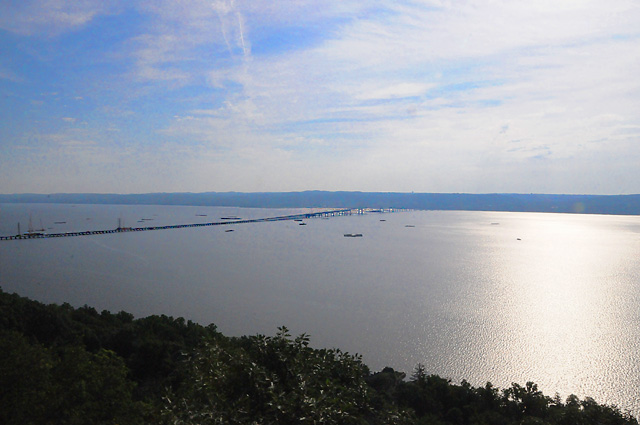 After I left the Thorpes, I headed down the Palisades Parkway to the George Washington Bridge to resume my US1 ride. As I told you already, the next 45 miles was torture. This is not for the faint hearted. If you cannot tolerate being waterboarded, or having your fingernails pulled out, this part of my ride would not be for you.
I finally made it to New Haven and got off US1 to head to Hartford, the capitol city. This picture is the front of the capitol. It looks quite different from any other capitol I have visited in the US.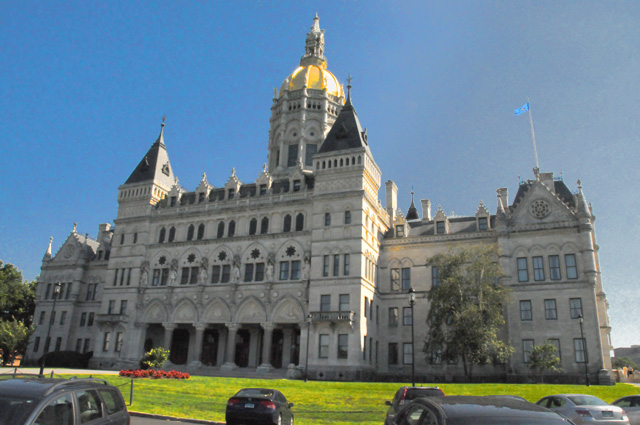 The back of the capitol was in the sun, so I will show you that also.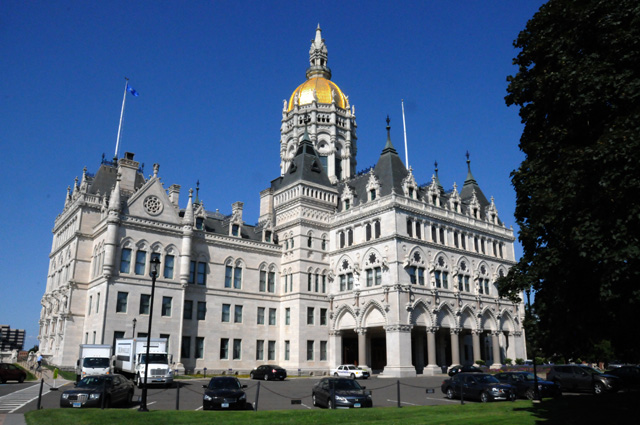 If you wish to compare this capitol to the others I have visited, be my guest on my US Capitols page.
I left Hartford going back to New Haven, but I decided to call it a day. I am about halfway back to US1. In my original tentative schedule, I thought I might be as far as Portland, Maine tonight. Shows how good my planning was for this ride!
---
11 July 2014, 11:59 PM ET, Boston, MA
Can you imagine my surprise. Do you remember Elvis singing, "the tears I shed were tears of joy"? The feeling I had was, "Yes Virginia, there is a Santa Claus."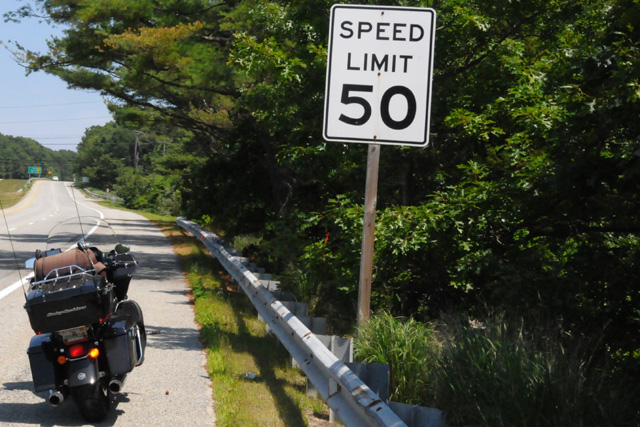 Finally, a speed limit on US1 that I could be happy with. A sight I had not seen for days.
I slept well and long last night, nine hours, the longest on this ride. I needed it. I had a fresh new perspective this morning. US1 would not get the best of me. Last night, you may recall, I was half way back to US1 from Hartford CT. So I continued south to reach US1 then headed east. The going was better today, fewer lights, better speed limits, and some very nice country roads.
Yesterday I moaned a lot, but I decided US1 can't help what it is. It is what it is. It has to be appreciated for what it is. It is an old road that connected cities up and down the east coast, many of them capitol cities. That's what the road is. My insistence that I ride every mile may be stupid, but that's what I wanted to do. With a fresh view, I should say that the more scenic parts can be ridden and the boring urban parts can be bypassed if that's what you want to do.
What was so difficult was the part from the Pulaski Skyway, which was closed putting me on the US1 truck route, to somewhere between Stamford and New Haven. Except for that stretch, it is not as bad as I made it sound last night.
On to my next stop, Providence, Rhode Island. This is another capitol city. US1 (southbound) runs beside the capitol. I have two pictures for you, one straight on which I like, but it doesn't show the full capitol.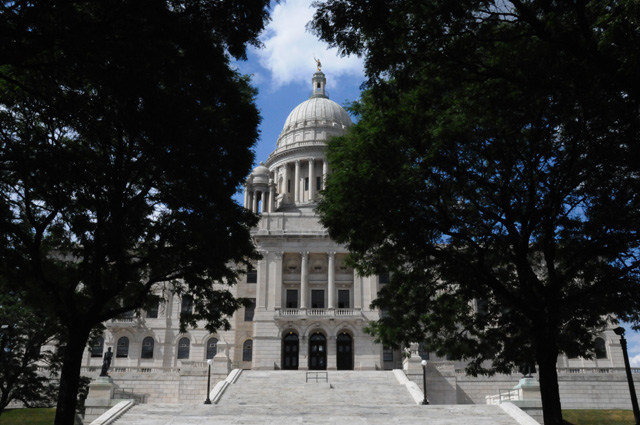 Here's a view from a front corner.
Then I was back on the bike to Boston, another capitol city. Getting this next picture was a little more difficult. All around the capitol, which sits on a hill, are streets with parking reserved for residents. It was getting late, and I did not want to find some place to park far away and have to walk. So, I rode around the capitol one more time, parked the bike running on the road, jumped off, grabbed my camera and took this picture, then was back on the bike in a flash and was off. I don't have multiple views, only this one.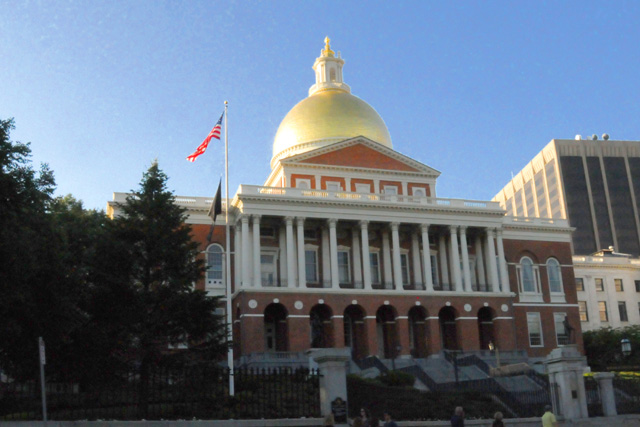 The miles keep adding up, now I have 2,191. I rode 225 miles today, about 200 were on US1. I counted another 275 lights, and I am up to 1,948 now. Do you remember my guess? It was 2,131.
Enough for today. It is late again. Good night.
---
12 July 2014, 11:59 PM ET, Portland, ME
And a good evening to you. It is late. If you look just above you will see that it is 11:59 PM. That's really not true. It is later than that. That's a code time. It was really later, but then I would have to put the next day on the byline, and I don't want to do that. So I tell a little fib on the time. Sorry about that.
Let me start with data. I have been placing it at the end, but tonight I want to put it at the top.
I rode 235 miles today. About 125 were on US1. I counted another 104 traffic lights on US1.
Total miles are now 2,426. Total traffic lights are now 2,052. I have another 400 to 500 miles of US1 left. I don't know how many traffic lights are left, but the number is dwindling. We are getting close to the final number. We will be able to crown the light king (or queen) in another couple of days. Are you excited? Is the tension building? Who is going to win the chocolate shake?
Have you noticed that I have not been counting the number of chocolate shakes I have consumed? Well, my Doctor has given me some orders, and so far I have been a good boy. I don't know how much longer that is going to last.
Let me do my daily rant on traffic lights. It was not bad today. However, it took me half an hour to go one mile today. Some little town had traffic stopped in its tracks. I won't tell you the town. But it was not a traffic light. There was not a traffic light in the town, but the traffic was stopped. I won't try to understand this. I will just say it is part of the mystic of US1.
Last night I was the guest of Margo and Ephraim. I thank them very much. I did not expect it, but they were so kind to make the offer. Margo is the daughter of my next door neighbors. Margo grew up in the house next door. I was not there at the time, in fact, she had left home well before I arrived, and I have only met her when she comes back home for a visit. Thanks again, Margo and Ephraim. We posed for this picture shortly before I hit the road again this morning.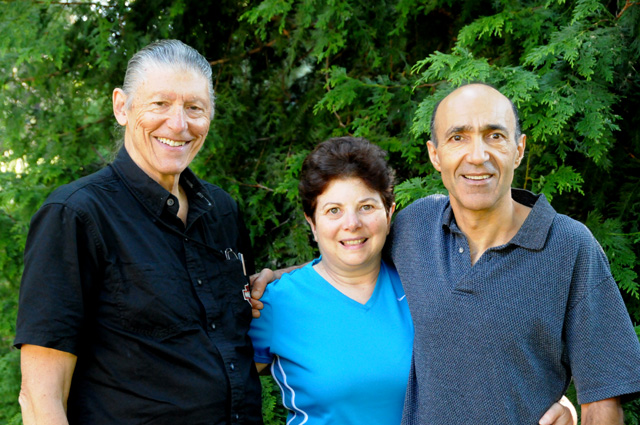 This is Margo and Ephraim's little friend, Snickers. He liked me. I think he could smell Maggie and that's why he liked me. Whatever, I will accept it. He is cute. I guess I like dogs.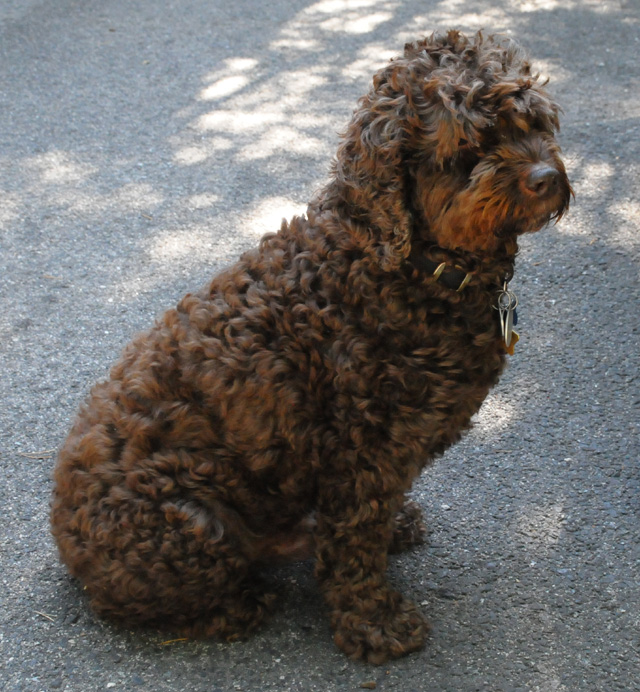 My first destination was the capitol of New Hampshire in Concord. This city is not on US1. I made a 50 mile side trip to get this picture.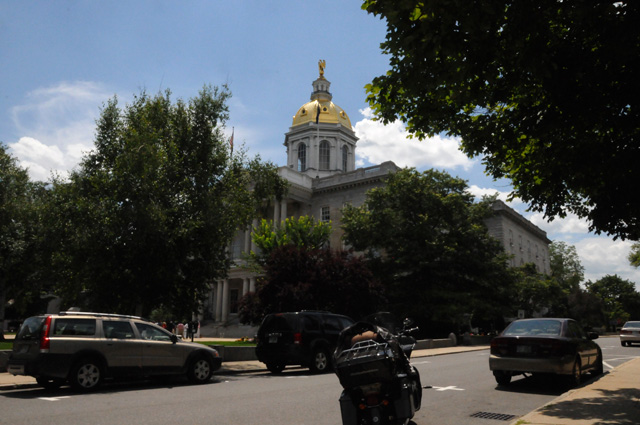 Have you ever noticed how my motorcycle seems to get in so many pictures. It is like a little pet, nudging me to pet it and keep it nearby, and especially in my pictues.
I have entered Maine now, and I am in Portland tonight. I stopped to visit a colleague of mine, we have known each other since about 1977 or 1978, I don't remember exactly when. This is Stan Baron.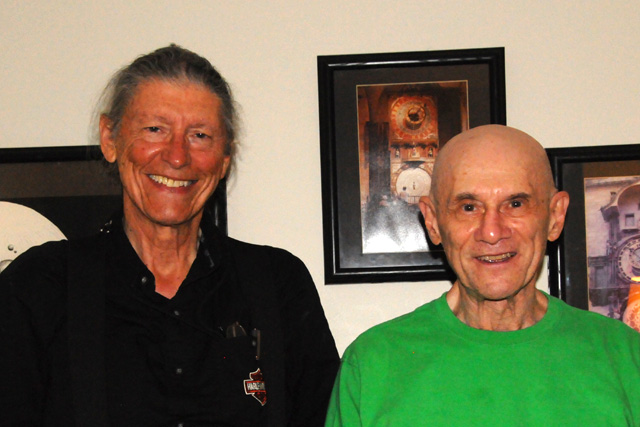 Stan and I are pioneers in digital video. That's how we came to know each other. We have both been involved in standards for digital television and digital high definition television.
In another day or two, I will have a riding companion for a few days. Kurt, a retired fireman from New York state, and I first met on our Route 66 Ride in 2008. Kurt has visited me on a ride of his through Florida to Key West, and now I will see him on a ride through the northeast. He will be coming from Syracuse on Interstates while I continue to ride on US1. I think he will catch up with me rather rapidly. Here's a picture of Kurt on his Gold Wing on Route 66 in Tucumcari. I wonder if he still has the same bike. I will know soon.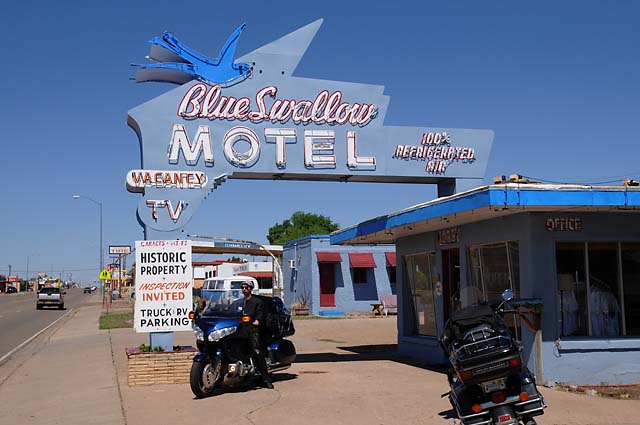 Hey, there's my bike in the picture again. I don't know how it manages to do that so often.
That's all folks.
---
13 July 2014, 11:59 PM ET, Ellsworth, ME
I am shocked! Not a single picture of my bike today! I hope it is not mad at me for neglecting it. I didn't realize that until I started organizing my pictures for today. Oh well, so be it.
Lots of dogs today. Maybe that's a sign that I miss my little doggie. I hope all my motorcycle rider readers are not upset at not a single bike picture today. Tomorrow I must do something about that. Kurt has joined me now, on a Gold Wing. They are even sitting side by side tonight, they seem to get along OK. Last night I wondered if Kurt still has the same bike, he does. He must like it.
Riding conditions today were excellent. Cool. Not too many lights. Not too many slow speed limits. I started from Portland, went up US1 for a while, then headed inland to visit the Maine capitol, Augusta. Then I went back to the same spot where I had left US1 and discoverd that I had a voicemail from Kurt, at 1:15 PM. I had wondered if he would even catch up with me today. He was coming from Syracuse, NY. Well, he had already passed me! He was on Interstates, I am on US1. So after a few vocemails back and forth we were able to meet at Belfast, Maine. He was there first waiting for me. I told you that Kurt is a retired firefighter. Guess where I found him. At the Belfast fire station. Then we continued north on US1 and broke off to go to an island, Deer Isle, to visit with my neighbors across the street in North Palm Beach. Bob and Cindy have a summer home in Maine, so Kurt and I went there to say hello. After a while, we headed back to US1 where we are spending the night.
Now for pictures.
First one is dogs. This is Tesssa on the left and Emma on the right. They are sisters.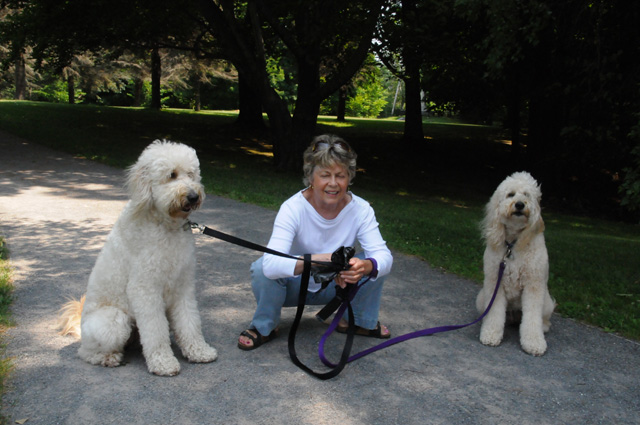 And here is Sammy, another sister. They were walking in a park across the street from the capitol in Augusta.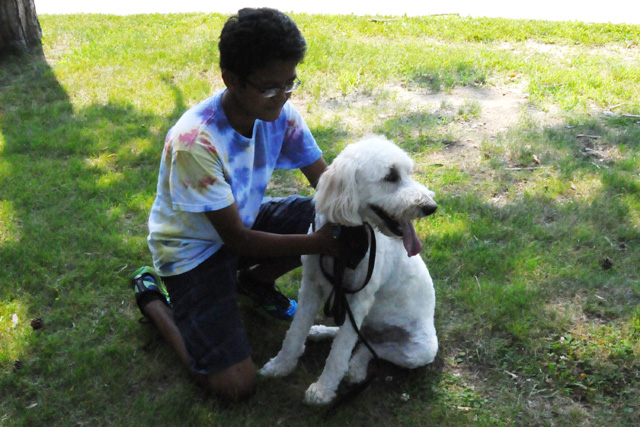 Speaking of the capitol, here it is. I was so disappointed to see that the dome is covered with scaffolding. When I get home, I will try to photoshop it out. We'll see how successful that is.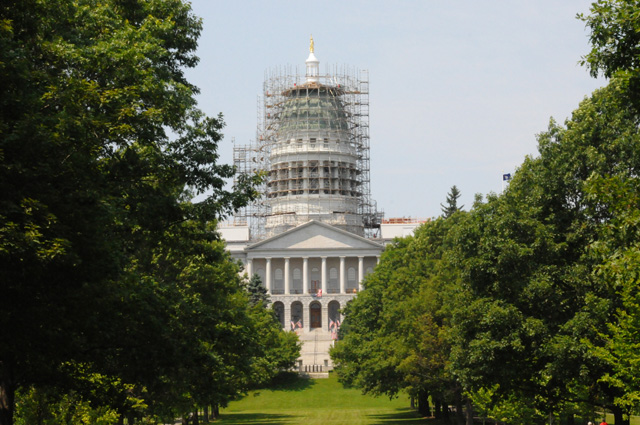 Here's Bob and Cindy in their summer home. Bob is holding Annie, Harry is in front of him, and Belle is in front of Cindy. You may have to look a second time to see Belle.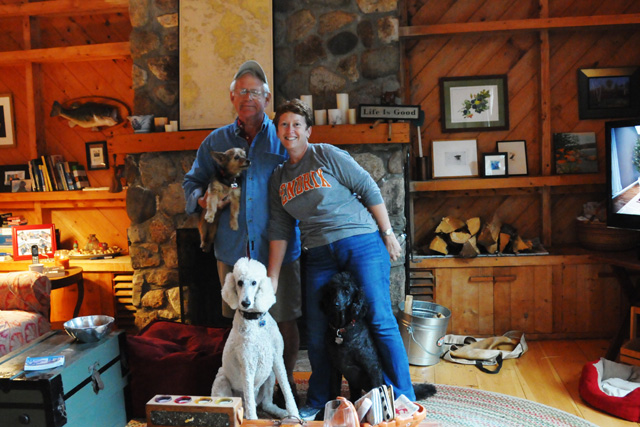 And here's Kurt and me, with Annie and Harry.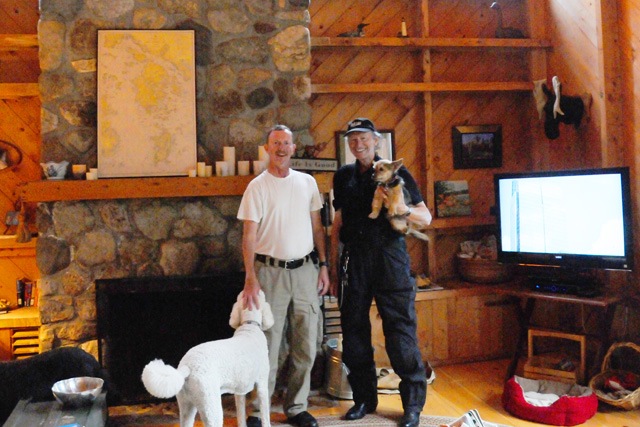 Here's the view from their deck.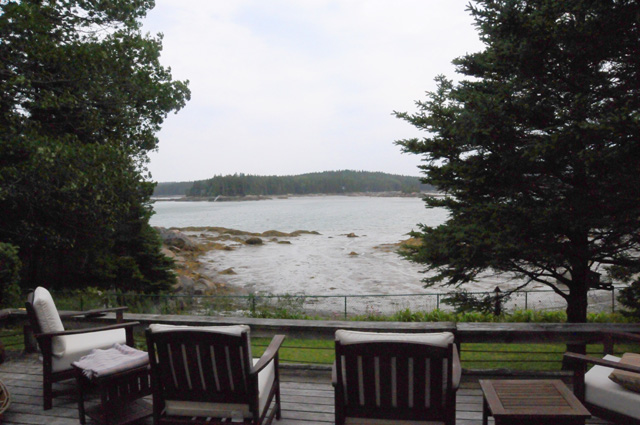 And here's a picture of their summer home looking from the water.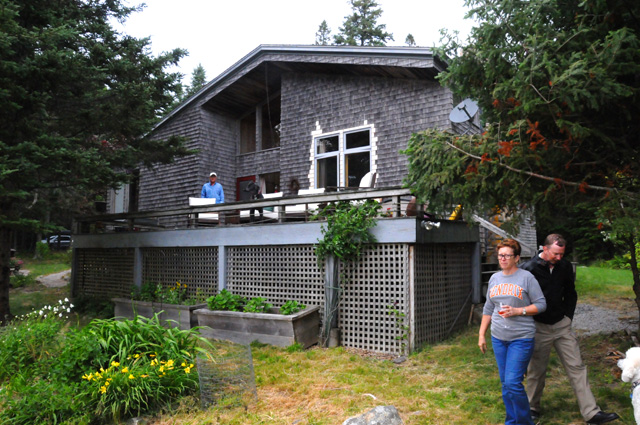 The temperature was delightful, especially after some of those hot days, as high as 100&deg. For the ride back to the hotel, I wore my windbreaker/rain jacket so I would not be cold.
Statistics for today: Miles were 274. Traffic lights were 40. Total miles now are 2,700 and total traffic lights are 2,092.
Nighty night.
---
14 July 2014, 10:45 PM ET, Calais, ME
OK, let me deal with some numbers first. Today Kurt and I rode 265 miles. That consisted of riding about 20 miles on US1 to start the day, then 19 miles going back on the same part of US1, then going to Acadia National Park, then going 20 miles on the same part of US1. Yes, you understood that correctly. That 20 mile stretch of US1, we wanted to make sure we would remember it. Here's how that came about. I had wanted to go to Acadia, but didn't take the time before we left to discover that we were already at the turn-off point. So, the 20 miles we rode had to be undone. You get the picture? After Acadia, we went along US1 until we broke off to go to Quoddy Head, the most eastern part of the United States mainland. Then back to US1 to continue riding toward its end. We may make it to the end tomorrow, Fort Kent, Maine. True progress on US1 was about 130 miles as I figure it. I have ridden a total of 2,965 miles so far on this ride. I am not half way yet, so it is looking like it will be 6,000 or more by the time I get home.
How about traffic lights? There were 6 today. Can you imagine that? Only 6. My finger was itching to push the button, but there simply were no more lights to cause me to push the button. About three of those six lights we went through three times, but I promise you I only pushed the button once for each of them. The total number of lights now stands at 2,098. The situation now is that the closest guess was you know who. Too bad that I am not eligible to win the prize.
Now to the pictures, and I have a few more today than I have been showing you the past several days. We'll start with a shot of Kurt on his GoldWing. He is looking out at the gorgeous scenery in Acadia National Park.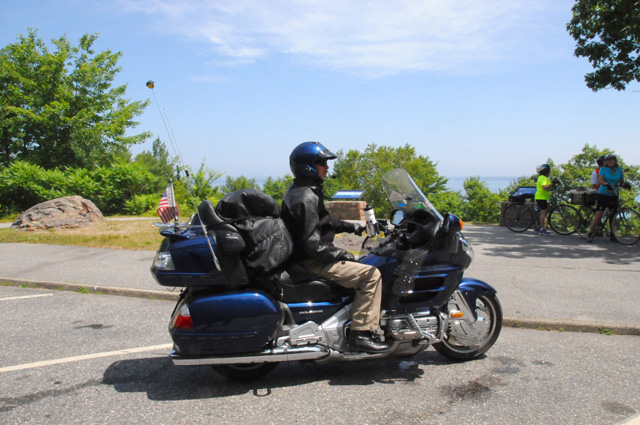 And here's Oscar, the dog of the day.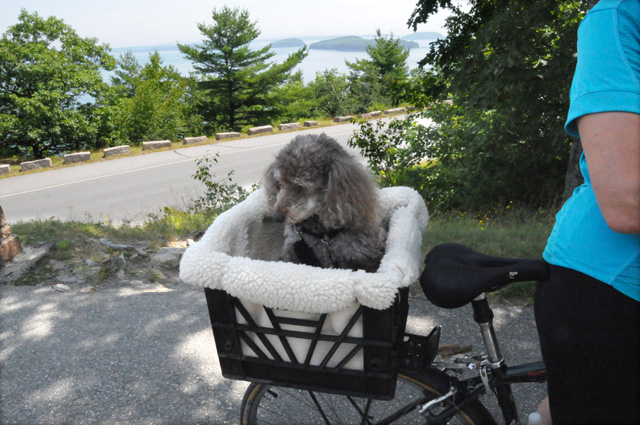 The next several pictures are different views in Acadia.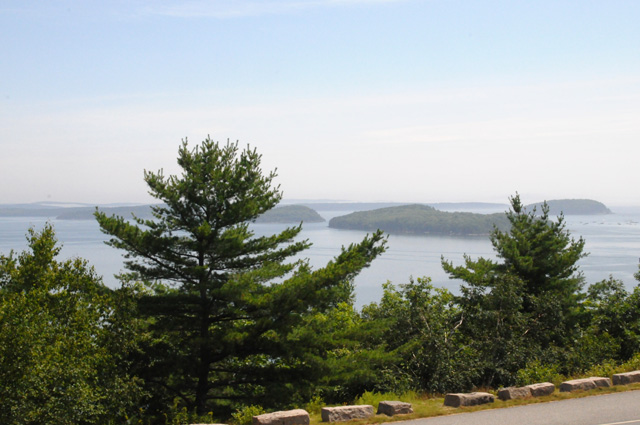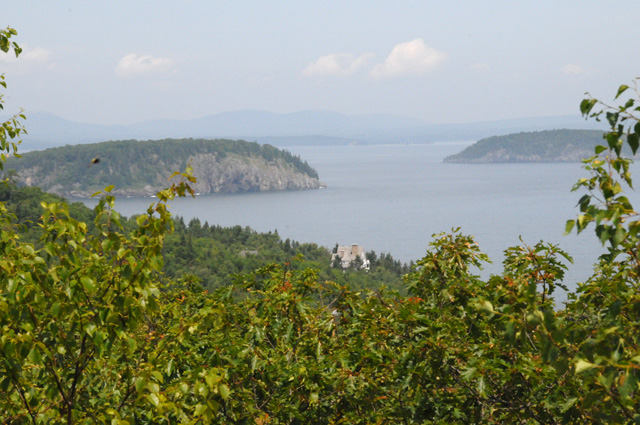 See the cloud/fog bank out there? We had to ride through something like that later, getting to Quoddy Head.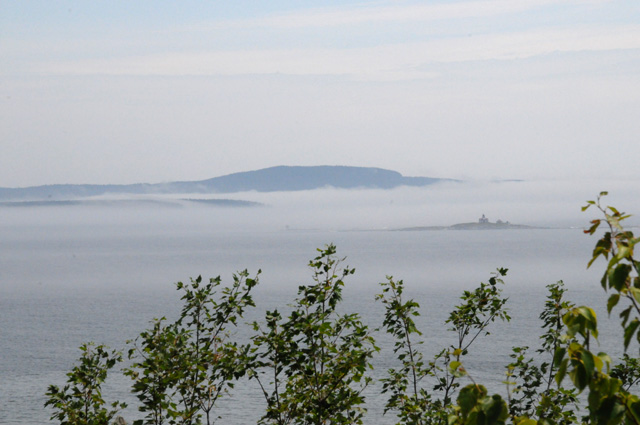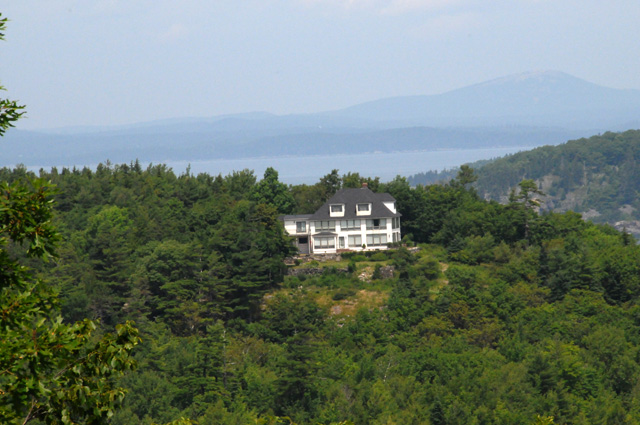 You may recall from some of my previous rides that trees can sometimes capture my mind.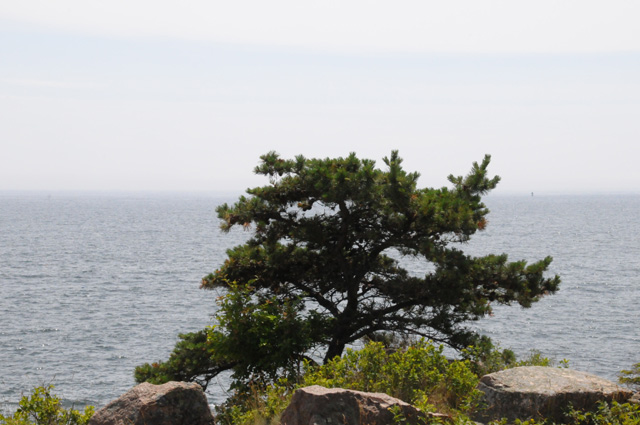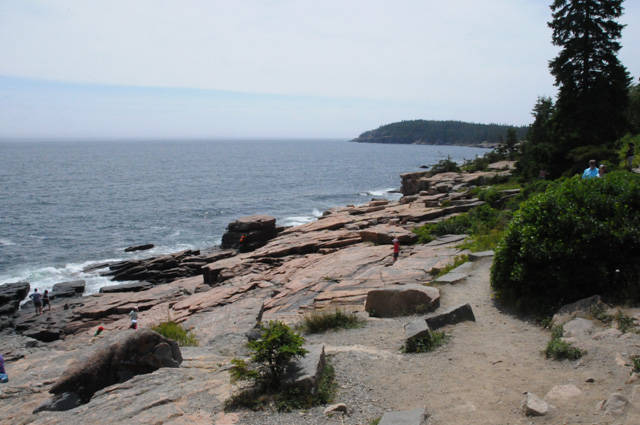 That's Kurt down there.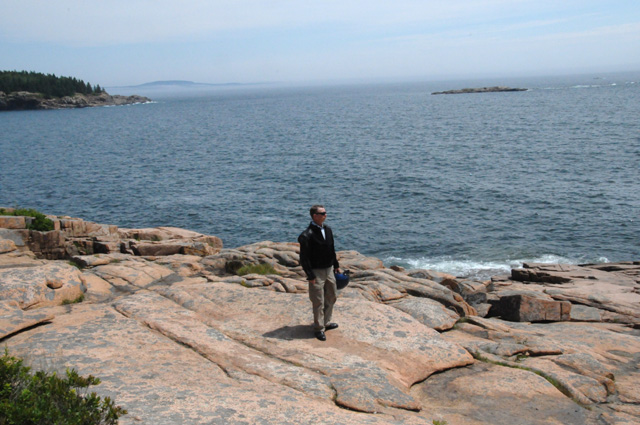 Now we have moved on to Quoddy Head. You can see the fog. The lighthouse, only a few yards away, is almost hidden.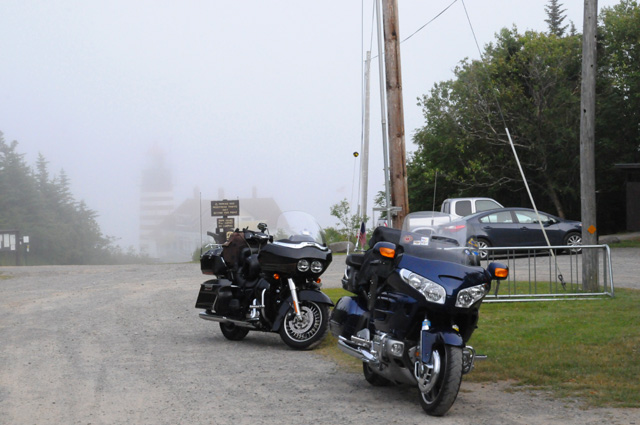 Here's a closer picture of the lighthouse. Still in the fog, but being closer lets you see it better. The temperature here was more than 30&deg lower than away from the coast. Mid 50s versus mid 80s.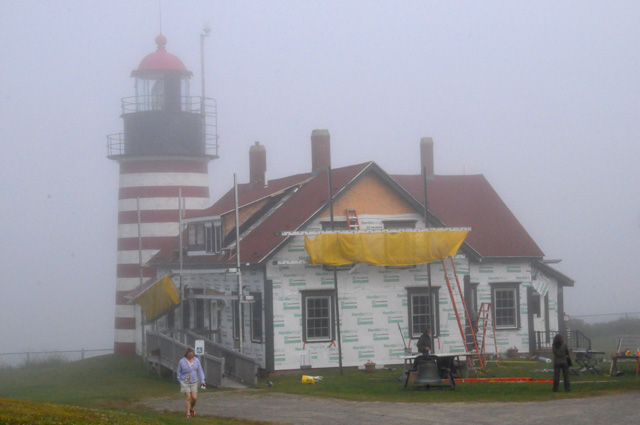 Here's Kurt at the eastern most point of the mainland USA.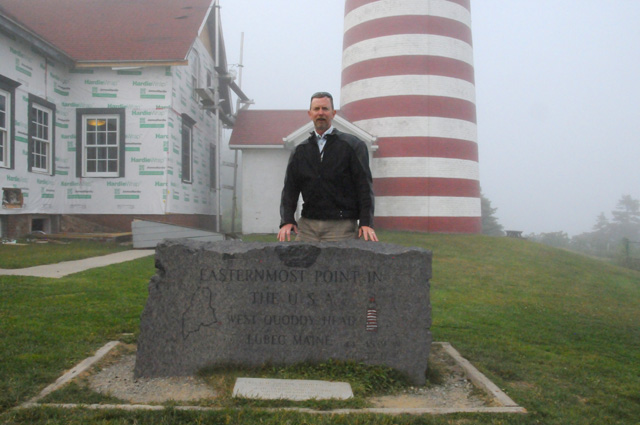 And me.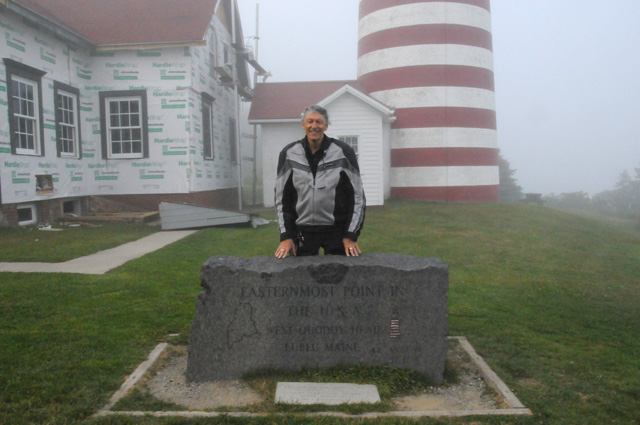 The stone in front of Kurt and me says,

EASTERNMOST POINT IN
THE U.S.A.
WEST QUODDY HEAD
LUBEC MAINE
I'm going to bed earlier tonight, I am tired. Night all.
---
15 July 2014, 11:00 PM ET, Fort Kent, ME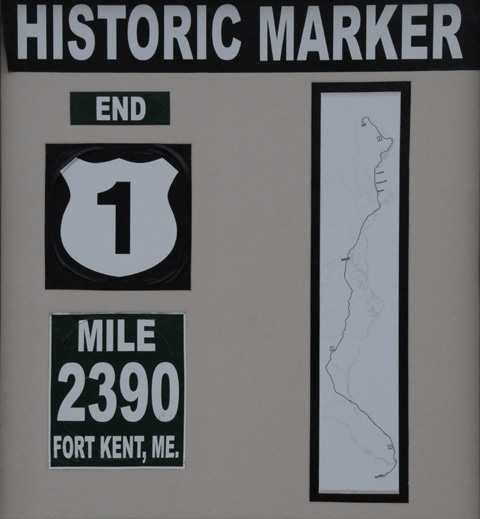 2,116&nbsp&nbsp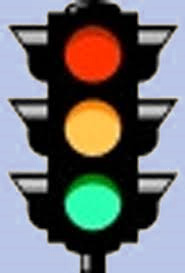 And the winner is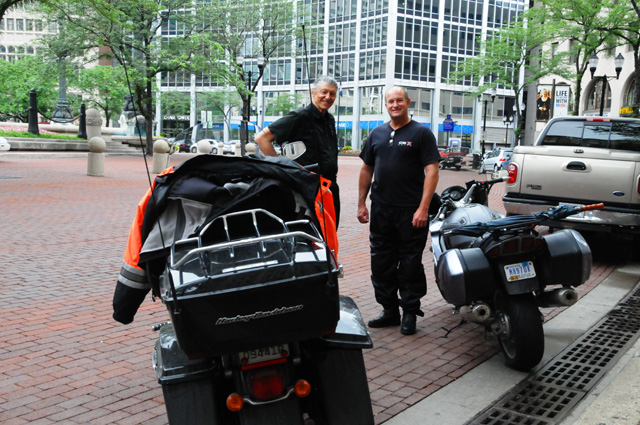 Dean from Indianapolis
OK folks, I have reached the end of US1. I am in Fort Kent, Maine. Tomorrow I will go into Canada to get to Vermont, it is shorter going through Canada than going back through Maine.
As you can see from above, the number of traffic lights that I counted from North Palm Beach was 2,116. I had the closest guess, 2,131, but I am not eligible to win the prize. The second closest, only one away from my guess. was Dean from Indianapolis at 2,132. You may remember that I met Dean on my US Northwest Ride last year. In fact, the picture of Dean and me just above is from that Ride. So, Dean, congratulations for a job well done. Now then, to collect the prize, we have to meet again. Until then, you can only dream of what the prize will taste like (a chocolate shake). I suggest the next time you are in North Palm Beach or I am in Indianapolis, we get together to award the prize. I suspect it will be the next time I am in Indianapolis, as I travel there on ocassion to visit family. So until then, hold on to the winning ticket.
The next closest guess Lisa at 1,992. The next closest was Dianne at 1,672. And next was Bob from my Route 66 Ride at 2,800. Kurt, who is riding with me right now, also from my Route 66 Ride, was next at 2,837.
Any of you who believe that I counted wrong, and that you were really the winner, are invited to repeat my ride and tell us your count.
I think it is sounding like my ride is over, but it is not, you must stay with me for several more days. I am only half way through the ride, now I have to get back home.
My mileage today was 223, now a total of 3,188. There were 16 lights today, for a total of 2,116 as mentioned above.
We were slow getting going this morning, hoping the rain would quit. Here's a picture looking at the wet conditions. While it really doesn't show in this picture, there was a light rain. It continued for an hour into our ride, about 40 miles.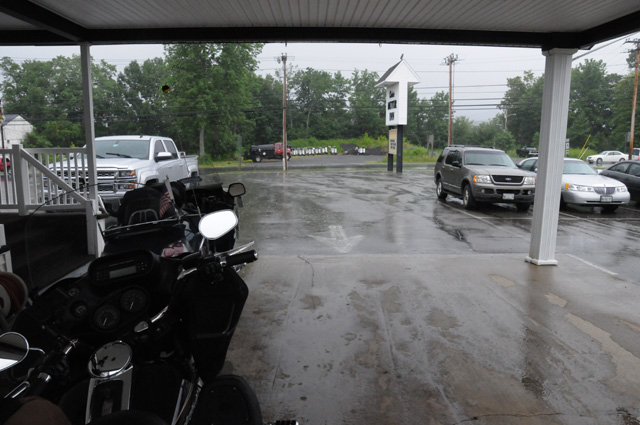 We did get out of the rain, though. Here's a picture from the northern part of Maine, somewhere between Caribou and Fort Kent. You can see Kurt sitting there on his GoldWing patiently waiting for me to get my picture and get back on the bike and get going.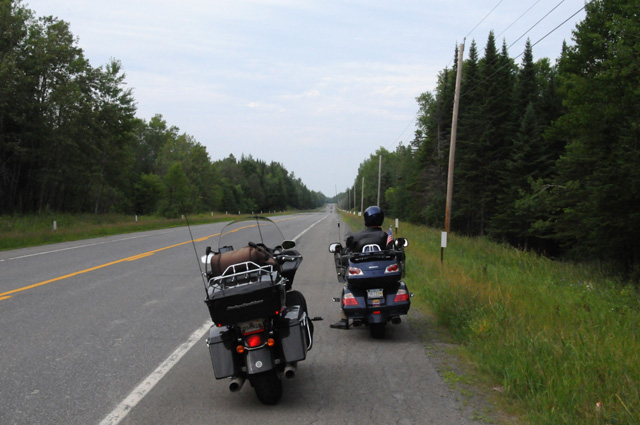 We are spending the night at this motel, right at the end of US1, and straight across the street from the bridge we will cross tomorrow into Canada.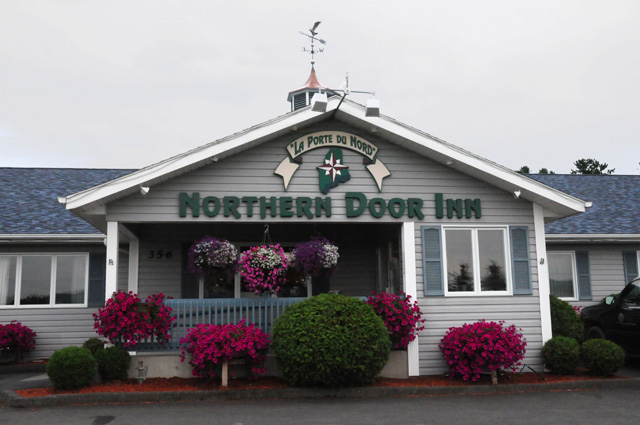 Kurt and I are admiring the monument at the end of US1. If you want to know what the things on the side say, you can read them in the next two pictures. If you don't, you can skip directly to the end where I say, "Good Night".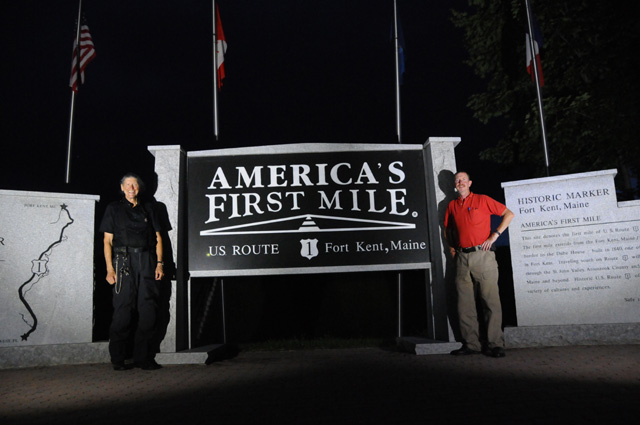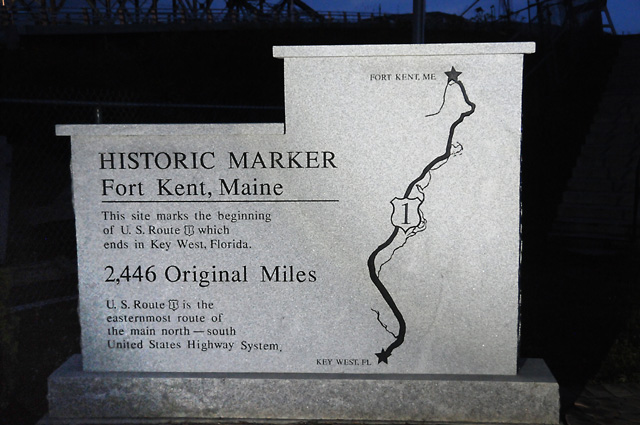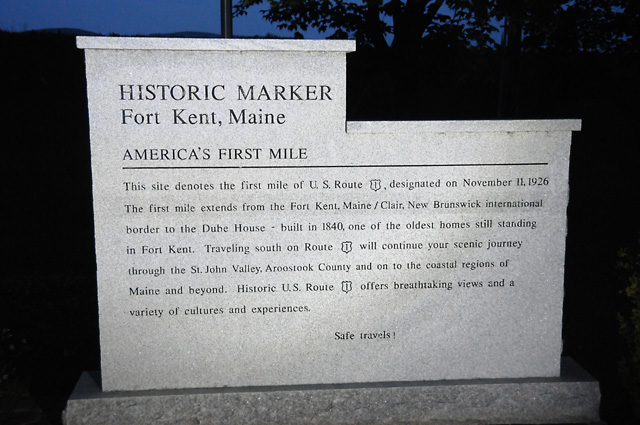 Good Night.
---
16 July 2014, 11:59 PM ET, Montpelier, VT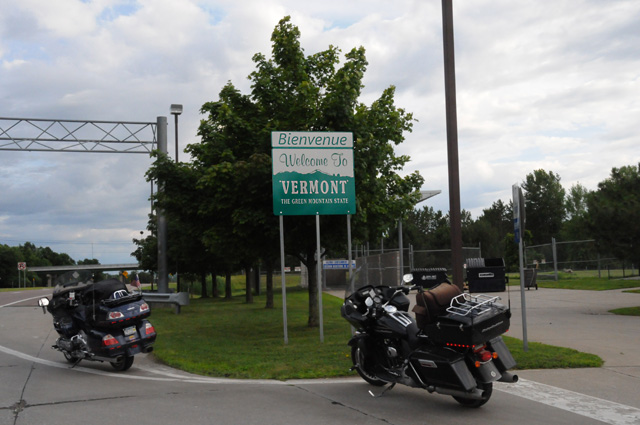 Today I reached a milestone. I have now ridden my motorcycle in all 48 of the Lower 48. That was part of my mission on this ride, and I have done it, entering Vermont from Canada.
It is late, it has been a long day. Kurt and I started in Fort Kent, Maine, the end of US1, got gas, and immediately crossed into Canada. We spent all day riding to Vermont. Part of the ride was through a forest, much as it was in Maine, and then we were on a motorway. We rode through New Brunswick and Quebec provinces. We were near Quebec City and Montreal, but elected to stay on the motorway.
We tried to get a room shortly after arriving in Vermont, in St. Albans, but no room in the inn. We went to Burlington, but no room in the inn. We went to Montpelier, and there was one room in the city. We took it. Normally we have separate rooms, but this time it was not in the cards. The room is a suite, however, so it turned out OK.
Data from today: 470 miles, 3,658 total.
Good night, I'll try to do more tomorrow. The miles kept me busy today. A reminder, click on "Map" on the menu to the left to see where I have been.
---
17 July 2014, 11:59 PM, Syracuse, NY
Kurt and I started the day with a visit to the Vermont state capitol in Montpelier. Kurt was wearing a special shirt to commemorate my attaining the level of riding in all 48 of the Lower 48. Kurt accomplished that feat in 2011 and got this tee-shirt to mark the event.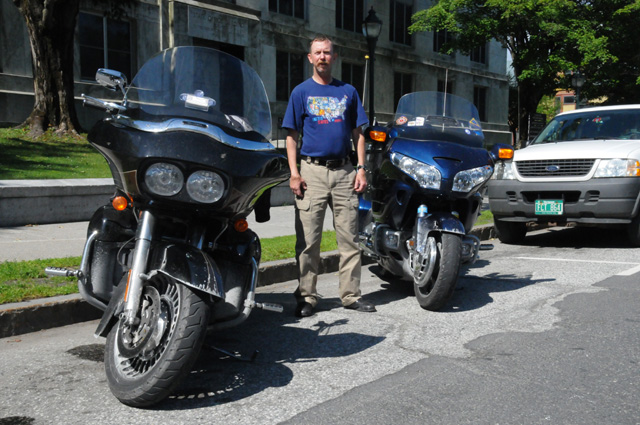 Here's a close up of the tee-shirt.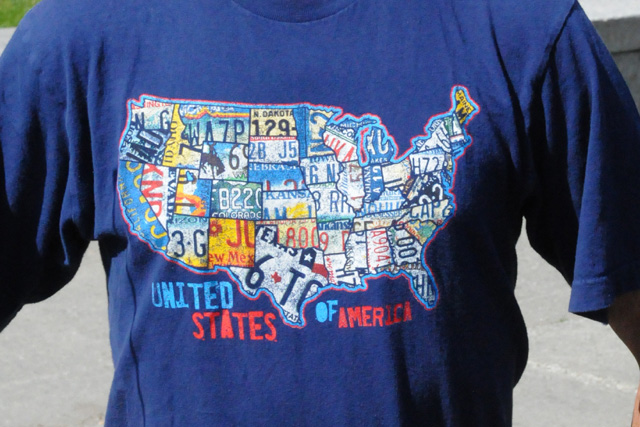 And here's the aforementioned Vermont state capitol.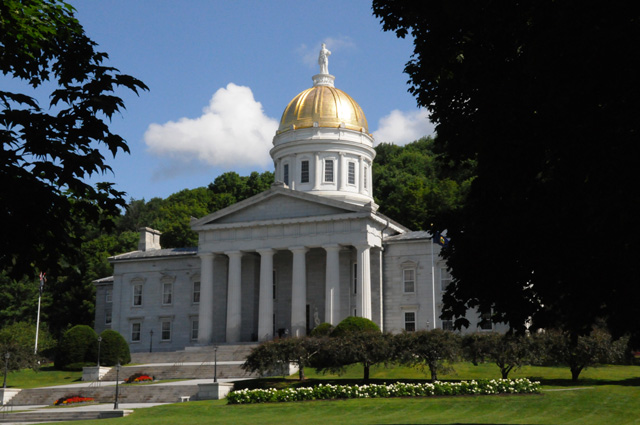 After that we headed out to Burlington so I could say "Hi" to Susannah's parents. Susannah, you should remember, is the spouse of my son Darryl. Nick and Anne were happy to see us, and granted my wish that they pose in front of their house so all of you could meet them.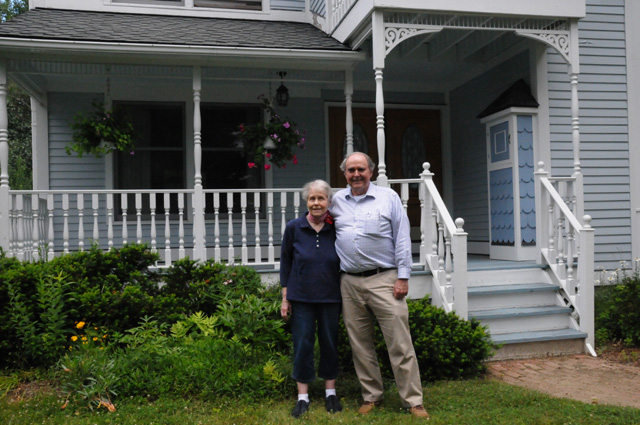 Then we were off to Albany, another capitol city. We crossed the Hudson River on this bridge.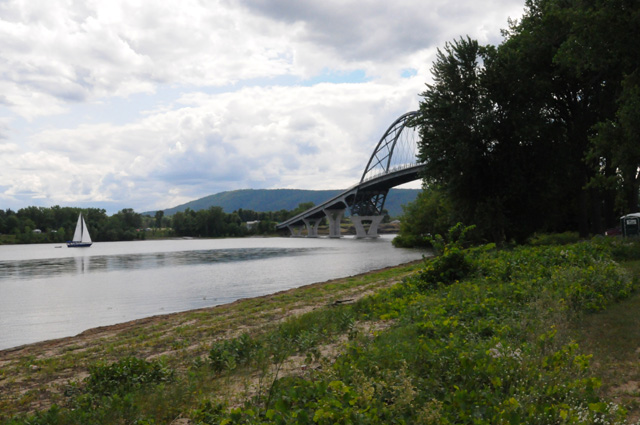 While I was off getting the bridge picture, Kurt was patiently waiting for my return.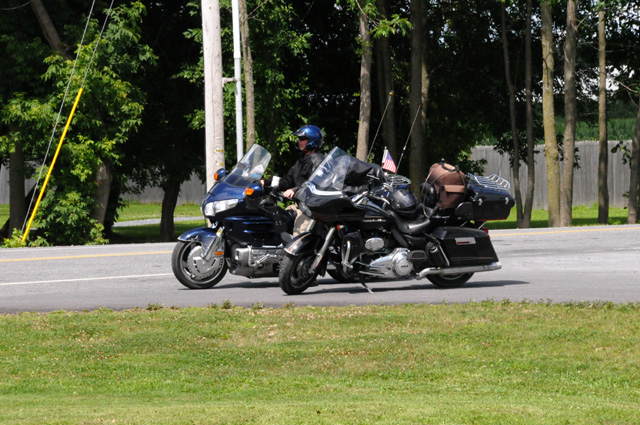 We passed Lake George.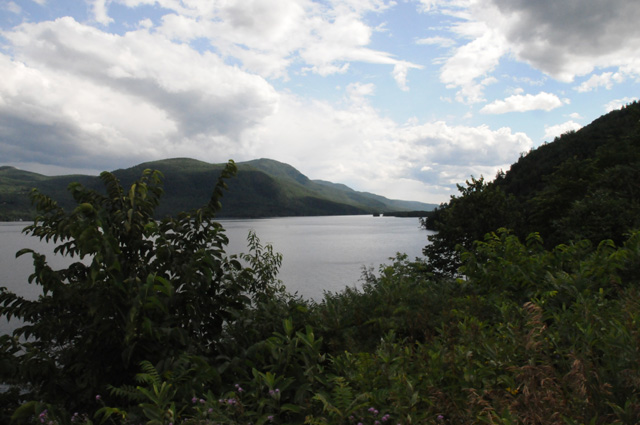 We arrived in Albany during rush hour, but I still got this picture of the capitol. The sun was behind the capitol, so that limits the quality of the picture, as I have painfully noted in the past.
Just to pound home that point, here's the back of the capitol. You can see how much better the picture is. And no, I am not going back tomorrow morning to get a better picture of the front.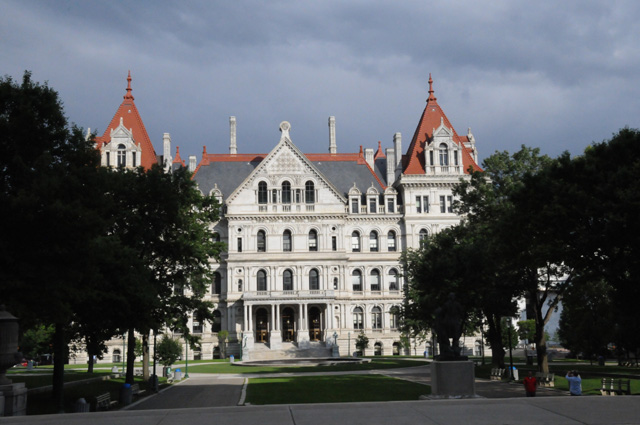 I rode 381 miles today, 4,039 total.
We are at Kurt's home tonight, having arrived somewhat after 9:00 PM. As a result of the long day, I am tired and I am going to bed right now.
Good Night.
---
18 July 2014, 10:30 PM ET, Sunbury on the Susquehanna, PA
I have no choice, I must start with this picture. This was taken during the afternoon. This picture was taken expecially for Dean. You know him, the traffic light count on US1 winner of a chocolate milk shake. After Dean won, he wrote me, "You know Bob ≠ I donít recall seeing you drinking a single milk shake on this trip yourself." And, he continued, "Lets start seeing the chocolate milk shake pictures please.(-:"
So Dean, I dedicate this picture to you.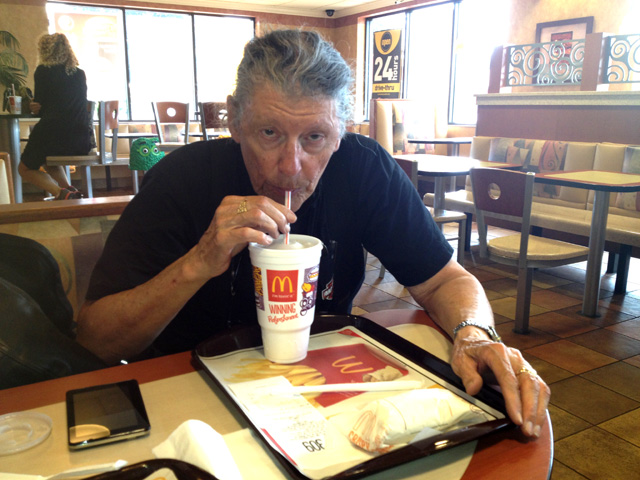 I spent last night at Kurt's home in Syracuse, NY. Thank you Kurt, wife Dottie, son Eric, and daughter Sarah for your hospitality and company. I appreciate very much your kindness. Here's a picture of Kurt and their home.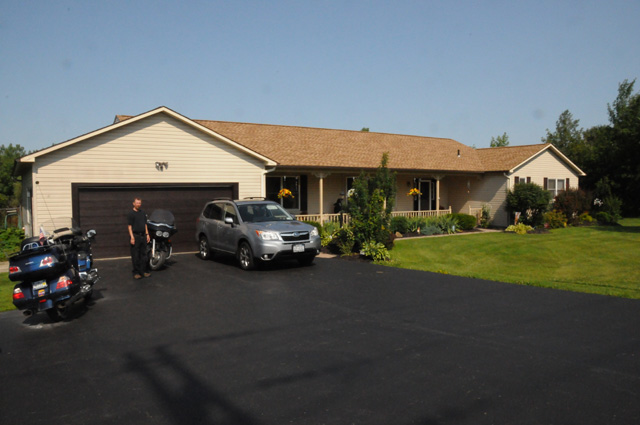 Our bikes were quite dirty from the messy weather we had ridden through. You can see the brown dirt on my formerly black bike. Kurt convinced me that I should at least hose it off, so I did. I will leave the real wash to my Harley dealer when I get it serviced after getting home.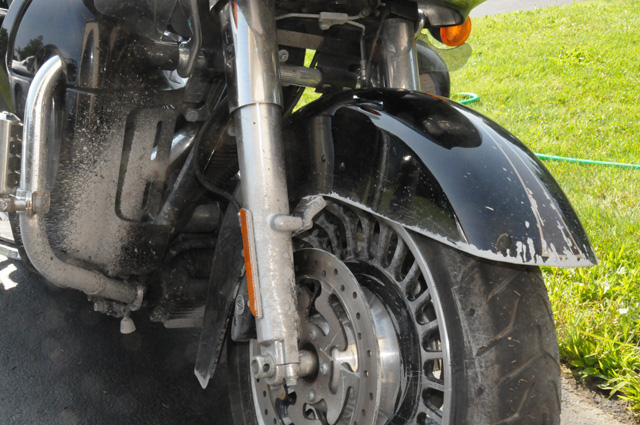 And then we were off again. First stop?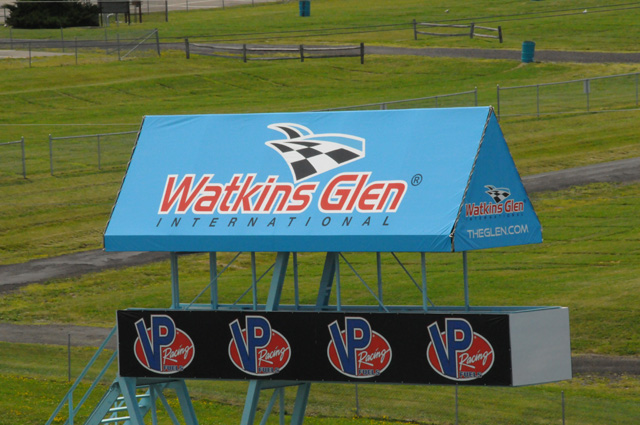 Back in the late 70s and early 80s, Hanna and I would go to Watkins Glen, in the finger lake region of New York, for the US Formula 1 Grand Prix. So, I had to go past the circuit since I was so close. A private event was going on, the SCCA had the track and infield. Kurt and I were allowed to go to one grandstand, so I agreed without hesitation.
I have several pictures here taken from the grandstand. First, views out over the circuit. This is Turn 1. The start/finish line is in front of the grandstand you see on the far left.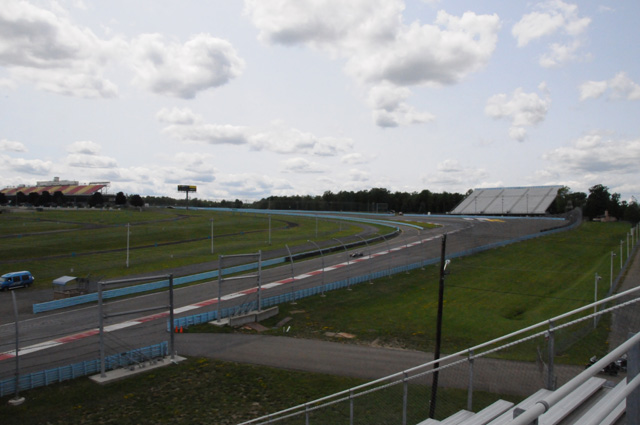 This is a short straight section just after Turn 1.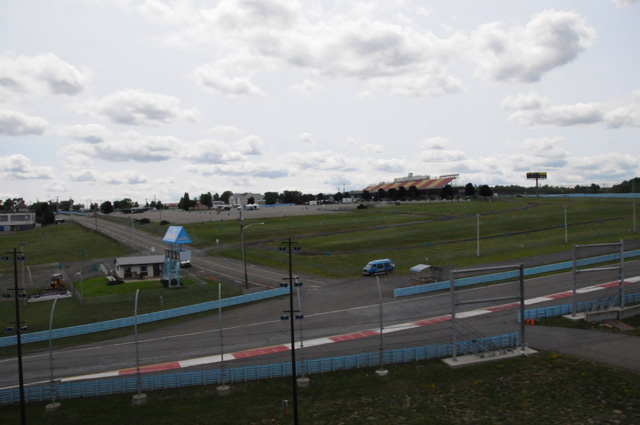 And here's the esses just after that straight section. This is all the track we could see from this grandstand. The place that Hanna and I found that we would return to each year is on the far side of the track from where I am right now.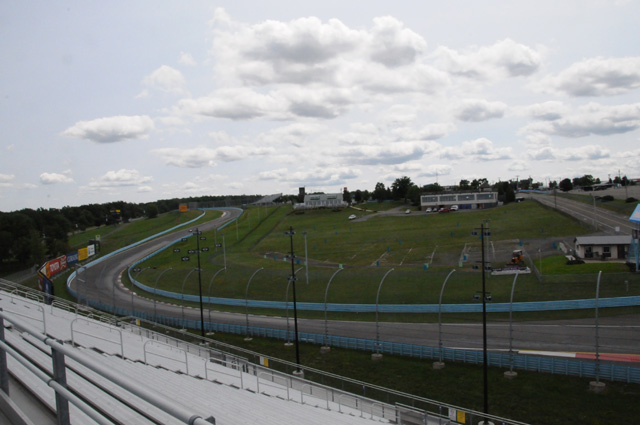 And here's a couple of pictures of some of the cars running on the track.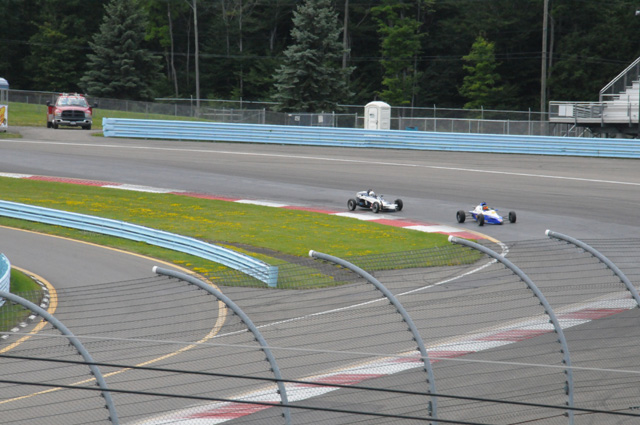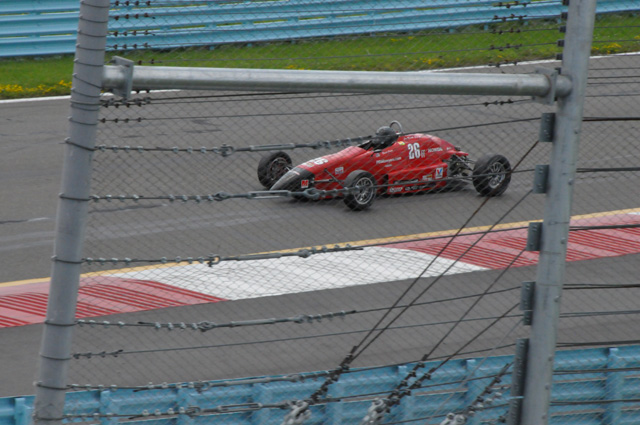 Here's a view looking back from the grandstand. You can see how beautiful the area is. There are hills all around. In fact, the circuit is on top of a hill.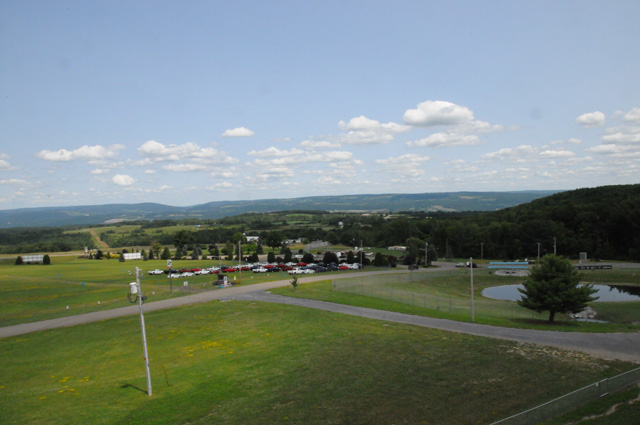 I took a look down at our bikes to see if they were getting along, and everything seemed OK. I guess Kurt's Honda GoldWing and my Harley-Davidson Road Glide have struck up their own friendship.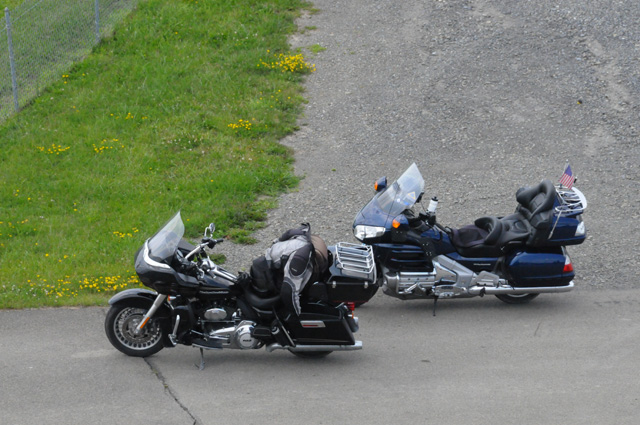 Just before leaving the circuit, Kurt had this urge to jump into a NASCAR and check out the track, but I persuaded him it was time to leave.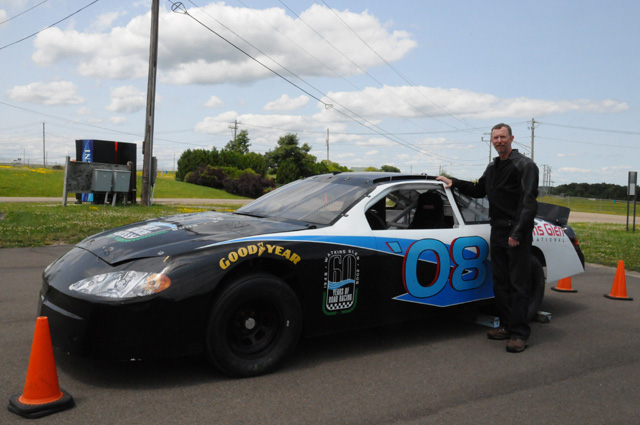 I decided to show you three old pictures of mine, from Watkins Glen back in 1979 and 1980. First, a Ferrari.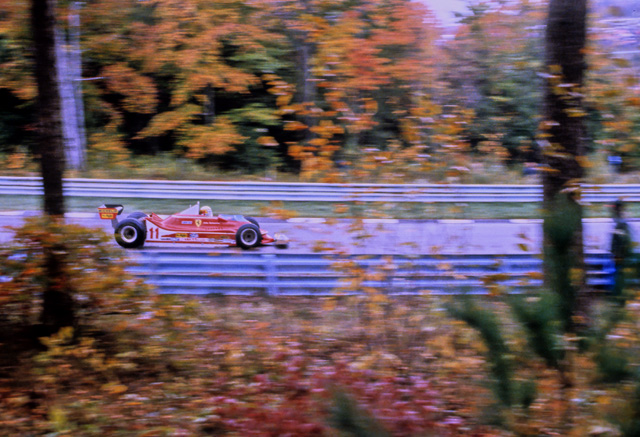 Now one of the race drivers in a pre-race, the Toyota Celica race. Do you know who this is?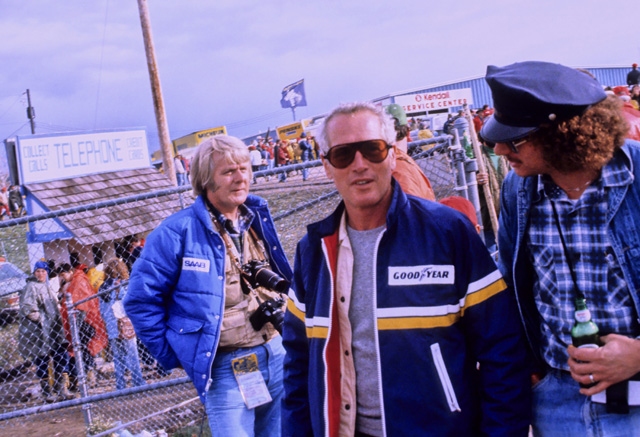 Finally, one of the race drivers in the Formula 1 race. And, do you know who this is? I have always liked this picture. Do you see the flower in his mouth?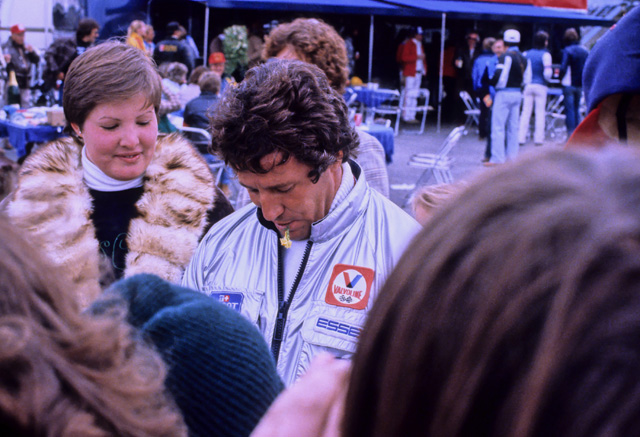 Here's a couple more pictures along our ride through northern Pennsylvania.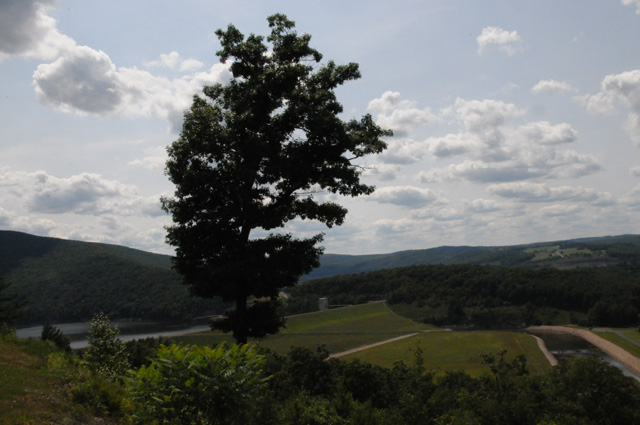 So, that's it for today. We stopped early, I was tired. I will try to get a good night's sleep.
You can check the map to see how far I have gone on this ride. You will see that I am going south, headed for home in a few days.
We rode 231 miles, I now have a total of 4,270.4 miles on this ride. And, as for where I am tonight, you can see from the byline that I said I was in "Sunbury on the Susquehanna". Well, it is Sunbury, and it is on the Susquehanna, but I did a little play on words writing it that way -- the RCA office in London was at Sunbury on the Thames. I'm sorry, but I couldn't help myself when writing today's byline.
Oh, by the way, I am still a good boy, my Doctor would be proud of me, that was an unsweetened iced tea.
---
19 July 2014, 8:00 PM ET, Cumberland, MD
Good evening to one and all. It is earlier than usual. I stopped riding at 4:30 because rain was beginning to fall. I rode through some light showers, then stopped. I figured I needed the rest, as well. Soon after I stopped the rain increased.
Kurt and I said our good-byes this morning after breakfast. He headed back to Syracuse, I headed to Harrisburg. I enjoyed very much riding with Kurt, and I am glad he suggested it a week ago.
Harrisburg, that is another capitol city. So, you know what that means.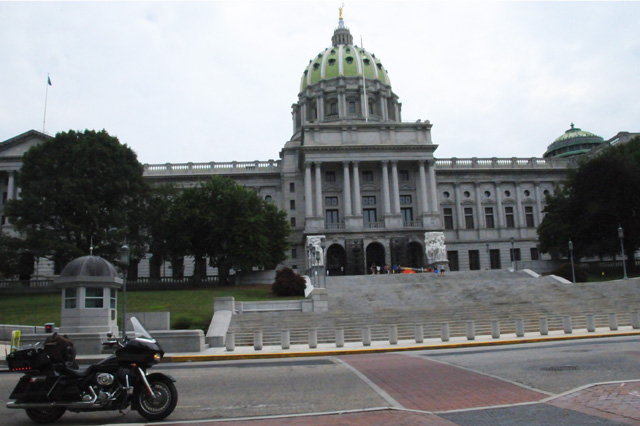 The picture above is the capitol of Pennsylvania. That was from the front. I left the bike running because I was not in a legitimate parking spot. But then, it was Saturday morning. Nonetheless, I left it running for a quick getaway.
This is the back, and again, I left the bike running.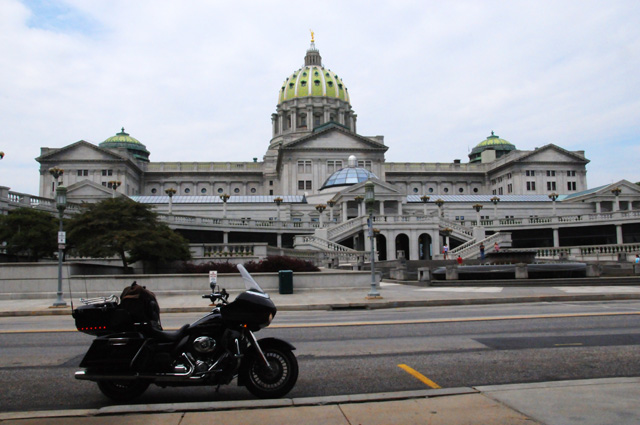 The dome is different from any other capitol building I have seen. The color. It is green. Here's a telephoto shot of the dome.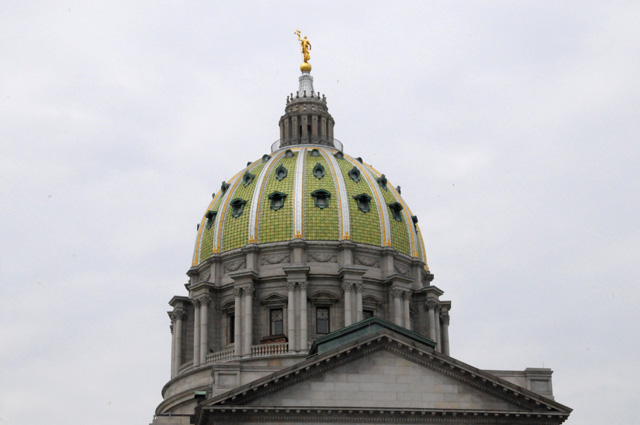 After getting these pictures, I continued south until I was in Maryland, then I headed west to my next destination. Tomorrow will be my last capitol city on this ride.
I crossed the Mason-Dixon Line today. I am in the south again.
This picture is in Maryland, shortly after I left Pennsylvania. You can see several ridges.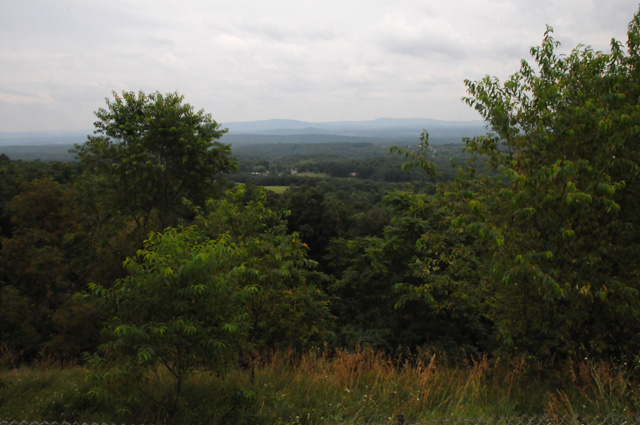 Today was not a hard day, 221 miles (4,491 total), I took it easy, plus I stopped early. I hope to get a good night's sleep, and be off early tomorrow. Till then, Ciao.
---
20 July 2014, 10:00 PM, Pikeville, KY
I had a wonderful night's sleep, nine and a half hours. I went to sleep early, was up early, and on the road by 8:00 AM. That's very unusual. By having the rest and early start, I got to my destination by 4:30 PM. You can see from the byline that my destination was Pikeville, Kentucky. One thing that you may know about Pikeville is that the Hatfield-McCoy feud took place in these parts.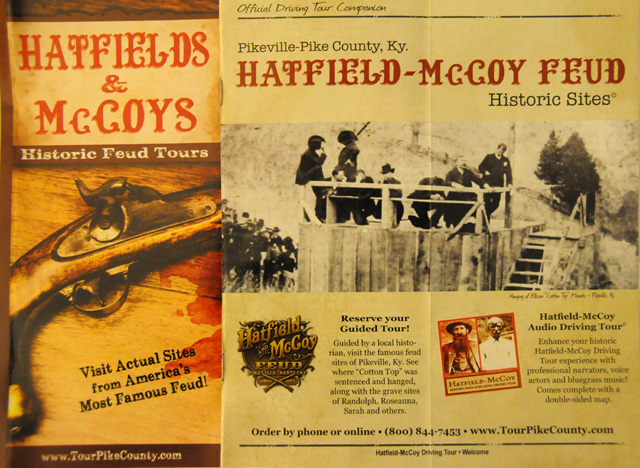 That's a brochure I found here in my hotel.
I rode 351 miles today, I have 4,842 total now. I wore my rain jacket (as a windbreaker) the first hour and a half this morning because it was a bit cool for my taste. I never put it back on, although it threatened rain all afternoon. I would get spritzed with rain drops, but the sky was never dark enough for me to put on the rain jacket. It all worked out OK.
I went through Charleston, West Virginia, a capitol city. Here's the front of the capitol.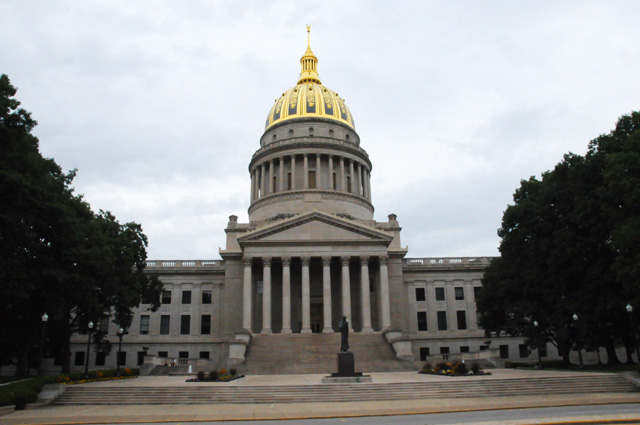 And here's the back. They look the same. The main difference is a statue of Lincoln at the front and a Liberty Bell at the back. Plus, the sides of the building are different, it is flat at the front but the wings make an inverted "U" at the rear.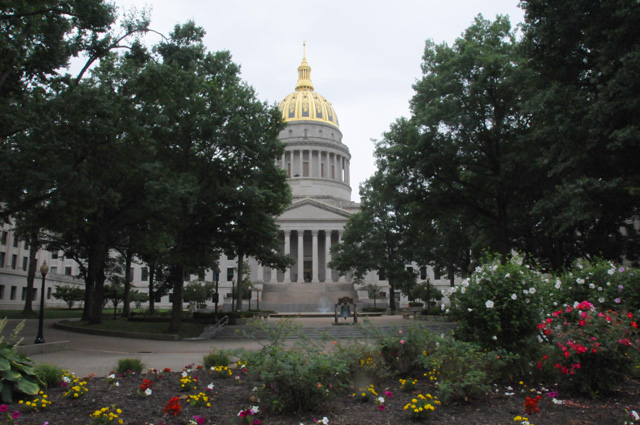 This is a typical scene as I was riding US119 through West Virginia to Kentucky.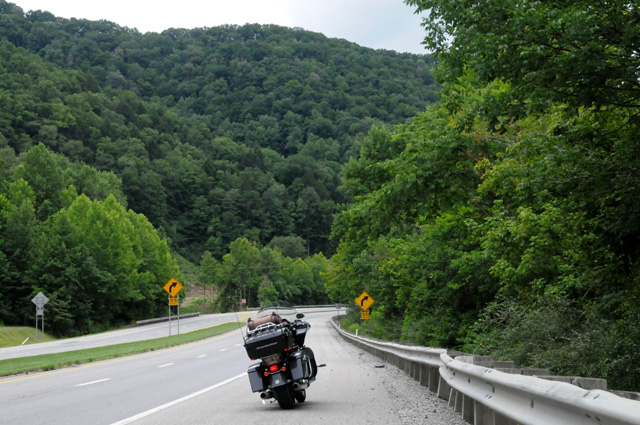 I am on a bridge over the Tug River. The front wheel is in Kentucky, the rear wheel is in West Virginia. The river is the Tug Fork.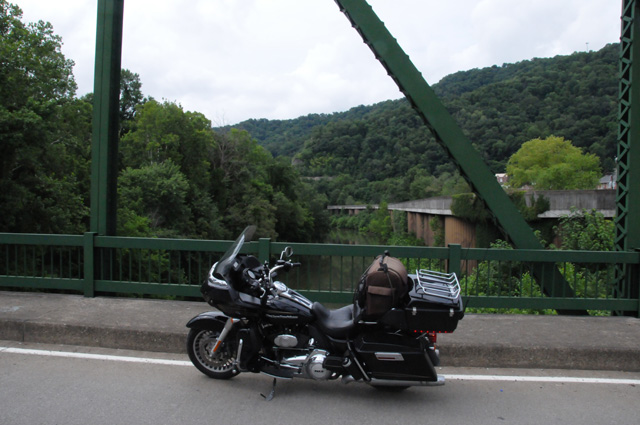 US119 in eastern Kentucky goes through some rock canyons, canyons created by cutting away the mountains.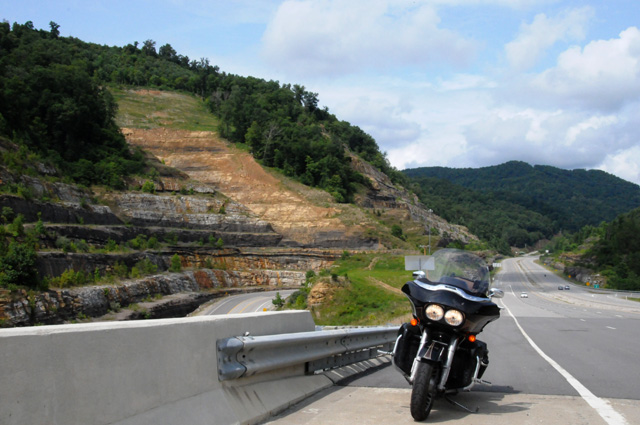 Whenever I pass through here, I am always amazed at what was done to make room for the road.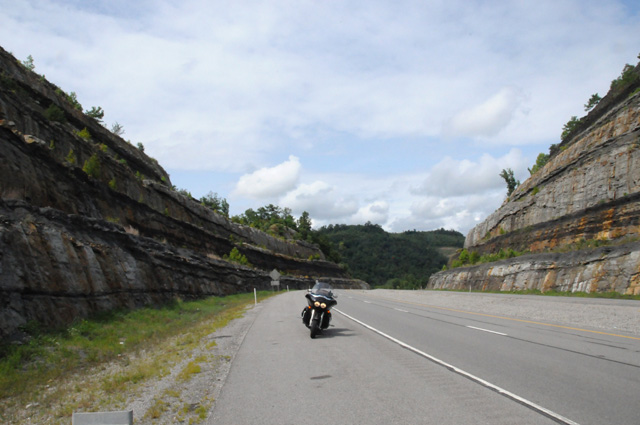 The reason for my destination of Pikeville was to have dinner with Hanna's daughter Rayana, Rayana's husband Terry, and their son Matt.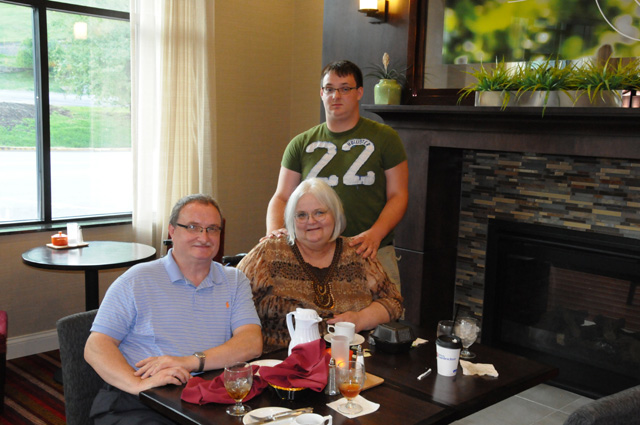 I have visited all the capitol cities that I planned for this trip. You can see my pictures of 42 of the Lower 48 plus the US Capitol if you visit my US Capitols page. I plan to get the missing six on future rides. Also, check the map (show near the top of the menu at left) to see where I have been and what is left of this ride.
See you tomorrow.
---
21 July 2014, 7:15 PM ET, Morristown, TN
This was a mixed kind of day. I was up early and off by 8:00 AM again. That's not as good as it sounds. I got to bed about 11 PM last night, but I woke up at 5:00 AM. That's bad. I could not go back to sleep, and that was not enough sleep for me. The result is that I stopped very early today, about 2:30 PM. I rode only 191 miles. I just wanted to take a nap. From about 11:30 this morning, I stopped every half hour, walked around a bit, drank some water, then started off again. I had trouble even going half an hour before stopping again. So, about 2:30 this afternoon, I called it quits. My total miles on this ride are now 5,034 miles.
Now for the good stuff. I am going to take you on a ride. Here's how today's ride started.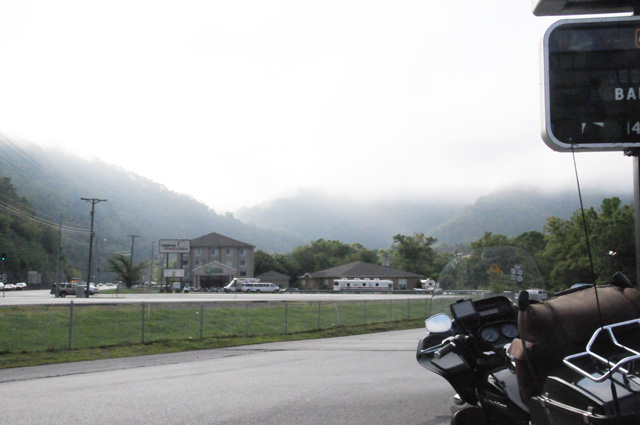 That's fog in the mountains. That's not good. I am going into the mountains. I don't want fog. Fortunately, though, it did not affect me. Let me show you where we are going. Here's a map of southeastern Kentucky. You can see Pikeville in the upper right corner. That's where I spent the night. I am taking you to the tip of the blue arrow. Notice that there are only mountain roads in that entire area. Yellow is a major road, most likely a four-lane, and all those white roads are mountain roads.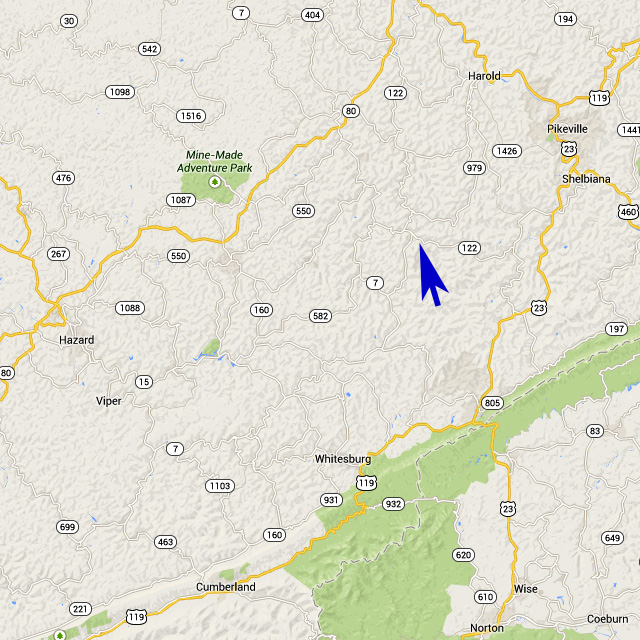 Now let me blow up the map quite a bit. The map below is only a small portion of the map above. It is a short portion of Highway 122, and the blown-up portion is just to the right of the blue arrow tip in the map above.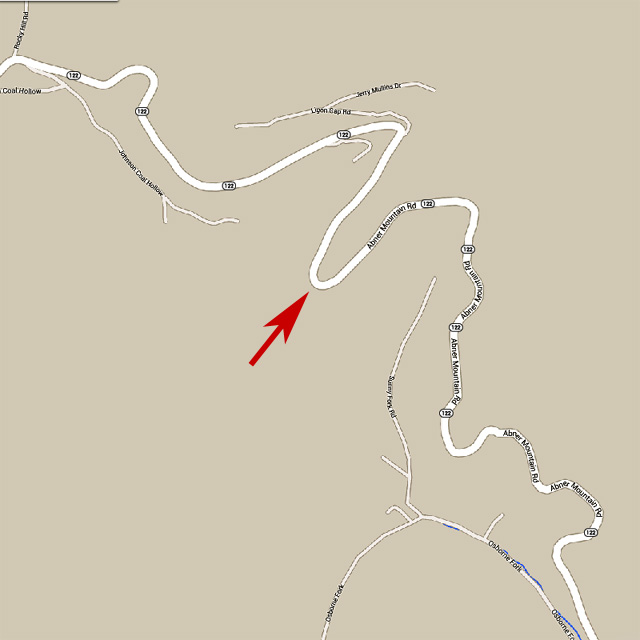 The mountain is called Abner, you can see that the road is called Abner Mountain Road. I would not want to cross Abner at night. I know some people who do not want to cross Abner during the day. The red arrow shows the top of the mountain.
And here's the view from the top of Abner.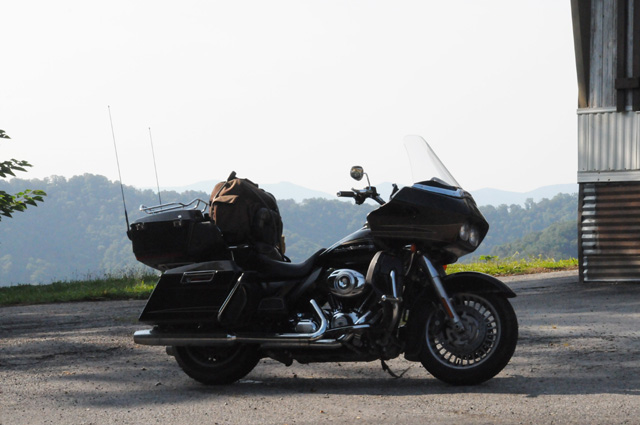 Oh wait a minute, let me get the bike out of the way.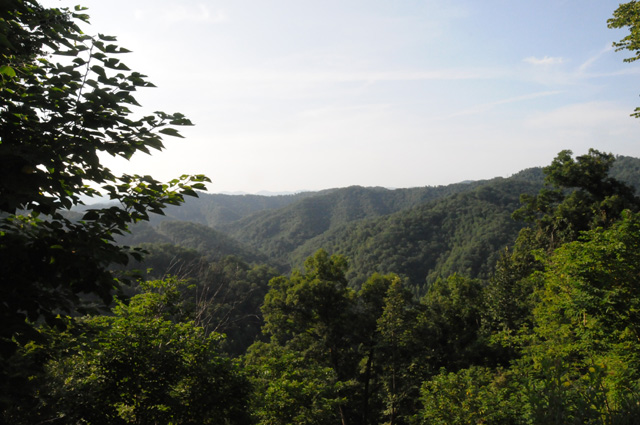 OK, why did I want to take you on a ride across Abner? Here's why.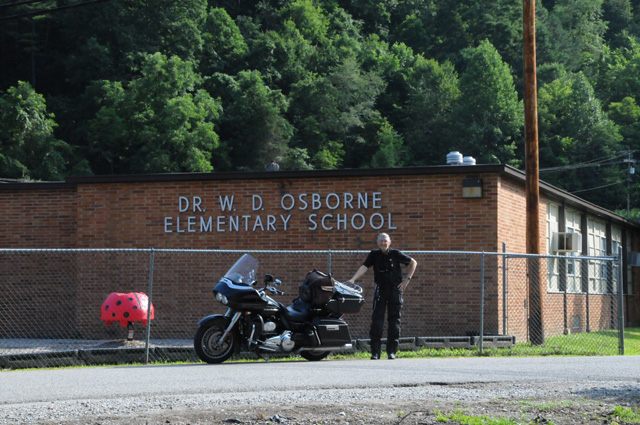 So I can just imagine you saying, "Why is he showing me this school?" Well, as you can see, that school is called Dr.W.D. Osborne Elementary School. And Dr. Osborne was the doctor who delivered me, just a few feet behind where I am standing in a home that no longer exists. It has been replaced by this school. Named after the doctor who delivered me. So, this is my birthplace. That's why we are here today.
This little town is called Bevinsville.
Let me show you another picture, taken from the same spot, just using a wide angle lens. You can see the mountains, we are in a valley, a small valley. My birth home stood just about where the far right corner of the school building is. And yes, I was born at home, not in a hospital. Keep in mind that once upon a time doctors really did make house calls.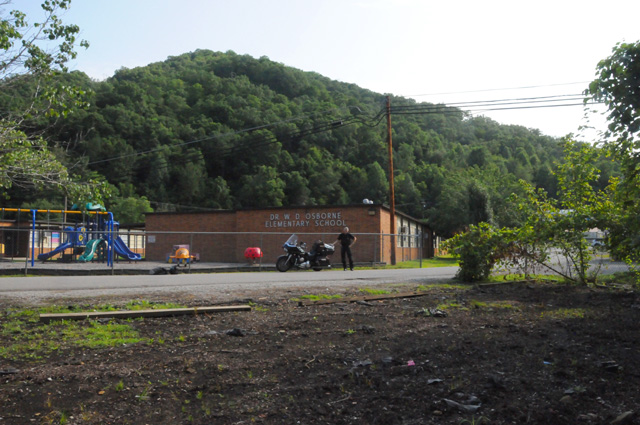 This picture is looking across Highway 122 from the school. More mountains.
This stream is between the road and the mountain. It is called Left Fork Beaver Creek.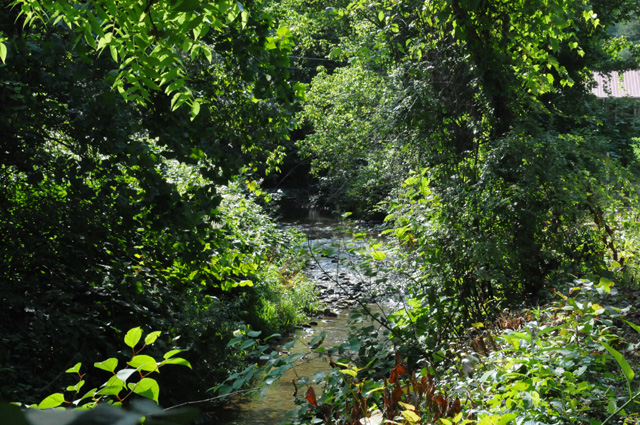 And this little stream, yeah, I know, you can hardly see it, is called Riley Branch. It ran right beside my birth home.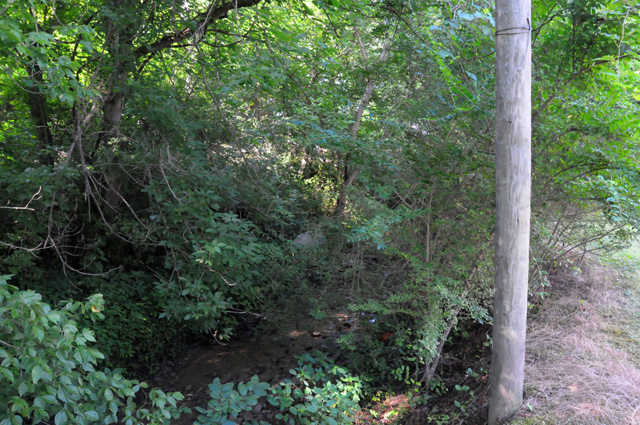 Now I have headed south again, I am approaching the Kentucky/Virginia border. Can you see how that mountain has been cut away for the road? All those lines running left and right on the mountain are the terraced cuts.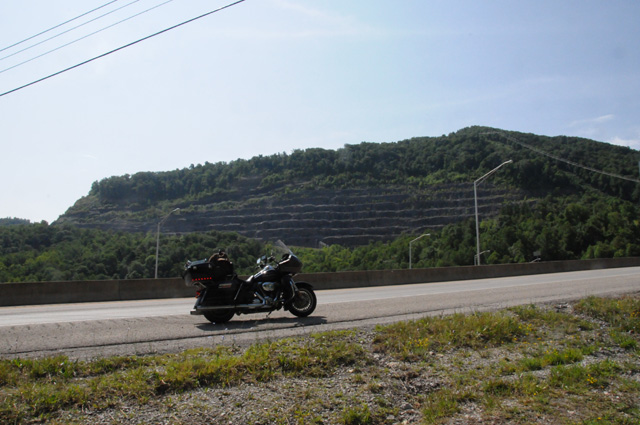 My final picture for today is at the top of that terraced mountain, right at the border, looking back into Kentucky. Right about the middle of that far ridge is where we just were, in Bevinsville.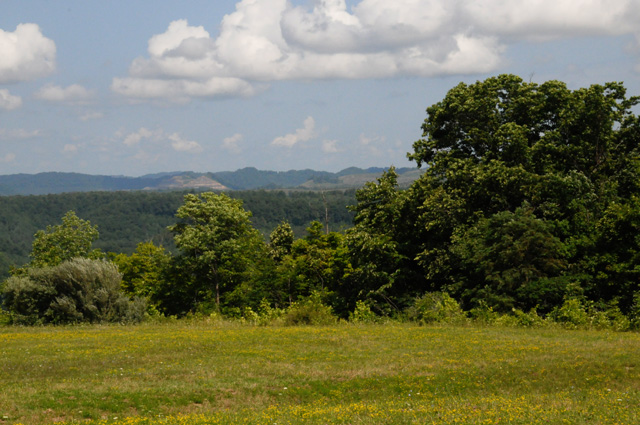 ---
22 July 2014, 9:00 PM ET, Commerce, GA
Foggy. Rainy. Cloudy. I visited the Smoky Mountains this morning. Those were the operative words.
I left my motel without a rain jacket. That lasted for a few minutes, maybe half an hour. I was in light rain on Interstate 81, and that was OK without the rain jacket, but when I turned south to the Smoky Mountains, I was on a regular road, where you stop sometimes. That doesn't work well with light rain. I needed my jacket.
When I arrived at the Smoky Mountains, I thought maybe it was getting a little better, so I took off my rain jacket. I stopped at the Visitor's Center. When I left there, I started getting wet again, so I stopped before leaving the parking lot to put the rain jacket back on.
Here's my first view as I started climbing in the National Park.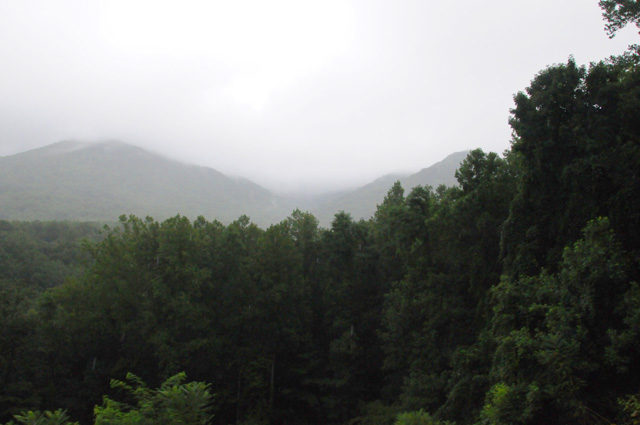 This is higher, looking a little better.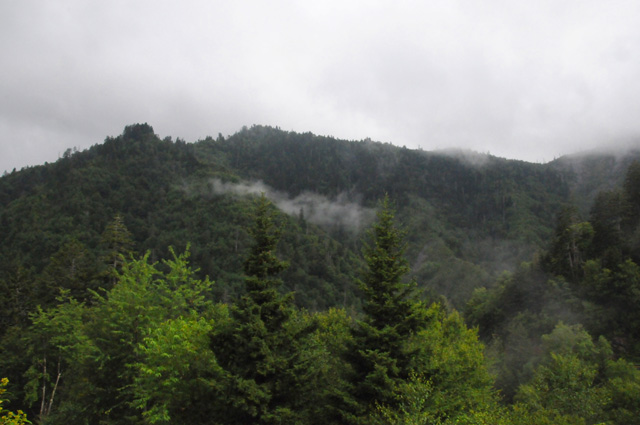 If you have read my other travelogues, you know I like trees.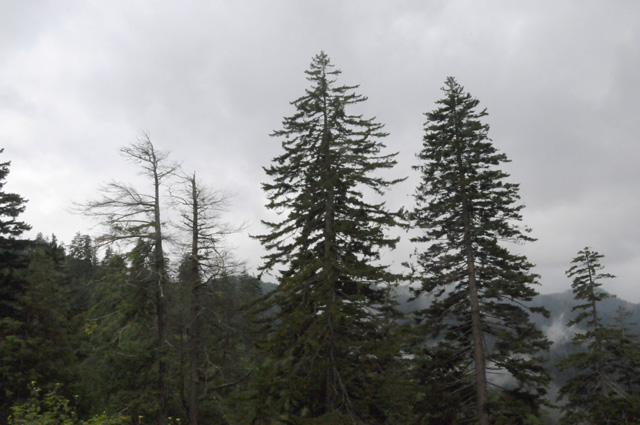 Now I am higher, more clouds and more fog.
I have arrived at Clingman's Dome. This is the top, I had to walk up a steep paved trail for half a mile to get here. If I had known in advance it was half a mile, you would not have seen this picture, nor the following half a dozen.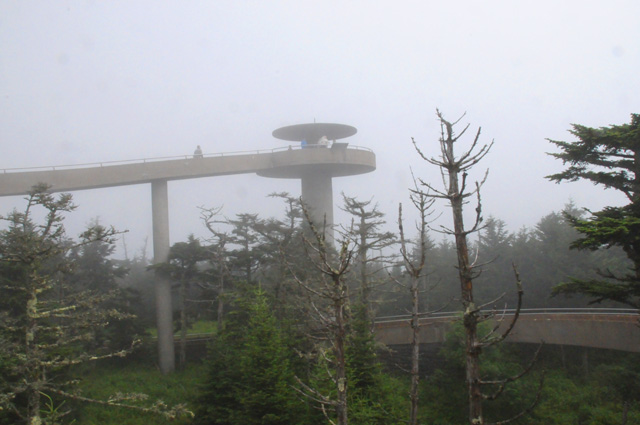 Now I am in the observation tower you saw in the previous picture. This is the glorious view looking west. I think I can see San Francisco out there.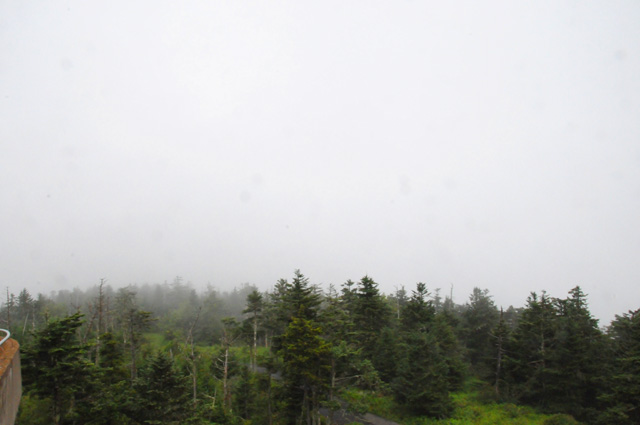 This is the view to the north. Is that Canada I see?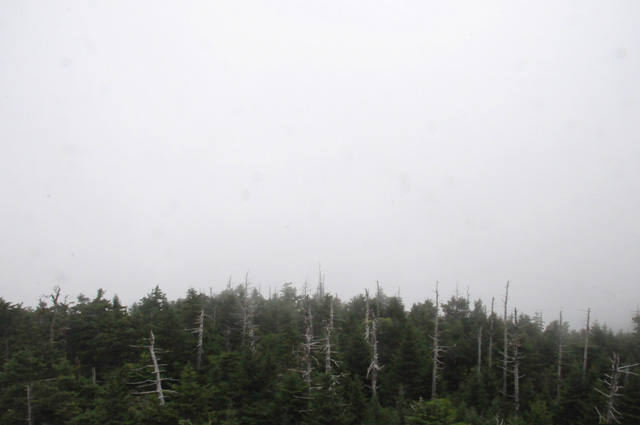 And to the east. I think I see water. Is that the Atlantic?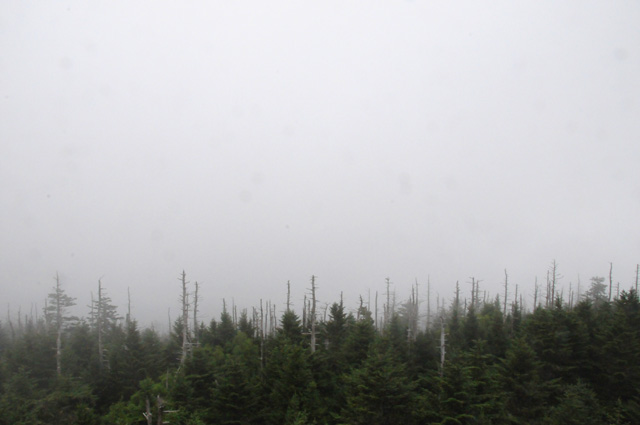 Finally, the view to the south. I am sure that is Florida I see.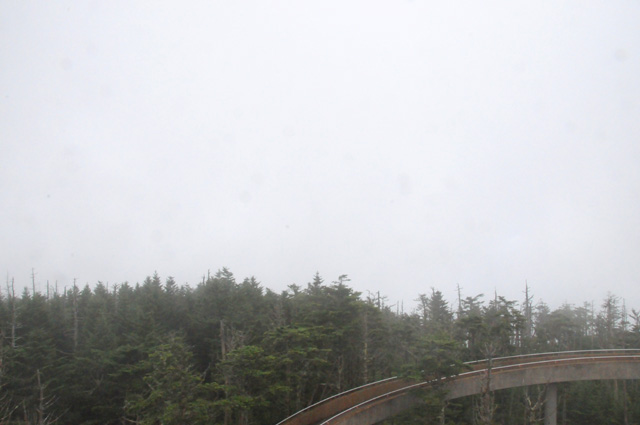 In all seriousness, this is the promised view looking back to the west again. You may wonder why I am showing you all these pictures, but you must understand, this is a travelougue. I show you everything I see. You have to experience this with me.
The Appalachian Trail is right here at the top.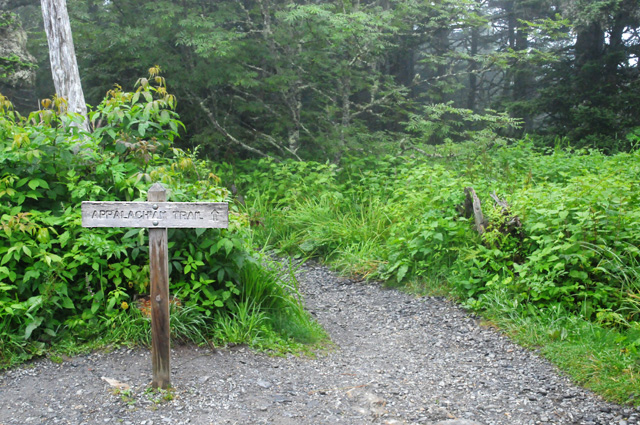 Part way down on the east side, the view starts to open up.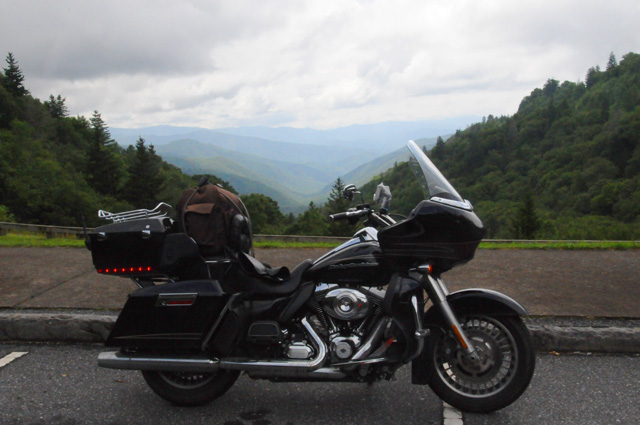 I am looking back up to Clingman's Dome. That's it, with the top hidden by the clouds in the center.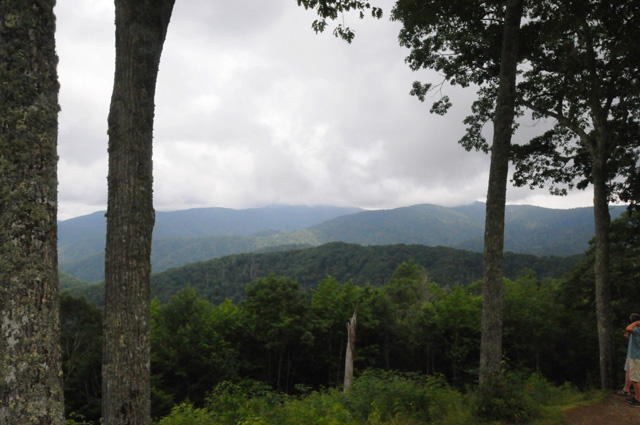 A babbling brook.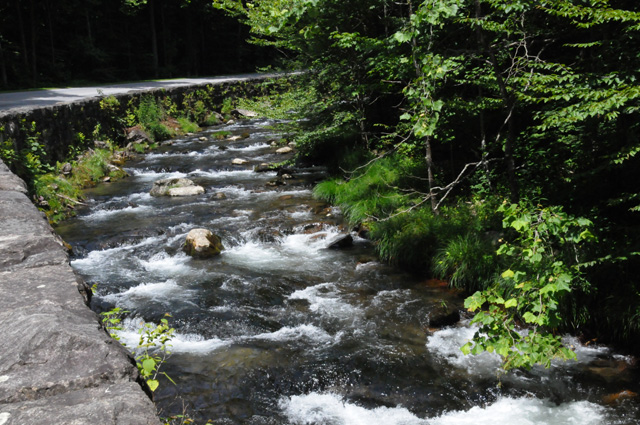 I am at the exit, on the eastern/southern side. I thought it would be appropriate to pose by the sign the way I experienced the Smoky Mountains on this fine day.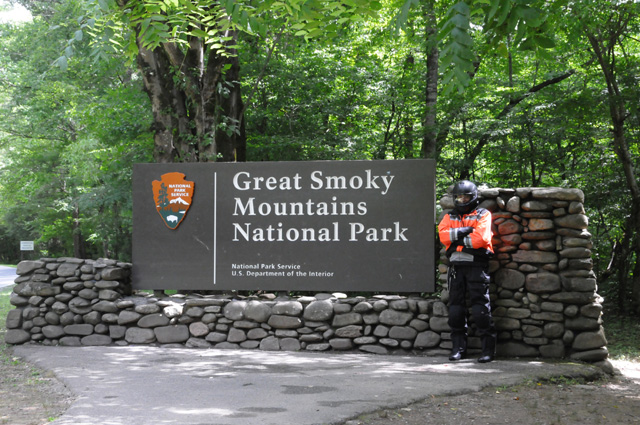 This is Iavor and Julie and Ian. I took this picture of them for them.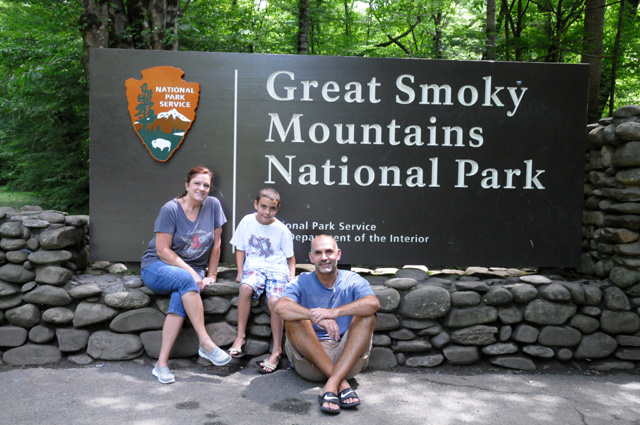 As I was leaving Cherokee, North Carolina, I spotted this museum, so I stopped and went through it.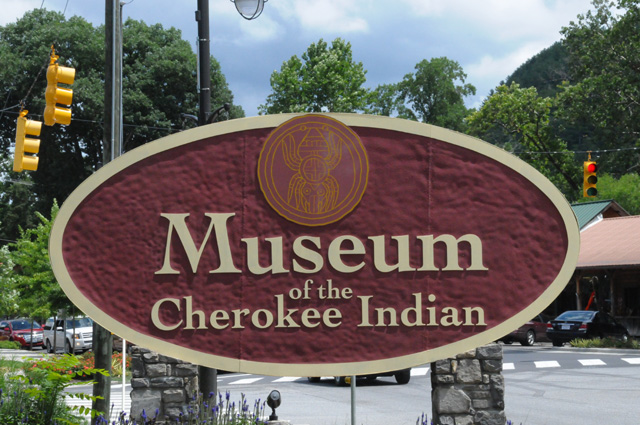 This is a statue of Sequoyah, the inventor of the Cherokee alphabet.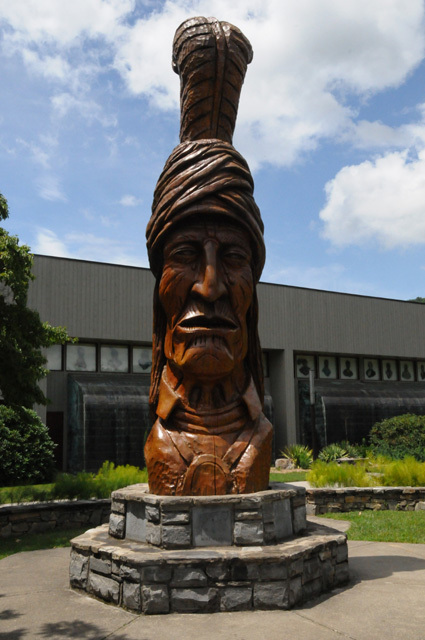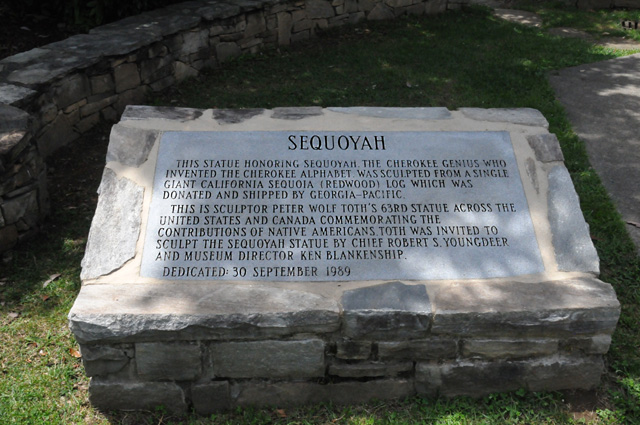 That's it for today. I racked up lots of miles today, 210. Total is now 5,243. See you tomorrow, maybe in Florida. It looks like another two or three days to get home.
A few days after I get home, I will ride to Key West. I want to make sure I ride ALL of US1 and count ALL the traffic lights. I will have a new page called "Post Wrap" at the end of this travelogue for that. I have already put it on the menu to the left.
---
23 July 2014, 10:15 PM ET, St Augustine, FL
I had a lot more miles today, 383, now a total of 5,626. That's the second most daily miles on this ride. So, why did I do so many miles? Simple. I wanted to reach St Augustine. My friend Jim lives in St Augustine and I wanted to have dinner with him. I probably would have stopped at about 300 miles, except for Jim.
I am back in Florida. I am getting close to home, and I expect to get home tomorrow. Although that will be the end of the ride, keep in mind that I am going to ride to Key West and back in the near future so I can have the total count of traffic lights on US1. Once I get to Key West and back, you will be able to find that on the page "Post Wrap" on the menu at the left.
I was in northern Georgia as I started riding, and was quite aware of the typical scene being trees on both sides of the road. I stopped and got this picture.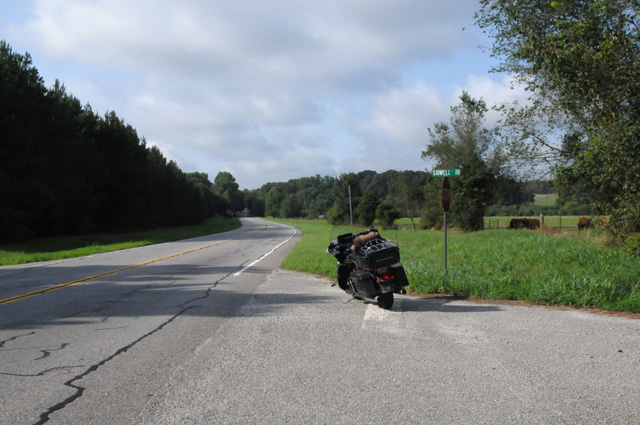 I heard some funny noise off to my right and went to investigate. Here's what I found.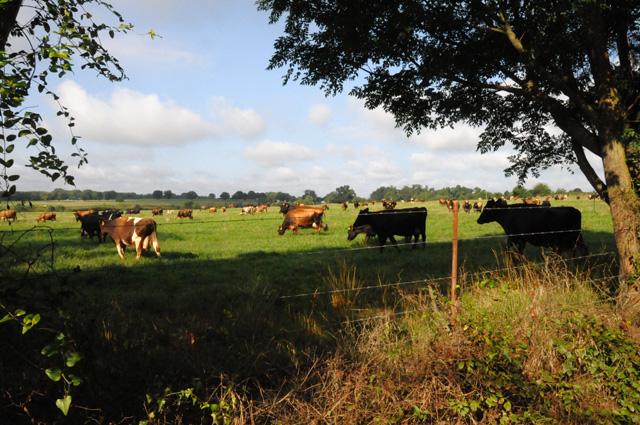 A few miles further along, I saw a tall smokestack. As I got closer, it got taller, or so it seemed. I was quite impressed by its height, so I decided I had to get a picture for you.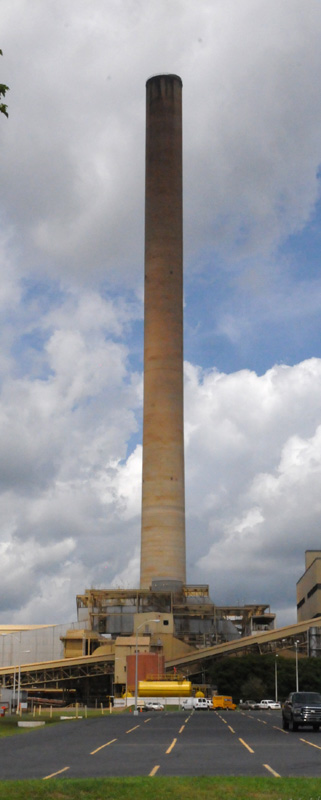 More Georgia countryside, with trees on each side of the road.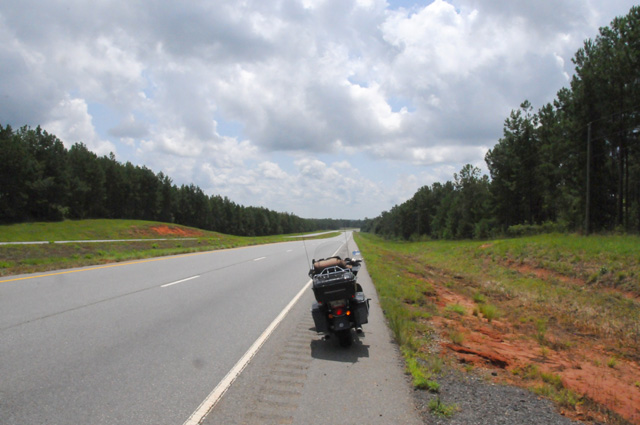 Finally, I arrived in Florida.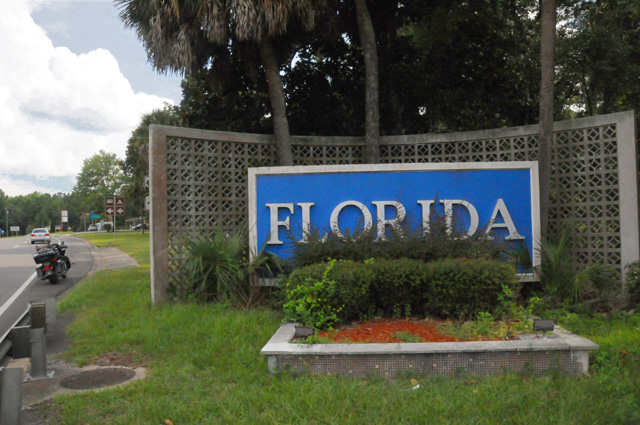 Recognizing my thing about trees, I decided I had to take a picture of the first palm tree I saaw, and here it is.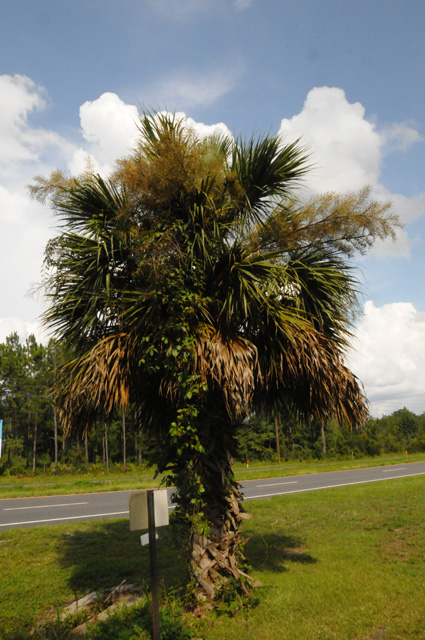 I believe this is the Florida state tree, the cabbage palm. It is one of the few trees that is native to Florida. This was simply a tree by the side of the road. It is not very pretty, in fact, Jim thinks it is ugly, but it is an important tree, the first palm I saw when I got back in Florida. I had to show you, not matter how pretty or not it happened to be. Jim also thinks I should call the tree a sable palm, it seems that both names are correct.
That's it for today. Come back tomorrow and I will give you a picture of Jim, and a picture of my arrival at home.
---
24 July 2014, 8:00 PM ET, North Palm Beach, FL
I am home, but not for long. I plan to ride to Key West tomorrow to finish what I started, counting traffic lights on US1. I have not decided whether to count lights on the way there, or on the way back. Because it is about 233 miles each way, it will be a long day. I am inclined to say that I will take my time going and count the lights, then come home fast during the hotter afternoon.
Bentley has convinced me to have a second contest. The winner will get a chocolate shake, just as before. You have to guess how many lights are between Lighthouse Road (not counting that light, because it has already been counted) and the end of US1 in Key West. You don't have long to enter the contest. Get your guess to me quickly. I will releast the count on Saturday the 26th, the day after I go to and from Key West.
Contrary to what I have already told you, I will treat tomorrow as a regular riding day. There will be only one wrap up. I will do that Saturday. There will be no Post Wrap.
If weather seems to not cooperate, I may postpone the Key West ride until Monday. I don't want to do it on Saturday or Sunday, I think there will be too much traffic.
Details for the day are as follows: Miles were 296, total from North Palm Beach up US1 to its end, through Canada, and back south to North Palm Beach were 5,922, which also included a number of side trips, and retracing some roads for whatever ridiculous reason.
The distance from Lighthouse Road to the end of US1 in Key West, staying on US1, according to Google Maps, is 233 miles. Remember that Google Maps said 2,131 from Lighthouse Road to Fort Kent. That makes a total of 2,364 per Google Maps. You may remember that one sign in Fort Kent said 2,390 miles. The monument in Fort Kent said 2,446 original miles. Wikipedia says it is 2,369 miles.
I have updated the map to include the trip to and from Key West. I added arrows to show I went both directions in Florida. The paths were not identical, although they are virtually side by side, one direction was on US1 and the other was on I95.
Now for some pictures. Jim and I had a good visit. We have known each other since about 1985. At that time Jim worked at the FCC and I got to know him because of my work on high definition television standards. I was the Executive Director of the Advanced Television Systems Committee (ATSC). Then in 1989, I believe, Jim also joined ATSC as the Chairman. Jim's job was primarily political, mine was primarily technical and administrative. In 1995 our committee adopted a standard for HDTV, and a little more than a year later, it was adopted by the FCC. Here's the front cover of the standard that ATSC adopted.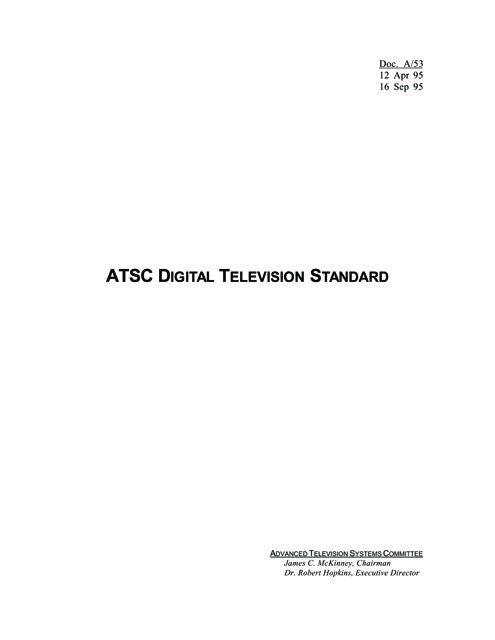 And if you are feeling a bit geekish, you can read the entire document here.
After breakfast, I packed up again, but before leaving we wanted to get a picture.
Jim lives at the Resort Retirement Community of Glenmoor at St. Augustine.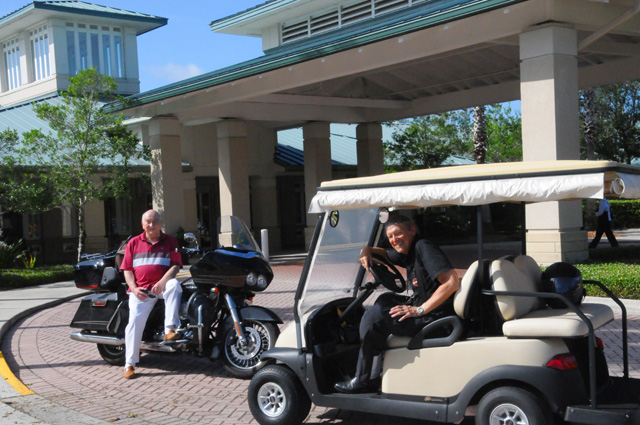 We are in front of the Club House at Glenmoor. We are getting ready for a race, Jim on my bike and me on his golf cart. No question the bike is faster, so we thought we would even the odds by Jim being on the bike. Jim, however, is not a biker. He may not get ten feet. And I am not a golfer, so I don't know how to drive a golf cart. We finally decided the whole idea was foolish and maybe it was time for me to head home.
While Jim may not have any biker stories to tell you, he can tell you about the time that President and Mrs. Reagan surprised him with a birthday cake on Air Force One.
I got ten miles down the road, then realized I left my tripod at the Club House. So I went back and got it. Remember what I said above about miles consisting of some real riding plus retracing some roads for whatever ridiculous reason. This was not the first time on this ride!
After maybe 70 miles, I stopped to take this picture.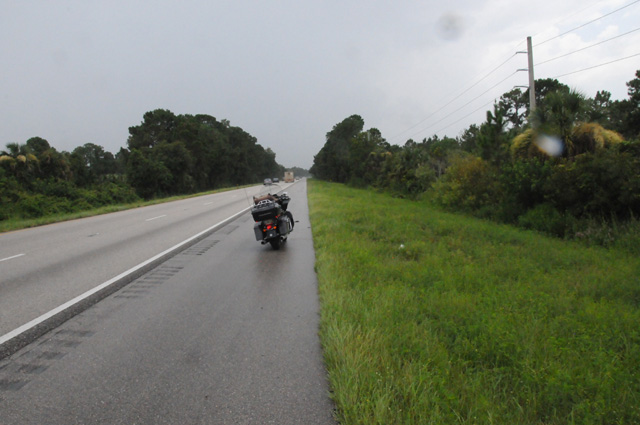 There were two reasons for this picture. One, as you can see, was because of impending rain. You can even see a couple of raindrops on my lens in the picture. I needed to put on my rain jacket.
The second reason is that my poor F-150 (Ford pickup truck) died on this spot about six weeks ago. It was not terminal, it just needed a new alternator and a new battery. To tell you the truth, I have never seen what is in this picture. When the truck died it was 10 PM and pitch black. It took AAA two hours to get a tow truck to us. Here's why. I told them I was exactly seven miles south of Interstate 4 on southbound Interstate 95. How many of you can NOT put your finger on a map exactly where I described? Oh, I see AAA is holding up their hand. That was not clear to them. They did tell us it would be best to get out of the truck and well away from the road because it would be dangerous should a drunk driver hit it. We needed a taxi also because the tow truck could take only me. The taxi driver told us we should have stayed in the truck, there are bears here.
Enough of that. I was in rain three different times today riding down I95. When I got home, with my camera on the tripod I almost forgot at Jim's, I took this picture of Hanna taking a picture of me getting home.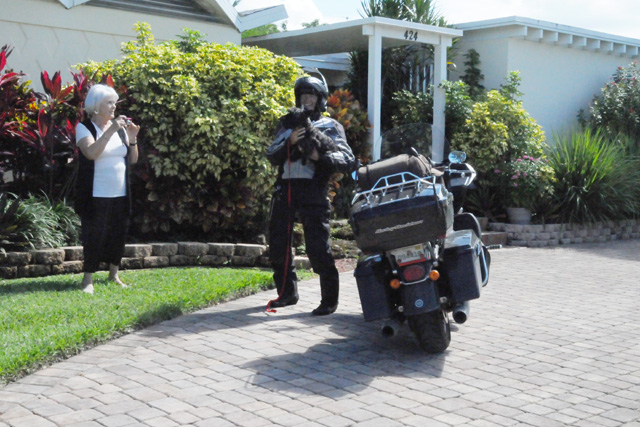 Lest you think Hanna is faking the picture, here it is.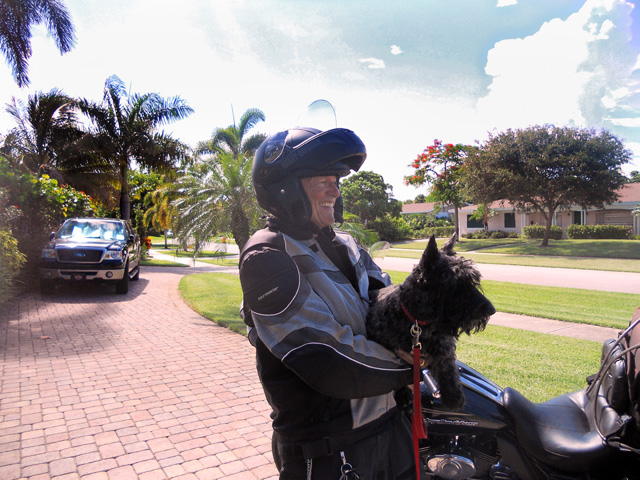 And here's the picture she took of me when I was taking a picture of her taking a picture of me when I left.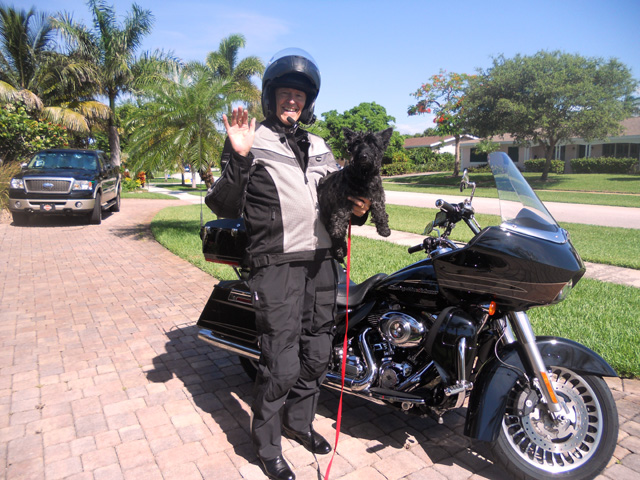 Come back tomorrow and I will tell you about the Key West portion of the ride. However, I will not tell you how many traffic lights there were until Saturday.
---
25 July 2014, 10:15 PM ET, Key West, FL
That is not the byline I expected. I thought it would be North Palm Beach again. It was not to be.
I headed out for Key West very early this morning. Unusual for me, it was sunrise. That's a scene I seldom see. Normally I try to avoid it.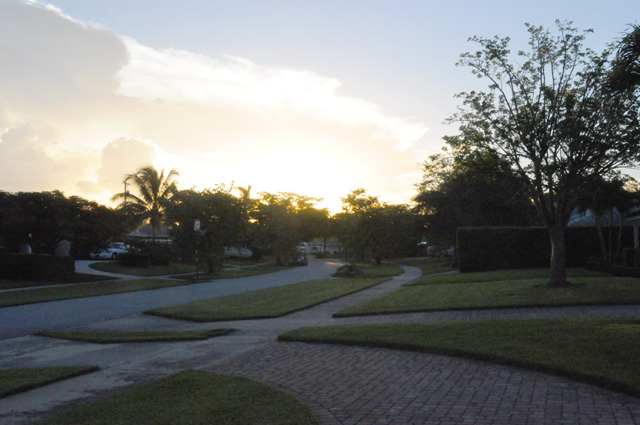 Today was different, though. I was going to complete my US Northeast Ride, or my US1 Ride. I was going to ride to Key West, take a couple of pictures to prove I was there, then ride back home. My dog was waiting for me.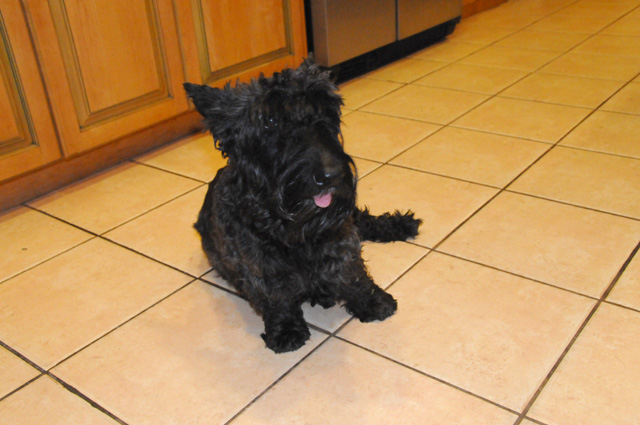 Afterall, I have done this before. See my Route 66 Ride, and the page called "Prep" on 24 April 08.
However, the 2008 ride to Key West was on the FL Turnpike, then US1 to Key West, and a return the same way.
This time, as has been proven several times already on this trip, I had a foolish idea, that I would ride down US1 all the way to Key West, I would count the traffic lights, and then I would ride back home. You were waiting for the number.
It took nine hours to get there! Only 241 miles. That's 27 miles per hour. That's as bad as New York!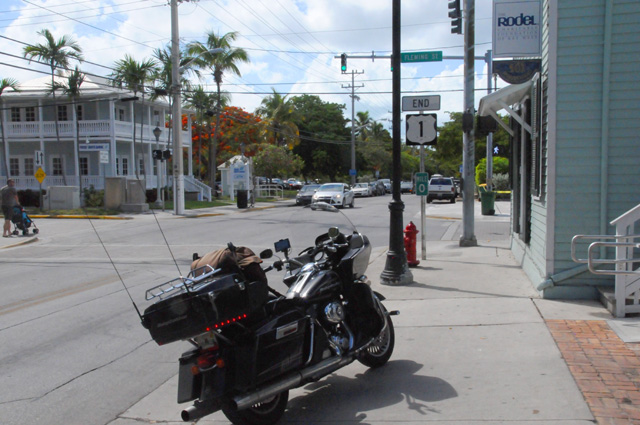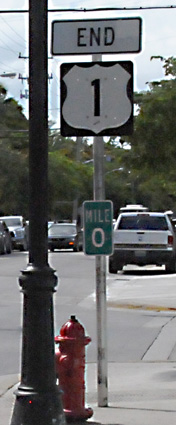 (I put the US1 sign beside the picture just in case you couldn't read it.)
As you can see, I did get there. I turned around and then I saw this sign: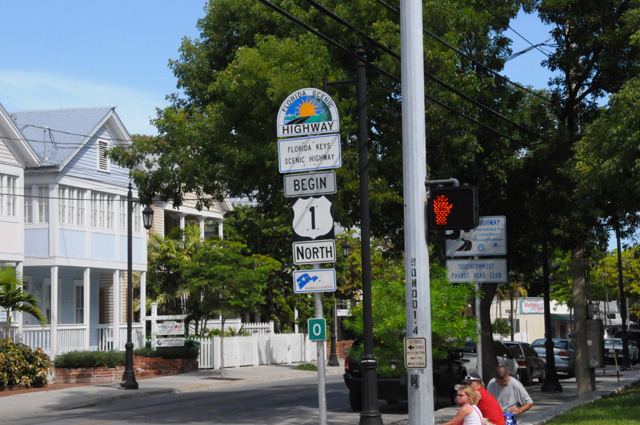 <
For a moment, I thought, "Hey, I should ride all the way to Fort Kent now and make sure I have the correct count of traffic lights." I don't know what came over me. I must be losing my mind. Too many days on the road and I go bonkers.
At this point, I decided the best thing for me to do was to go to Margaritaville.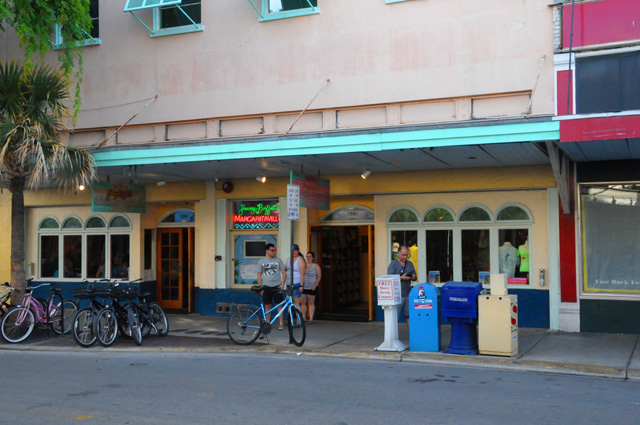 Here's a couple of pictures to get you in the mood for Margaritaville.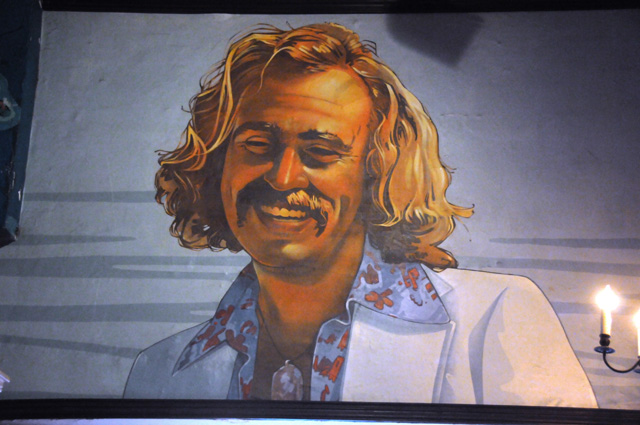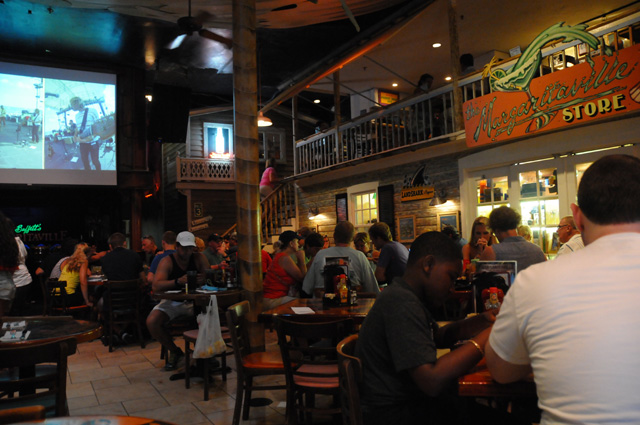 I don't often have a margarita, but I thought I deserved one. I was in the mood.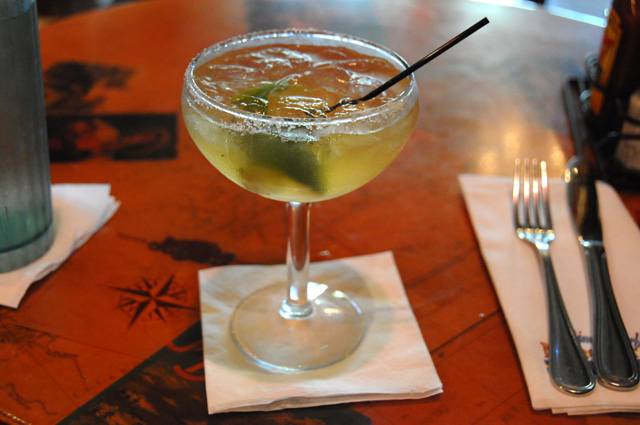 I needed nourishment, so, being in the Conch Republic, I had Conch Chowder.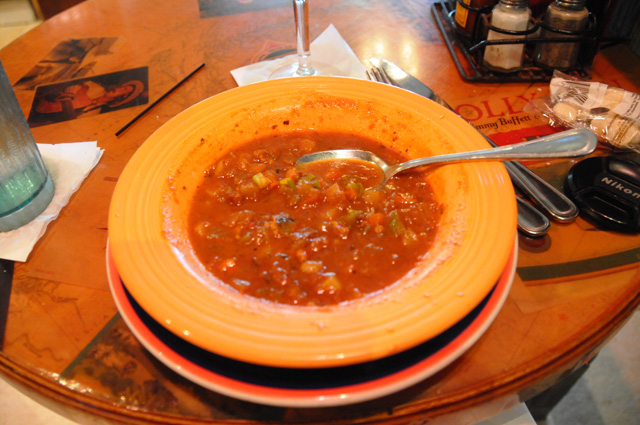 I had a Cuban Sandwich as my main course.
Then it was time for dessert. Remembering my Doctor's advice that I avoid things with sugar, I had another Margarita for dessert.
On my way back to my hotel, I heard roosters crowing. It had been a constant sound since my arrival in Key West. What's with all the crowing roosters in Key West?
I walked past the Hemingway Home, and stepped through the gate to get a better picture.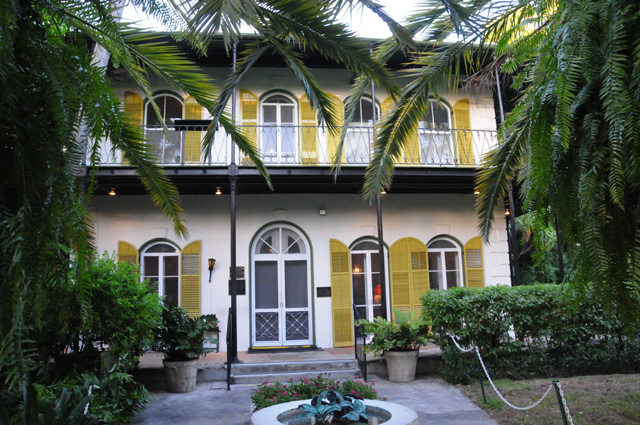 Immediately, somebody came up and said I can't step through the gate, get out of here. I remembered when I jumped off my bike in front of the White House to get a picture and was immediately chased off by a police officer. White House. Hemingway House. Same thing.
I continued my trek back to my motel, spotting the lighthouse.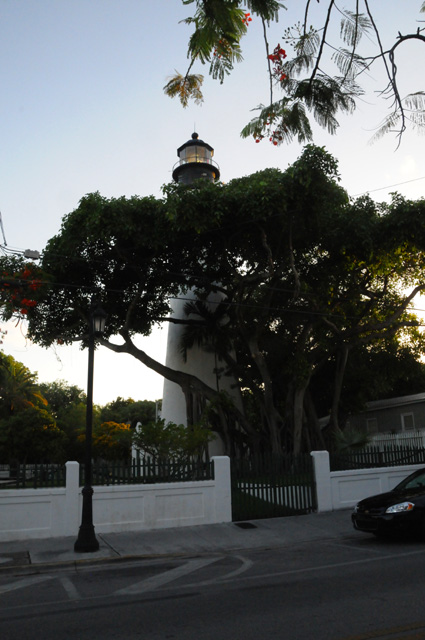 And another tree, you already know my thing about trees.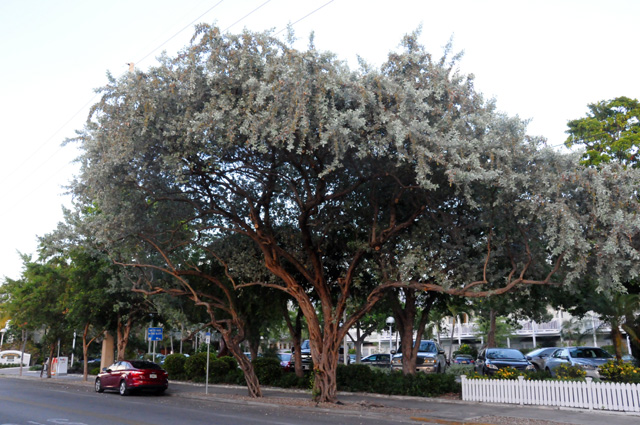 Finally I was back at my hotel. I like Best Westerns. See my bike on the far right? It is directly in front of my room. (It may not be dominant in the picture, but it is there.)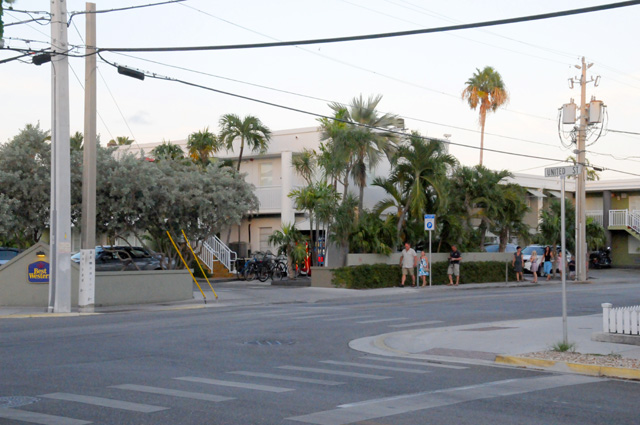 I have not told you much about my ride today, just that it took a long time. It went very smoothly until I hit downtown Miami.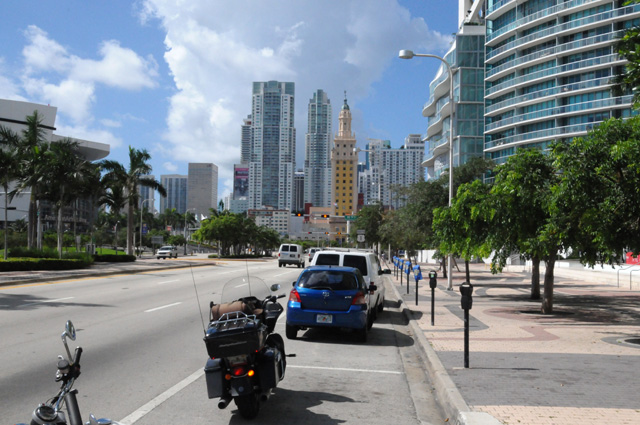 Then everything slowed down. There had already been many traffic lights, but the timing was such that I didn't object. Once I was downtown, that changed. Lots and lots of stops. Then leaving downtown it started raining. I know, it doesn't look like it in the previous picture, but you should notice that those cumulus clouds go up real high.
I was in a fair amount of rain, and even stop and go traffic in the rain. That is not my favorite type of riding. There were several different cells that I rode through. But, I kept going, I wanted to get to Key West and then back home.
In Key West, I did go past the southernmost point in the continental US. It seemed appropriate since I had already visited the easternmost point on this ride.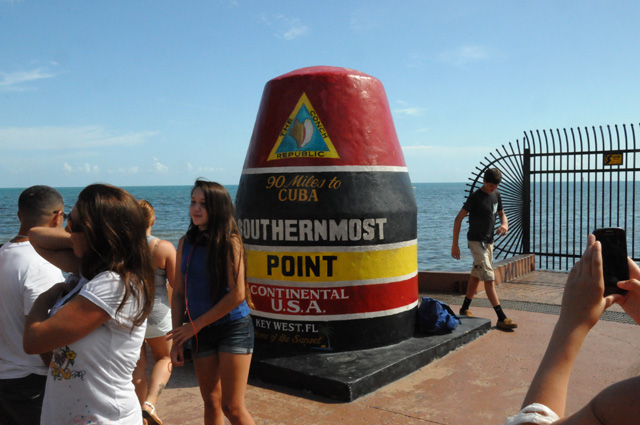 I spotted this shop, and had to take the picture for son Darryl and wife Susannah. Their cat "Pinkie" who you saw on the 6th of July (if you don't remember, just click on the 6 on the menu at the left) has six toes. Just like the Hemingway cats.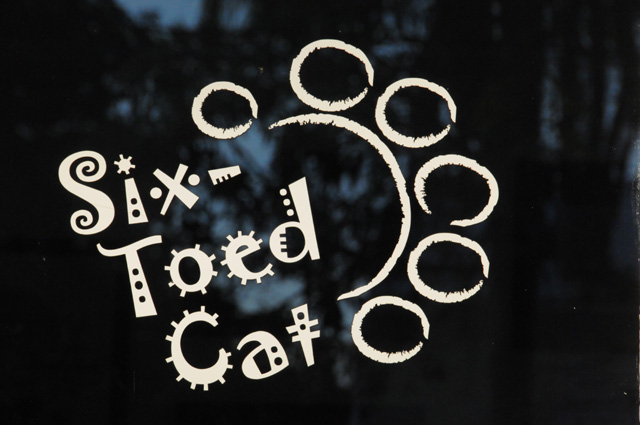 That's my story for today. I will write again tomorrow after getting back to North Palm Beach. And I will do my wrap up on Sunday. At that time you will learn just how many traffic lights there are on US1. And who the winner is for the count between North Palm Beach and Key West. You can still enter that contest if you wish. Just drop me an email with your guess.
---
26 July 2014, 6:00 PM ET, North Palm Beach, FL
My ride is complete. The extension of my ride is complete. You may recall that my original plan did not include a ride to Key West. On the page called "Prep", I said, "Although I have ridden to Key West in the past, I will go again in the next few months so I can count the lights on US1 south of Lighthouse Drive." And then something happened, you could see it coming when I also said on the page called "Prep", "I cannot explain it, but I am driven to know how many traffic lights there are on US1 from Key West, FL to Fort Kent, Maine." Well, that "drive" made me do it immediately.
So, now I know how many traffic lights there are on US1. But you don't. You will know tomorrow when I write my wrap up of the ride.
As you know, I planned to do the Key West ride in one day, but that did not work out. It took me nine hours to get there yesterday riding US1 the entire way, it took me six hours to get back home today riding US1 only when there was no choice. Otherwise I was on the Florida Turnpike.
Today was 247 miles. Yesterday was 241. It was six miles shorter on US1. My total for the entire ride was 6,409.7 miles.
I slept a bit later this morning, I guess yesterday made me tired. I got on the road later, also. For the past several days I was out by 8:00 AM or earlier. This morning I hit the road at 9:30.
I stopped at the "Seven Mile Bridge" to grab some pictures. This is the old Seven Mile Bridge. You can see the new one just to the left.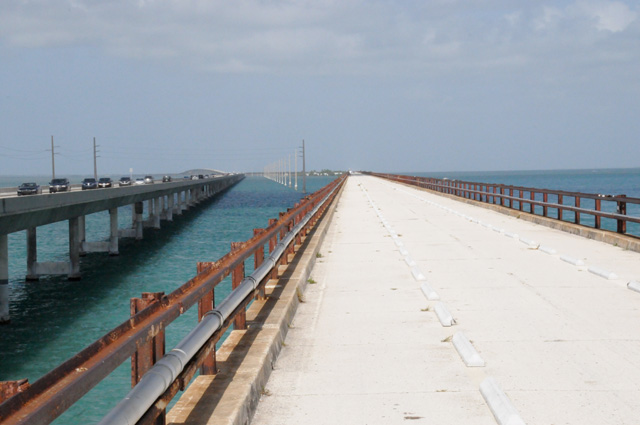 And this is looking dow the new Seven Mile Bridge with the old one just to the right.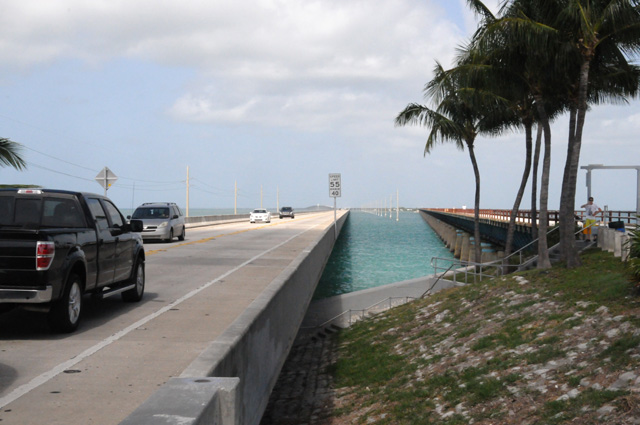 The old bridge was originally built for a railroad. It was built between 1908 and 1912, and was modified for automobile traffic in 1935. It was replaced by the new bridge in 1982. Here's a look at the lower structure of the old bridge.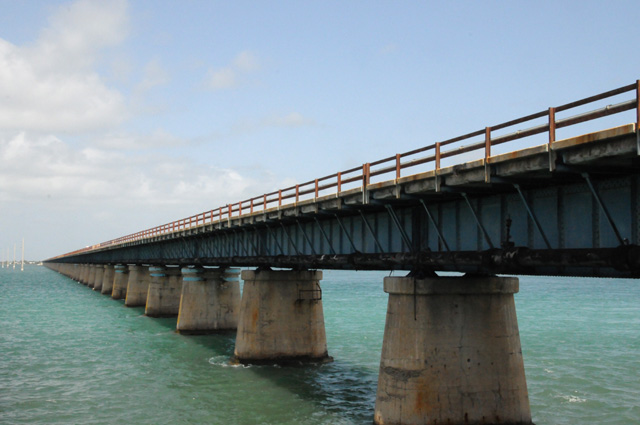 While I was stopped there, I also grabbed this picture looking to the northwest. This water is the Gulf. There was one lonely boat out there.
I was pretty dedicated to riding today, I wanted to get home. The traffic was certainly better leaving Key West than it was yesterday going to Key West. Traffic today going to Key West was terrible. There was a 30 mile backup starting on the Florida Turnpike and going down Route 1 all the way to Key Largo. I sure was glad I was not riding that direction!
I stopped at the first service plaza on the Turnpike to put on my rain gear. I already knew from radar that I would encounter some thunderstorms. We are in the rainy period in southern Florida. There is thunderstorm activity every day. It doesn't hit every area every day, but if you are riding 250 miles like I was, you know you will encounter some rain somewhere along the ride. Here's what it looked like to the north.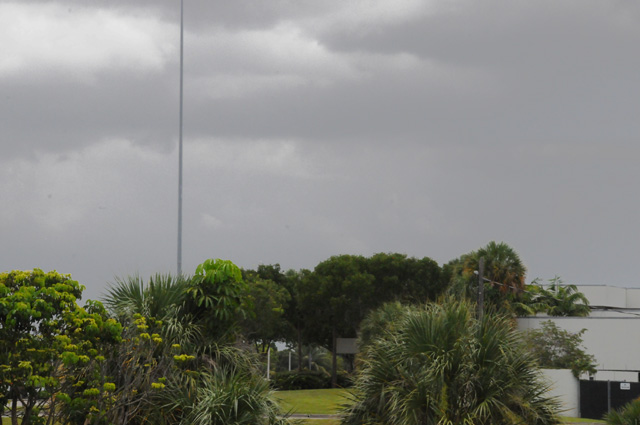 It wasn't raining when I got home, but it is right now. Maggie, our Scottie, is lying right at my feet, her favorite place when there is thunder.
I thought I would be riding in two different cells, but it was only one, the one you saw in the picture. I expected one further north, but it had gone out over the ocean by the time I arrived.
That's my story for today. I am glad to be home. I love my rides, but I also love getting back home. I could not do that every day. Once a year works well. Maybe twice a year would work also. Only time can tell.
Come back and join me one more day, tomorrow, when I will summarize my entire ride. And tell you how many traffic lights there are on US1.
---
27 July 2014
Wrap Up
My US Northeast Ride, aka US1 Ride, is finished. I did every mile on US1 and I counted every traffic light on US1. I counted lights on US1 north from Lighthouse Drive in North Palm Beach to Fort Kent, Maine and on US1 south from Lighthouse Drive in North Palm Beach to Key West. I have seen several numbers for the total mileage of US1, I found it to be 2,374 using Google Maps. Wikipedia says it is 2,377. Wikipedia also says it is 2,369. Since my number is about halfway between the two Wikipedia numbers, I will use mine.
How about the number of traffic lights? My count may differ a little from others may have counted. Why might there be a difference? I had to ride the US1 Truck Route for some distance in New Jersey just before the George Washington Bridge due to construction on US1. There was construction on US1 in Jacksonville putting me on a detour. There may have been other detours, but I don't remember them at the moment. As a result the numbers may be different because of the different routes. My count was 2,516 traffic lights. I have been unable to find a count using Google. So, whenever web crawlers find this number, maybe it will show up. How would most people search for this? Maybe by asking how many stop lights or traffic lights are on US1 or Route 1 from Key West to Fort Kent. Did I get all the key words? Here's another attempt to make web crawlers happy. There are 2,516 stop lights or traffic lights on US1 or Route 1 between Key West and Fort Kent. I will check in a month or two and see if this shows up.
I make the following declaration: There are 2,516 traffic lights on the 2,374 miles between Key West and Fort Kent.
We have two winners of a chocolate shake. No, they don't have to share one shake. Maybe I should say two winners of two chocolate shakes. Even that doesn't sound right . They don't each get two shakes. Would you believe that both winners are from Indiana? And that I met each of the winners last year on my US Northwest Ride? And that I have a picture of each of them from that ride? I have no idea if they know each other.
So here are the winners:
Dean from Indianapolis, Indiana having guessed 2,132 lights from Lighthouse Drive to Fort Kent. The actual number was 2,116 in 2,131 miles per Google Maps. Here's Dean from Indianapolis and his ride with me in Indianapolis.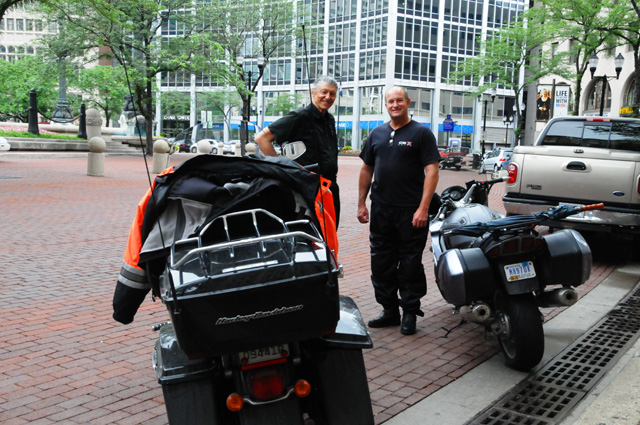 And Phil from New Albany, Indiana having guessed 186 lights from Lighthouse Drive to Key West. The actual number was 400 in 243 miles per Google Maps. That's right, exactly 400. Here's Phil from New Albany and his ride with me at I65 Exit 9, near New Albany.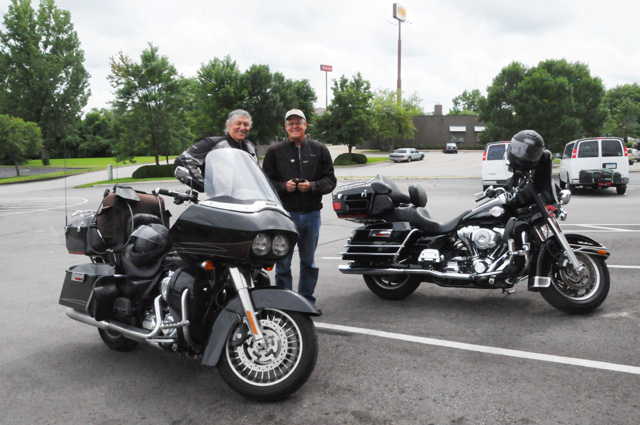 We have not discussed what size shake the winners get. I might spring for a medium shake, maybe even a large shake. Dean, somewhere off in dreamland, made the following suggestion: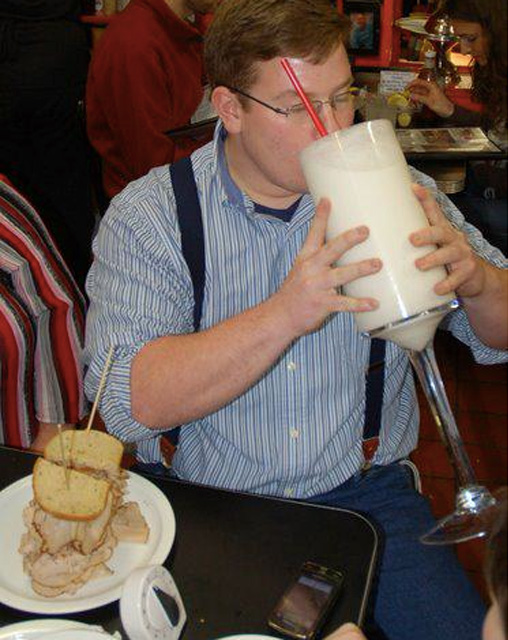 Let me jump to a different topic for a moment, my ride next spring. I have two different rides in mind, and I have not decided which will come first and which will come second. Earlier I had thought of combining them in one ride, but now I think it might be best if it is two rides.
I want to get the remaining US capitol cities. I am thinking I will get Columbus, Ohio and Lansing, Michigan in one ride, going through Louisville where I have a sister and Indianapolis where I have two brothers, plus a number of nieces and a nephew in Indiana. I also might ride north in Michigan to the Upper Peninsula. This ride would be 4,000 plus miles.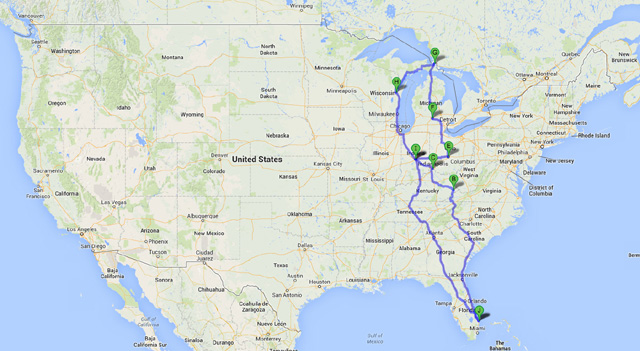 The other ride would pick up Topeka, Kansas and Denver, Colorado, and Boise, Idaho, and Phoenix, Arizona, going through Denver where I have a niece (it's not just a capitol city) and Pocatello, Idaho where I have a niece, and Ridgecrest, California where I have a daughter. This ride would be 7,000 plus miles.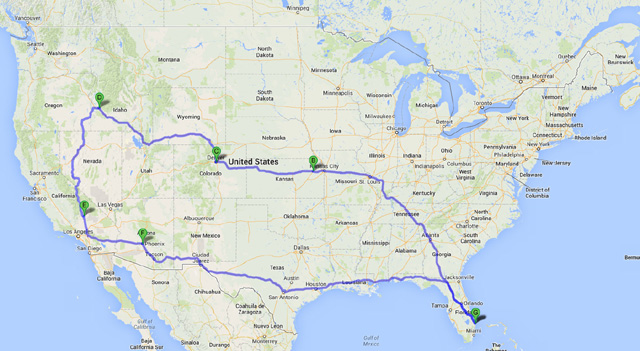 When I do the ride that goes through Indianapolis, I will meet with Phil and Dean and present the awards to the contest winners. Who knows, maybe the three of us can get together for the ceremony.
Back to my US Northeast Ride. I have updated the map that shows all the rides I have taken on my motorcycle(s). Click on the map to see a larger version.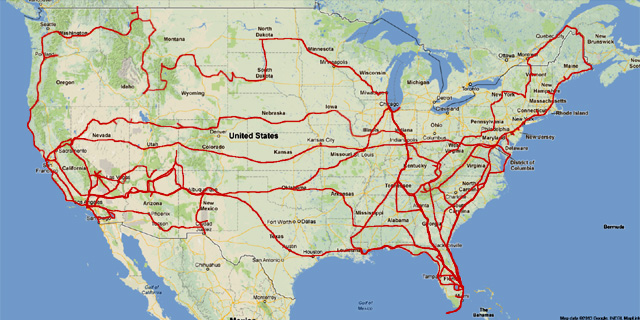 On this ride I completed my mission to visit all 48 Lower States. And, I really rode through Canada this time. Last year, you may recall, I rode about 500 feet into Canada just to say I had been in Canada.
I met with more people on this ride than usual. There was Darryl and Susannah and Sophie and Nick and Sam in Virginia. Then Jim in Marland. Next was Eisuke in New Jersey. And then Larry and Marie in New York. Next came Margot and Ephraim in Boston. Then Stan in Portland. And then Kurt met up with me in Maine to ride. Then Cindy and Bob in Maine. Then Nick and Anne in Vermont. Then Dottie and Eric and Sarah in New York. Then Rayana and Terry and Matt in Kentucky. And then Jim in Florida. That's 12 different stops along the way. Unusual for me.
This ride was harder on me than normal. You may recall that my Blue Ridge Ride was difficult because of back problems and some medication I was taking. In some ways the Blue Ridge Ride was more difficult than this ride, but in other ways this ride was more difficult. Why was this ride difficult?
1) It may have been because of the slow ride with numerous traffic lights in high temperatures the first 10 days. That part was difficult for me. Normally my rides are earlier, in the spring, but this time I did not have a sufficient block of time until July when the temperatures are higher.
2) It may have been that I was not getting enough sleep, I did better the last week, getting 8 or 9 hours most nights. You can tell how late it was some nights by looking at my byline. You will see a number (actually eight nights) that said 11:59 PM. Well, don't believe it. That was the time I used when it was after midnight and actually the next day. I wanted to keep the day correct, so I fudged the time to put it before midnight.
3) It may have been because I had surgery a few months ago, I had prostate cancer which was diagnosed three weeks before my US Northwest Ride last year. I delayed the surgery, not the ride. Everything seems to be OK now. All you men out there, make sure you have the proper tests for prostate cancer, one out of seven men will have prostate cancer.
Would I encourage other riders to do US1? Yes, but with some qualifications. Make sure you are going to be OK with all the slow speed limits and numerous traffic lights in towns and cities. If so, you are good to go. If you would like to ride US1 but don't have the patience for those slow speed limits and numerous traffic lights, ride the parts of US1 that are in the country, and use a by-pass for the city areas.
Here are some numbers from my ride.
Miles: 6409.7&nbsp&nbsp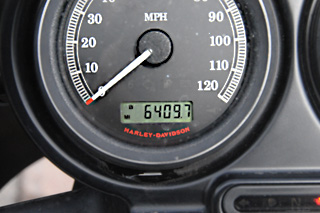 Traffic Lights: 2,516&nbsp&nbsp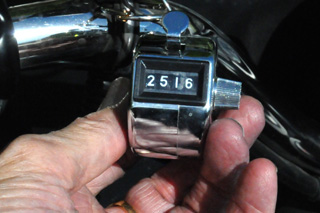 Days on the road: 25
Average miles per day: 256 (only my Blue Ridge Ride was lower)
Gallons of Fuel: 147.9
Average miles per gallon: 43.3
Highest miles per gallon tank: 49.0
Lowest miles per gallon tank 37.9
Pictures taken: 584
Bike problems: 0
States visited: 19: FL, GA, SC, NC, VA, MD, PA, DE, NJ, NY, CT, RI, MA, NH, ME, VT, WV, KY, TN
Capitols visited: 15: SC, NC, VA, US in DC, DE, NJ, CT, RI, MA, NH, ME, VT, NY, PA, WV
Don't forget to visit my page showing all the capitals I have visited while riding a motorcycle at http://rhopkins.us/uscaps/.
Since I don't have a specific plan for a ride next year, I don't have a web page to give you. Once I decide, I will add the new ride page to my home page at http://rhopkins.us/ where you can check under Motorcycle Rides and it will be the first one listed.
That's about it. I cannot think of anything else to say, except to thank all of you for following my ride. See you next year.

---