Travelogue -- Dr Bob's Wrap-Up Motorcycle Ride
Send a message to Dr Bob
---
5 April 2015, North Palm Beach, FL
Introduction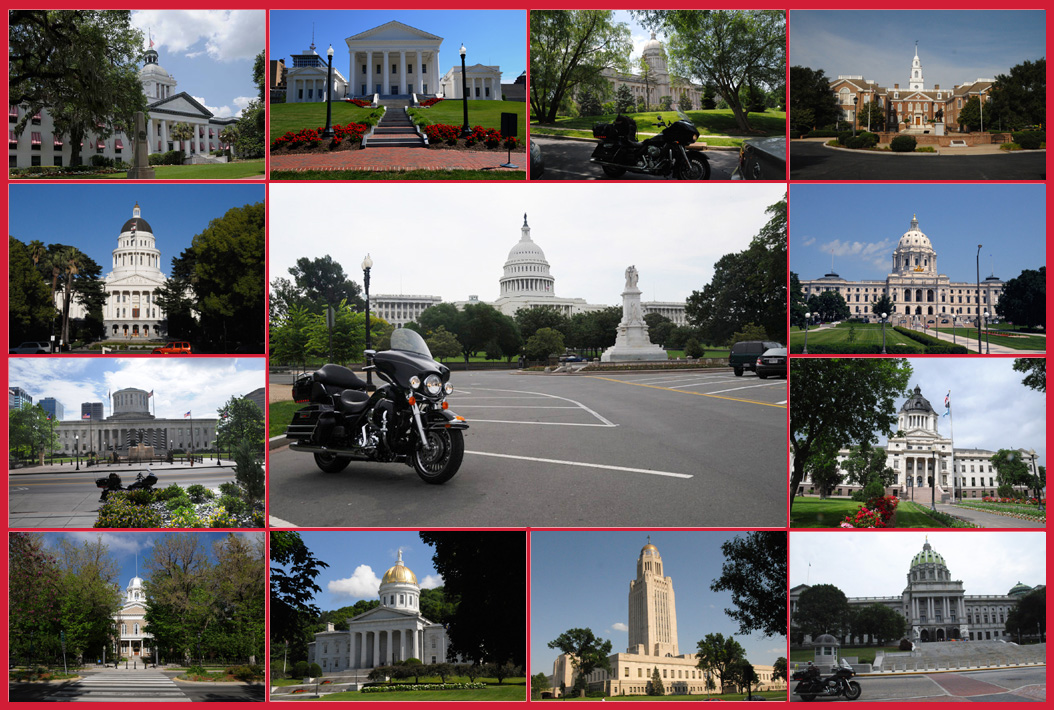 My, oh my, it has been a long time. But now I'm back. I am ready for my Wrap-Up Ride. My last ride was in 2015, my Northwest Territory Ride. I had planned to do the Wrap-UpRide in 2016, but it did not happen. Then I planned to do it in 2017, but it did not happen.
Finally, it is going to happen, in 2018, my ride to wrap up taking pictures of the Capitols of the Lower 48 on a motorcycle ride.
My trip logo is a collage of some of my Capitol photos. I only have a few in the logo, the picture would be too large if I had them all. How many is all? I have collected 45 of the 48 Capitols plus the US Capitol, which is front and center in my trip logo. Actually, my motorcycle is front and the US Capitol is center. That's an old motorcycle, not my current ride, a 2013 Harley-Davidson Road Glide Ultra, shown here sitting on top of Abner Mountain in southeastern Kentucky in 2014 on my US Northeast Ride. I like my Road Glide, I really have to say that I like the Road Glide more than the Electra Glide.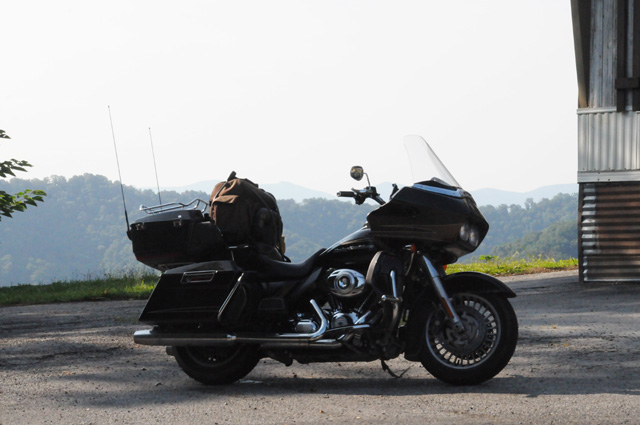 The other 3 of the 48 Capitols are Phoenix Arizona, Boise Idaho, and Denver Colorado. I will visit them in that order. Just below is my trip plan which also shows tentative daily rides. You can click on the map to have a higher rez view. That is sometimes true with my images, like the trip logo above, and my Road Glide. If you see a fat border around the image, it means you can see a higher rez version. It will open in a new tab or new window depending on your web browser configuration.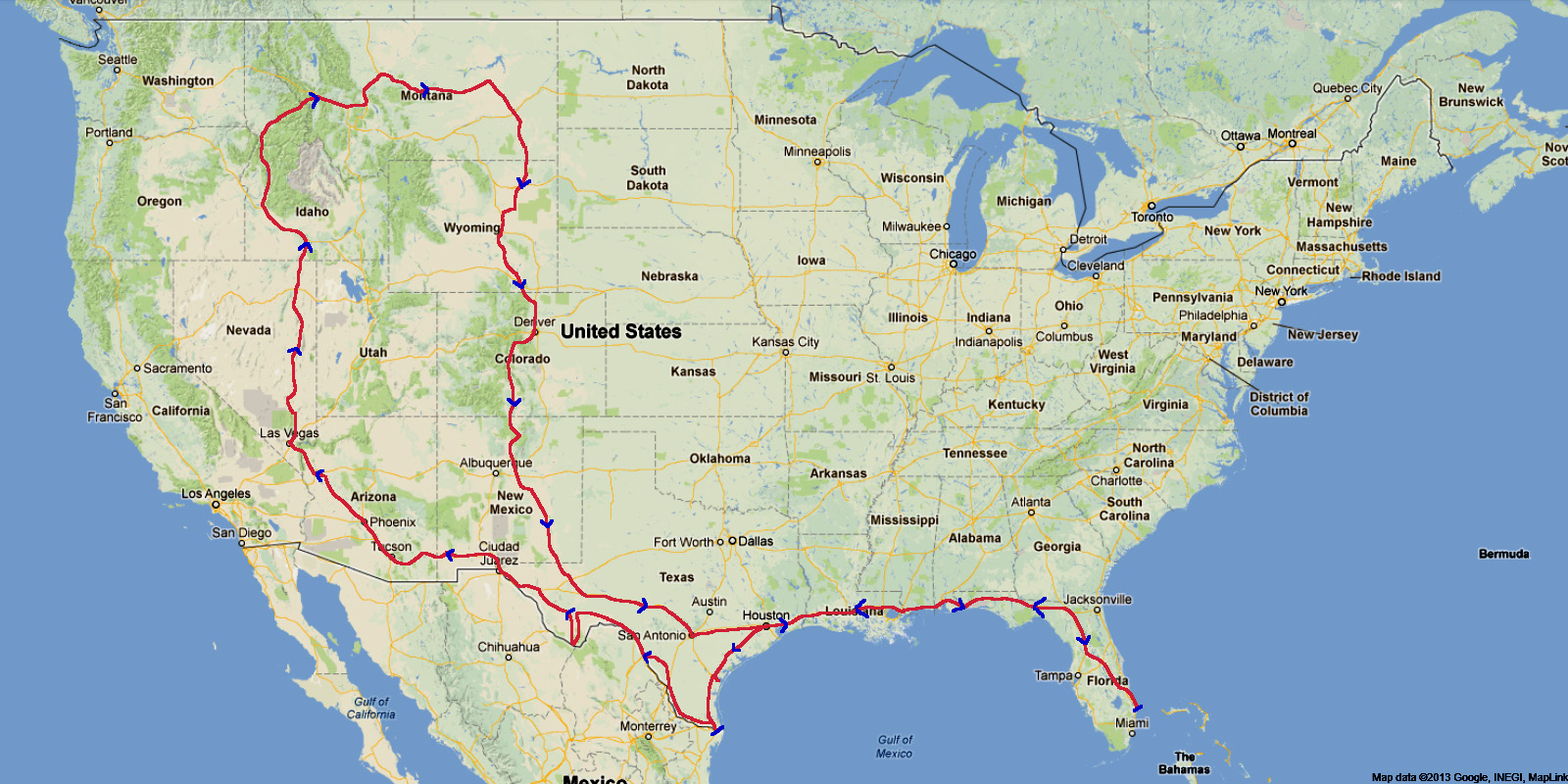 This is an ambitious schedule, 21 days. I will have to average about 370 miles per day. I probably will not be able do that. Weather can interfere. Bike maintenance can interfere. And, I might get tired and take a day off.
I will have more than my normal number of miles on Interstates, about 3,500 miles, which boosts the daily average. I am looking at my primary ride as the circle part of the route from Houston back to Houston (actually back to Fort Stockton, Texas). So, I want to get to Houston quickly and back home from Fort Stockton quickly. Some riders on rigid schedules might ship their bike to Houston and back from Fort Stockton, but not me. I want to be on the bike.
For the most part, the circle part of the ride will be on US highways. I will have about 4,300 miles altogether on US highways. You can see from the map that I spend a lot of time on the Florida Turnpike and I-75 and I-10 getting to Houston. That's 1,150 miles on Interstates.
From Houston I will ride the Texas border south along the Gulf coast, then along the Mexican border, visit Big Bend National Park, then get back on I-10. That's about 1,250 miles, mostly on US highways.
The stretch along I-10 to reach Phoenix will be about 550 miles.
Then I will have about 3,200 miles riding north through Las Vegas, Boise, Missoula, then east to Jordan Montana, and then south through Denver to Fort Stockton Texas, mostly on US highways.
Finally, it will be about 1,650 miles on Interstate to get home.
I will do this ride like I have done others, by posting pictures and text every day of the ride. Each day of my journey will be a separate page shown on the menu at the left. You can start at the beginning by selecting the first day, or at the end by selecting the last day. The little arrows at the top corners and bottom corners of each page will take you to the previous or next page.
The map shown near the top of the menu on the left will be updated daily to show my actual track; the little blue arrowheads show my rough plan for daily travel; the small blue bars show where I actually spent each night; the big blue arrow shows where I am. Any time you go to my travelogue, it will open on my most recent day.
At the end of the ride, I will add the Wrap page where I will give you my highlights of the ride, statistics, and whatever else pops into my mind when I do it.
Also at the end of the ride, I will put the entire trip on a single page (a long page) which you can view by selecting "Single Page".
If you are interested in my other motorcycle travelogues, go to the bottom section of my home page -- http://rhopkins.us. The map below shows where I will have ridden my motorcycle by the time this ride is complete. You can click on the map to have a more detailed view.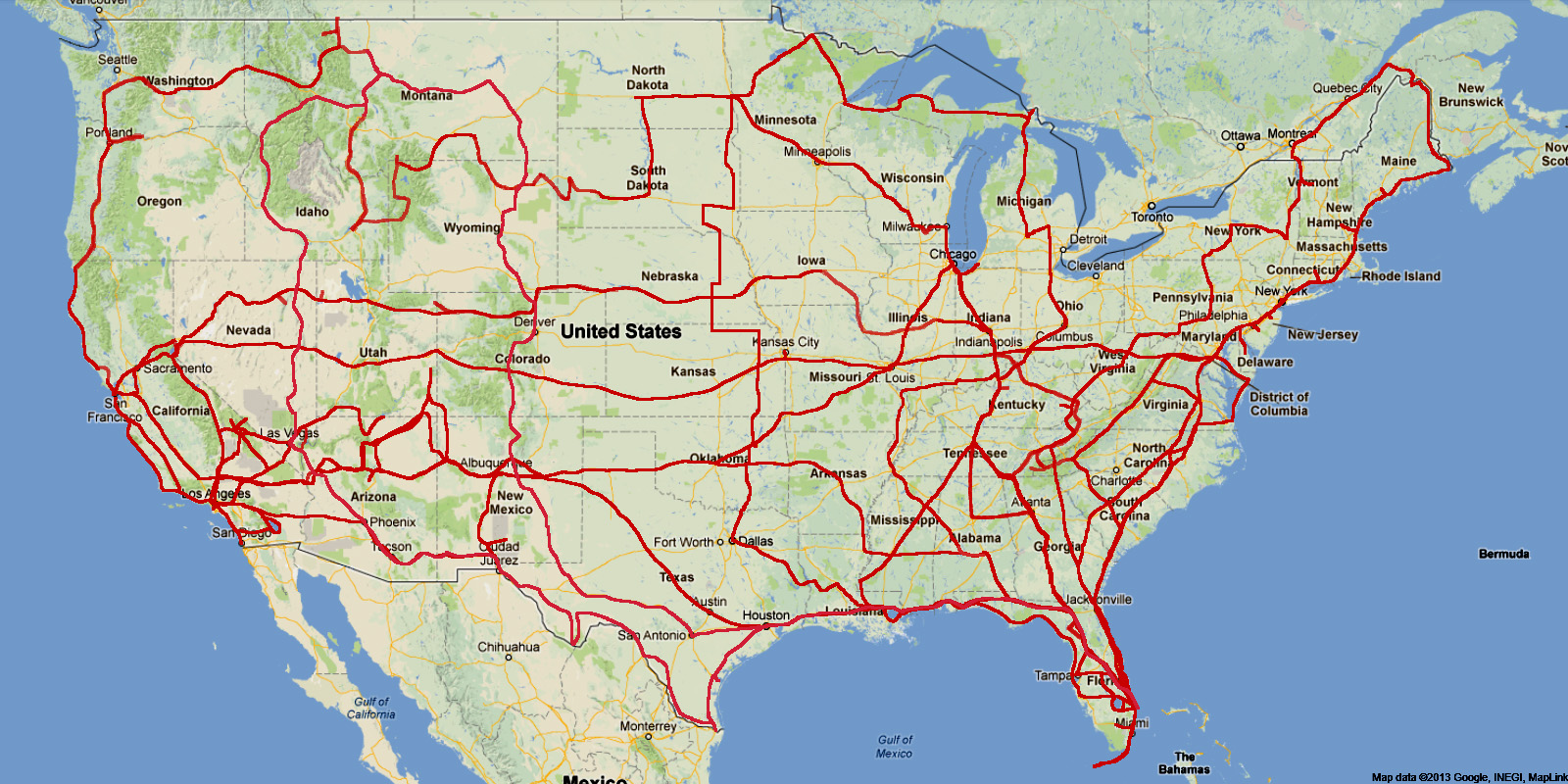 By the way, do you recognize the Capitols in the Logo? You can do a search on the Internet, or you can click on the logo.
---
14 April 2018, 5:00 PM, North Palm Beach, FL
Preparation
Less than three weeks until my departure. I have things to do. I need new tires. The front tire has about 3/32" left, the rear 4/32". The front is reaching the marginal point, some would say it is there already. The original tires were replaced at 13,653 miles, just before my US Northeast Ride. Probably the same then, not enough tread for several thousand new miles, so I replaced them before riding out. I have a little over 14,000 miles on these, so I have made an appointment to get that done. Plus fluids. I don't ride a lot between my big rides, there's not that much to see on a bike around here. It is quite flat. To see into the distance you need to get on an I-95 overpass. Because I don't ride much, I replace fluids before I do my long ride. It has been a year since the last fluid change. I will have to do it once on the ride, but I don't want to replace tires on the ride.

I have started getting the bike out more the past couple of months, getting myself, and my bike, ready. Today I did that, 2 1/2 hours, 115 miles, from North Palm Beach to Belle Glade, Pahokee, Port Mayaca, and back to North Palm Beach. I rode along CR 880 (Palm Beach County Road 880) from US98 to Belle Glade. It was a terrible washboard. I already knew that, but I think it is worse than it was the last time I was on it. It was almost as bad as US-71 in Louisiana between Alexandria and Baton Rouge. CR880 does not have all the cracks, just the washboard.

I go to Port Mayaca more often than other places around here. I go up on the dike overlooking Lake Okeechobee. Today there were some other bikers up there. One gentlemen, whose name I unfortunately forgot to get, was of great assistance taking a picture of my bike (and me).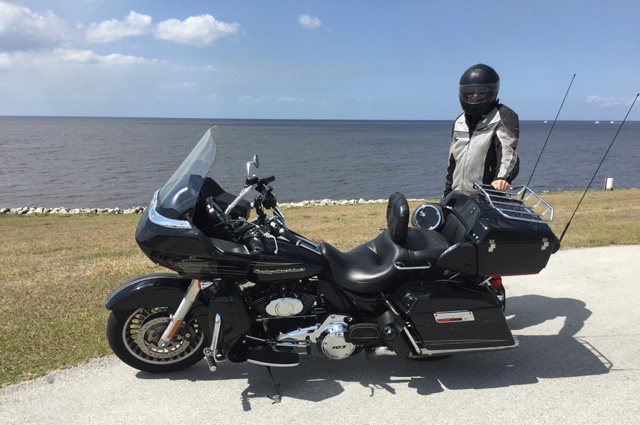 After I got back to North Palm Beach, I put leather conditioner on my Royal Canadian Mounted Police gloves (they are great with big gauntlets). The black leather on the back of my hands turns grey from the sun on my long rides, so I need to make them look nice again. Done.

On my ride today, I was in full dress, just like I am on my long rides. I have Aerostitch pants (armor and rain proof), a Tourmaster summer jacket (also armor with a million little holes for ventilation), cowboy boots (because I am riding a horse, iron though it may be), my HD short sleeve shirt (which usually remains hidden), my full face helmet (I used to have a 3/4 helmet with a face shield, but the full face helmet is so much better for the long haul in the wind, less turbulence and quieter), my two knee braces (one for each knee), and my Nike Dri-Fit pants (keeps my legs cooler and protects the knee braces from getting scratched by the Aeorstitch pants). I started using one knee brace several years ago, then used two on my last ride or two. It makes it so much easier for me to keep my bike upright when I am stopped, makes my knees much stronger. The problem is that my knees are old, more than 75 years old.

It was a beautiful ride today, I am very pleased with my vision. I see better (without glasses or contacts) than I ever have. I first got glasses when I was 13 years old. I got my first contacts when I was 18. I have worn contacts since then, until January 1, 2017. That day when I took them off, I never put them on again, I was preparing for cataract surgery. That's the primary reason I did not do a long ride last year, I would have to use glasses, and I hated wearing glasses riding my bike. My vision was not good, about 20/500 without glasses or contacts, so the glasses made everything look distorted, smaller, farther away. With my new eyes, I am 20/20 in the distance without glasses or contacts. It is wonderful.

I have been getting my laptop computer ready to go. I just put Office 2016 on it this afternoon. My laptop crashed late last year, and I had to get a new one. This will be the first time the new one has been on a ride. I think it is looking forward to it. I need it badly, it would not be possible to keep this website going without my laptop. I update the website every night on my rides, with pictures and text. I spend a couple of hours on it. Every picture goes through Photoshop.

I need to tighten the vents on the lower fairings. They keep closing because the toes of my boots press on them when shifting or using the rear brake. Annoying.

I am sure I need to do other things to get ready. But I won't waste your time with that now.

Whenever I update my ride travelougue, as I have done today, I set it to take a web visitor to the most recent page. If you have wound up here, know that there is a previous page called "Intro". You can click on it on the menu at the top left.
---
28 April 2018, 4:45 PM, North Palm Beach, FL
More Preparation
Less than one week until my departure. I got the new tires. I had a full service, fluids, plugs, etc. The Treasure Coast Harley service folks tell me the bike is ready to go 8,000 miles. I should get new oil and filter after 5,000 miles they told me. The other fluids will be OK.
I decided I needed to stretch our legs (the bike and me) to make sure we were up to the ride. I went to Daytona and back today. I expected that to be about 400 miles and 8 hours. It was 392 miles and 7 1/2 hours. I wanted to ride the circuit, but that was not possible. There were a million Jeeps there. Turns out there is something called Jeep Beach. There will be a concert at the Speedway at 5:00 PM today. All I can say is that the parking lot looked to be full of Jeeps at Noon when I was there.
I did manage to get a picture of my bike and the western end of the grandstand. The eastern end must be a mile away, maybe just half a mile.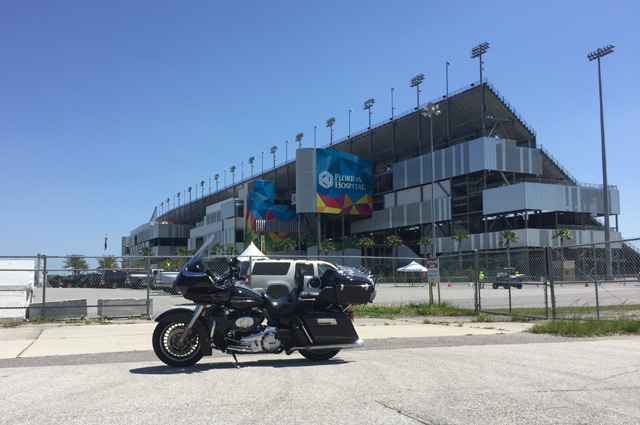 It was another beautiful ride, I continue to be pleased with my vision. But I need a new visor on my helmet. Not sure I would have noticed that before.
The vents on the lower fairings are still a problem. I made them much tighter. That did not do the trick. Bungee cords did. I did that at a Rest Area on I-95. Only problem with that is I will have to get off the bike to close them (for rain or cold weather). So be it.
Probably nothing more until Friday, May 4, my day of departure. See you then.
---
4 May 2018, 9:45 PM CT, DeFuniak Springs, FL
The Wrap-Up Ride Begins
My ride has begun, my first one since 2015. You are likely to find me a bit nostalgic on this ride. I have had some difficulties getting this ride done. As I said in my Intro, I had planned to do it in 2016 and then 2017 and now it is finally happening in 2018. Because I anticipate it will be difficult in the future to do such a big ride, I am treating this ride as if it is my last Transcontinental Ride. If I can do another in the future, Great. If it does not work out, so be it. (That's the second time I have said "so be it". I wonder why.)
Hanna always joins me in a picture at the beginning of my ride. And here she is, waving her hanky.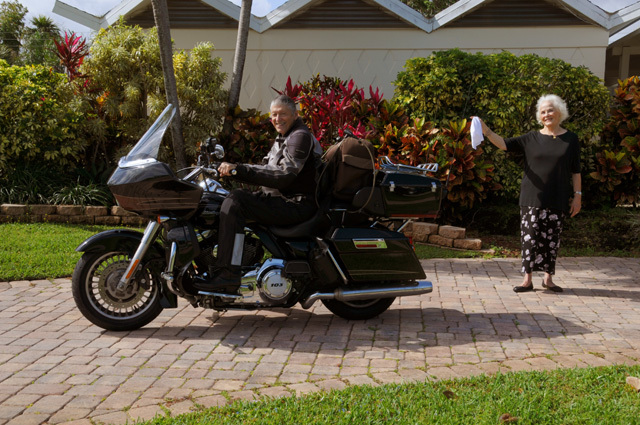 It was 10 years ago, in 2008, that I did my first transcontinental ride, Route 66, when Hanna bid me Bon Voyage with a hanky. I asked her to help me reproduce my send off picture from 2008, waving a hanky. Why wave a hanky? That was a custom in the old days to send people off on a voyage, especially in Europe. Hanna is European, German, a Berliner, a traditionalist.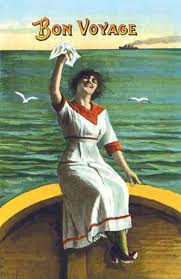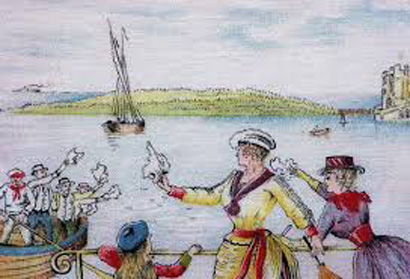 So, I was happy to have her send me off once again.
I got off at 8:00 AM. Not bad. I rode up the Florida Turnpike, and took my first break at Fort Drum Service Plaza.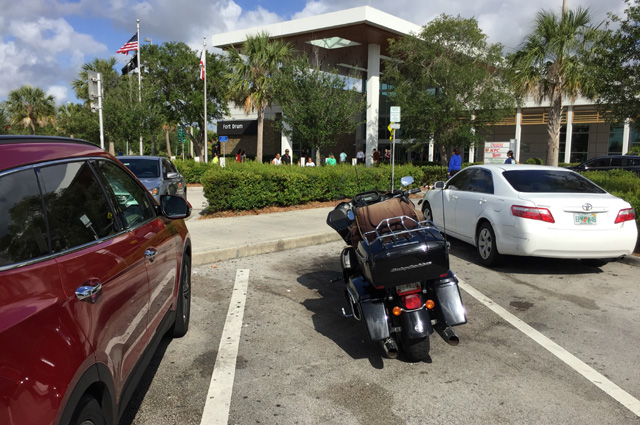 There is absolutely nothing significant about this picture, I just wanted to show you my bike again.
Everything continued to go fine, my second stop was to be in Wildwood, where the Turnpike ends as it meets I-75. I was getting tired, so I stopped at another service plaza about 20 miles before Wildwood, just to walk around the bike and continue. As I was approaching the spot where I was going to park for five or ten few minutes, I got hit in the face with a blast of water. What a shock! I had ridden through one of those car windshield washers without realizing it. That will teach me to not get too absorbed with where I am going to park! The bike was wet. I was wet. It did feel refreshing, though. It was about 85° or so.
I took off again, holding my head over to the side of the bike to get the wind to blow all the water off my face shield. On to Wildwood to get gas and something to snack on.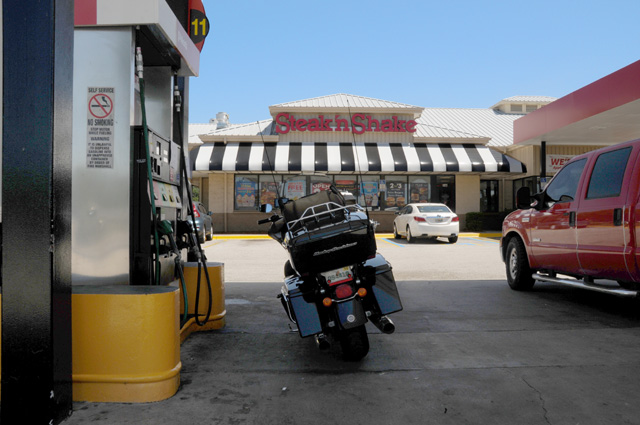 The question of the day. Did I do it? If you don't know what I am talking about, you have not read my older Ride Travelogues.
Leaving Wildwood the traffic on I-75 was terrible. It took me an hour to go 15 miles. After the stop and go was gone, the traffic still continued to be heavy all the way to I-10. Riding on I-10 was pleasant. I had planned to stop in Tallahassee to take another picture of the Florida Capitol, but decided to skip it having already lost an hour with the traffic problem. It was 5:30 PM and I was sure traffic would be terrible in the capitol city during rush hour on a Friday afternoon. Maybe I will take a picture on my way back home. I have taken pictures of the Florida Capitol several times, but my general rule is that I have to do it each time.
I did lots of stops today. I was on the road 11 1/2 hours. I rode 538 miles. That's a lot, I have not ridden that many miles in one day since my US Northwest Ride in 2013. I guess the old boy is not done in yet. I must have made at least ten stops. Here's one earlier today where I was especially careful and looked where I was going all the time, unlike the windshield washer fiasco.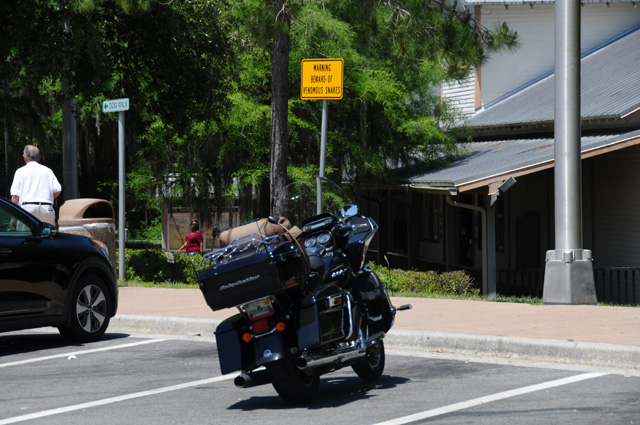 If you cannot read the yellow sign, click on the picture.
So now I am in DeFuniak Springs. I have put the bike to bed and it is time for me to put me to bed.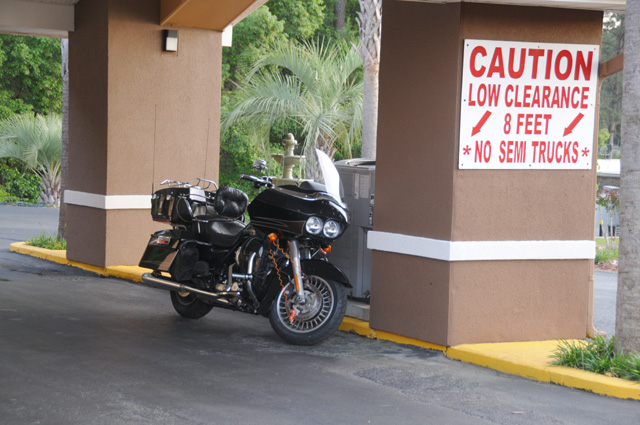 But first, I have to show you the send off picture for my Route 66 Ride in 2008 that I was trying to reproduce.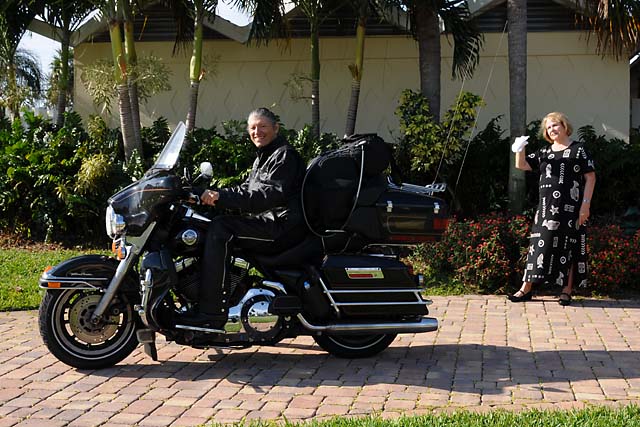 As you can see, everything is exactly the same, except my bike is different, my jacket is different, Hanna's dress is different, the plants are different, the trees are different. Like I said, exactly the same.
And, no, I did not do it. I am following my Doctor's orders.
See you tomorrow, probably somewhere in Texas.
---
5 May 2018, 9:00 PM CT, Beaumont, TX
I'm back, and I did make it to Texas, I am less than 30 miles into Texas. I added 525 miles today. I was on the road 12 hours, a little more than yesterday with a little fewer miles.
I have been satisfied with my gas mileage. I have been riding 72 mph (per my GPS) most of the time, but going up to 75 to pass or to stay with faster traffic. My average so far is 41.4 mpg. I use cruise control most of the time.
And, I have to say, most Louisiana roads are terrible. I have made that complaint before.
I had anticipated rain for Saturday afternoon to evening or Sunday morning. I have been watching the weather for a few days. Just before getting off I-10 onto I-12 to bypass New Orleans, the sky was getting dark. I got the bike ready for rain. I cleaned the windscreen and then put on my special stuff that makes the rain not stick, it just makes little balls that go flying off the top of the windscreen, hopefully above my head. I do that to my helmet face shield also. I put my ZipLock bag over my GPS. I did not put on my rain jacket, though, it gets hot very quickly inside the rain jacket. If I need it, I will stop and put it on. I did unlock that saddle bag so I could easily stop and grab it. Normally I leave the saddle bags locked. On an Interstate, light rain is OK, I don't get wet, I don't need the rain jacket. That is, unless I have to stop, like bad traffic.
Well, guess what. Rain started spritzing shortly into I-12. Spritzing, I suppose that is sort of a sprinkle that my speed through it causes little balls of water. And guess further what. Traffic stopped. An electronic sign said a car was on fire. Fortunately there was an exit and I got off. I figured I would check Google Maps for the traffic and NOAA for weather radar. I found a Cracker Barrel.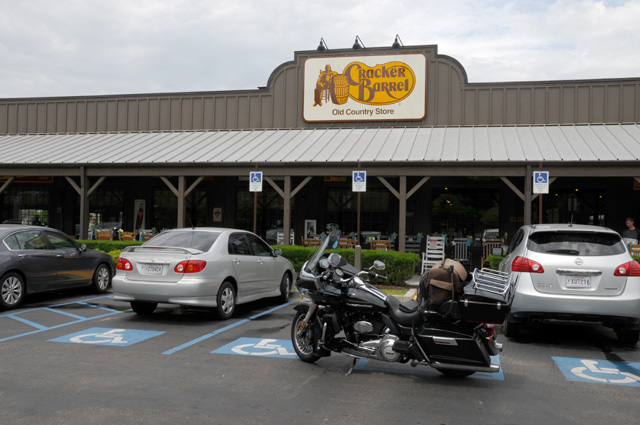 I don't always block traffic like that, especially Handicap Parking, but I wanted a picture of my bike in front of the Cracker Barrel. I moved it quickly, nobody complained.
The time was about 1:00 PM so I decided I would have a lunch. Country smoked ham. I watched Google Maps as I-12 changed from red to green, and I watched NOAA radar as the green stuff passed over. I left about 2:00 PM.
I had no bad traffic, and only the slightest spritzing. Eventually I made it to Baton Rouge. Ding. A capitol city. I did my duty.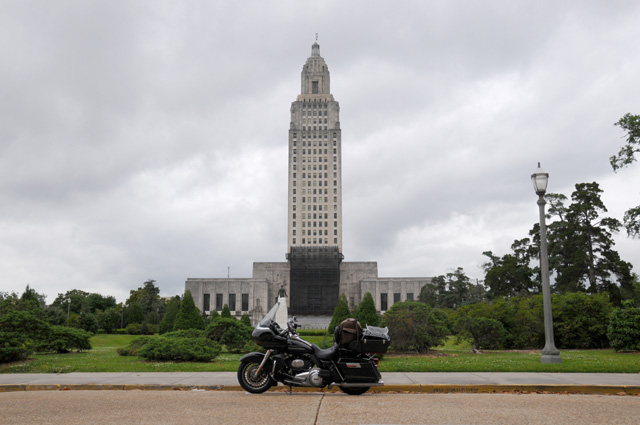 I don't know what all that black stuff is.
But I do know what some black stuff is on my water bottle holder.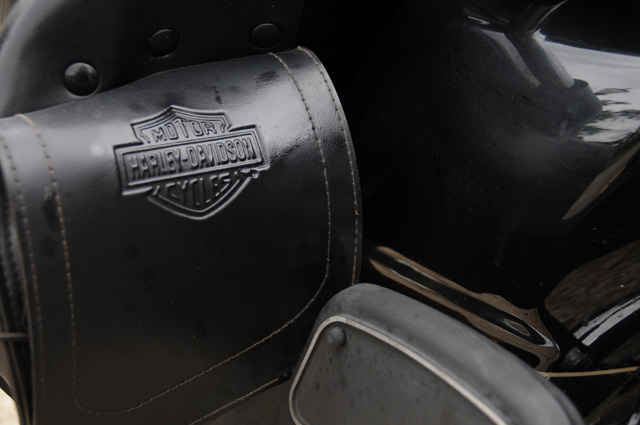 It is kind of hard to figure out what I saw, I had trouble getting a picture to show it. But there is oil on the leather, especially to the right of the Harley Davidson logo. You can see the passenger foot board folded up. This is the right side of the bike. I first noticed it this morning. My foot slipped off the footboard. I noticed the water holder looked wet. I figured somebody spilled some water or coffee on it while I was inside the McDonalds getting an Egg McMuffin and Latte. When I got gas I cleaned it up and that's when I discovered that it was oil. I searched for where the oil was coming from, hopefully not the motor. I concluded it was coming from the air cleaner.
At later stops there was oil again, even after I had cleaned it up each time before. I did some Google searches, and found that this is a known issue, oil coming out of the air cleaner. My bike is a 2013 with the 103 dual cam. The most common thing they say is that the oil might be a little overfull. I checked it, and it was exactly on the full mark.
So earlier in the day I was a little concerned, then later I decided to not worry. Do any of you have a suggestion for me? Today was Saturday, Harley service is usually closed, and especially on Sunday, and most places on Monday. It looks to me like I don't have to worry about it.
After getting my picture of the Louisiana Capitol, I went to the river hoping to get a picture, but it is not easy to get there, so I satisfied myself just getting a picture of the bridge that I was going to be on crossing the river. The Mississippi River that is.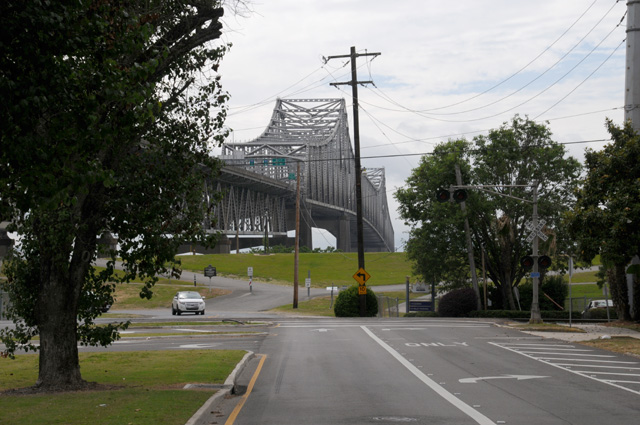 That's all I have for today. It was another travel day. Tomorrow will be for a while, but then I will be on US highways making my way to Brownsville. I will be in Texas for a while, five or six nights, not counting nights on my way back home. And maybe 1,500 miles, not counting the miles on my way home.
---
6 May 2018, 10:15 PM CT, Harlingen, TX
Rolling right along, 490 miles today, 1,554 total. More than I expected, but I did have a goal this morning of getting to Brownsville. I am about 25 miles short of that, but I decided it was time to stop. I am almost one day ahead of my preliminary plan. My preliminary plan had been to reach Brownsville tomorrow evening. I will not be keeping up this pace. The US highways today were virtually the same as an Interstate, that's how I got more miles than I had anticipated. I doubt I will stay a day ahead of the plan, too many things can slow me down. I did not put a single day of rest in the plan. Normally I do. So, when I need to take a little R&R, I will do it.
Thanks to Phil and Dean. Both responded to my comments on the oil leak from the air cleaner.

That's Dean on the left and Phil on the right, toasting with wonderful chocolate shakes, winners of my contest four years ago to guess the number of traffic lights on US1.
The conclusion seems to be that nothing is wrong. As Phil said, "The oil problem is caused by blowby in the motor. Not a concern. Possible solution is to let the oil level drop a half quart from the blowby and it cures itself. Some guys use a cotton device taped on the bottom of the air cleaner to absorb the excess. Not a problem to be concerned about."
I followed Phil's suggestion, taping a piece of a cotton towel to the bottom of the air cleaner with duct tape. After 200 miles, perfect! Not a drop of oil on my leather water bottle holder. After 300 miles, not perfect. The duct tape had come off. The air cleaner is too hot, it melts the sticky stuff on the duct tape, leaving it rather gooey. So, I decided to just keep riding and, being a Harley, slowly but surely it will burn some oil, then I will be good. I had the bike serviced shortly before the ride, and maybe they put in a little bit more oil than in the past. I do not remember this ever happening before.
I rode through Houston about an hour after leaving this morning, the view of downtown was absolutely gorgeous as I rode up a ramp making my left turn to leave I-10 and go south. I could not take a picture for you though, not enough shoulder, and traffic was heavier than I would like to have while sitting on a narrow shoulder. So, I will have the image in my mind for the rest of my life, and you have nothing. Sorry.
The terrain was flat south of Houston. Perfectly flat. Lots of farming.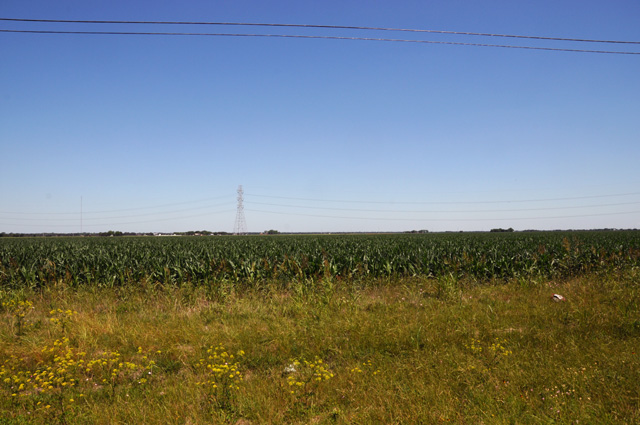 A railroad ran along the highway pretty much the entire distance. Normally two tracks. Made me think of Route 66, always a railroad next to the highway.

About 20 years ago I was invited to make a speech at a meeting on HDTV (high definition television) on Padre Island. I declined. So, I decided that I had to see Padre Island this time, it was only 30 or 40 miles out of my way.

I rode to the beach and discovered that I would have to park in the sand. That's not for me. I took this picture from a distance so I could leave my bike on the paved road, there was not much of a shoulder.
I saw my first cactus!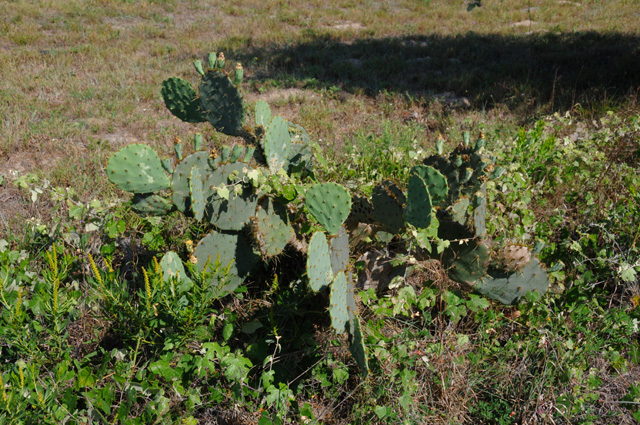 South of Corpus Christi, and Padre Island, there was a windmill farm that just went on and on. Probably several different farms.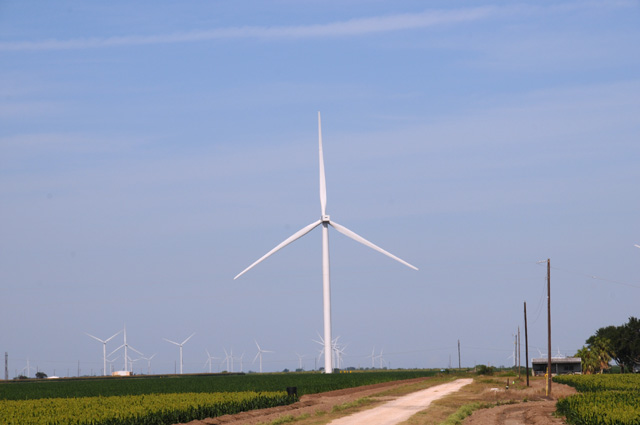 That's all I have today. Tomorrow I will be off to Brownsville, I want to see how big the Rio Grande is at its end. Then on to Laredo, also on the river. My plan for the next few days is to ride along the border to Big Bend National Park, then I will head to Phoenix on the Interstate.
---
7 May 2018, 10:30 PM CT, Laredo, TX
Buenas noches queridos lectores. Estuve en México hoy. Pero más de eso después. Dejame empezar por el principio.
If you do not understand this, maybe you should take Spanish lessons, or use Google Translate. Actually, that would be faster. For me at least.
Today started a little slower. I have been off by 8:00 each day until today. Today I was late, I was off at 8:30. I first went to downtown Brownsville. I had set my GPS simply for Brownsville, and here's where I ended up.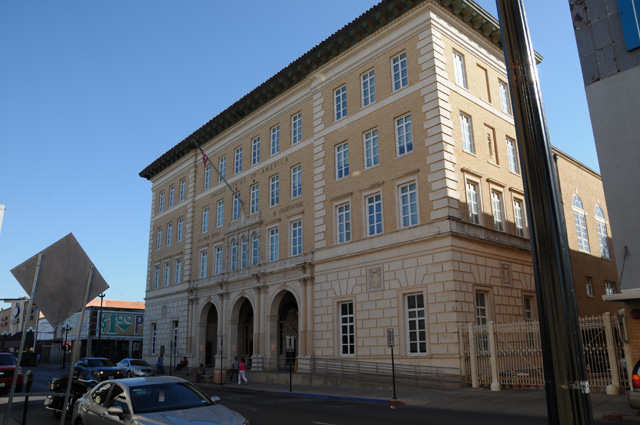 At the Courthouse. This was an old street. I had lots of bounces off my seat riding some of the streets to get here.
Here's the view looking down the street from the same position, just across from the Courthouse. This could be one of many old US towns.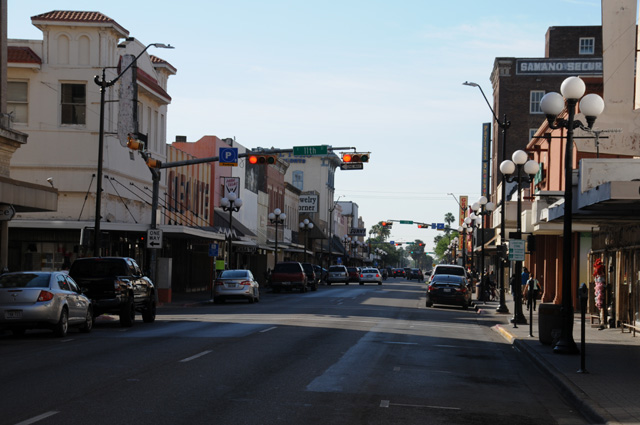 I wanted to find the end of the Rio Grande, so I went as far east and as far south as I could, but I was not close to the Rio Grande. But, I did end up on South Padre Island. Two times in two days I have been to Padre Island. And I looked it up, it was August 2001 when I declined to go.
I came across this place, and I decided I had to take a picture for Hanna. I looked up what that word means, and it is slippery road. Right, Hanna? I think it is a water park.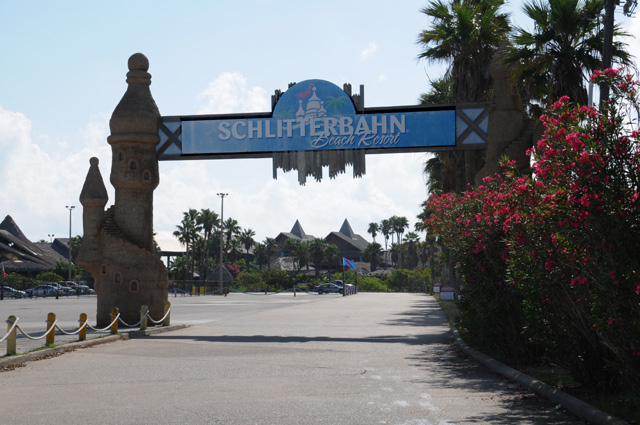 I had to work at it, but I did find a way to the beach. It was not easy.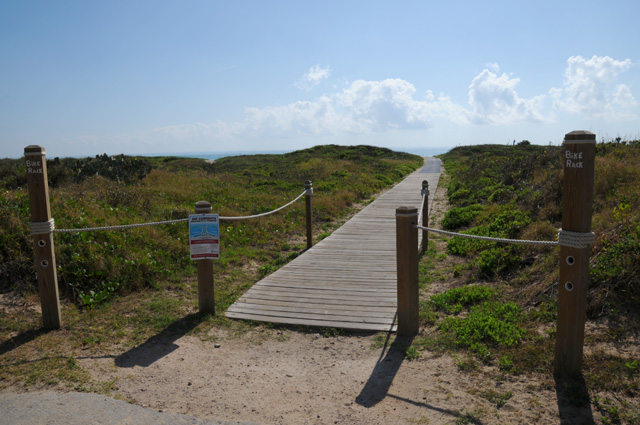 This is looking south. Somewhere down there the Rio Grande empties into the Gulf.
I then headed back into Brownsville and tried to go as far south as I could to see the Rio Grande. It did not work, and I gave up and simply headed towards Laredo on US-281 which runs along the border.
Not far out of Brownsville, I saw this.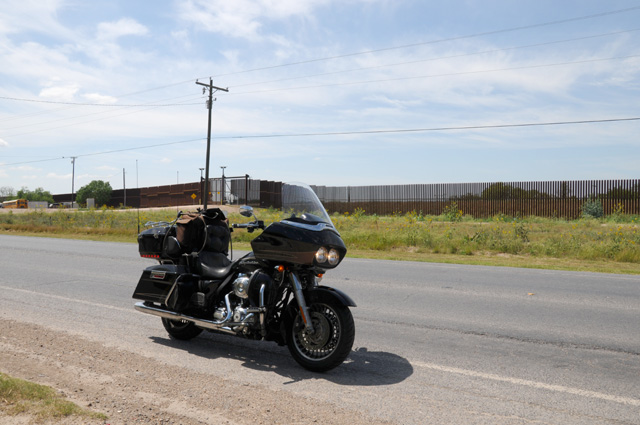 I did my old trick of stopping the bike along the road, on a narrow shoulder, and grabbed this picture. I could tell there was no use for me to go up and look through that fence. You can tell when I am in a rush, I leave the bike running.
For miles I could see a fence, sometimes a different size, all of them keeping me from getting a picture of the Rio Grande that I could share with you.
Then I had a brilliant idea. What if I went into Mexico? I would have to cross a bridge over the river, wouldn't I? So that's what I did.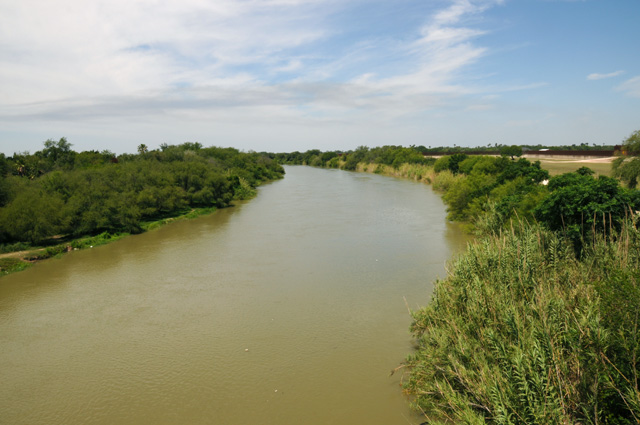 Finally, my picture of the Rio Grande. You might end up seeing several pictures of the Rio Grande. I may see it in Big Bend. I may see it in El Paso. I may see it in Taos. I am planning to be in all those places on this ride.
So, I ended up in Mexico.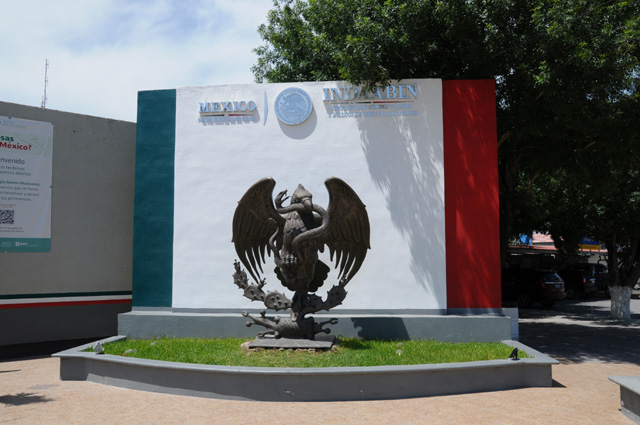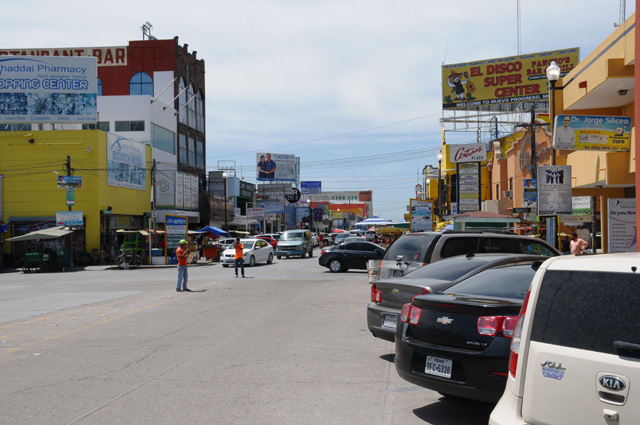 Then I went back across the bridge and continued my trek to Laredo. This explains my opening sentence, "Good evening dear readers. I was in Mexico today. But more of that later. Let me start at the beginning."
For miles and miles, the land was covered with these shrubs or trees.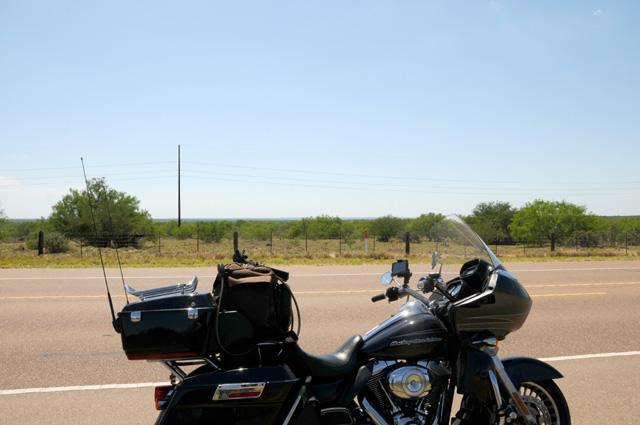 Here's one up closer.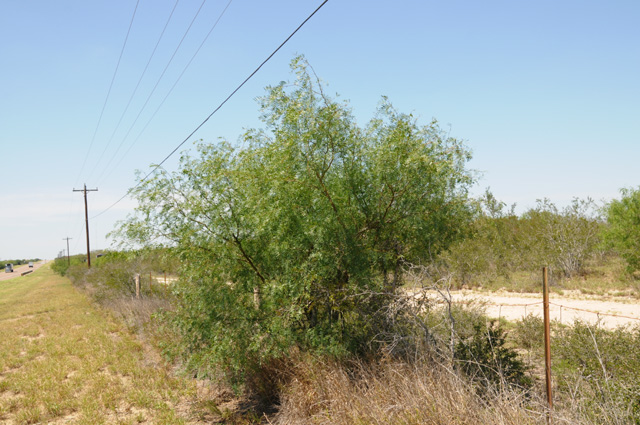 And here is a picture of the leaves. Anybody know what this is? Is it mesquite?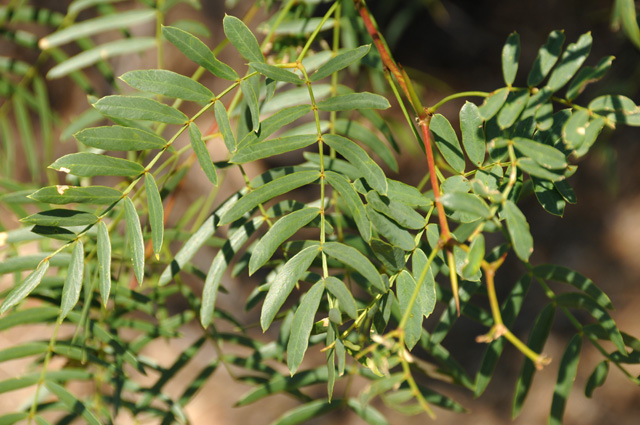 As I was walking back to my bike, parked along the road, of course, I spotted some cattle in the shrubs. This fellow got my attention. I want to find a Longhorn. I don't think that is what this fellow is, though.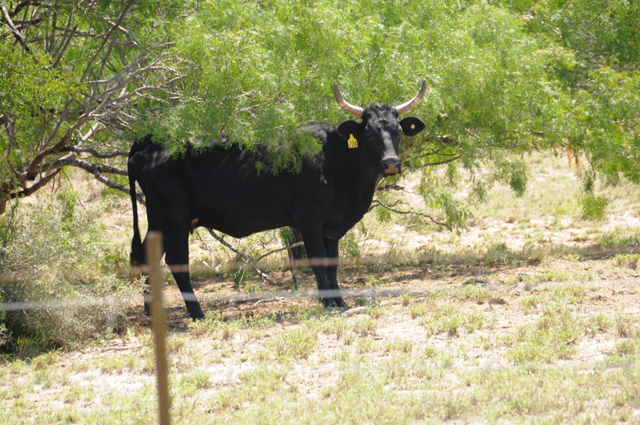 I stopped early in Laredo. Decided to call it a day. Tomorrow I am thinking I will go to Marathon and spend the night, another shorter riding day. That is the closest I can get to Big Bend. Then I will have a full day to explore Big Bend. I want to find the Mules Ears. I want to see the Rio Grande up close. Both of those things were possible, and happened, when Hanna and I drove from our home in California to our new life in Florida. So I have pictures of the Mules Ears and the Rio Grande in Big Bend, I just want to do it again, on the bike.
At my hotel I parked next to another Harley, with Mexico plates.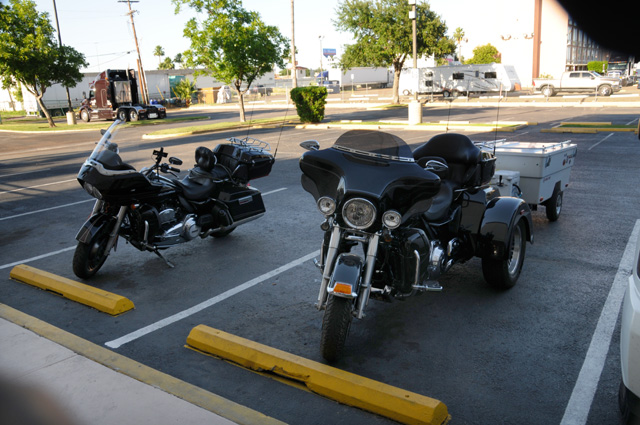 Half an hour later, I met the rider, Jose. We chatted for a while, then I had to go eat a pepperoni pizza.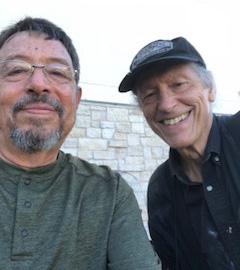 That's it for today. I rode 296 miles, 1,850 total in four days. Marathon tomorrow?
---
8 May 2018, 9:20 PM CT, Del Rio, TX
Today was the day I have been hunting for!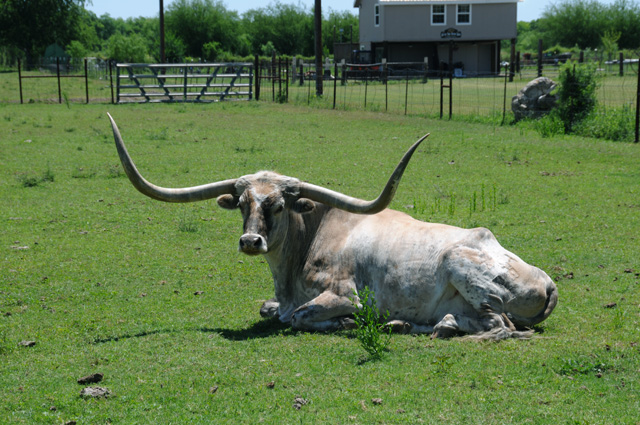 I finally found a longhorn. I suspect this fellow may be a pet. He was near houses, but with some other cattle. He was taking it easy, a pampered fellow, no doubt.
I was moving along, about 70 miles an hour on a two-lane road, when I saw him. I decided immediately I would have to go back, such an opportunity might be there only one time. I was looking for a place to turn, and finally decided I would have to turn in the road. The road was not wide enough for me to do a U-turn. My U-turns take a lot of width, not one of my strengths in riding. So I did a K-turn. I did not want to use the entire road, there was traffic, so I tried to do it as small as I could on a wide shoulder. A K-turn. Or a 3K-turn you might say. Then I went back to get the picture.
Let me go back to the beginning of the day. I had spent the night in Laredo. Jose was leaving so I said good-bye.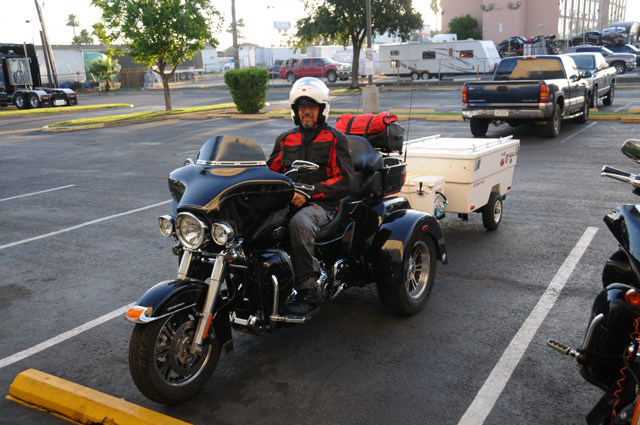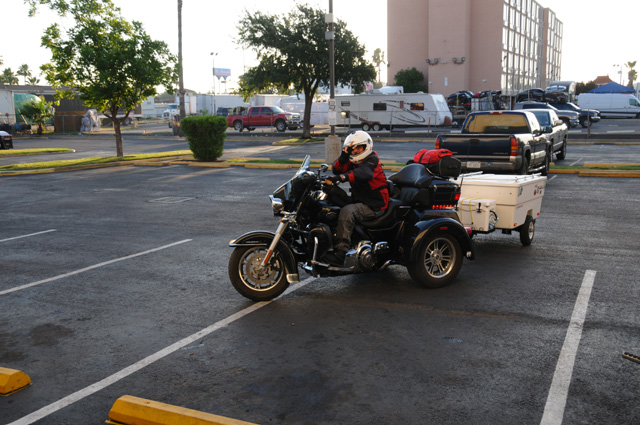 Sometime later it was my turn to leave. I wanted to go back to the Rio Grande to see what I could see in Laredo. I had looked at a map and saw that my hotel was not that far from the river, in fact, the road in front of the hotel went to the river. I could see from the map, though, that the road did not actually go to the river. I was not sure what I would find.
About a block from the hotel, I found this waiting for me.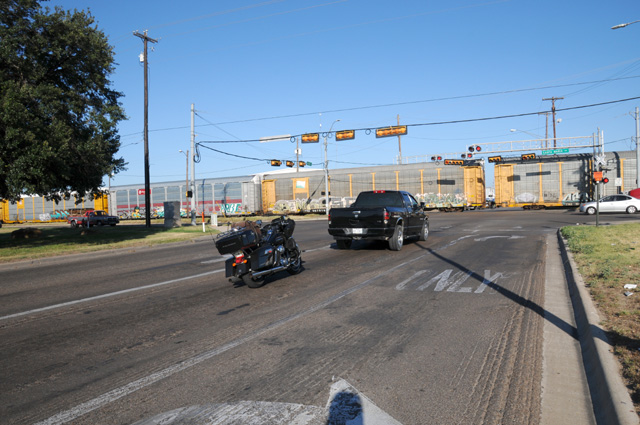 A long freight train that kept going and going, but very slowly, about walking speed. The pickup in front of me gave up and went left. An 18-wheeler was now sitting behind me. I could not see the end of the train, so I gave up and made a left turn to go find a crossing that did not have a slow freight train.
Riding along, all I could see on the river side of the road was flowers and mesquite.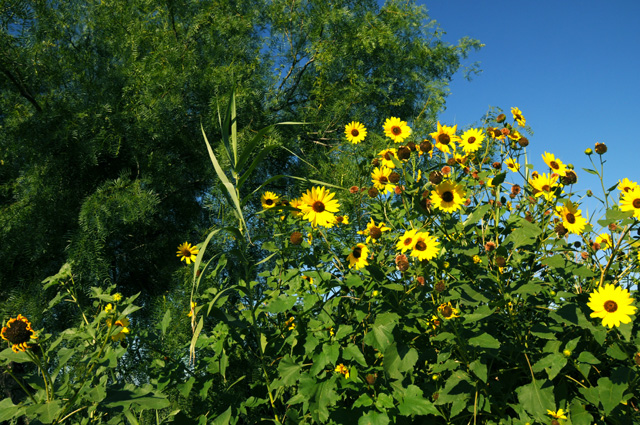 And then suddenly I noticed what might be a hole in the mesquite. I turned around (K-turn of course, but this time there was no traffic so it was easy). Can you see the hole under the mesquite in the center of the picture? It is subtle, but the give-away was the dirt that was there where normally the mesquite came right up to the road.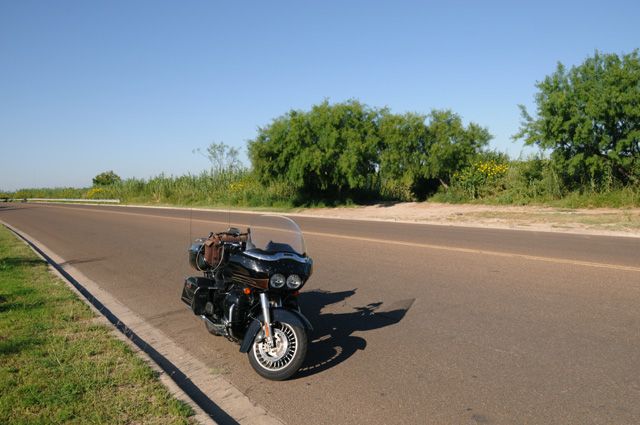 I went in the hole, and there was the Rio Grande. I could have walked right down to the edge. No fence, nothing. There were stair-steps carved into the dirt bank. The green stuff was very thick on both sides of the river.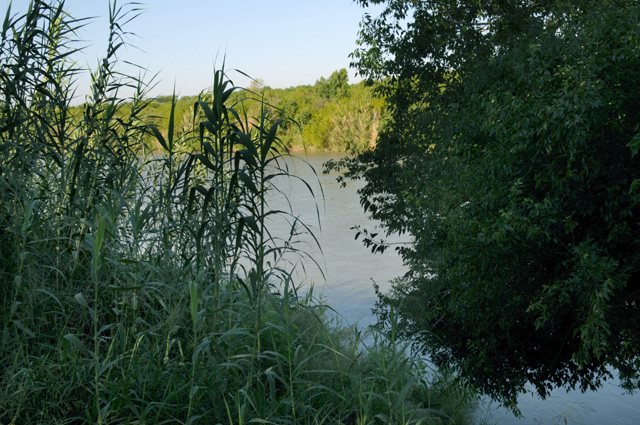 That's all the pictures I have for you today. There wasn't much to see otherwise, just mesquite everywhere. I was on US-83 for part of the journey, then US-277. My plan had been to go to Marathon, sort of an entry (with hotels, etc.) to Big Bend National Park. This morning I changed that plan to go a little farther, Alpine, because I found a hotel more to my liking. That was not to happen. I stopped early, only 198 miles today. It was hot, 95°, and I was getting tired. It was only 1:30 PM, I was at a McDonalds for an hour, then I decided it was time to call it a day, I was not fit to continue another 170 miles to Marathon or 200 miles to Alpine. As far as I could tell in a quick search, there are no hotels in the very small towns in that 170 or 200 miles. So I decided to quit for the day.
I am not sure what I will do tomorrow. The temperature will be about the same as today. It will be 170 miles to Marathon, then 250 miles deep down into Big Bend National Park and back out to Alpine. That's 420 miles total. If I skip the Rio Grande Village, it would be only 200 miles into and out of Big Bend instead of 250 miles. That's still 370 miles tomorrow. I could spend the night in Alpine tomorrow and go into Big Bend the next day. Or I could go to Alpine tomorrow and then make that decision. If I stay in Alpine tomorrow night and then go to Big Bend the next day, that would make it two 200 mile days. And then, if I was up to it, I could continue on from Alpine the second day. Or I might decide to skip going into Big Bend.
So, I am not sure what I will do tomorrow. There are options. I will decide tomorrow. After all, tomorrow is another day.
---
9 May 2018, 11:15 PM CT, Alpine, TX
Last night when I signed off, I left it quite uncertain just what I would actually do today. That's also the way I started the day. I took a nap yesterday afternoon, not normal for me, especially on a ride. I thought a lot about what to do, even during the night. When I got up this morning, my best guess was that I would skip Big Bend.
I was up early, while it was still cool, and I was off before 7:00 AM. Sunrise was about five minutes before 7. When I reached Sanderson, I had to decide if I would keep going toward Big Bend or just head to I-10. I was feeling good. I continued toward Big Bend. When I reached Marathon, I had to decide if I would keep going toward Big Bend or just head to I-10. I was feeling good. I make the left turn to go south to Big Bend. And so it happened.
I was on the road 12 hours today. I rode 432 miles. That's a lot, actually. It was 178 miles to Marathon, then 69 miles south to Big Bend, 105 inside Big Bend, then 80 miles to Alpine. I got gas 5 times today, no doubt a record for me. I am in a part of the country where you don't know where the next gas station will be, so you fill up at every one of them!
The temperature was even higher today than yesterday. It was over 100° at one point. I felt fine all day. What was different? I believe I was suffering from dehydration yesterday. Thinking back on it, I had the symptoms. Today I made sure that did not happen. I drank a cup of water every 30 miles. Like clockwork. Every time I reached 30 more miles, I would pull over and have a drink (of water, that is). I guess it worked.
I have a lot of pictures today. I was a tourist, not just a rider. It was hard for me to pick which ones to show you. I went flying past the Pecos, I really wish I had stopped, the river was bigger than I would have guessed. There was no shoulder. There was traffic. So I did not get a picture.
Farther down the road, I saw a sign for Eagle Nest Creek. This time I was able to stop. Here's a picture looking north, and then south. For just a little creek, it sure had carved out its own gorge.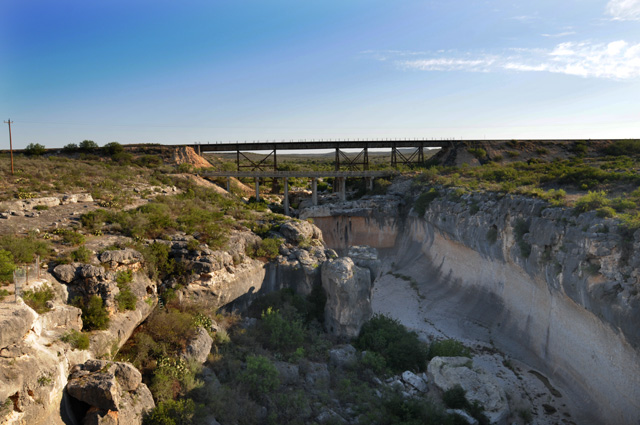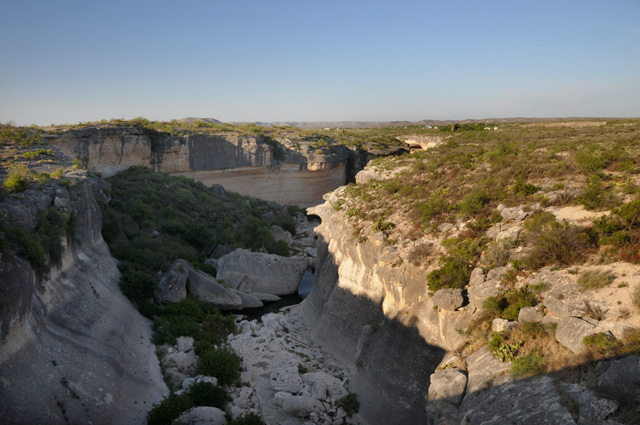 Still farther down the road, I was taken by the white mountains, made me think of the white cliffs of Dover.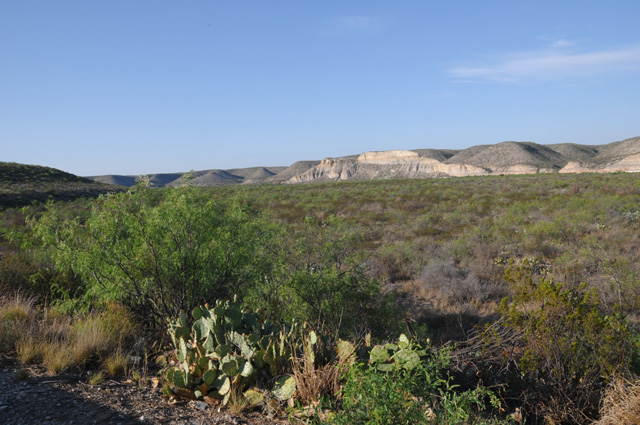 I was getting to higher elevation constantly. It was not noticeable, just every time I looked at my elevation is was a couple hundred feet higher. I went from 1,000 in Del Rio to 4,000 in Marathon. That was in 178 miles, a gradual climb of 3,000 feet. The terrain was going from relatively flat to mountains in every direction.
Before I knew it, I was at the entrance to Big Bend. Here I am with my newest friend, David, from Tulsa. He was actually leaving, but our paths crossed for a few minutes.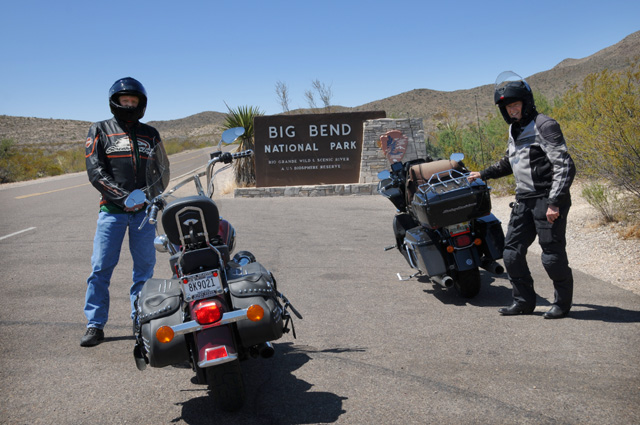 This is just a picture inside Big Bend. I liked it enough to show it to you. I was attracted to the vegetation.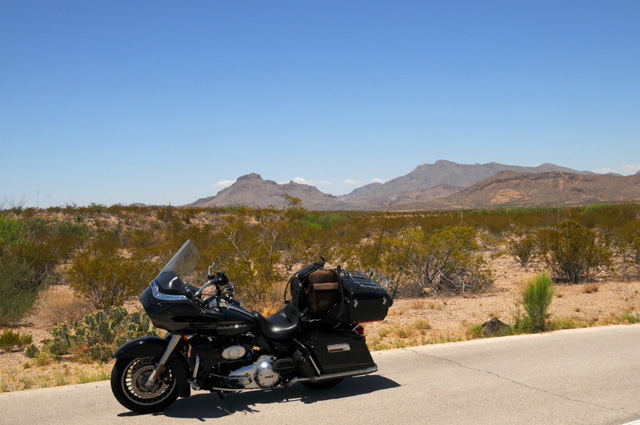 I think it might be creosote. Here's a picture showing the plants better. Notice how they are all separate from one another.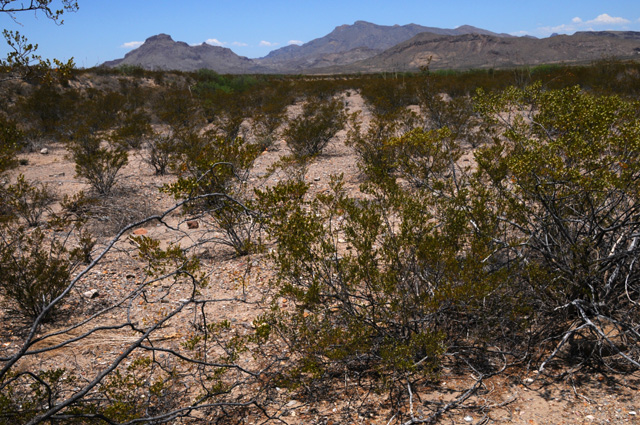 And here's a picture of the leaves. So, can anybody tell me if it is creosote?
Another picture inside Big Bend. I like that cloud.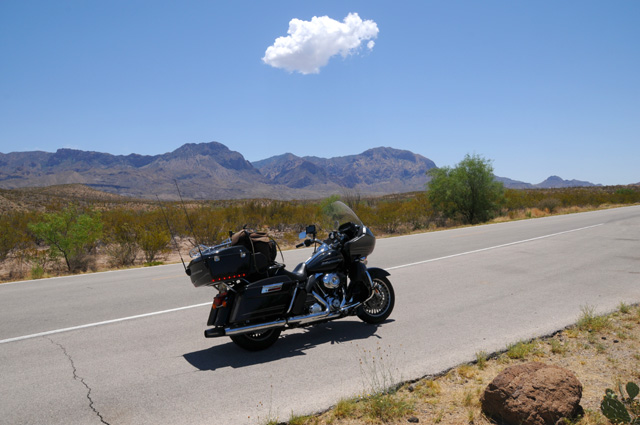 My first view of the Mule Ears, right in the center of the picture. They are a little hazy, I am not that close.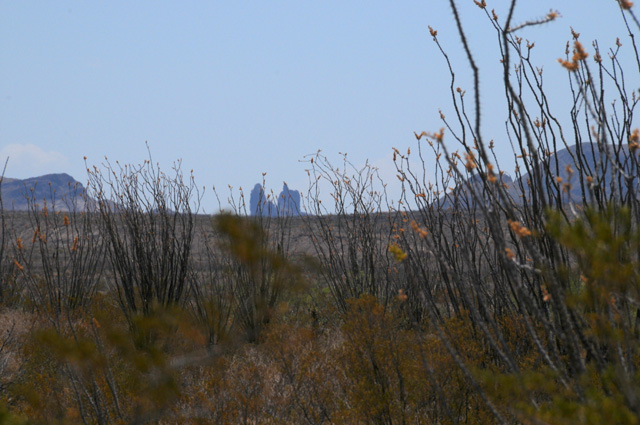 And here are the Mule Ears as close as I can get without hiking. I do not hike.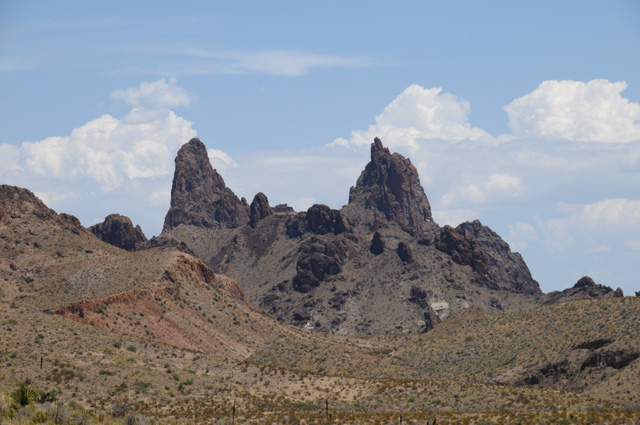 My last view of the Mule Ears. A bit in the distance again, but clearer this time. I think it is because the sun was shining on the side I could see.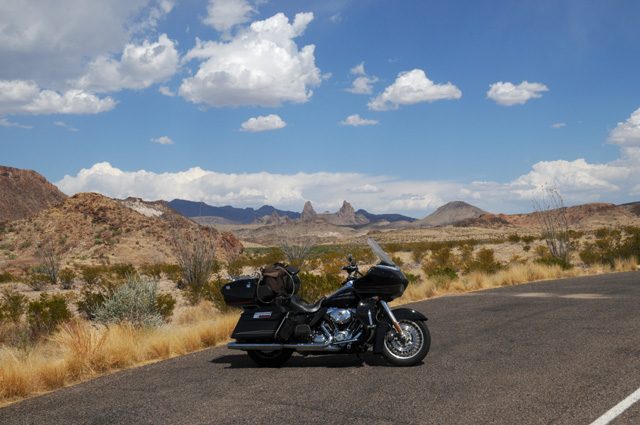 This is just a shot up high in Big Bend. I was just coming over the top and I thought the valley down below was nice. This picture does not do justice to the actual view. I am still showing it to you, though, because I like it.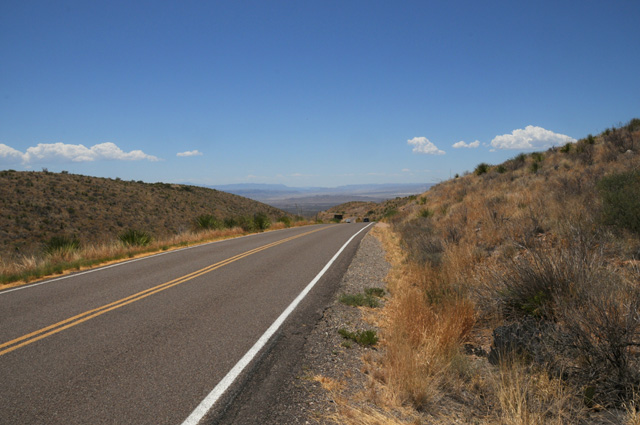 Did you notice there is no shoulder. I must have parked right on the road!
I have another plant to show you. This is called Desert Sage.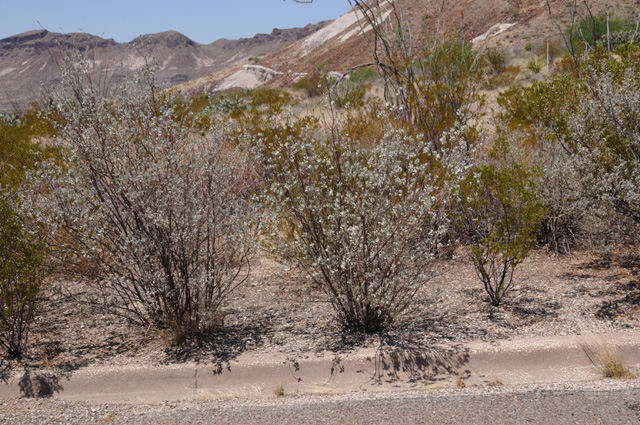 Here's a close up of the leaves. It can make gorgeous flowers. But not today.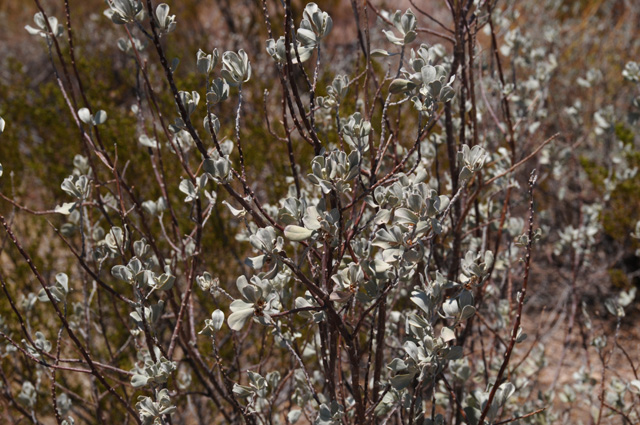 Well, I do hike every now and then, this was to get to the Rio Grande in Big Bend National Park.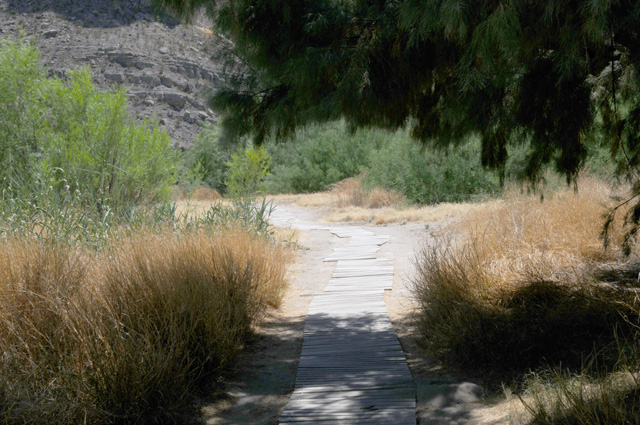 And what a view, worth the long hike I had to do, I think it was at least 1/4 mile. That's the Santa Elena Canyon. Mexico is on the left, the US on the right.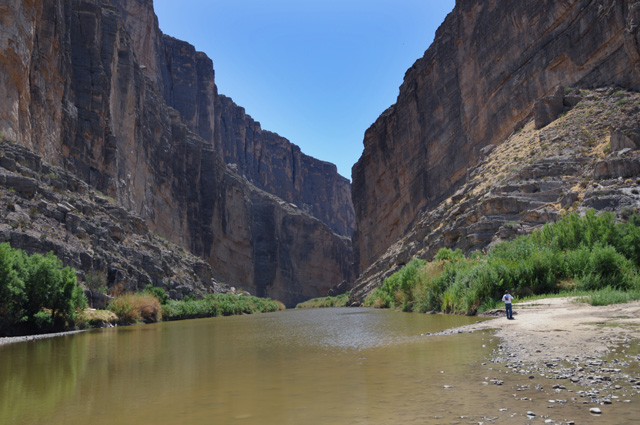 That's it for today. Join me again tomorrow. I am going back to high speed, I want to get to Phoenix. I will go directly from Alpine to I-10 then speed to the west. I will be going through El Paso and Tucson to get to Phoenix. Not sure where I will end up tomorrow night, El Paso is about 225 miles, Tucson is about 535 miles, and Phoenix is about 650 miles.
I was about one day ahead of my preliminary plan. Well, with the short day yesterday I am back on the preliminary plan. The preliminary plan had me in Alpine Wednesday night.
Good night.
---
10 May 2018, 9:00 PM MT, Deming, NM
Can you tell me what is wrong with this picture? (Does this sound familiar? See June 7, 2015.)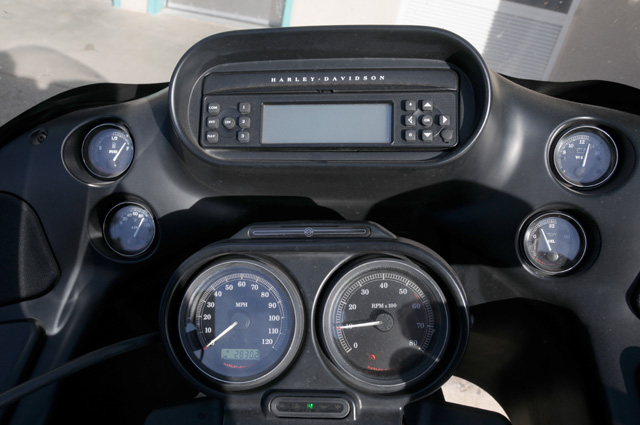 So, what is wrong? You can see the motor is running because the tach says something like 1,000 rpm. You can see that the voltmeter is alive -- top right. You can see that we have oil pressure -- below the voltmeter. The bike is not moving -- the speed is 0. So, what is wrong?
Look at the radio at the top of the stack. It is blank. If the motor is running that display is never blank. It shows the time if the radio is turned off, and it shows the station if the radio is turned on. It has looked like this for a couple of days. I have been waiting to pass a Harley dealer to have it checked out.
I did that this afternoon at Barnett Harley-Davidson in El Paso, until recently the largest Harley dealer in the world. Believe me, the store is enormous. Nick, a service advisor, took a quick look and pronounced it dead. It is a funny kind of dead, though. The radio still works, you just have no idea which station you are tuned to, or if it is Weather Band, or AM, or FM, or maybe even CB, or the Intercom. If you listen for a while you might be able to figure it out, but I don't have that kind of patience. Actually, I rarely use the radio. I use CB if I am riding with somebody else, and the Intercom if somebody is on the back.
Nick did not have any replacement radios in stock, so I rode on. He told me that it will be covered by my extended warranty, but it will be a re-manufactured unit. He called ahead to the next Harley dealer in Las Cruces, but they did not have one in stock either. I need to get an oil change at 5,000 miles, so I will check with that dealer and maybe have them do it. Otherwise, I will wait until I am home. I don't need the radio on this ride, except I like to have the clock. I like to know the time. I cannot look at my watch, it is covered by my wonderful Royal Canadian Mounted Police gloves with the large gauntlets. Fortunately my GPS can show the time, but I have to sacrifice some other very important piece of information.
Enough about that. I guess I wrote a lot about it because I don't have much to say otherwise. Well. that's not exactly true. I stopped on the side of the road somewhere on US-90 to get a picture looking to the west.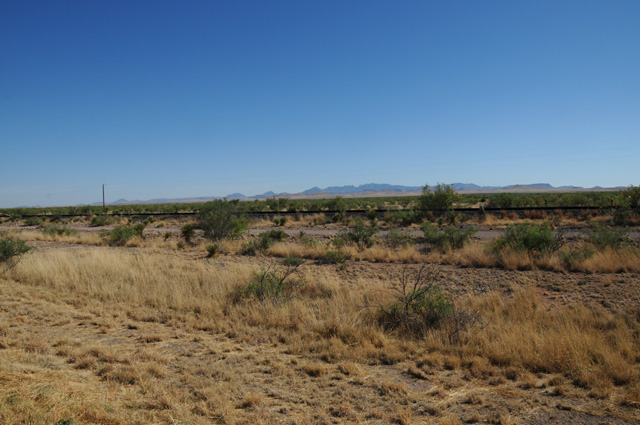 And another looking to the east.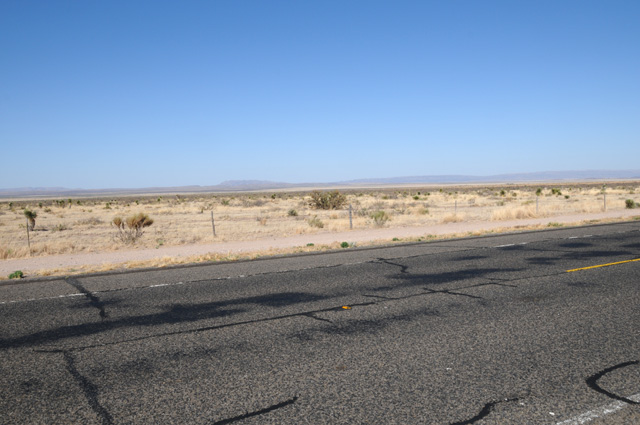 But that's not exactly why I stopped, I stopped to take the next picture.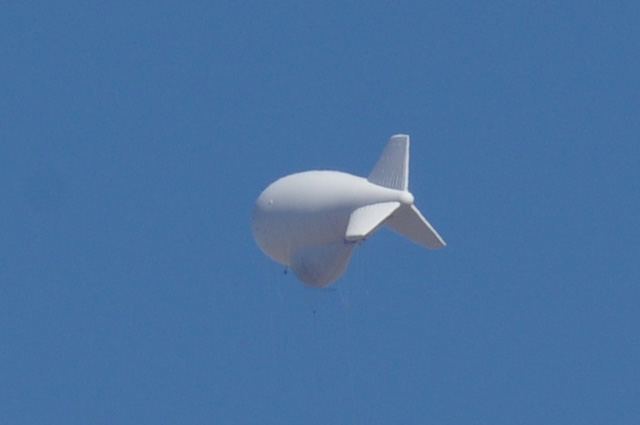 I have seen blimps like this throughout south Texas. I suppose it has something to do with border patrol. And speaking of border patrol, I have gone through half a dozen "vehicle inspections", the most recent one this afternoon. All traffic is diverted from the road and you stop and chat with a border patrol officer. In each case I have been asked one question, and one question only, "Are you a United States citizen?" I reply yes and I am told I can ride on.
The stop I mentioned above to take pictures looking west and east and the blimp had a fantastic ending.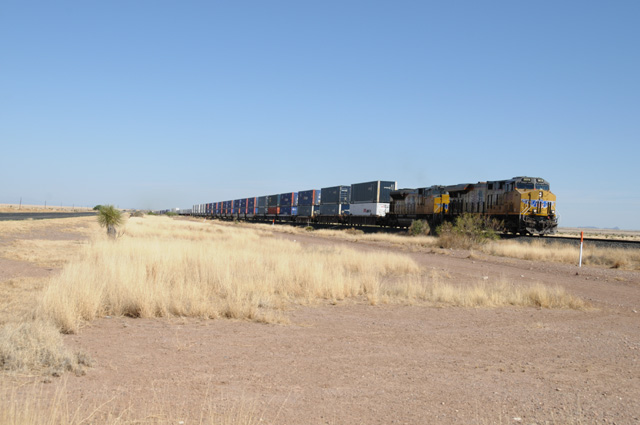 This freight train came along at exactly the right time so I was able to get a picture. The engineer blew his whistle for me (I guess it is really a horn these days, but I like to say whistle). I waved back in appreciation. That reminds me, on my Route 66 Ride, where there was almost always a train track beside Route 66, I always waved at the engineer while riding along, and most of the time I was treated to the sound of the whistle.
I entered New Mexico late this afternoon. I could not stop and take a picture of the welcome sign, so I stopped at the welcome station two miles later and got this picture, exactly the same sign that was by the side of the road.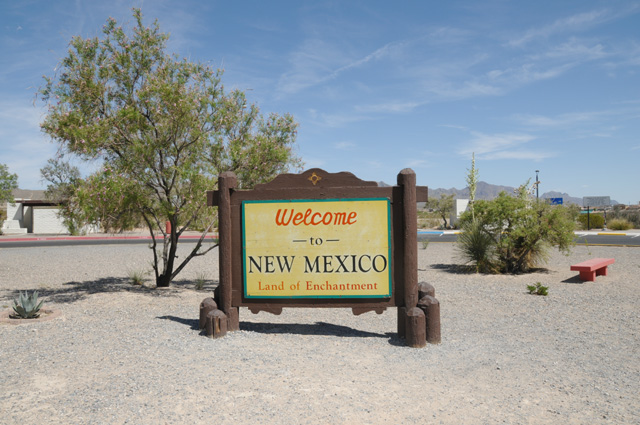 Plus I took a picture of another sign, then quickly jumped on the bike and took off.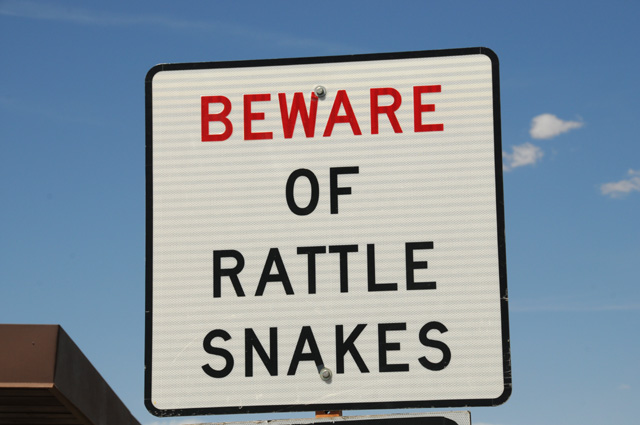 Not as many miles today as I had anticipated. I got up late because I went to bed late because I showed you so many pictures yesterday. I had 351 miles today. My total is 2,830.2 which you can see on the odometer on the top picture. I was exactly on my preliminary plan last night, but I am about 60 miles behind the preliminary plan now. I was tired, it was hot, so I quit early. Temperatures were 100° plus again today. Tomorrow is forecast to be a little cooler, maybe five degrees. That can be significant when it is this hot. I used my motorcycle air conditioner today, and it was great. I should have used it the past two days. I have told you about my motorcycle air conditioner on a previous ride. Remember it? If not, see May 20, 2012.
---
11 May 2018, 9:20 PM PT, Chandler, AZ
Good evening, I am back. As you can see from my byline, I am in Chandler, Arizona. Where is that? Just to the south of Phoenix. I was supposed to take pictures of the Capitol in Phoenix, I did not do that yet. I would have been in Kingman, Arizona according to my preliminary plan, but I am more than 200 miles short of Kingman. So what did I do today? I rode 390 miles. That is respectable. And I made a side trip. I am known for that. And I had an extremely tiring ride the last couple of hours before arriving in Chandler. More on that later.
I forgot to mention yesterday how many miles I rode in Texas. It was 1,715 miles, almost twice the width. I-10 is 880 miles in Texas. I did enter and exit on I-10.
I left Deming, New Mexico this morning about 8:00 AM, I don't remember exactly. Shortly after leaving, I saw a sight that made me stop immediately to take this picture.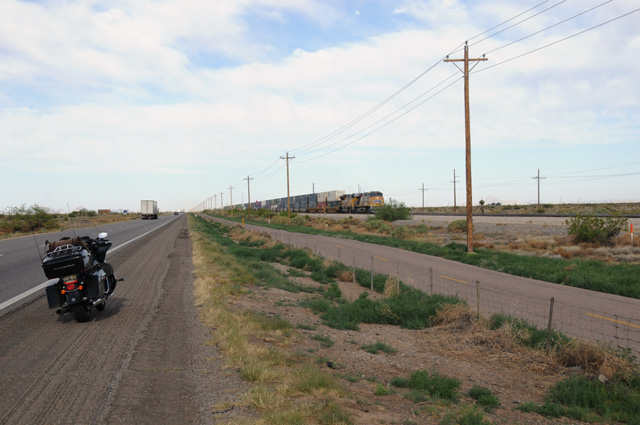 I had to get the train picture out of the way early. Man did I see a lot of trains today. If I had stopped to take a picture of every one of them, I would still be on the road.
Here's another train picture, but that is accidental. I wanted to get a picture of the sign announcing that I was crossing the Continental Divide. When I passed the sign the first time, I was passing a truck so I could not stop. I did not see the sign in time to hit the brakes and pull over. So I turned around at the next exit, about 1-2 miles along, then back to the previous exit, about 6-7 miles back, then back to the sign for the second time to get the picture. I took a bit of a risk in going back, I had no idea how far back the previous exit was, it could have been 30 miles for all I knew. The train was stopped, engine to the east of the Divide and end of the train to the west of the Divide. You wonder if it couldn't make it over the hump?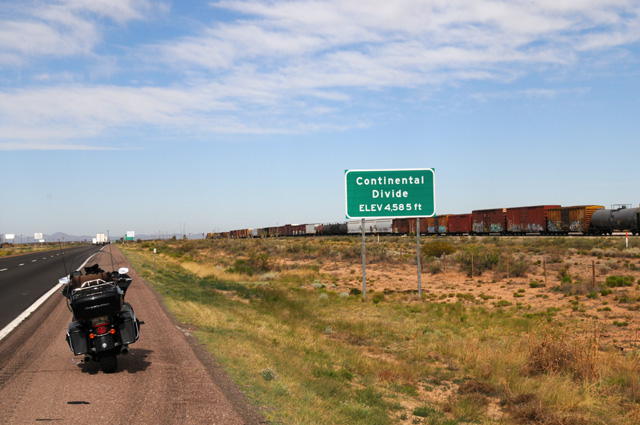 Not long after that I entered Arizona.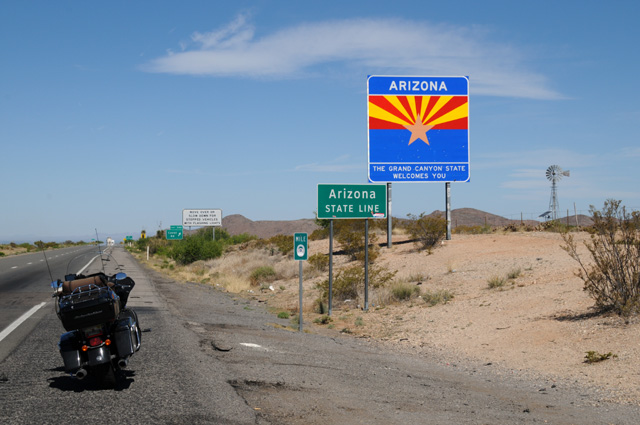 I stopped at a Rest Area and was extremely excited about how they decorated the Rest Area. Fantastic, I must give them credit.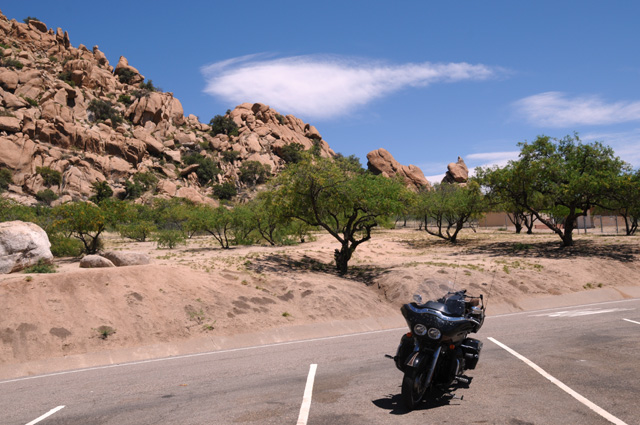 I was somewhere between the NM / AZ border and Tucson when I passed the road to Tombstone. I pulled over to see how far Tombstone was, and it was only 25 miles off I-10. Guess what I did. Went south to Tombstone. The next five pictures are all from Historic Tombstone.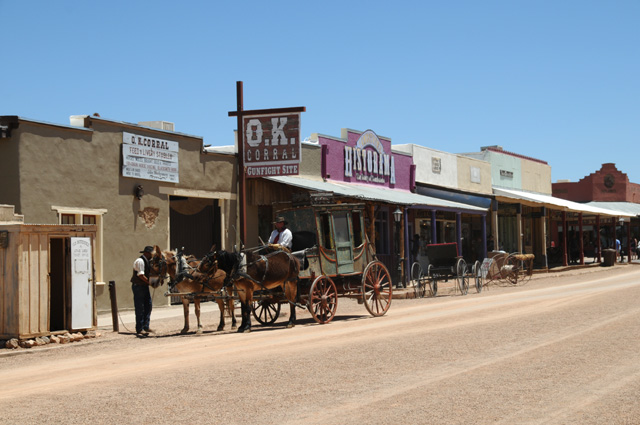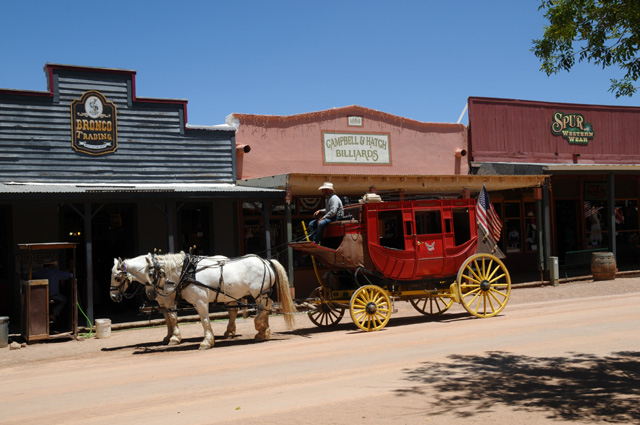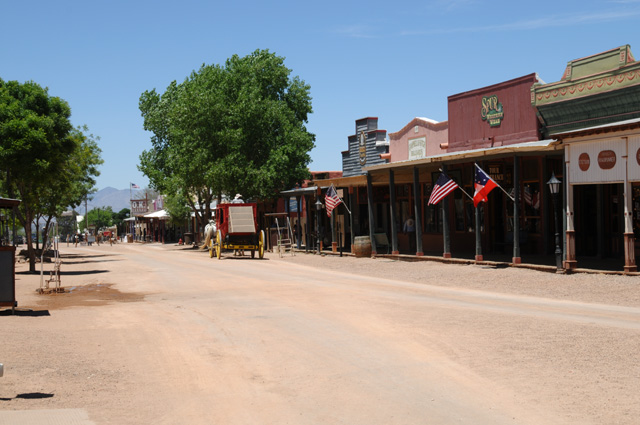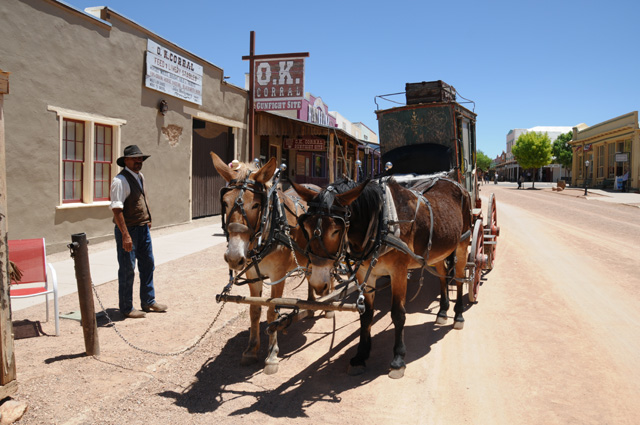 This is the Courthouse. Cochise County. It is dated 1882, the date is on the picture, but hard to read unless you blow it up. It is in big numbers in the grey triange just under the roof. The gunfight at the OK Corral was October 26, 1881. So the Courthouse was not there at that time, maybe under construction.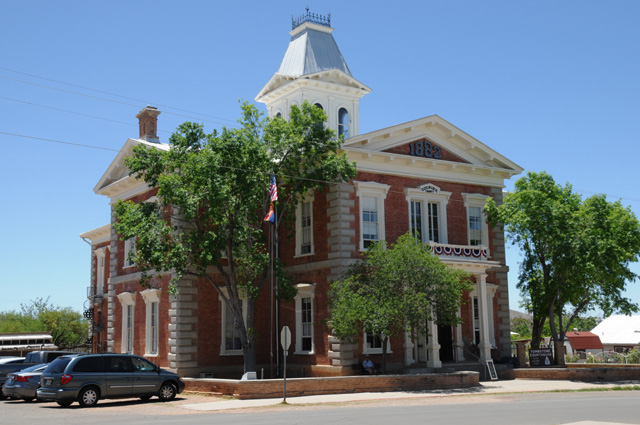 I went past the Boot Hill Graveyard, but did not go in. I have been there before.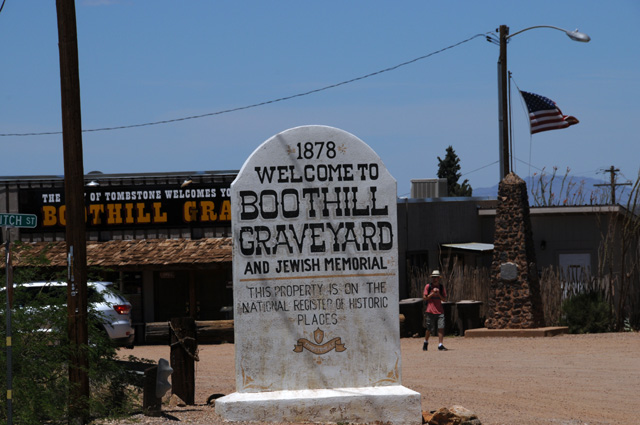 I was there with Hanna, back in 2001. Here's a picture of Hanna from then flirting with Wyatt Earp and Doc Holliday.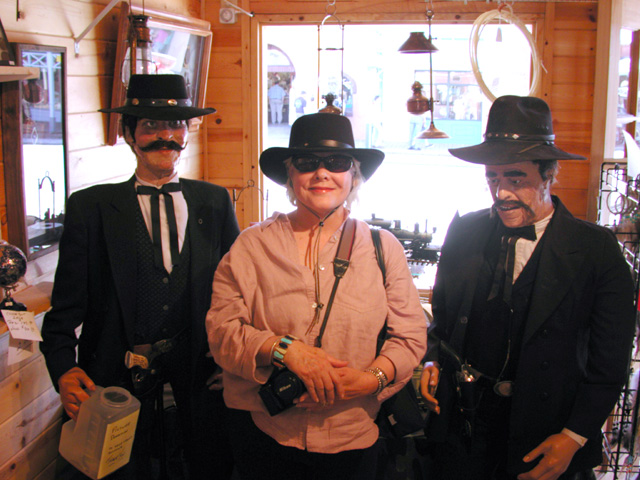 So after my delay going to Tombstone, maybe two hours, I continued my ride. Here's Tucson.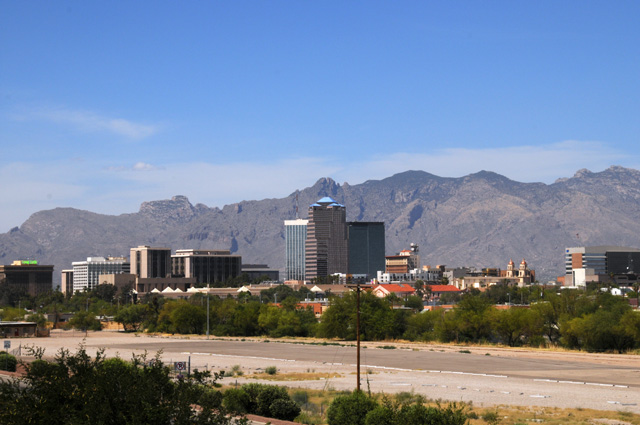 That's when the ride started getting rougher. The winds were strong, out of the southwest. And it was hot, between 95° and 100°. The area between Tucson and Phoenix often has dust storms. Today was close to one of those days. The dust was not heavy like you have seen on TV news where there is a wall that is clear on one side and just red on the other. But it was blowing across the road. Sometimes the traffic slowed, but never a lot. There are signs every couple of miles telling you what to do when the dust storm becomes bad. You pull off the road, turn off your engine, keep your foot off the brake, and wait it out. If you are in a car or truck. Glad today was not one of those days. There was not much refuge.
And the wind was gusty. I would be blown to the right, then to the left. I never did veer more than a foot or two, but it sure did move me around.
At one point, my right eye got some dust in it, and it was bad. I could not keep the eye open. The left eye wanted to help the right eye by shutting also, and that did not please me. I had to stop. I did not want to stop on the shoulder, the shoulder was wide enough but the traffic would be flying past about three feet away. Suddenly there was an exit, I took it and stopped about half way down the ramp and pulled off the road onto a wide shoulder, hard dirt and gravel, not a paved shoulder. You may know that I do not do gravel. So you know how desperate I was. I sat there about 15 minutes until my right eye cleared, then I was off to the races again, into the dust. Now I had my face shield 100% closed and shoulders held up to close off my helmet as best I could. Makes it stuffy, but that's the way it had to be.
Why did I not just go somewhere at the exit? The exit was just a road. Nothing more.
Here's my iPhone weather page for Chandler maybe five minutes after I arrived. I don't know why "Now" was showing partly cloudy and not windy, but let me tell you, it was windy.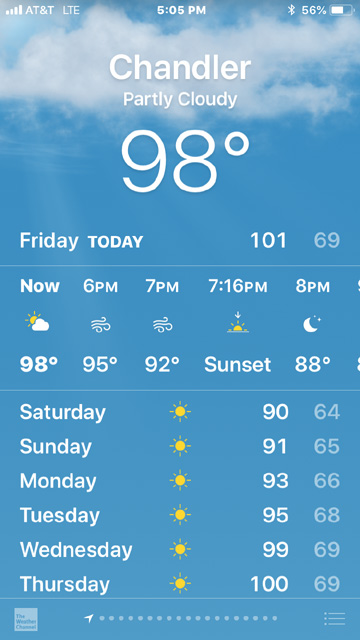 After all that suffering, I decided to have a chocolate shake. My first one on this ride, and maybe my last. I like McD fries, so I had some of them also. But to compensate, I did have a healthy salad. The McD was so handy, next door, and I could not resist that shake.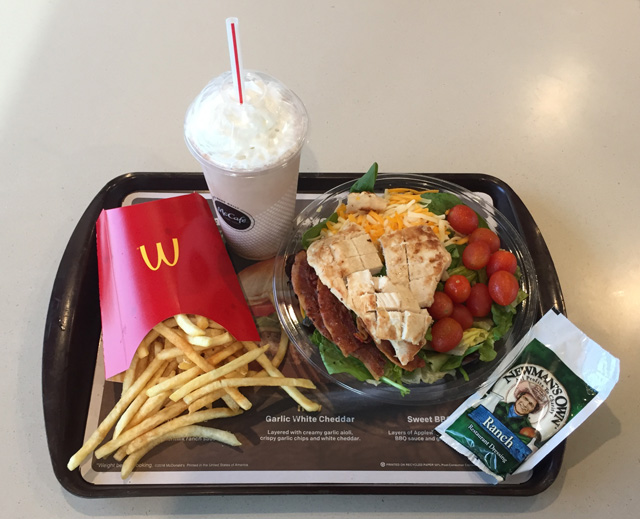 ---
12 May 2018, 9:30 PM PT, Henderson, NV
Last night I was about 200 miles short of my preliminary plan, tonight I am about 260 miles short. If the daily average is to be 350 miles, that means I am about 75% of a day short. I am near Las Vegas. I decided to not spend the night in the city, it has no advantage for me. I would not be going out, I would be sitting here at my computer writing my story for you.
I rode 318 miles today, I now have a total of 3,538 miles. That's an average of 393 miles per day. Riding was much more pleasant today, the heat was gone, I didn't even have to turn on my Harley air conditioner. I did have a little issue with the bike, in Kingman the tour pack would not lock. The key could not turn the locking mechanism. Using my app that finds Harley dealers, thanks to Ralph who told me about it a ride or two back, I discovered that the nearest Harley dealer was 0.7 miles away. I hustled right over there, Mother Road Harley-Davidson, and met Service Advisor Roy Sheppard. He took a look, and instantly fixed it. He opened the tour pack, turned the actual locking mechanism at the same time he turned the key, and that unfroze it. Thanks Roy.
My first thing I did today was to ride about 20 miles to get to the Arizona Capitol. Here's the Capitol.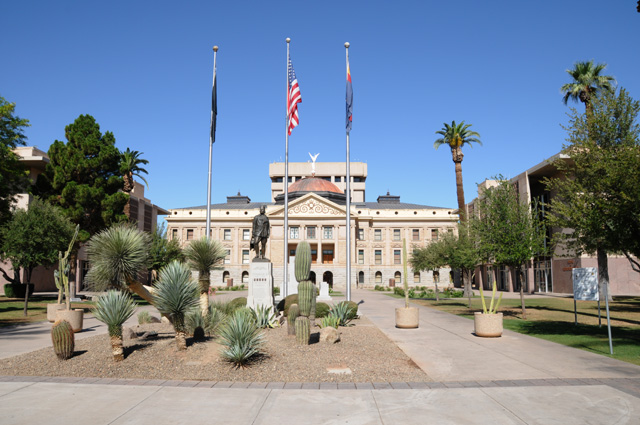 The winged beauty atop the dome is the "Goddess of Victory, Statue of Justice and Winged Victory". She is also known as the Wounded Goddess. She originally was a weather vane, but cowboys leaving the saloon at night had a habit of shooting her to make her spin.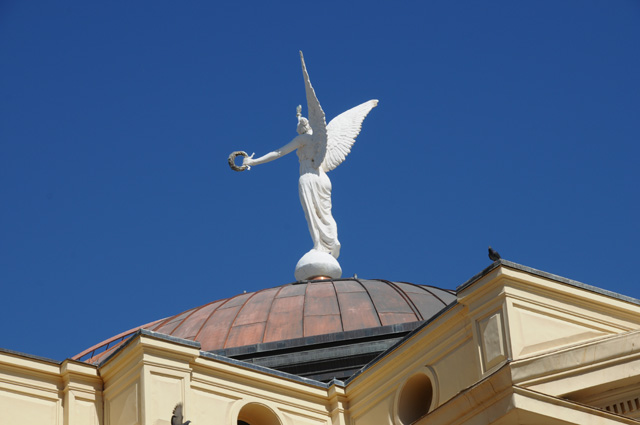 The House of Reprensentatives and the Senate are in buildings facing each other, and form a U-shape with the Capitol.
The House of Represenatatives is on the right when you are facing the Capitol.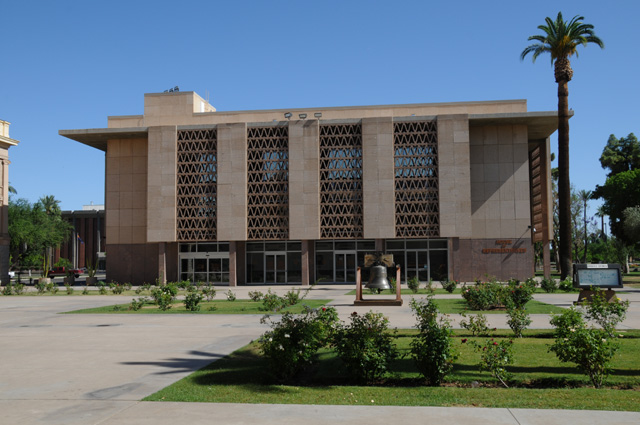 The Senate is on the left when you are facing the Capitol.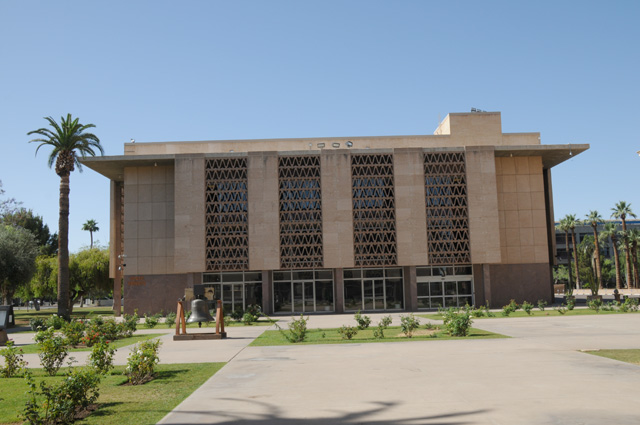 Here's a cactus garden on the Capitol grounds.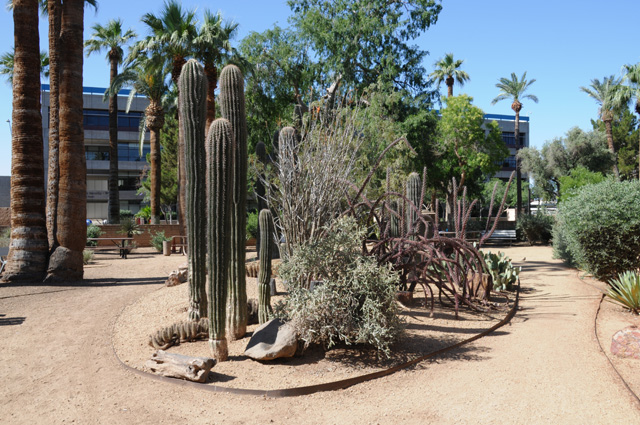 As I drove on from Phoenix to Nevada, I had my eye on saguaro cactus. I wanted to find some good ones for you. Here was my first attempt.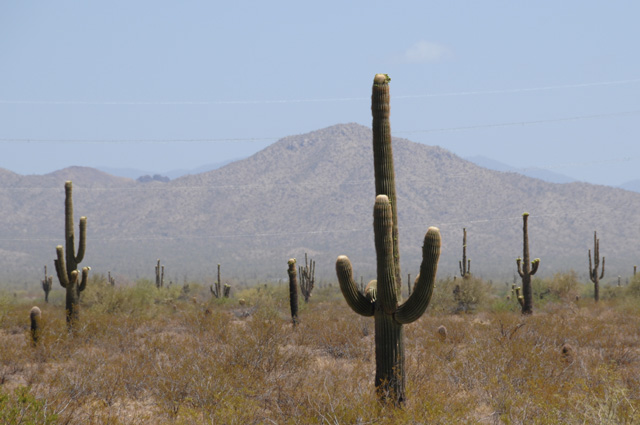 I had another image in mind, though. Way back in 1952, I posed with a saguaro cactus.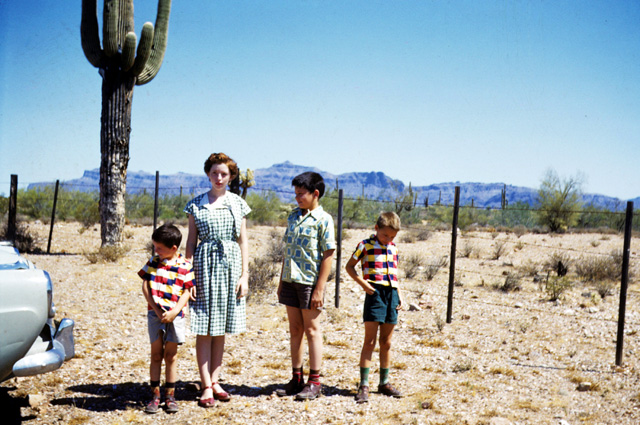 From the left, that's my brother Johnny, my sister Carolyn, me, and my brother Larry on the right.
Here's what I came up with today.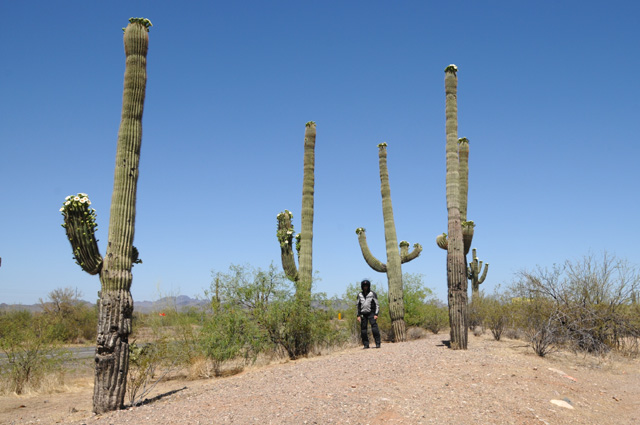 I sure look small, don't I.
Did you see the flowers on the saguaro?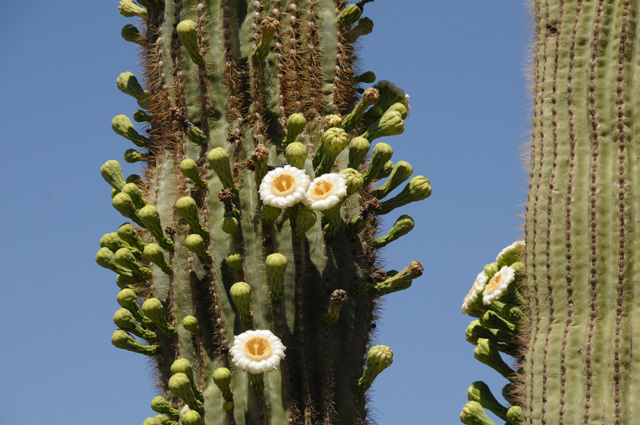 Farther down the road, I saw many Joshua Trees. There was an entire forest of them. I was unable to take a picture of them, though, because the shoulder was only about a foot wide, not wide enough for me to pull over. I was able to get this picture at a rest area on the roadside.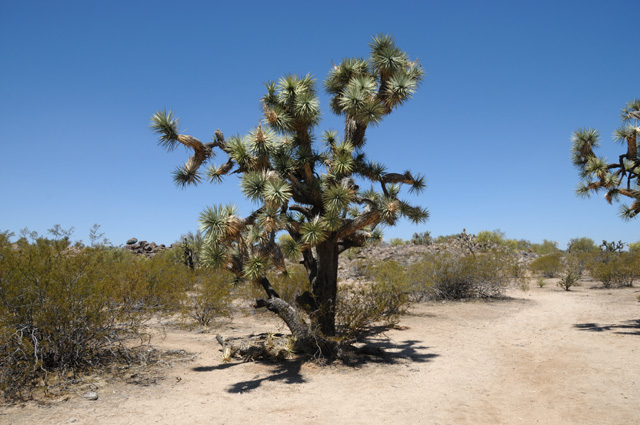 There was another kind of cactus there, but I don't know what it is called. Maybe somebody can tell me.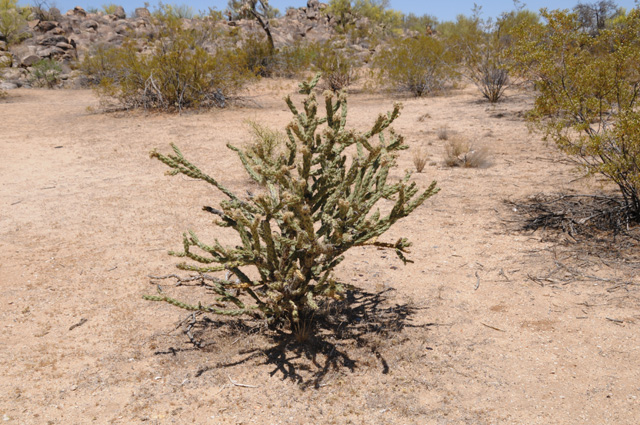 After I took these pictures and headed back to my bike, I noticed that a State Trooper had pulled into the rest area. We spoke for a few minutes, he had stopped here because an emergency phone had been picked up and put back down at the rest area, so he was checking it out. I asked him if I could take a picture of him by his vehicle and include it in my story tonight. He said yes. Thank you Justin.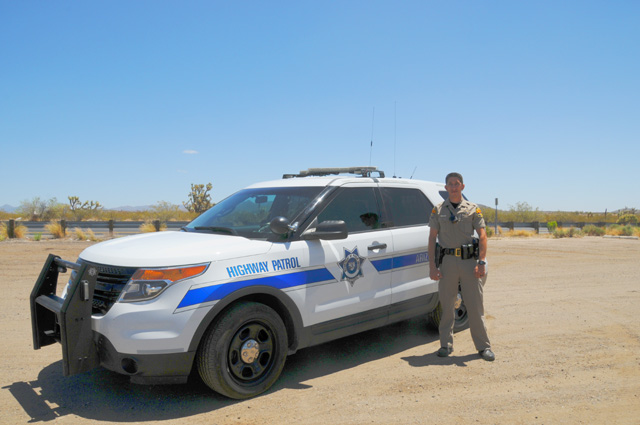 I like the way the saguaro grows like a forest on the hillside.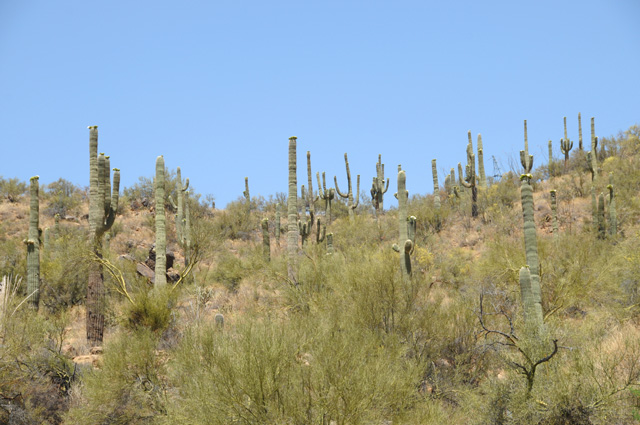 I rode through a short section where there were many rocks, big rocks.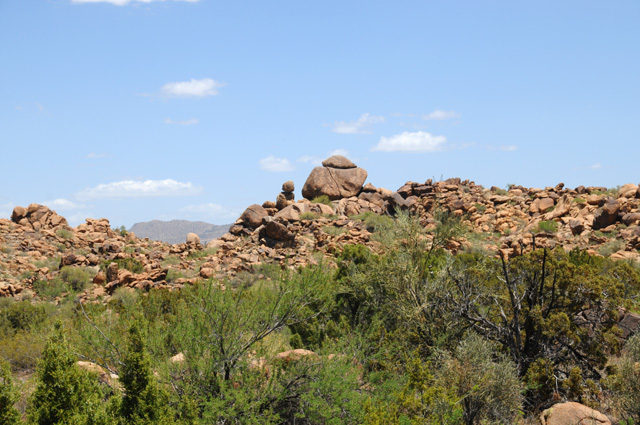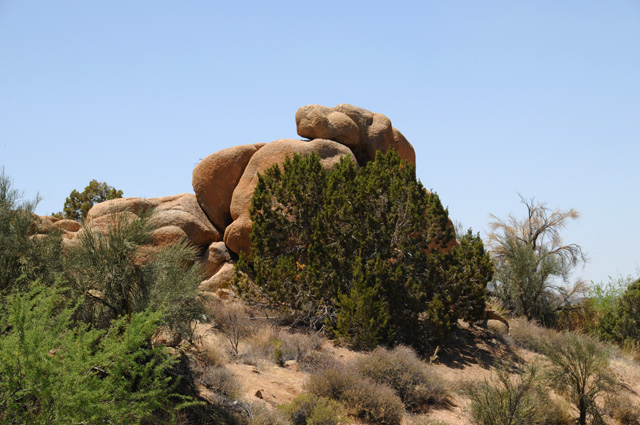 This is Burro Creek.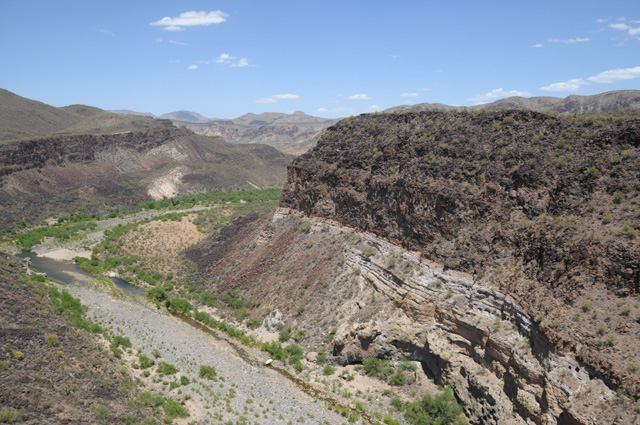 This is part of the Lake Mead National Recreation Area, about ten miles south of Hoover Dam.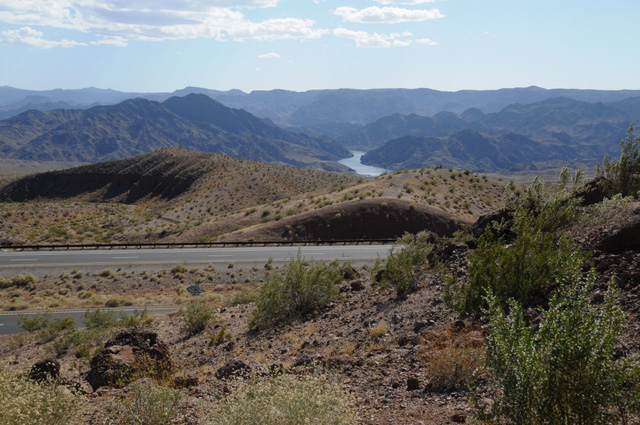 Here's a view of Hoover Dam from the new US93 bridge. The railings block the view, it is hard to get a picture from the roadway. You need to hike up to the the pedestrian portion of the bridge. As I have said many times, I am not a hiker.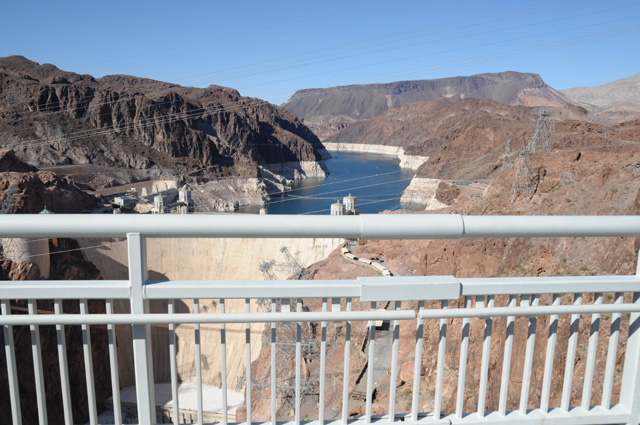 This is a view of the lake on the other side of the dam. You can see the US93 bridge.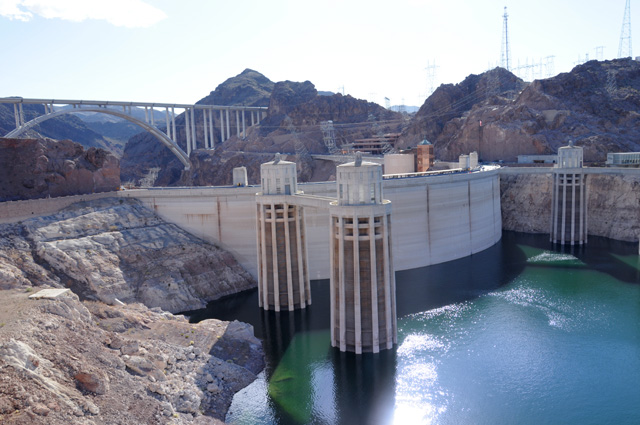 That's it for today. See you tomorrow, maybe in Nevada or maybe in Idaho. Most likely Nevada. Good night.
---
13 May 2018, 11:59 PM MT, Twin Falls, ID
My day started with a stroll along the Strip, strolling of course on the bike. Here are some of the sights.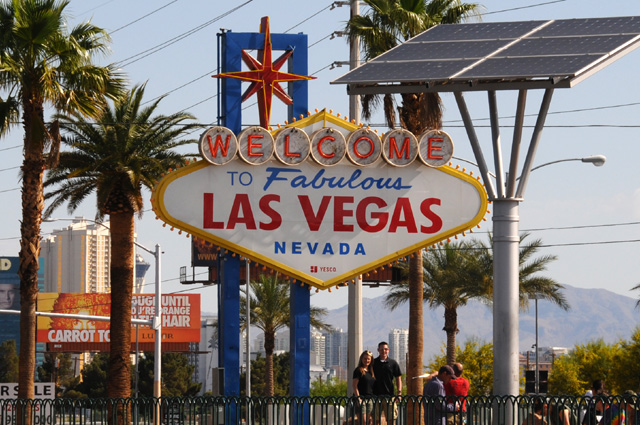 Stratosphere.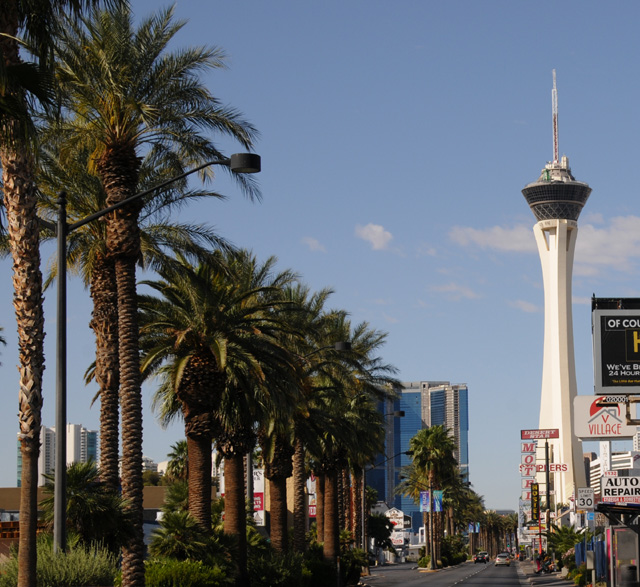 Caesars Palace.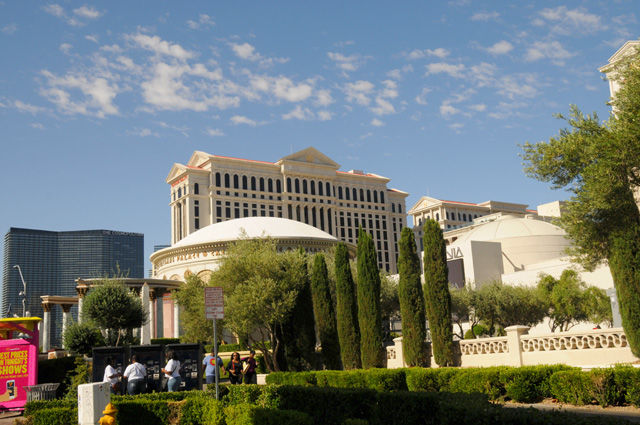 Bellagio.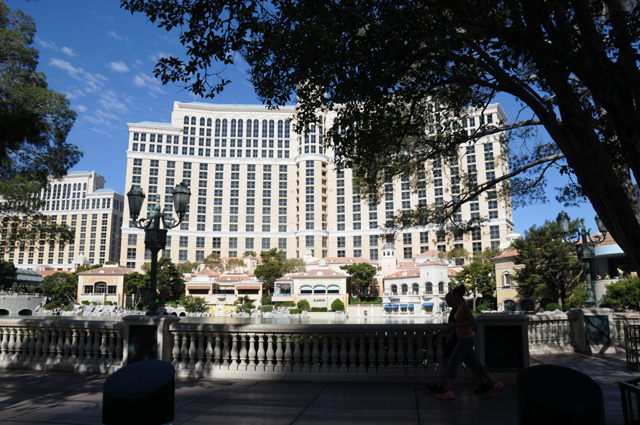 Luxor, Mandalay Bay, and Delano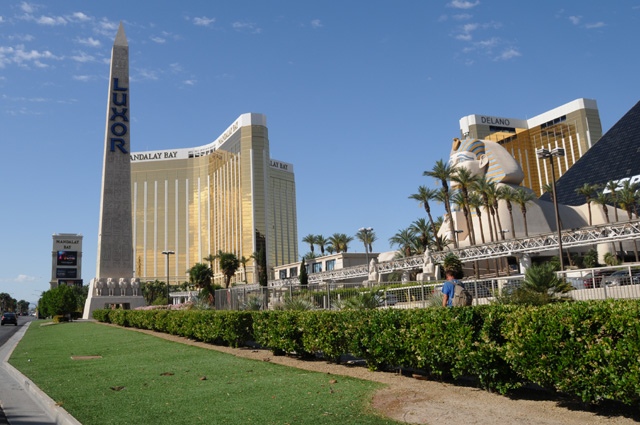 Leaving Las Vegas. One last look.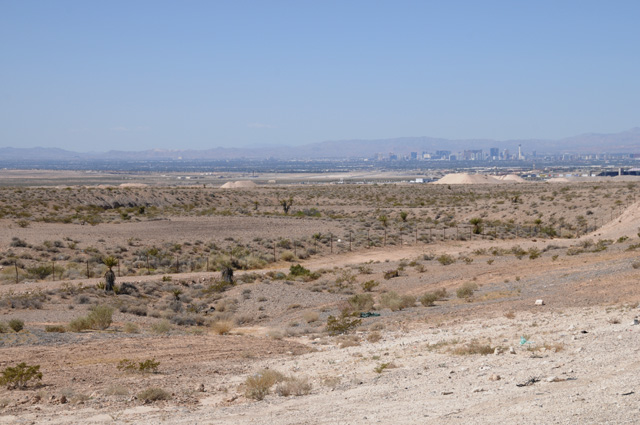 Care to guess how many times I have been to Las Vegas? I have not kept count but my best guess is about 40 to 50 times. My first time was about 1977 or 1978. I would go once or twice each year for conventions, primarily the National Association of Broadcasters. I went through Las Vegas returning home from my Route 66 Ride in 2008. My last time there for a convention was 2013, the Consumer Electronics Show.
This picture was taken about 100 miles north of Las Vegas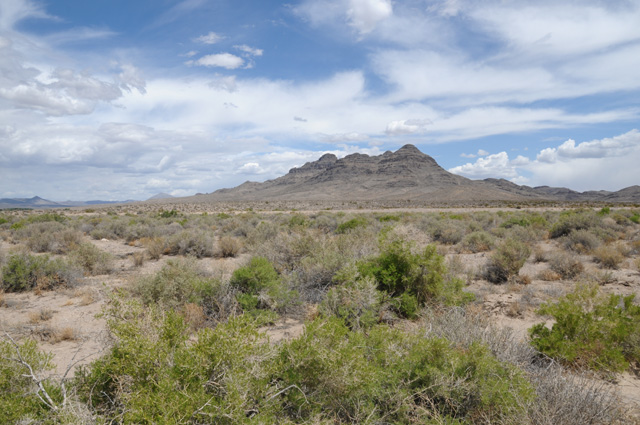 This was about 150 miles north. And I was getting cold. The temperature was dropping. You can see that the clouds have changed from none in Las Vegas to scattered 100 miles north to an overcast 150 miles north. I put on my rain jacket, which also serves as a windbreaker, it keeps me warmer.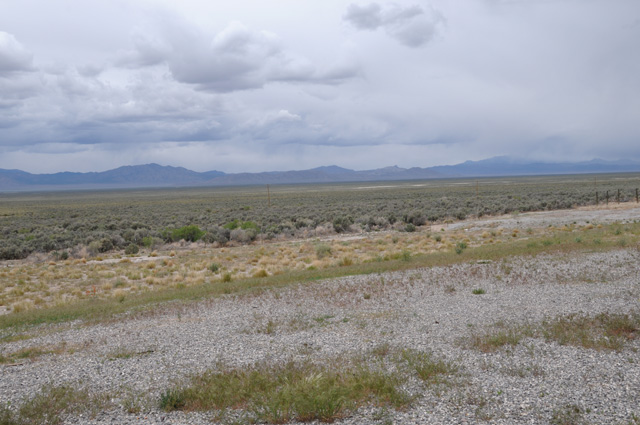 This was about 200 miles north. It had started raining, a light rain. The elevation was much greater, about 6,000 feet at this point.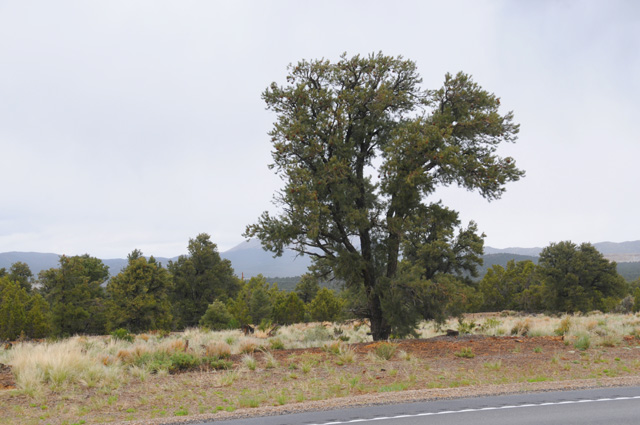 And it was even colder, I needed warmer gloves, so I changed to my winter gloves.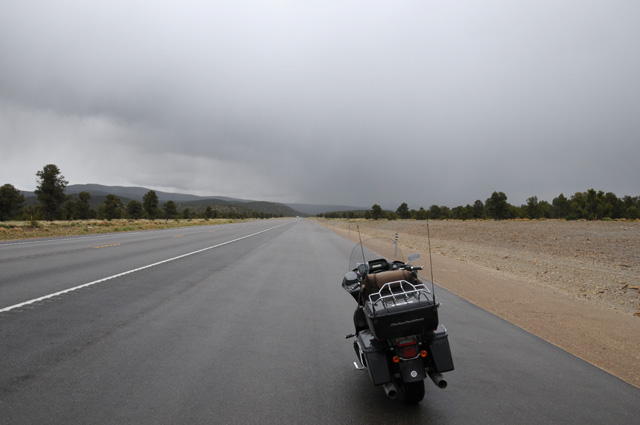 Finally I arrived at Ely, Nevada. I was at 7,000 feet elevation shortly before arriving in Ely. I needed a break. I considered stopping in Ely, there was a hotel. I checked my weather app and discovered that the rain I had been in would continue for at least an additional 24 hours, I would be in Ely two nights. Not acceptable! I did see that I should be out of the rain when I reach Wells, Nevada, another 120 miles north. But no hotels in Wells. I could then go 44 miles west of Wells to find one, or north 115 miles to Twin Falls, Idaho, my original plan. I decided I would go to Wells and then on to Twin Falls, where I am right now. So I pulled the cold weather liner for my summer jacket from the saddlebag and put it on. I am now wearing a short sleeve shirt, the liner, the summer jacket, and the windbreaker.
I got a few miles north and the rain was heavier. And it was colder. My dashboard thermometer said it was about 35°. My boots were getting wet, that's not good. So I pulled over and put on my gaiters. That helped in another way, it turns out. The gaiters blocked the cold wind from going up my pants legs.
After some cold miles, I arrived in Wells. The rain had stopped. The sun was shining. And you could see snow on the mountains that had fallen earlier today.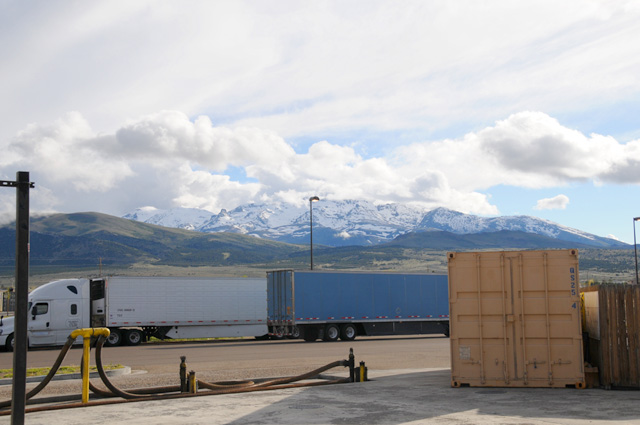 Just a few miles north of Wells, the landscape changed. It went from the desert appearance to everything being green. It reminded me of Marin County in California.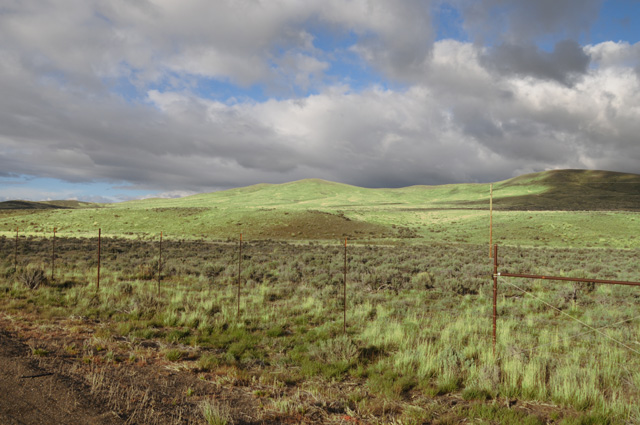 I continued on to Twin Falls, arriving before dark. I rode 537 miles today, I now have a total of 4,074. That may be more than half the ultimate total, I have estimated 8,000 miles total for this ride.
That's all Folks. Time for a little rest so I can get another Capitol tomorrow.
---
14 May 2018, 11:50 PM PT, Grangeville, ID
I was on the road later than usual this morning because I was up later last night because of a late arrival, and I did not even want to get up until at least 8 this morning. I went through time zone confusion. Two nights ago I was on Pacific Time. Last night I was on Mountain Time. Tonight I am on Pacific Time. Because of my late departure, plus taking time to go to High Desert Harley-Davidson in Boise, I did not get as far today as my preliminary plan. There is not much between Boise and Missoula. Missoula was too far by the time I was ready to leave Boise. So I searched for a town that had an acceptable hotel. I found a Super 8 in Grangeville, about half way between Boise and Missoula, so that's where I headed. Why did I go to High Desert HD? I wanted to know if they had a radio replacement, they did not. I will try tomorrow in Missoula at Big Sky HD. I will get my oil and filter taken care of whether Big Sky has a radio or not. If they do, I will get that done. If they do not, I will wait until I get home and have Treasure Coast HD take care of it for me.
Leaving Twin Falls I went over a bridge that made me immediately shout to myself, "I have to stop!" Here's the bridge looking back. Fortunately they put a scenic overlook parking lot immediately after the bridge. You can see the bridge had no shoulder.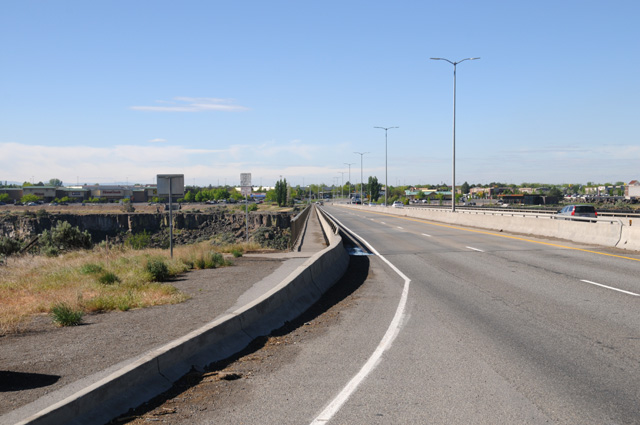 You might notice in the picture above that there seems to be a big hole in the ground under the bridge.
Here's the hole. That's the Snake River.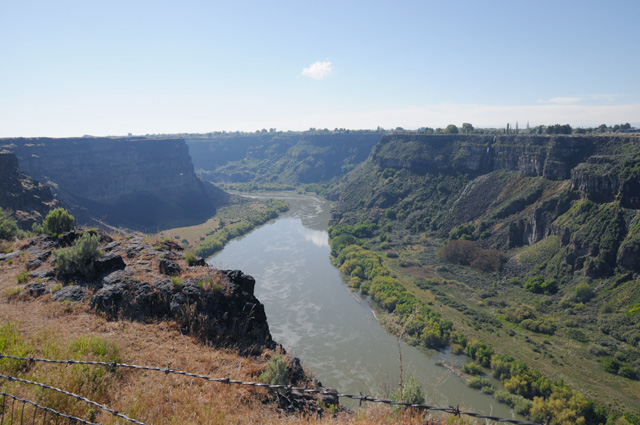 As I was walking from the bike to the overlook, I saw a hang glider just touching down.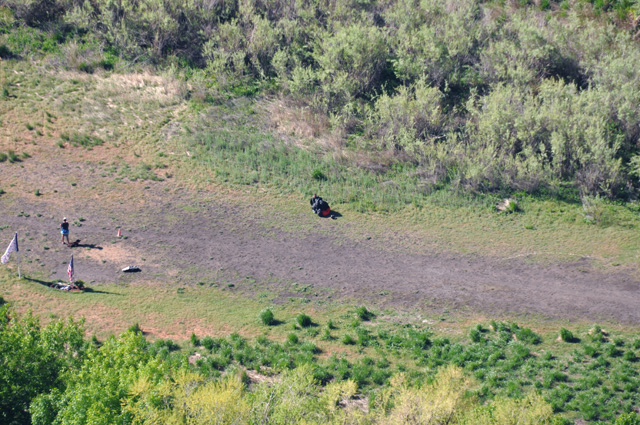 That's him, the black spot in the middle. There's a lady and a dog and a US Flag on the left, it my be hard to spot that in this lower rez picture. That's a full telephoto shot.
And I discovered something very important. I believe I discovered how the town Twin Falls got its name. Here's half the reason: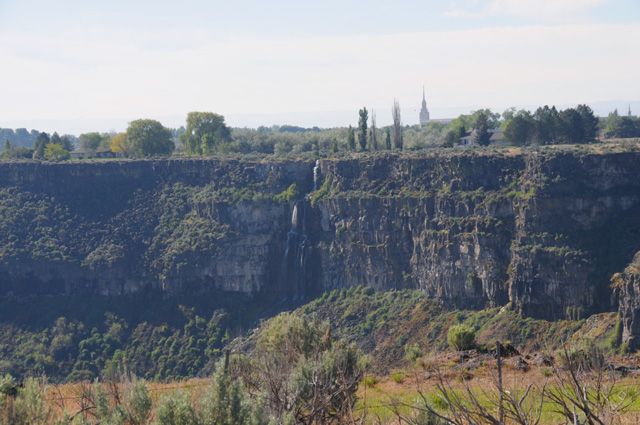 And here's the other half: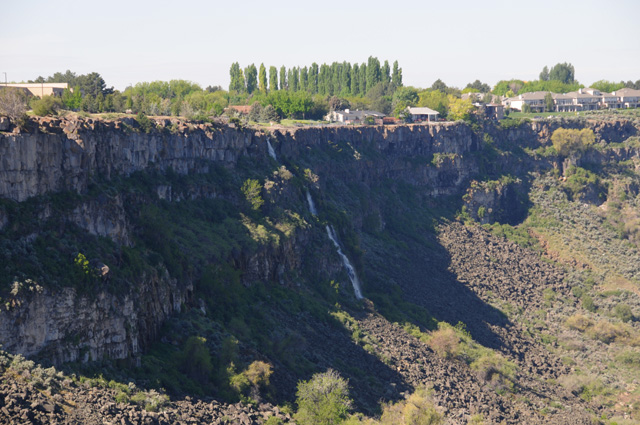 Both the waterfalls are on the south side of the river, the first one is on the east side of the bridge and the second one is on the west side of the bridge.
Here's the view of the bridge from below. Much more interesting than the view of the bridge from above.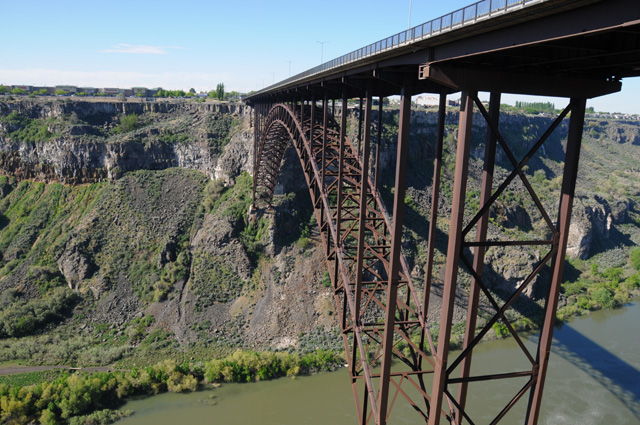 And, just to complete the picture, here's the Snake River looking in the other direction.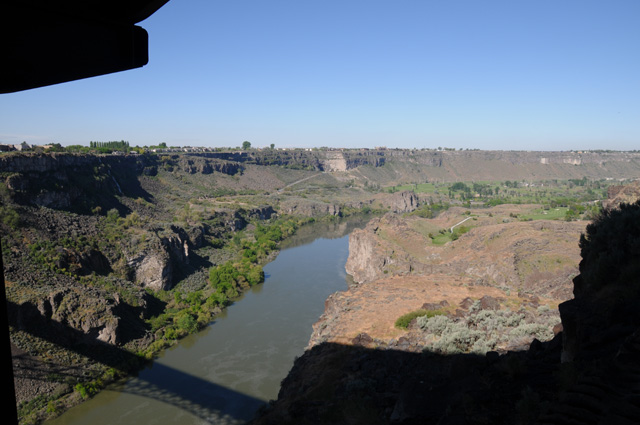 After marveling at the big hole in the ground, I continued on to Boise to do my duty and get a picture of the Idaho Capitol.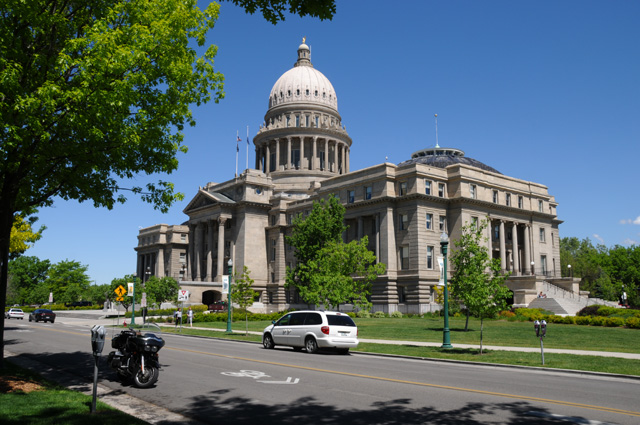 I try to get the bike in the picture when I can. Here's looking straight at the front of the Capitol.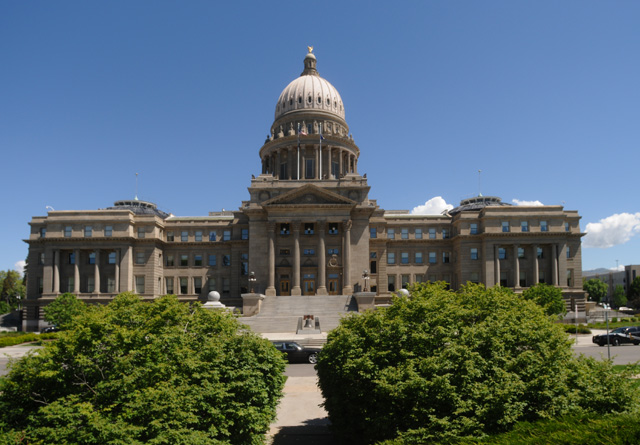 Then I went for a ride in the woods. North on US-95 between the Payette National Forest and the Wallowa-Whitman National Forest.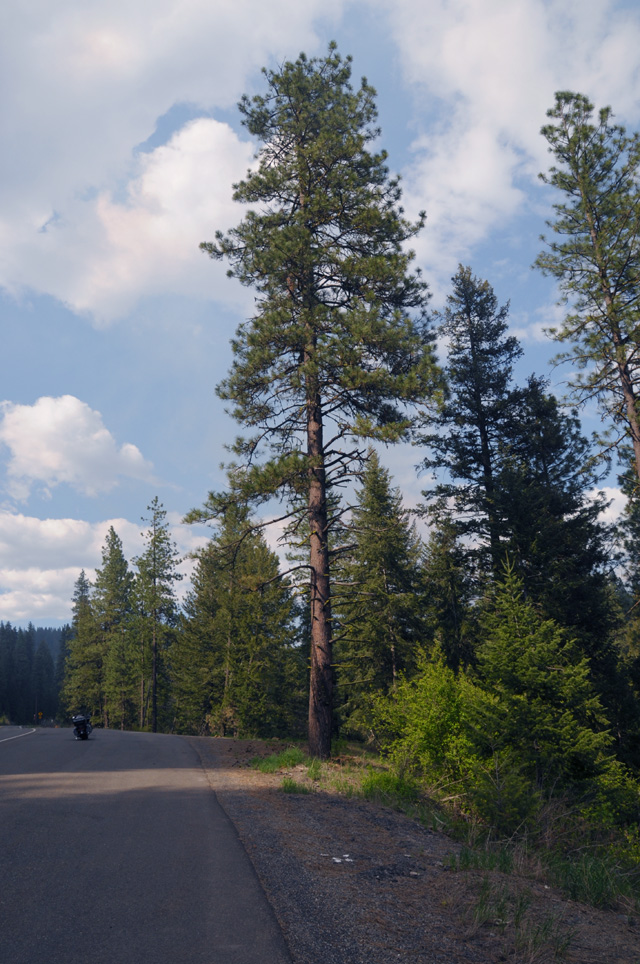 Still snow on the higher elevations. I believe this was new snow from the morning before, the day I was in cold rain.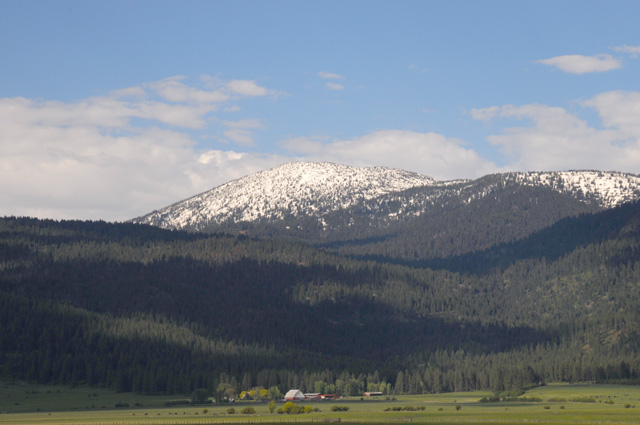 This is the Little Salmon River.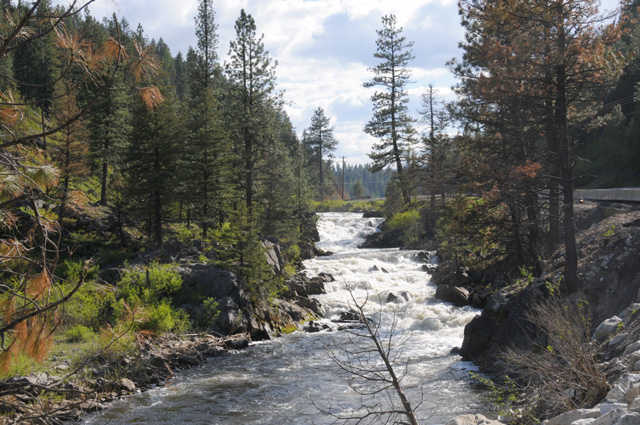 I stopped here to get a picture of the Little Salmon River.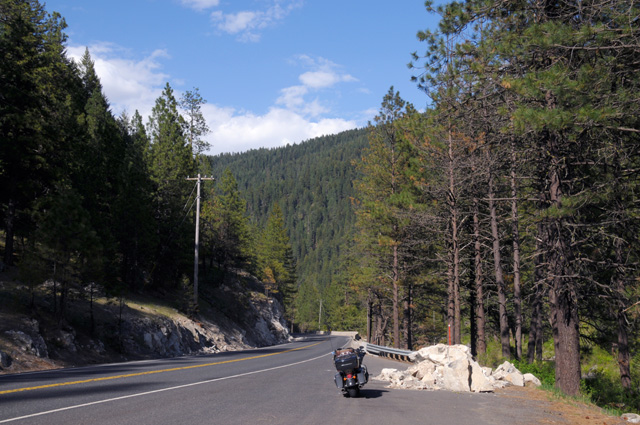 This is the Salmon River and the canyon it has created.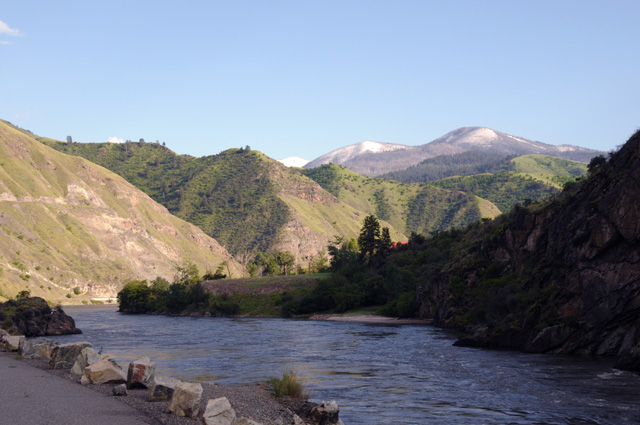 And another view of the Salmon River and the Salmon River Canyon.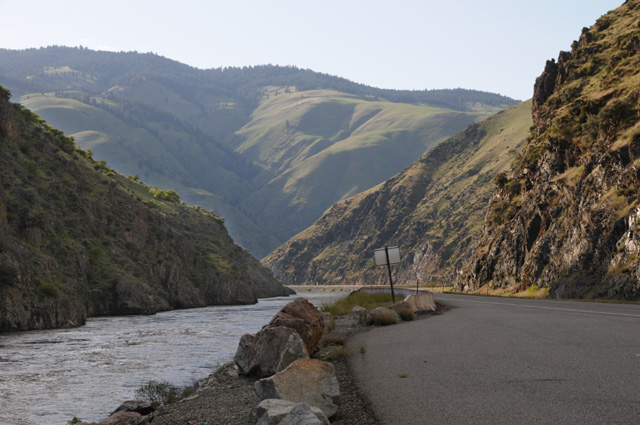 I rode 366 miles today. I have 4,440.2 total, an average of 404 miles per day. I am meeting my objective of an average of 350 miles per day, at least so far.
---
15 May 2018, 11:40 PM MT, Butte, MT
My byline says I am in Butte. How did that happen? Butte wasn't even on my itinerary. Take a look at the map by clicking on the menu at the left. You see where I am. Note the big dip in the path. The path had been sort of straight across, but now the big dip.
Well, my plans got altered during the day. I had a delightful ride along a river or two with gorgeous scenery with the destination of Missoula in mind. Specifically Grizzly Harley-Davidson in Missoula. I wanted to get the oil and filter changed, and see why oil was coming out of my air filter, and to replace the radio if that worked out. As I have said, the radio is not that important, but I did need an oil change. I arrived there about 2:30 PM, it took that long to do the delightful and gorgeous ride along a river or two. But it was not to be. They could not change my oil and filter, they were too busy. Maybe I could come back tomorrow morning and if I was early enough in the line they could get to me. Most Harley dealers cater to travelers, they will almost always do a simple thing like change the oil. Well, I guess these guys don't. The service guy even said I would find the same problem at all the Harley dealers around, they were all too busy. Thumbs down to Grizzly Harley-Davidson.
I then checked my Harley app to find another dealer and saw that there was one in Butte, Copper Canyon Harley-Davidson, so I called and asked for service. I spoke with David Hicks who told me if I could get there in time, they could do the job for me. They close at 6:00 PM. It was 121 miles. It was 3:28 PM. I had to program my GPS so I could find them. I needed gas. I was off at 3:45 PM. I rode fast, and got there at 5:20 PM. You do the math. And they did the job. They also found that the reason for the oil coming from my air filter was that the oil had been overfilled at my last service, which was May 21. The air filter, which was replaced at the same service, was now trash. I really have to hand it to these guys, they know how to take care of you. Thanks very much David for taking such good care of me. As I was leaving I met the General Manager, Curtis Moen. I told him my story and how grateful I was to Copper Canyon and especially to David. No question I will call on you guys if I should find myself back in western Montana again.
Here's my bright and shiny freshly washed bike in front of Copper Canyon Harley-Davidson.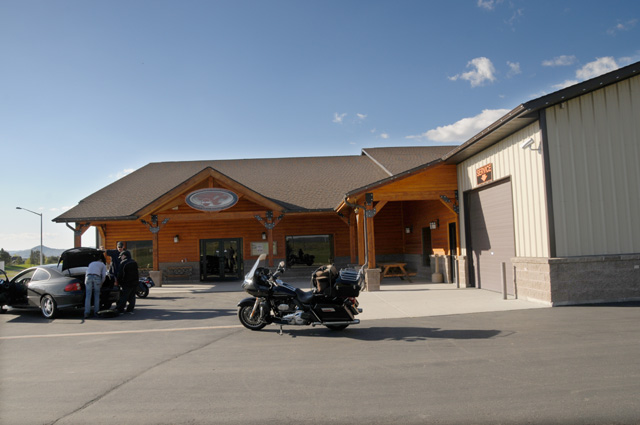 Altogether today I rode 317 miles. And the total mileage on the bike, at this very moment, is 33,333 miles. What a nice round figure. The total for this ride so far is 4,758 miles.
I have a few pictures from the day, but not as many as I thought I would have. The scenery was the same virtually every mile today. (That is, except for the mad dash from Missoula to Butte, where I didn't have time to take a picture, I had to get to Butte.) A river on one side or the other of the road, with hills or mountains on both sides. After taking a couple of pictures, they are all the same after that. But I will show you some.
I was riding north on Idaho Highway 13 to reach US-12. Partway to US-12, I saw this sign and knew it was a warning, this road is not going to be the best road for an 18-wheeler to take. If you cannot read the sign, it says TRUCK TURNAROUND AHEAD.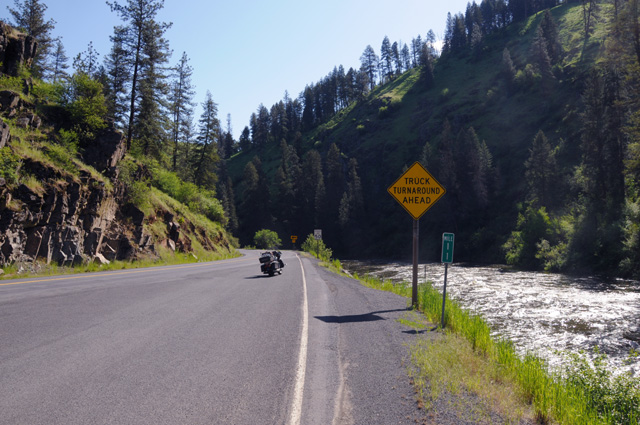 Here's what it looked like where I had come from. There is the river beside the road. There are the hills or mountains on both sides.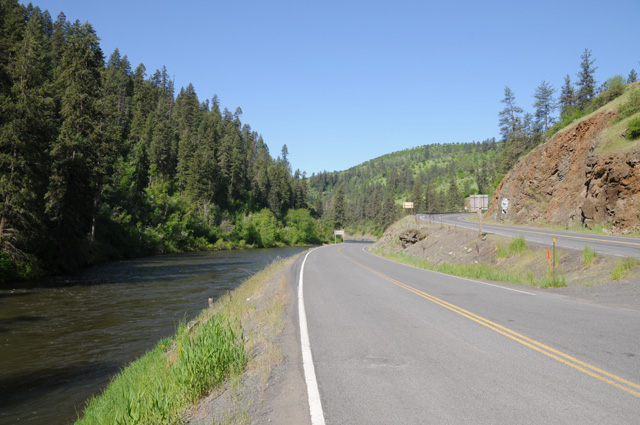 About half an hour later I reached US-12. Shortly after, I saw this sign.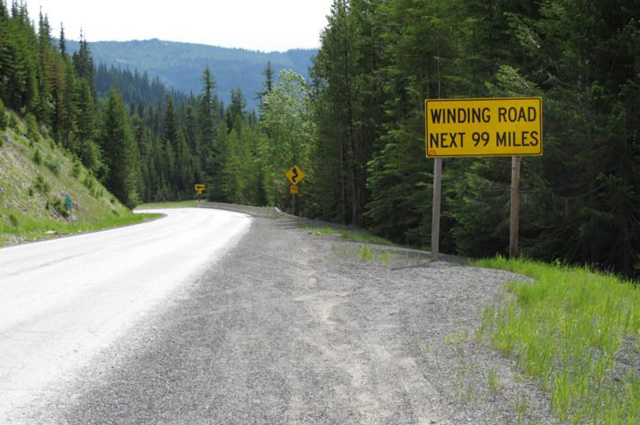 Makes Tail of the Dragon seem kind of small.
Here are some shots along US-12. The first two are from the same location, looking forward and then looking back.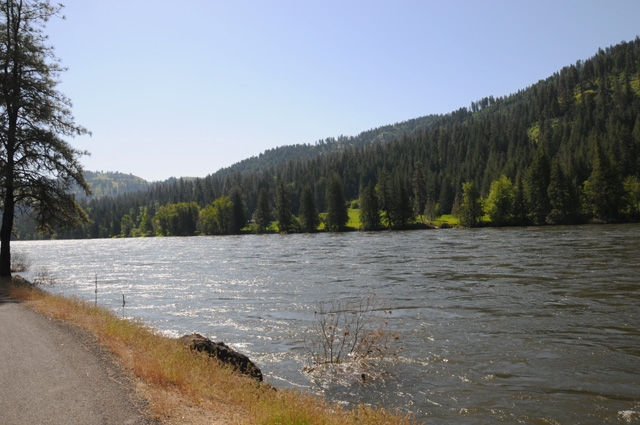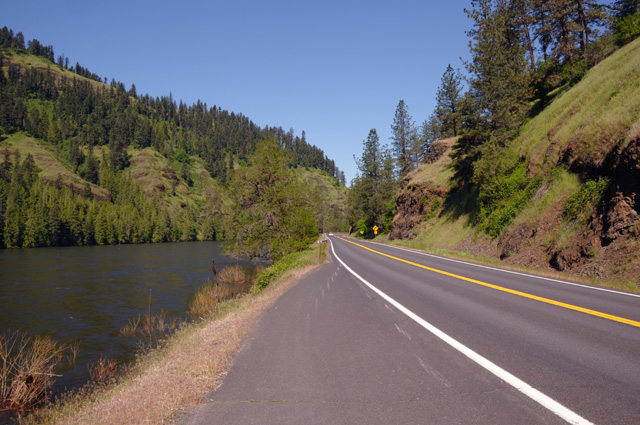 And this is farther up the road. You can see what I said before, they are all similar, river and mountains. This picture is a little different, the water is rather turbulent.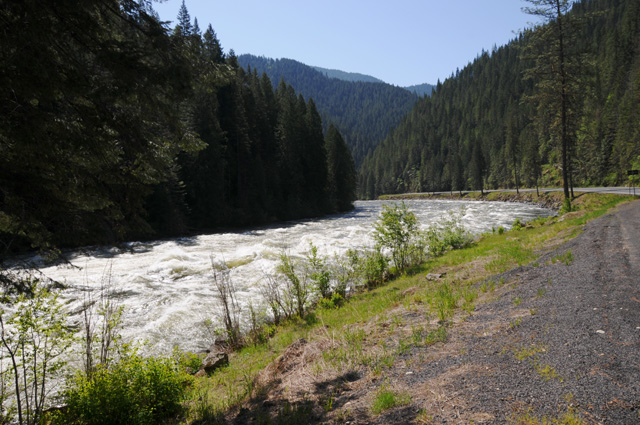 Then I started climbing faster. There was a pull-out on the side of the road, I stopped, read the sign, and decided there was nothing I could do anyway, I did not have my chains with me.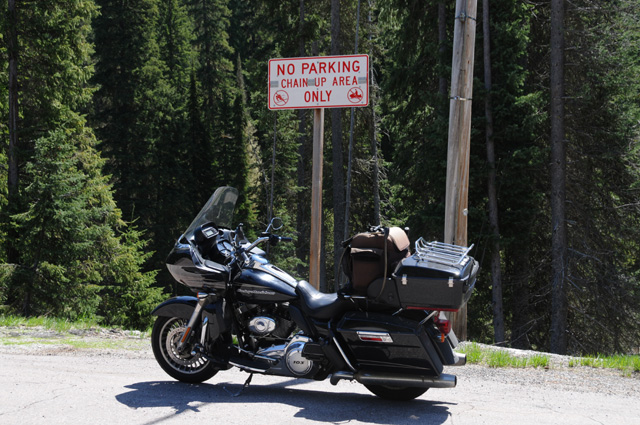 By the way, I did had chains once upon a time. And I used them. But not on a bike.
This is the highest elevation I had today, 5,233 feet at Lolo Pass.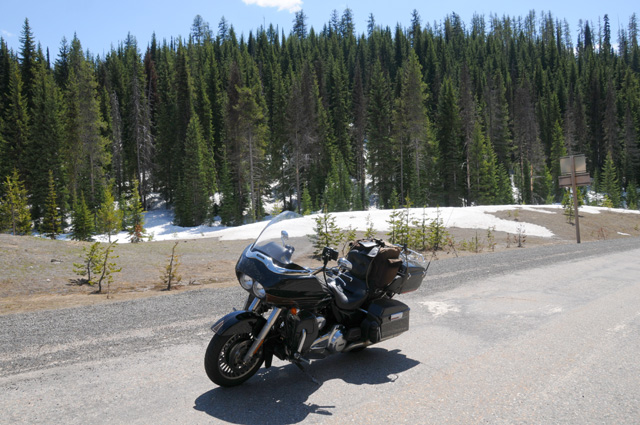 And that's all for today. I am still running about half a day behind my preliminary plan, but I am quite OK with that. My guess at the beginning was that I would have lost more than a day, maybe two, by this time.
And my radio is still dead. That will have to wait until I get back home.
---
16 May 2018, 10:45 PM MT, Big Timber, MT
Another change in the map today. If you look at the map (near the top of the menu on the left), you will see a dotted red line going across Montana where it was a solid red line before. You also will notice a new red line going south at the beginning of the dotted line and then a little along I-90 to Big Timber, then it goes back north then east, then joins where the dotted line ends. So why am I replacing the dotted line with the new solid line, you ask.
It is a long story, but I will tell you anyway. For about a day I have been a little nervous about the dotted line. The distance is long enough that I need to start the dotted part in the morning or I have a hotel problem that night. Basically, there is nothing along the dotted line. I did not know that when I made the original plan, but now that I am on the road I do need to look at things like that. By the time I got to Great Falls, about 25 miles before the dotted line begins, it was already noon. I had lunch in Great Falls because I knew there was little up ahead. The time was such that I could do the dotted line and finish it about an hour before sunset. That's starting to get a little tight. Then, as I was leaving, I could see a thunderstorm to the east about where I would be going.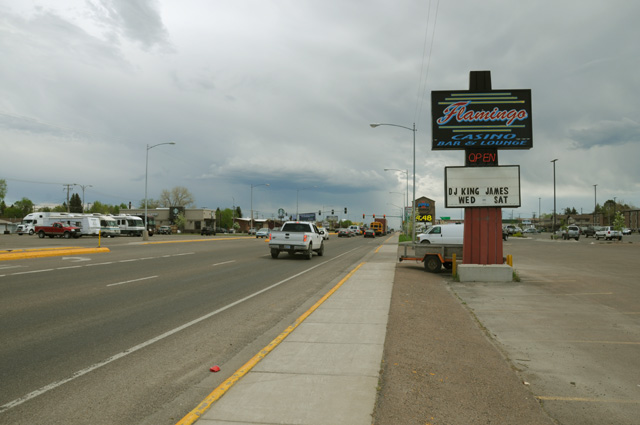 I used my NOAA radar app to study the situation. There were about half a dozen thunderstorms out that way, they were moving north, and it looked like I would be OK. Indeed the one in the picture had moved out of my path by the time I got there. So things were looking up. I had time to get to a town with a hotel, and the thunderstorms would not be a problem, so I took off.
At 25 miles, there was a sign on the side of the road saying there was major road work going on up ahead, on US-87. Whoa. I stopped on the side of the road and pulled my iPhone to see what I could learn about the road work. Not enough. Fortunately there was a west bound truck weight inspection station right there, so I turned around and went in. I talked to one of the 18-wheel drivers and asked what the road work was like. He said it was OK, there was a section about 2 miles long where the road was dirt. Whoa again. If you know my riding habits, you will know that one of them is to avoid dirt and gravel and grass like the plague. I have done each, but only when I could not avoid it. I am getting old, and my habits are well formed, so I don't like to try something new at this point. I am reminded of an old saying, there are old pilots and there are bold pilots, but there are no old bold pilots. So I decided to abandon ship. Immediately in my mind I could see that solid red line suddenly become dotted.
More study on my iPhone and I knew what I would do. I went south to I-90 on US-89, maybe 120 miles, then 30 miles east on I-90 to Big Timber. Tomorrow I will go north again and catch US-12, the highway that produced the delightful and gorgeous ride in Idaho yesterday. That's not as far north as the highway I was going to take today, US-89, but it does get me off the Interstate. As I was riding those 30 miles on I-90 I was thinking how much easier it is to just cruise on the Interstate, but it sure is not as interesting.
My day started in Butte, and shortly after I was off, I decided I needed to take some pictures to remember what it looked like in Butte. These three pictures were taken from the same place but looking in three different directions. That is two different mountain ranges covered with snow. It was cloudy, so the scenery is not as spectacular as it is when the sun is shining. The sun was shining on the two mountain ranges, but not where I was.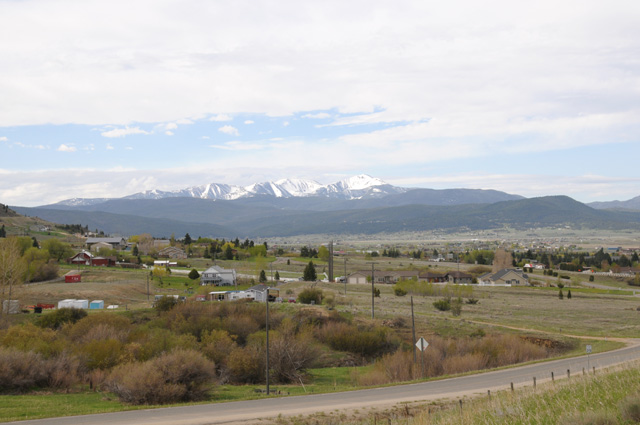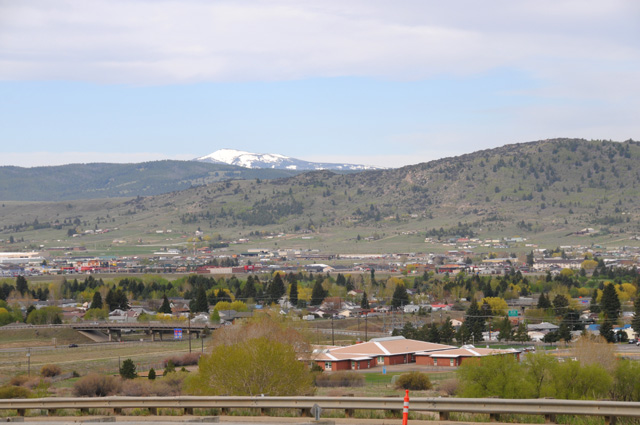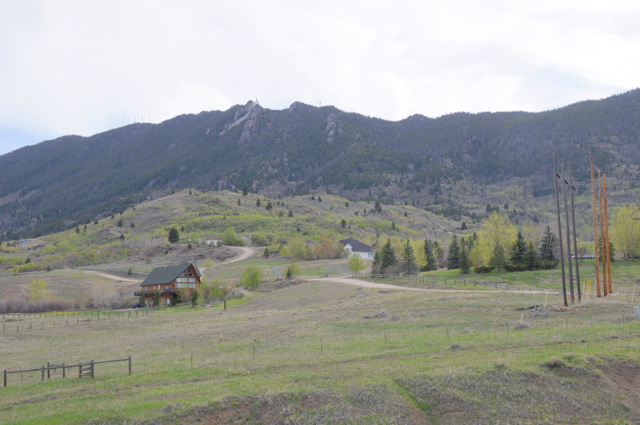 Then I was off to Helena, a capitol city. I already have a picture of the Montana Capitol, but like I said on my first day of this ride, my own rule is to do it again when I pass through a capitol city. So here's the Montana Capitol, with my bike as is often the case. I like to do that, put the bike in the picture, but sometimes I cannot do it.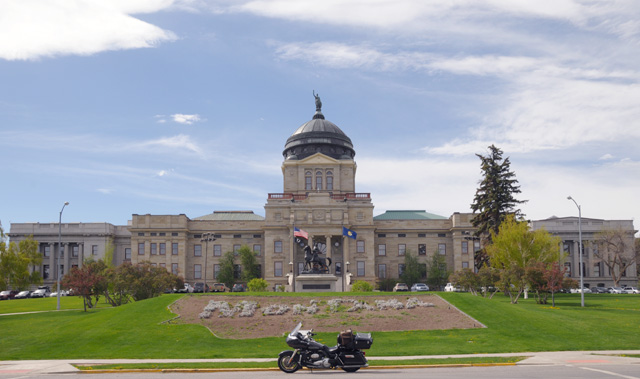 Riding through a canyon on I-15 between Helena and Great Falls.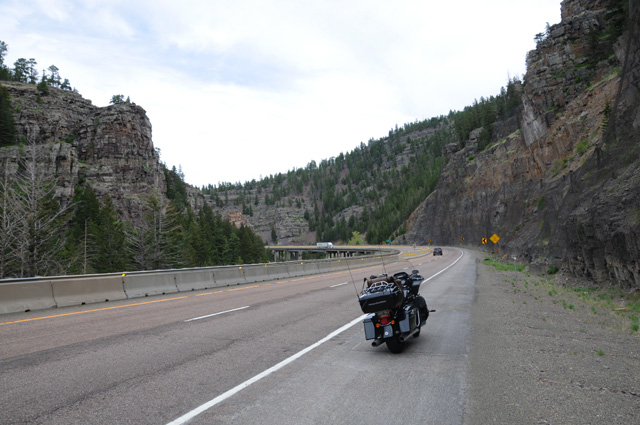 This is the Missouri River, looking both directions, between Helena and Great Falls.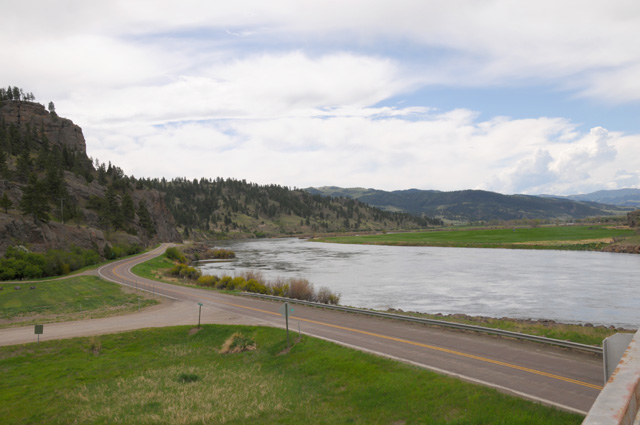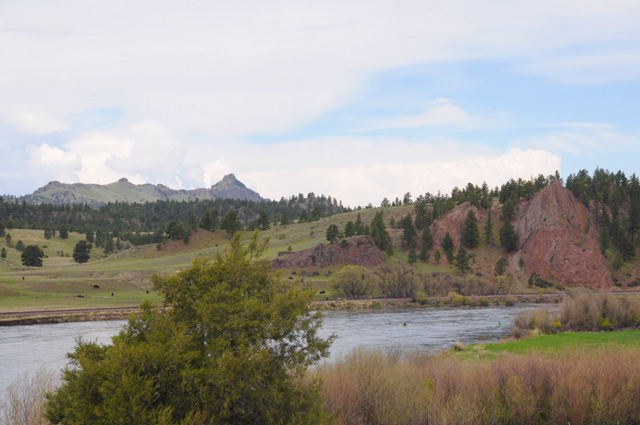 The next three pictures were taken at a scenic overlook on US-89 between Great Falls and I-90.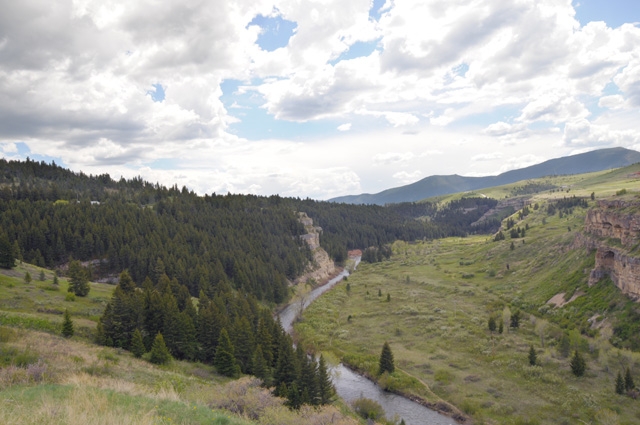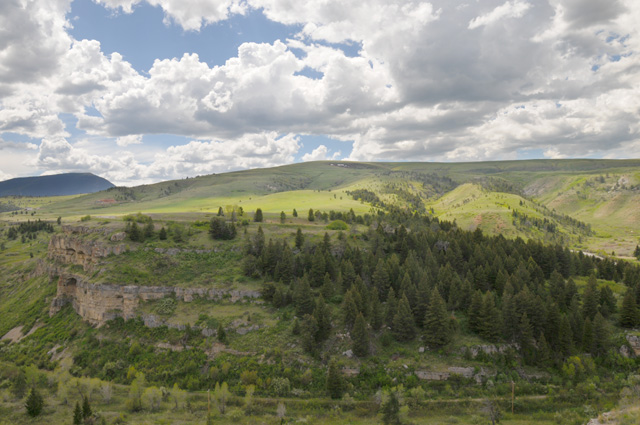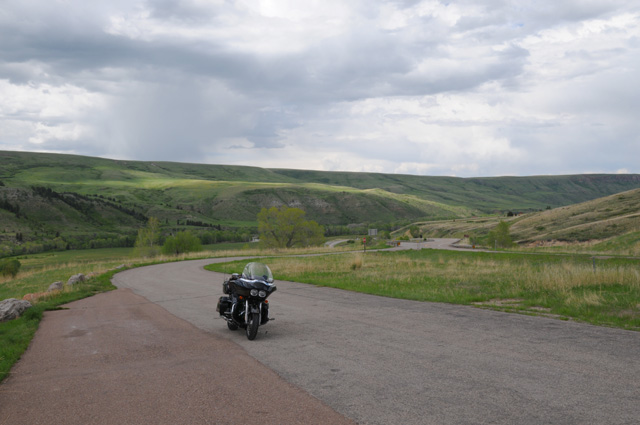 This is Kings Hill Summit on US-89 in the Lewis and Clark National Forest.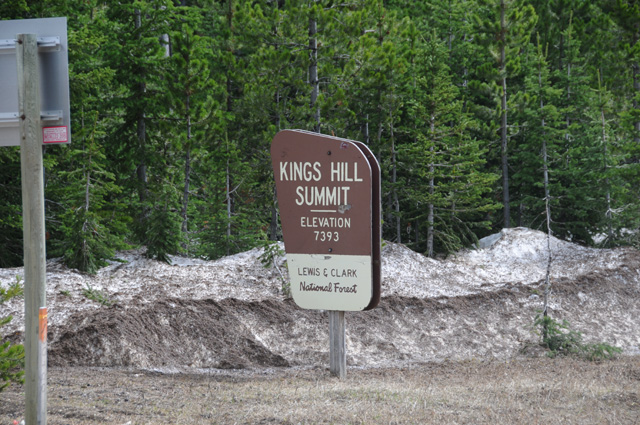 At Kings Hill Summit.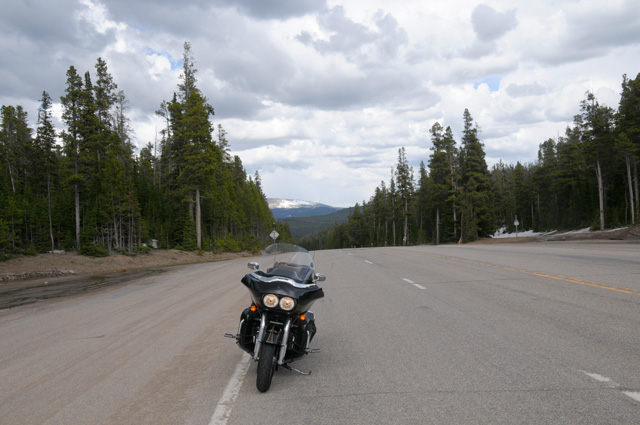 It was cold, I had to put on my rain jacket. I did not have it on in these two pictures, but I stopped going down from the pass to put it on. I was getting too cold. I started the day with the jacket, took it off in Helena, then put it back on to end the day.
Approaching I-90. The mountains are just south of the Interstate.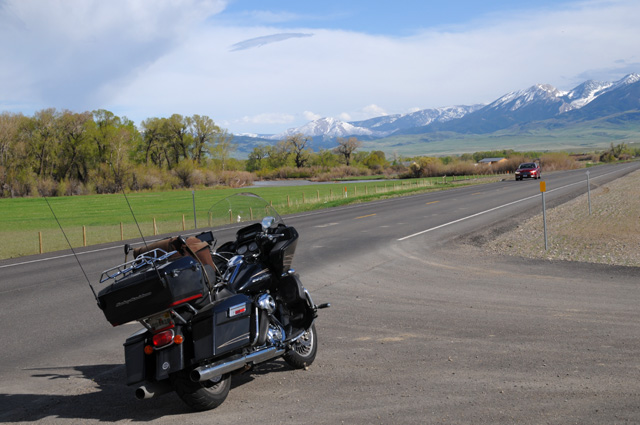 I had 357 miles today, the total is now 5,114 miles, 13 days, 393 miles per day average. I am one day behind my preliminary plan. If it remains this way, the ride will be 22 days and I will arrive back in North Palm Beach on Friday the 25th. Too early to predict, though. It almost certainly will not be before that, it could be later depending on weather and bike problems and simply getting tired and needing to take a day off. I have not done that yet on this ride. My shortest day has been 198 miles.
---
17 May 2018, 9:00 PM MT, Hardin, MT
Good evening to you all. I am going to start by showing you my new best friend, Maggie.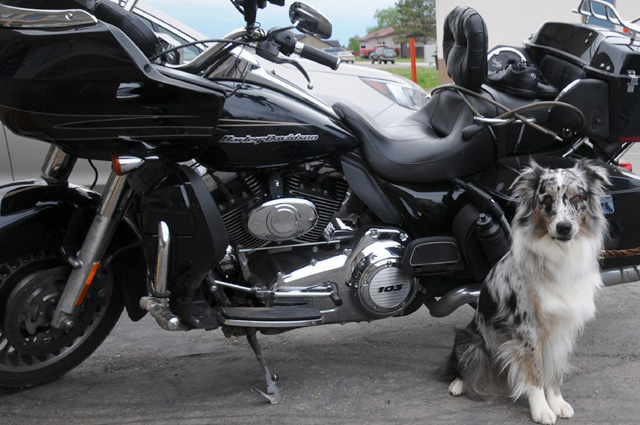 Interesting that Maggie has the same name as my very own Scottish Terrier, Miss Maggie May.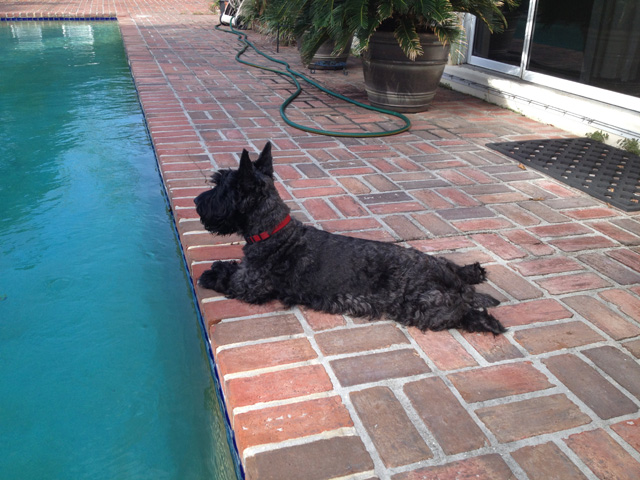 Actually, Miss Maggie May is Hanna's dog, I just call her mine.
My new friend Maggie is here in Hardin, MT. We are two doors apart at the Rodeway Inn.
On to my day of riding. Things went pretty well until early afternoon. I will talk about that at the end. First, here's the view from my hotel this morning in Big Timber. Nice view. there's even a railroad track across the road. Too bad a train wasn't there when I took this picture. But then, you might not be able to see the mountains.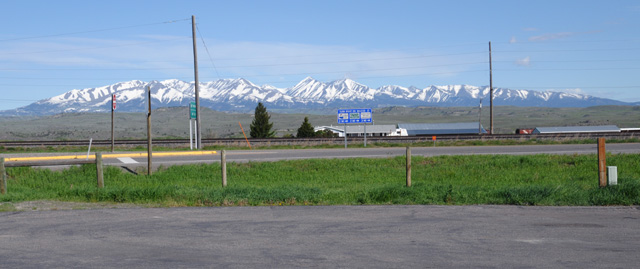 I already knew I was very close to the Yellowstone River. So, that's where I went first. This is the view looking to the West. The water is moving in that direction.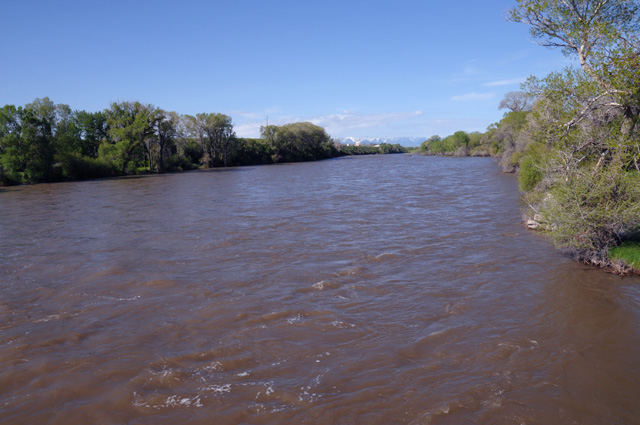 Here's the view looking east, and into the sun.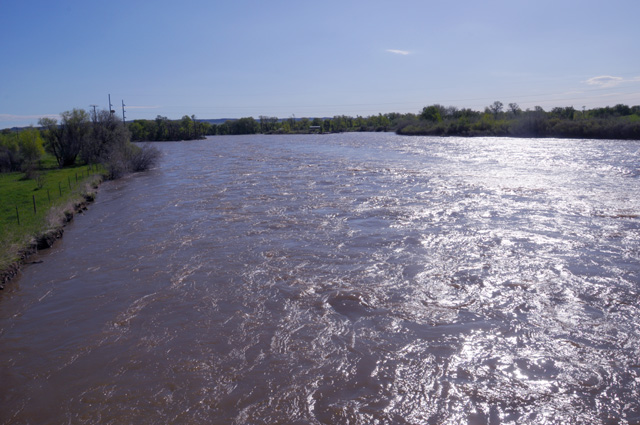 One last view of the Yellowstone River. There seems to be a log stuck there.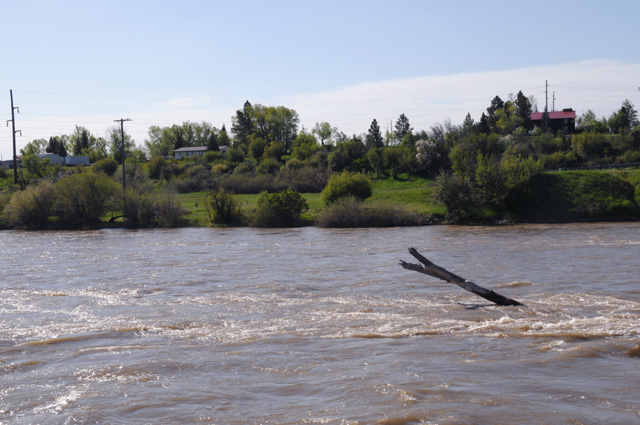 As I was cruising US-12, the terrain changed to be rolling ranges of hills and valleys. This went on and on, so I decided to take a picture of it. Here I am looking back west, and if you look carefully you will see two of the hills in the background.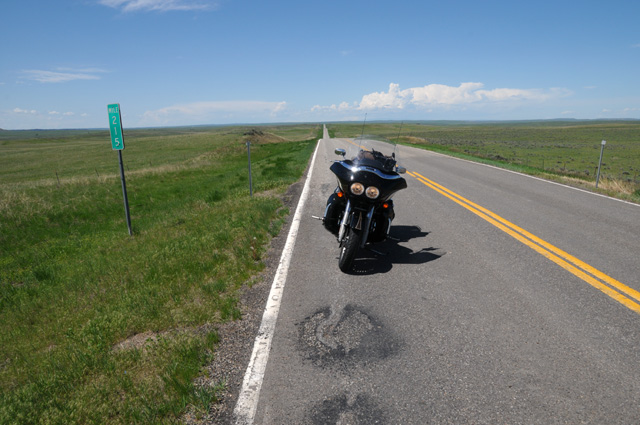 And this is looking east. Again, you can see two of the hills in the background.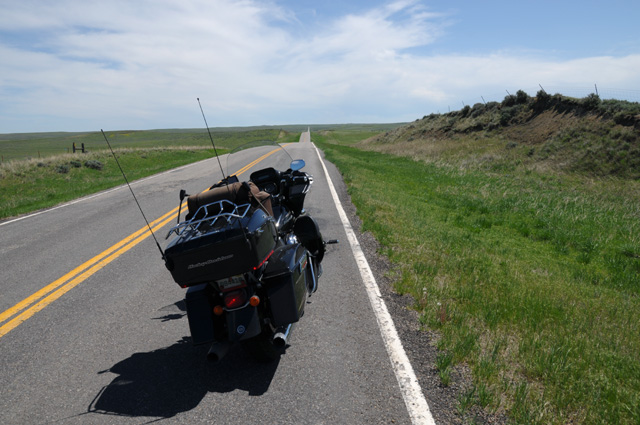 After about four or five hours, I reached I-94, as was planned. I took a break. During the break I looked at my NOAA Weather Radar App. Guess what I saw.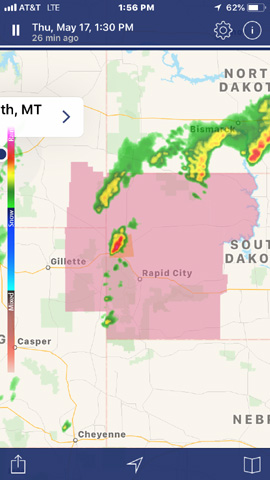 My route was to be down through Gillette, the town on the left in the middle, just west of a severe thunderstorm watch. If you look where the red thunderstorm is, sort of in the middle of the pink area, northwest of Rapid City, you will see an orange area. That is a severe thunderstorm warning. That thunderstorm is already severe.
I decided it might be a good idea to go a different way. It was clear that going farther east would not work, I would have to go very far east. It looked good to go farther west. I took the advice of four local guys in the restaurant where I was (Dairy Queen, but I did not have a chocolate shake). They sent me west to a road going south that would connect from I-94 to I-90 and then I would continue on I-90, perhaps as far as Sheridan.
So, that's where I headed. You can see the change in my map with the new dotted red line. There are now two dotted red lines, the one farther north from yesterday and the one to the east from today.
But, wouldn't you know it, by the time I reached I-90, about two hours later, my new route had thunderstorms. I am the black dot at the top center, Sheridan is in the mniddle.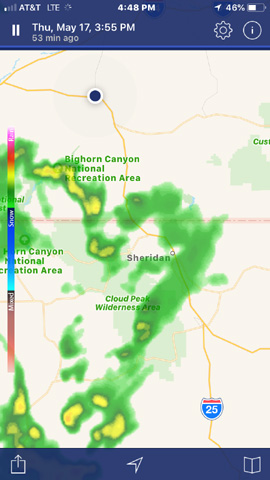 Here's a shot from the NOAA app that shows both storm areas.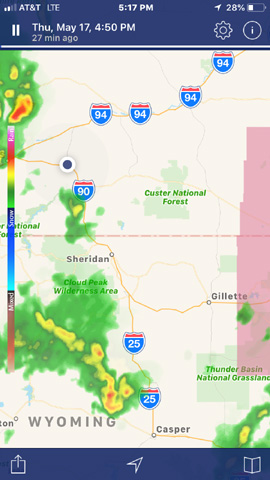 Maybe tomorrow will be better, but there are thunderstorms predicted. And rain is predicted for the next day. We'll see what happens.
I rode only 297 miles today. But I got only 128 miles. If you look at the map, you will see that last night and tonight are just down the road from each other, but I took a big circular route to get there. And, it gets worse. Two nights ago I was in Butte, and that is only 273 miles from Hardin on I-90. I rode 654 miles to do it. Also in a big circular route. Well, it was a pretty ride. Not sure it was worth it, though. See you tomorrow.
---
18 May 2018, 6:30 PM MT, Douglas, WY
I'm going to show you my pictures first. Here's what it looked like when I left Hardin this morning.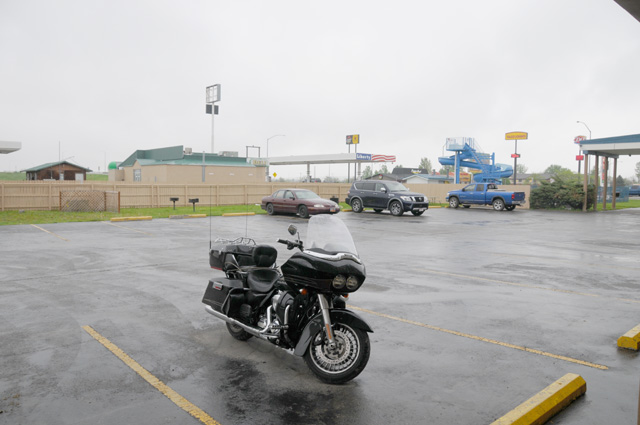 Here's what it looked like when I stopped in Douglas this afternoon.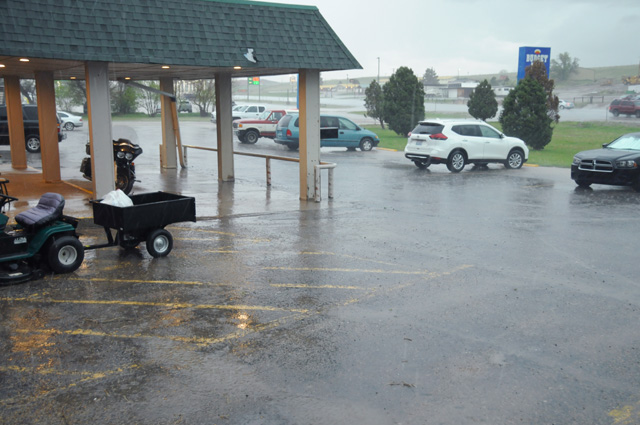 And here's what it looked like half way between.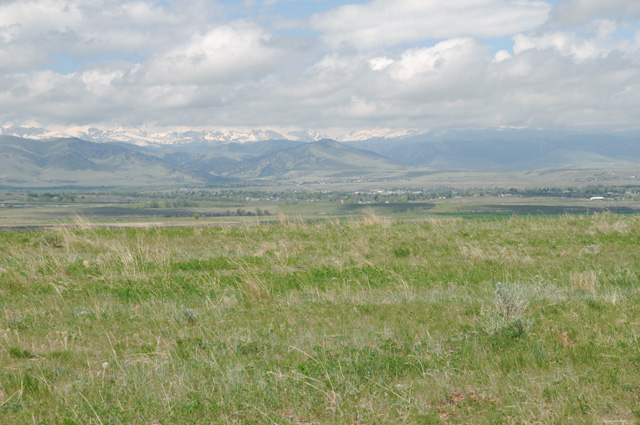 OK, that's it. That's all for today. In pictures, that is. That sort of gives you the flavor of the day. Rain in the morning, partly sunny mid-day, and rain in the late afternoon.
Before I left Hardin this morning, I debated long and hard about whether or not to leave. As you can see, I did decide to leave. I was about 50-50. What finally persuaded me was that the rain did end down the road, accoring to my NOAA Weather Radar App. I did expect to hit rain again later, I was not sure just where, but here in Douglas was about my best guess. So, I was not surprised when I did have to stop here.
When I headed out this morning, I rode about 60 miles in light rain. Then I rode about 40 miles in overcast, but no rain. Then I rode about 262 miles in partly sunny weather, until the last 30 miles when it became overcast and increasingly dark. I stopped on the side of the road about 10 miles before Douglas to put on my rain jacket. I wore my gaiters all day long. I had on my jacket liner to stay warm all day long. I wore my rain jacket about half the day.
About half a mile after I put on the rain jacket approaching Douglas, I started to get light rain. I stopped in Douglas to get gas, I was planning to continue to Cheyenne. While getting gas I heard a loud boom come from above. Then I heard another. Then I consulted my electronic devices to pick a place in Douglas to spend the night. About five minutes after I pulled under the portico of my hotel, there was hail. It is still raining, about an hour later.
If you added up all those numbers, you will see that I rode 392 miles today. As has been my habit the past few days, some were productive and some were not. I was cruising along all fat and happy on I-90 when suddenly it hit me that something was wrong. I had blown past my turn south. So I had to backtrack 39 miles, meaning I wasted 78 miles, or maybe you can say I enjoyed 78 more miles than I would have otherwise. But on the other hand, I might have made it to Cheyenne before the rain hit. Well, it is what it is.
You can see the extra 78 miles on the map, that little thingy pointing out toward South Dakota. Well, I'm going to leave you here and get something to eat.
---
19 May 2018, 11:59 PM MT, Denver, CO
This picture looks very much like the picture from yesterday, except it is not raining. At least at the moment the picture was taken it was not raining. About 5 minutes later when I started rolling, it was raining.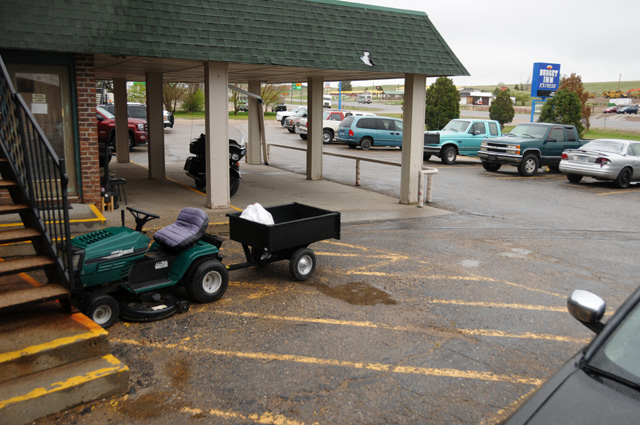 I rode 248 miles today, about 2/3 of then in the rain. From Douglas to about 30 or 40 miles south of Cheyenne I was in rain. Never heavy rain, or even medium rain, just light rain. That is the longest stretch of rain I have been in. And it was cold. The temperature was about 35°. I stopped in Cheyenne to thaw out. My winter gloves were soaked. I wrung them out before proceeding.
Cheyenne. Isn't that a capital city? Wasn't I supposed to take another picture of the Wyoming Capitol? I suppose so, but in the cold rain, no way.
After another stop to thaw myself and wring out my gloves a second time, I arrived in Denver, a capital city. And my LAST CAPITAL CITY. I have now visited all 48 state capitols, plus the US capitol, and taken a picture while on a motorcycle ride.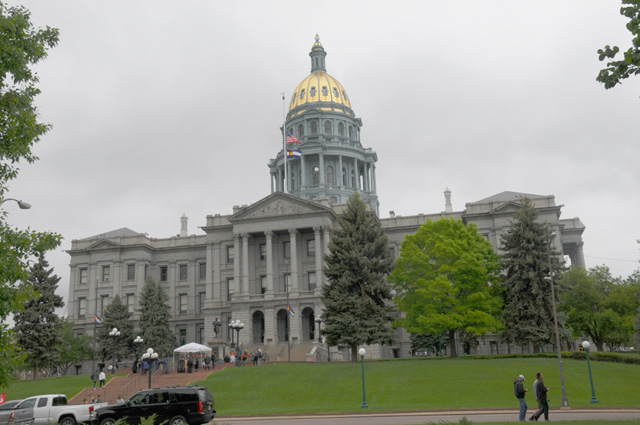 Check out my capitols at http://rhopkins.us/uscaps/index.htm.
I was unable to place my motorcyle in the capitol picture. It was parked a couple of blocks away. And at a very interesting place. Across the street from the very first Quiznos!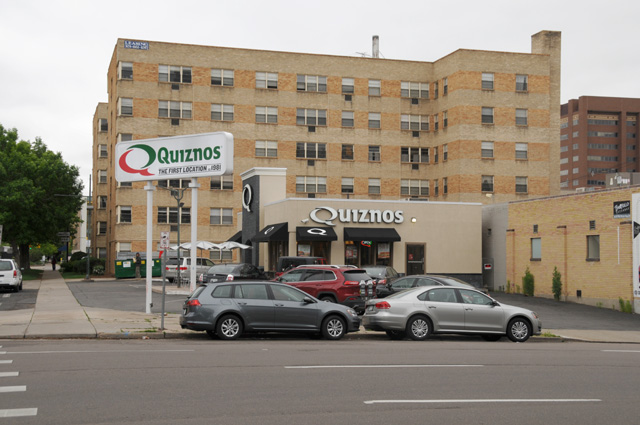 I went to my hotel and pulled off my rain soaked boots. I wore my gaiters all day long, how did the boots get wet? I guess they would have been much worse if I had not been wearing the gaiters. I wore my rain jacket all day. I wore my riding jacket all day. I wore the winter liner for the riding jacket all day. But it was really, really cold for me. I suppose I should have had a parka.
A little later, I had dinner with my niece Elizabeth, her husband Stephen, daughter Delia, daughter Louisa, and son Paul. Here we are enjoying our pizzas.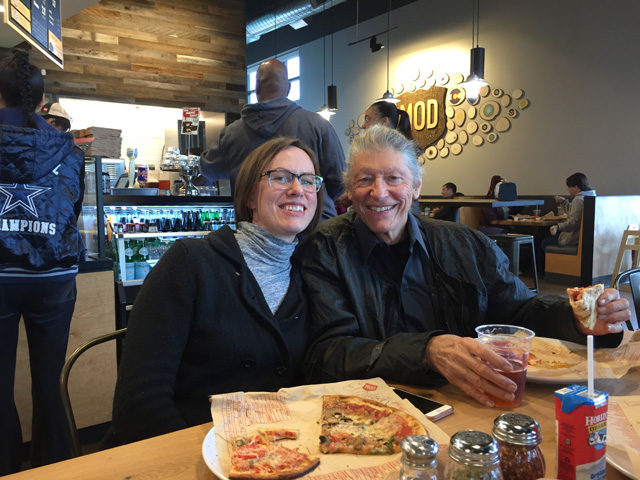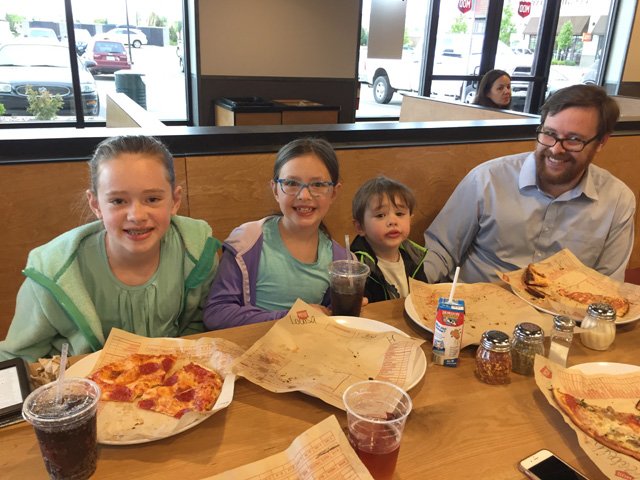 I have made another change in planned route. I was planning to go south from Denver on US-285, a very scenic route. I decided to not do that, though. I have had many road work problems on the non-Interstate roads I have traveled. I don't want to risk more on US-285. But especially, US-285 has high passes. Poncha Pass is 9,012 feet elevation. Trout Creek Pass is 9,346 feet elevation. Kenosha Pass is 10,001 feet elevation. Red Hill Pass is 10,051 feet elevation. Here's the forecast for Red Hill Pass tomorrow: "Sunday. A chance of rain showers after noon, mixing with snow after 5pm. Some thunder is also possible. Patchy fog between 8am and 9am. Otherwise, increasing clouds, with a high near 50. Southwest wind around 8 mph. Chance of precipitation is 50%. Little or no snow accumulation expected." I just don't want to do that. So, check out my map to see my new route. To avoid the hot deserts, I will take a more northerly route, I-70 across Kansas and Missouri, then down through Nashville and Atlanta to Florida.
Good night all.
---
20 May 2018, 10:30 PM CT, Salina, KS
Not much happened today except for sleeping late, getting a late start, and riding lots of miles, 431 miles, 6,482 total miles so far. I am in Kansas, I saw the sun today, I had almost forgotten what it looked like. But, to make sure I did not get used to it, it was there for only a short time. It was overcast when I left Denver. It is overcast in Salina. There is rain to the east, between Kansas City and St. Louis. I will be going through both cities, and I will stop when, or if, I run into rain. I have had enough rain. I will stop and write my daily story.
Not a lot of pictures for you. First, to show that I really did arrive in Kansas, here's the highway sign on I-70 that proves it.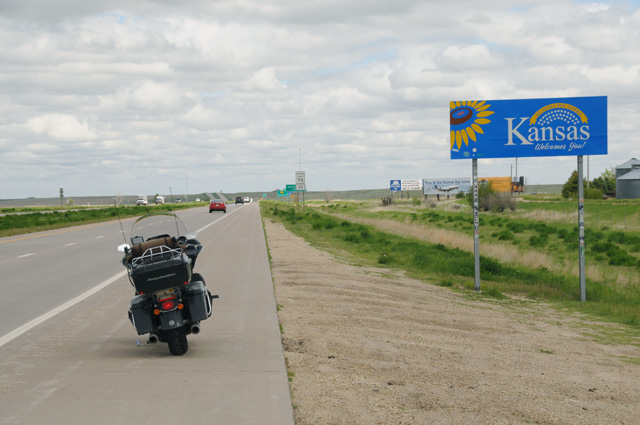 I took a picture looking off the the side of the road to show you what it looks like at the border, Kansas to the left and Colorado to the right. I can't tell the difference. Sort of flat. Elevation is still high, I think it was about 4,000 feet at this point.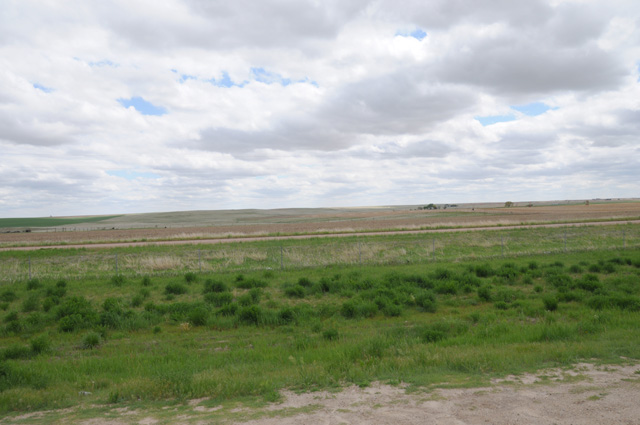 Here's a common sight around here. The train. You did see it didn't you. And, I guess the grain elevator is a common sight. Actually, I see more of them than trains.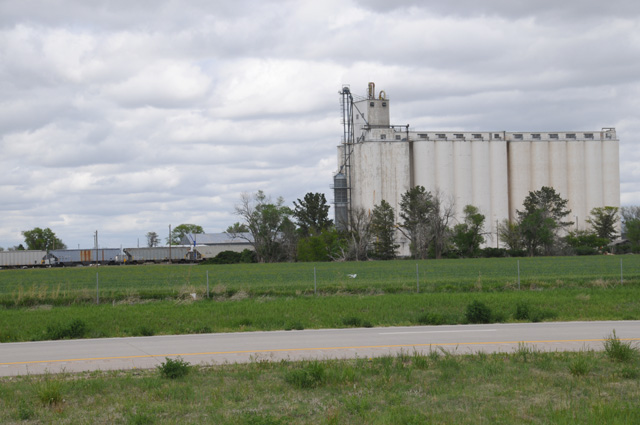 Sorry, but that's it for today.
---
21 May 2018, 10:00 PM CT, Warrenton, MO
The weather turned out to be a little better than I expected. It was completely overcast leaving Salina. I thought it would be that way the entire day, but that was not the case. I don't remember just when or where, but it became sunny. In fact, it got warmer than I expected. Maybe I had not checked earlier, but the high today in Warrenton was 81°. I started the day with my normal summer jacket with the rain jacket over it. I did not put on the liner, I was fine without it. The temperature when I left Salina was about 55°. There was some road work on I-70, the traffic came to a very slow roll, maybe 1 mph. That's a little slow for me, so I was stopping and going. I was getting warm. Once when I stopped, an 18-wheeler was behind me, and I waved at the driver and stopped my bike and turned it off and took off my rain jacket and stowed it in the saddlebag. He was quite content to sit there while I did that. I did not need it the rest of the day.
I had to do some engineering today. My summer gloves, the Royal Canadian Mounted Police gloves with the large gauntlet can control the touchscreen GPS. My Harley winter gloves cannot. That has been an issue at times on this ride. I stopped at a Harley dealer this morning to see if they had waterproof gloves that could control the touchscreen. They had waterproof gloves but they would not control the GPS. Then I figured I would use a stylus. I got one at a WalMart. That was all fine except for one thing, I needed a way of holding it on the bike. I cannot take it out of a pocket with these big gloves. I am not even sure I could do that without gloves while riding. I certainly would drop it on the road at some point. At the WalMart I also got some plastic cable ties. I figured I would work out something to hold the stylus. I was unsuccessful. Then I thought, why not use duck tape. Duck tape can fix anything. And I already have some, I carry a roll of duck tape in one of my saddlebags. Here's what I came up with. It works. The stylus is taped to the back of the GPS with just enough length to be able to put the stylus tip to any part of the screen. But I did not need it today, I never used the winter gloves. But I am anticipating some rain over the next three days, so I wanted to be prepared.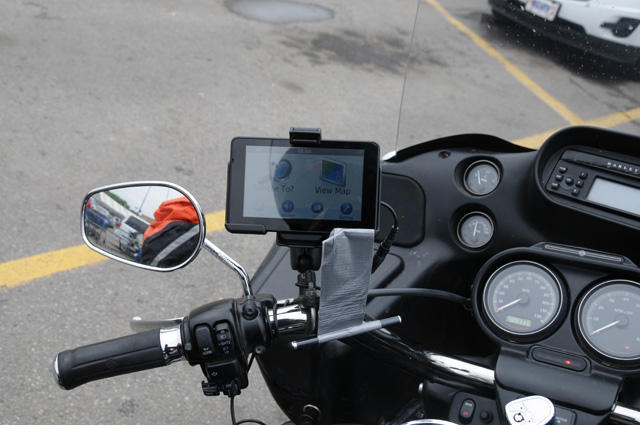 Somewhere down the road I approached a bridge and saw that it was crossing the Missouri River. I wanted a picture. The shoulder on the bridge was about 6", not quite enough to park the bike. And there was traffic on the bridge, including 18-wheelers. Not wise to just stop in the traffic lane. After I crossed the bridge there was a shoulder, so I stopped and walked back to take a picture. I had to get on the bridge to see the river, so I picked a time when there were no 18-wheelers already crossing, got my picture, and hustled back off the bridge. Here's the view looking at the bridge. See that 18-wheeler approaching, he is moving over to stay away from me and my bike. I jumped back on the bike and took off.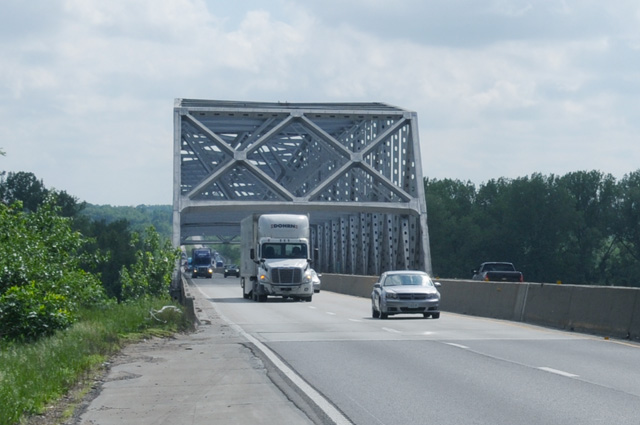 And here's my picture of the Missouri River. I would have preferred to take the picture from the middle of the bridge, but I thought that might be stretching it a bit.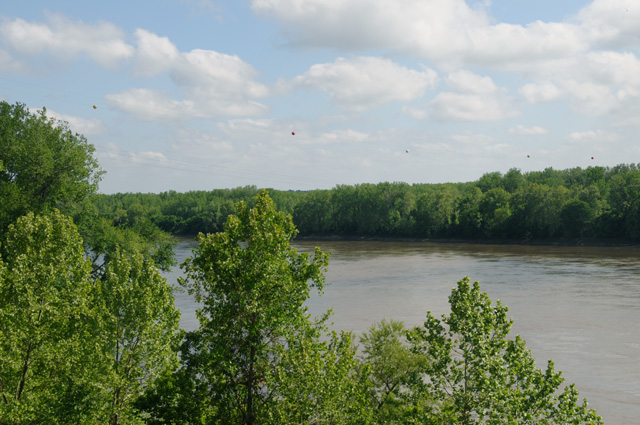 That's all my regular pictures for today. But I do have something special. This is from my son Darryl.
Back a long time ago, I think it might have been December 1979, spouse Hanna and Darryl and daughter Cindy and I were driving down I-95 from New Jersey to North Palm Beach. Darryl was totally fascinated with Pac-Man. And he was good at it. At one point while driving along, he was in the back seat explaining to Cindy how to get high scores on Pac-Man. I don't remember exactly what he said, I am sure he still remembers, but it was something like this, "...and then you move him off the right side in the middle and count to 5 and then bring him back on..." His explanation was lengthy. I was so impressed. He had hacked Pac-Man! He had broken the software code! At that time I thought he really had the mind for software. That's before the IBM PC. Every time we stopped on I-95, he would run into the gas station and leave the highest score of anybody on the Pac-Man machine. So, Darryl, look what I found today.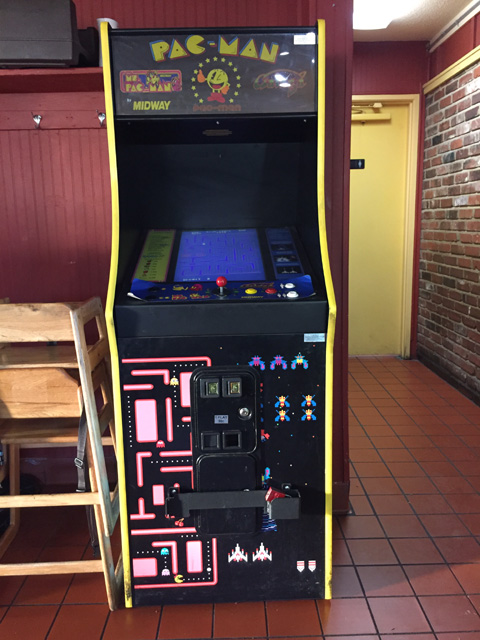 This was in a Pizza Hut here in Warrenton. Here's the screen.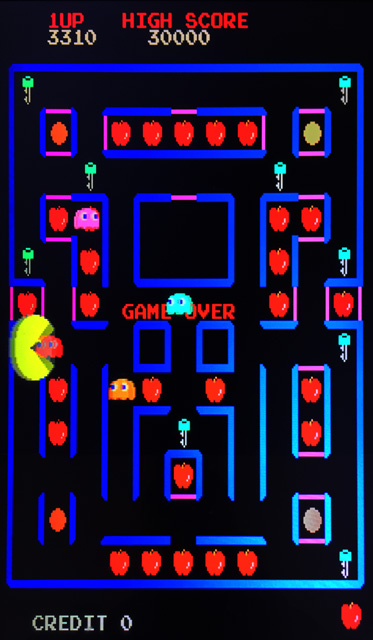 A few years later Darryl received a BA in political science at the University of Virginia, and then worked on Capitol Hill in Washington DC for a Representative. Sometime later, he ended up in a different job. Guess what. Working for a software company.
That's it for today. I fell short of my goal of 400 or more miles today, probably because of the time I took engineering a stylus holder for a motorcycle. Only 392 miles. I have another 1,199 to reach home. I already have a total of 6,874 miles. So my grand total will be a little more than 8,000 miles, what I had originally predicted. At the moment, my average daily mileage has been 382 miles. My goal was 350, I am exceeding that.
Good night, see you tomorrow.
Oh, for those of you who think I made a mistake saying duck tape, I want you to know that's what GIs called it in World War II, supposedly because water beaded off the tape just like droplets slipping down a duck's back.
---
22 May 2018, 10:30 PM CT, Clarksville, TN
I left Warrenton this morning with the idea that I would go to a park where the Missouri and the Mississippi come together. I set it up on my GPS and took off, with a brief stop for an Egg McMuffin and hot Latte. I followed the roads faithfully, it was a longer distance than I had anticipated. Then I got to the last turn off, only 4.5 more miles to the confluence point, and guess what. The final 4.5 miles was a dirt/gravel road. You know what that means. It is as bad as the plague. So, not wanting the plague I turned around. I crossed the Mississippi, I had already crossed the Missouri twice this morning, and tried riding down a road that runs along the river, heading to a point where I could see both rivers at the same time. Well, it was not to be, the road is not close enough and no roads run to the river side. Then I came to a tall tower, the Lewis and Clark Conference Tower. It was quite tall, I was sure I could see the confluence from the top of the tower. I did notice that my bike was the only vehicle in the parking lot. That did not bother me, though. I marched right up to the tower and found everything was locked. Turns out it is closed on Tuesday. So I spent a lot of time and miles chasing the impossible dream.
I rode 357 miles today. I have another 882 miles to get to North Palm Beach. How can that be? Last night I had 1,199 miles to North Palm Beach. Isn't 1,199 minus 357 equal to 842 not 882? I guess that means I used up 40 miles chasing the impossible dream. Well, that's what I do a lot, side trips. This was just another one. Most of the time they work out.
Let's see what pictures I have for you today. Here's the bridge I used to cross the Mississippi. It is US-67, and it is called the Clark Bridge.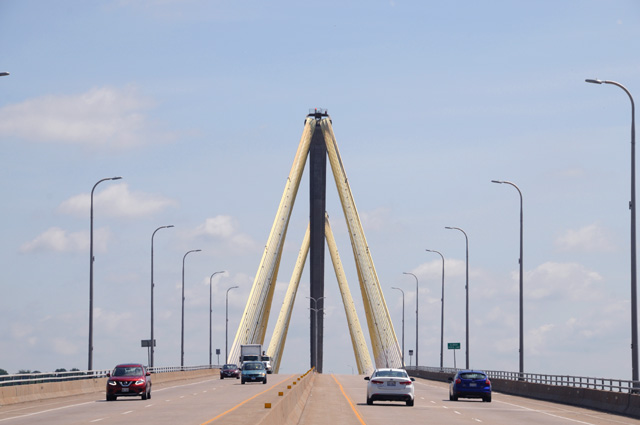 You notice that I was able to stop on the bridge. I was not able to stop on the other end of the bridge, so I do not have a picture of the "Welcome to Illinois, the Land of Lincoln" sign for you. But I was able to steal it from Google Maps Street View.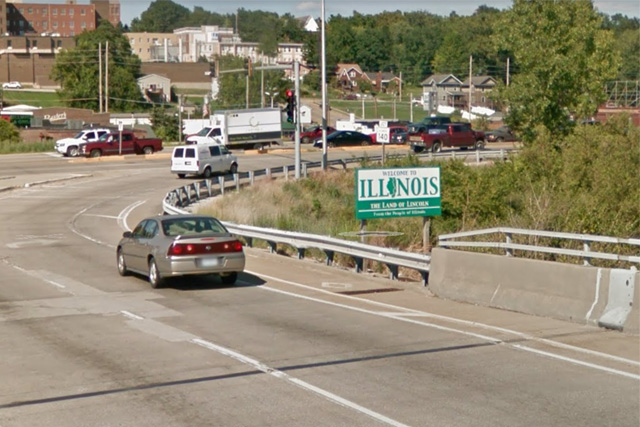 Back on the Clark Bridge, this is the Mississippi River looking south toward St. Louis.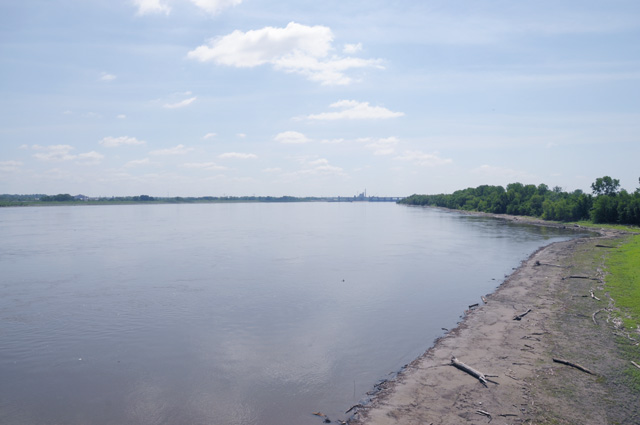 And the Mississippi River looking north. These two pictures were taken from the same location on the bridge as the picture of the bridge.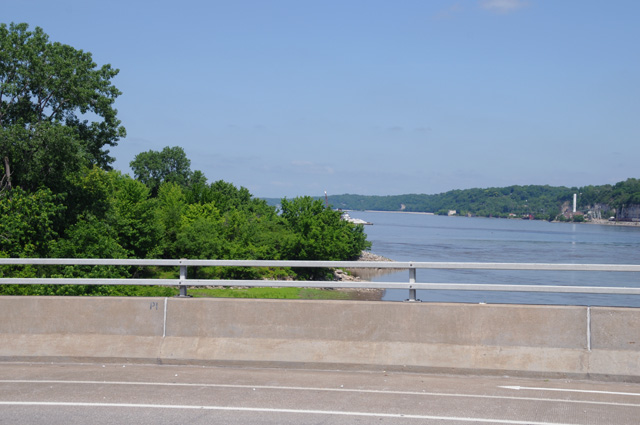 And here is the Lewis and Clark Memorial, the tall tower that was closed when I most needed it. That was what finally crushed my dream, the impossible dream. By the way, have you ever heard Gomer Pyle (aka Jim Nabors) sing "The Impossible Dream"? You can see my lonely bike on the right.
I kept riding along, and crossed the Ohio River. I stopped short of the bridge, you can see it has a narrow shoulder.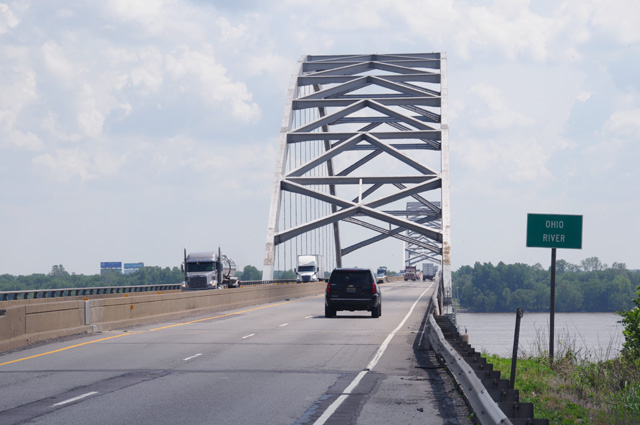 I walked beside the edge of the bridge to try to get a good picture of the river, but it was not to be. Here's the best I could do. There is a sharp drop just in front of me, that ground you see is many feet below me. No way would I try going down there.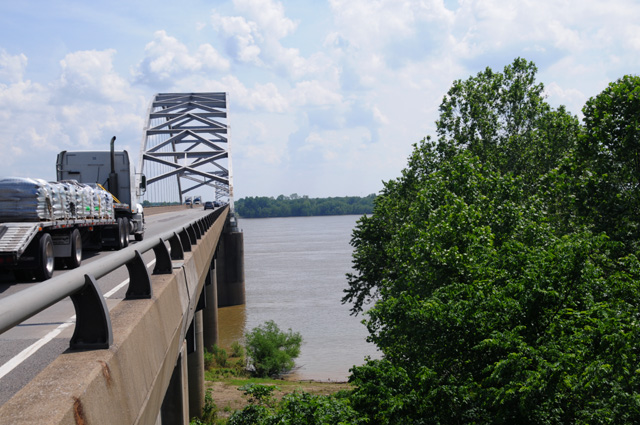 Finally, I am in Kentucky. The birthplace of Abraham Lincoln. See it on the sign?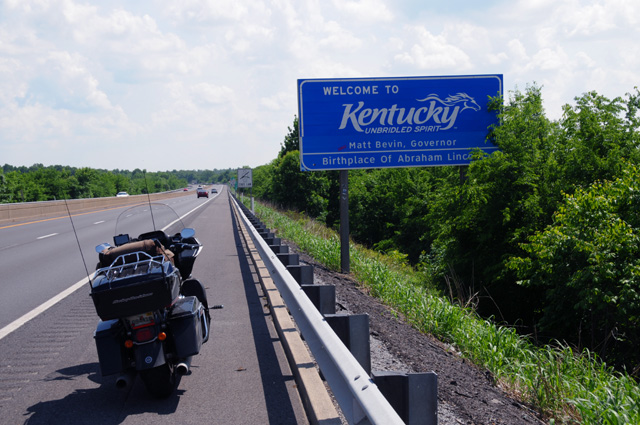 Kentucky is also the birthplace of Robert Hopkins. When are they going to put my name on the sign?
Riding right along I reach Tennessee.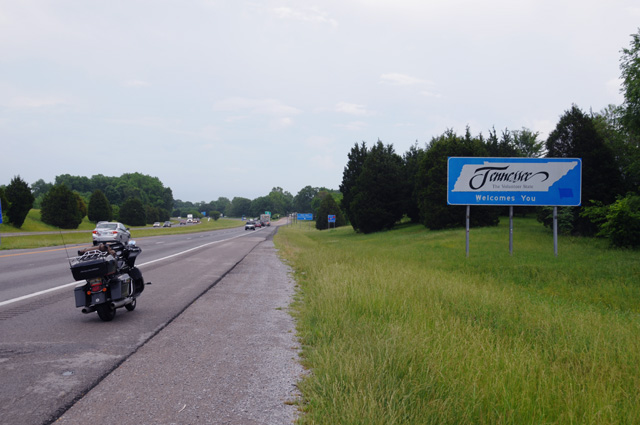 Did you notice that it is completely overcast now? I can see storm clouds ahead. And just up ahead is the Kentucky Welcome Center, you can see the blue sign up the road. It is not readable, but trust me, it is the Kentucky Welcome Center. Which I entered. I wanted to check my NOAA Weather Radar app. Here's what I saw.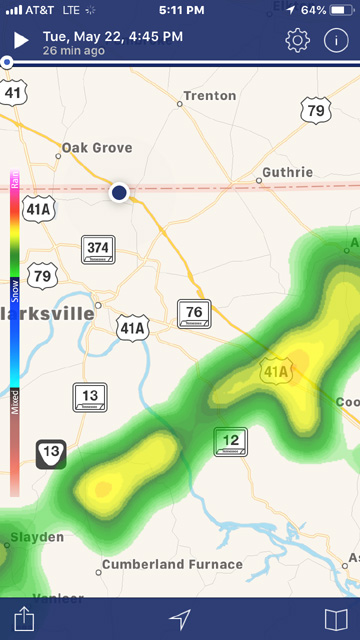 The black dot is me, right on the Kentucky and Tennessee border. Down the road a few miles is a line of thunderstorms. Just disappearing off the left side of the picture is the town called Clarksville. The "C" is missing on the radar screen. Well, that's where I am right now. I stopped about four miles later to lay down my weary head for the night with visions of the impossible dream.
---
23 May 2018, 10:05 PM ET, Ashburn, GA
Man, do I have some good stuff for you tonight. I have to start with this monument I found, accidently. I was using Google Maps on my iPhone to find a place to get my dinner. Must be walking distance. That's almost always my rule, when I park it at the hotel, it is there for the night. So anyway, I saw this thing on the map, within walking distance, called "World's Largest Peanut Monument". And you know that would have to be my lead-off story tonight.
Prepare yourselves, ladies and gentlemen, I present to you
The World's Largest Peanut Monument
Not only that, there was this place next to the World's Largest Peanut Monument.

That's where I got my dinner. A pulled pork sandwich. Good.
Let me go back a little earlier. I entered Georgia after three hours of riding. I did not stop on the shoulder to get a picture of the Welcome to Georgia sign, traffic was quite heavy. But I found an identical sign at the Georgia Welcome Center.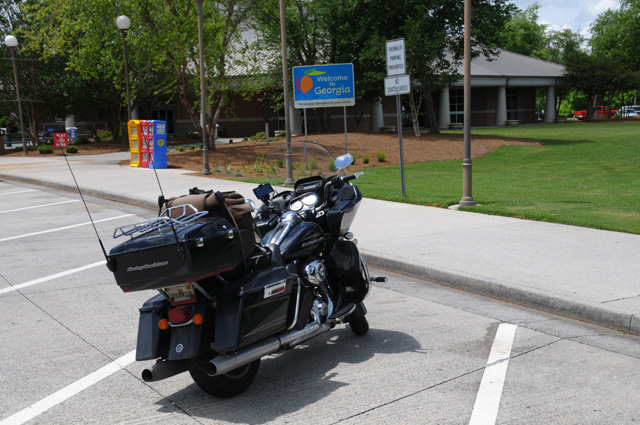 I went inside, and guess who I ran into. Norman Reedus. He has his own television show "Ride With Norman Reedus", which I watch.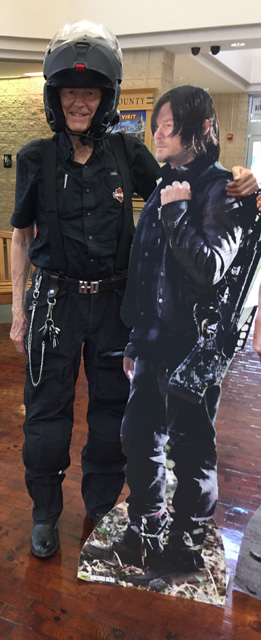 We chatted for a while, actually I think I did all the talking. Then I told him I had to go, still a lot of miles before me. We said our goodbyes and I headed out again.
I am going to jump ahead now. After I got back from marveling at the World's Largest Peanut Monument, I tried to take off my boots. It took a while. Pull a bit, let them stretch with my foot in that position, then pull a bit more, a bit more... It took a while. That's the hardest it has been on this ride to get them off.
And, they sure have taken a beating, worse than any other ride I have ever had. Here's a picture. Notice especially the toe of my left boot.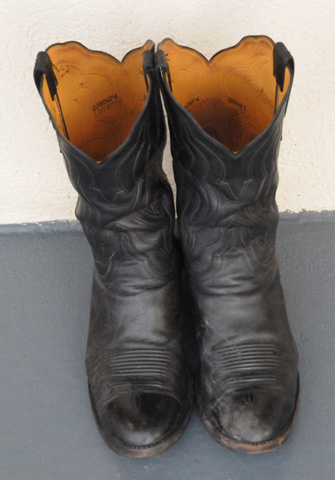 Now some riders will say that's from shifting. No, I have a heel-toe shifter, my toe never goes under the shifter. Anyway, I don't know what they will look like after I polish them. I don't think they will ever be the same.
I rode 467 miles today. I wanted to reach Valdosta which is only 365 miles from North Palm Beach. I have 430 miles left. Hopefully I will get back to North Palm Beach tomorrow. And for still another time on this ride, I have stopped early because of rain.
Time to talk about the weather. There is a stationary front that runs from Louisiana to South Carolina. It is causing rain all across that line. I can't get home without going through it. And it will be there for the next several days. I don't like riding in rain, as I have told you, but I will do it. Like in Wyoming, about 160 or so miles non-stop. So I have to ride through the rain of this front. I expected to hit rain about Atlanta, or not long after. I made it to Atlanta with no rain. Looking at my NOAA Weather Radar app, I saw that I would be OK running south from Atlanta to at least Macon. But it was not to be. About 30 miles north of the turnoff to the Macon bypass, the sky was getting dark to the east. Then all of a sudden about 18 miles north of the turnoff the sky south of me started turning dark. At 17 miles north of the turnoff, I was in rain. I did not have my rain gear on. I stopped under the first overpass I encountered and put on the rain gear. I knew there was a rest area one mile before the turnoff, and planned to stop there and check radar. I did not check radar under the overpass. So I started to ride those 16 miles and soon there was a bright flash followed very quickly by a clap of thunder. Uh oh. I am in a thunderstorm. I don't do thunderstorms. You can have very significant gusts of wind, enough to blow you over, and you can get fried. Neither appeals to me. I continued to ride those 16 miles only to find that the rest area was closed. I continued, encountered another bright flash and clap of thunder, took the turnoff and stopped under the first overpass. This time I wanted to check radar and see what the situation was. Here's what I saw: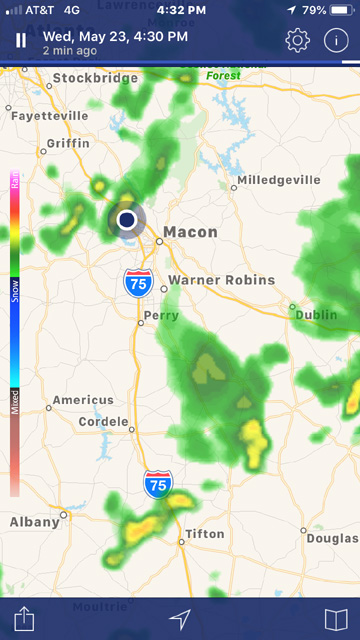 This was only a small cell, I was mostly through it. So I continued and stopped a few miles later, after the rain was completely gone, to decide my next steps. As you can see in the radar picture, it looked like I could get most of the way down I-75 to Tifton, and maybe by the time I got there the rain north of Tifton would be gone.
Again, it was not to be. I stopped on the shoulder of I-75 at Cordele, which you can see in the radar picture above, and saw that the rain was still there north of Tifton. The sky did not look that bad.
Then I stopped on the shoulder again at Ashburn because the sky was getting dark ahead, and here's what I saw: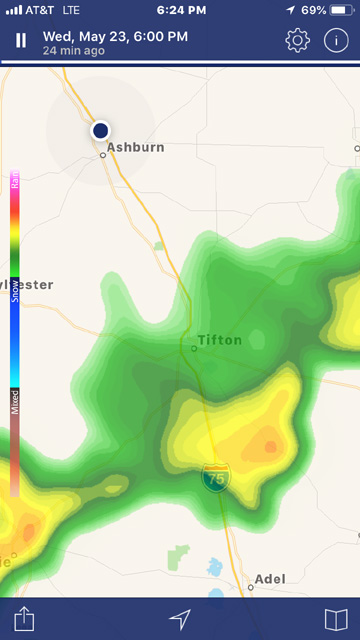 I decided that I would stop in Ashburn, and that's where I am right now, just a few hundred feet from the World's Largest Peanut Monument.
---
24 May 2018, 7:15 PM ET, North Palm Beach, FL
My day began quite early. The picture above was taken at 4:30 AM. I woke up at 3:00 AM and went back to sleep. I awoke again about 3:50 AM. Maybe I had had enough sleep. Probably not, but I was awake. I thought about going back to sleep, but then a sudden thought hit me. Maybe I should get up now and get on the road. There is supposed to be rain everywhere around me today, but maybe now is a good time. I checked my trusty iPhone weather app. No rain in Ashburn. None in Tifton. None in Northern Florida. I checked my NOAA Weather Radar app. Looked good.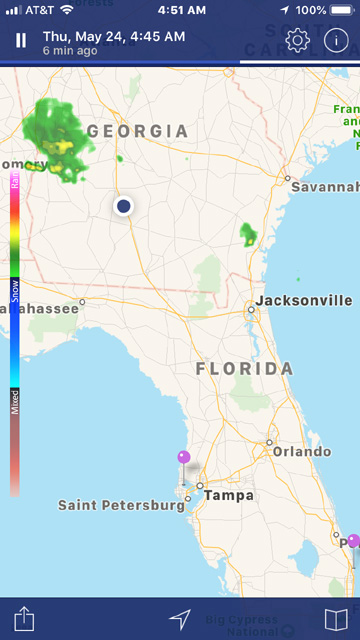 Looking at individual cities on the iPhone weather app, about 9:00 AM there is rain everywhere. If I could get on the road by 5:00 AM, I would be well into Florida by 9:00 AM. So that's what I did. The picture above was at my hotel in Ashburn. You can see my trusty steed under the portico. You may have to look hard, but it is there.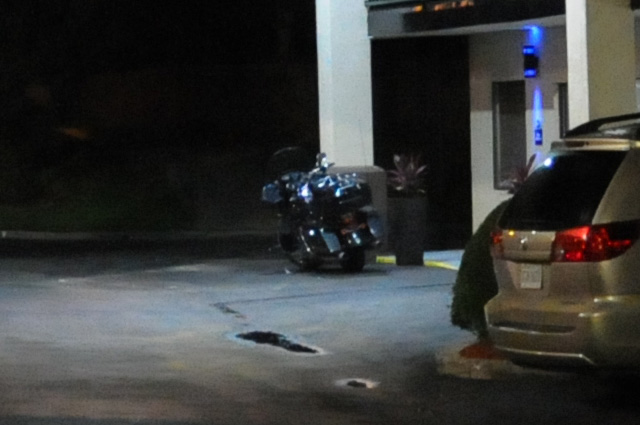 My ride today was 440 miles. I was expecting it to be about 430 miles. My total ride was 8,137.2 miles. My original plan was for the ride to be 21 days and 8,000 miles. It was exactly 21 days.
I was in Florida before sunrise. Here's the Florida Welcome sign.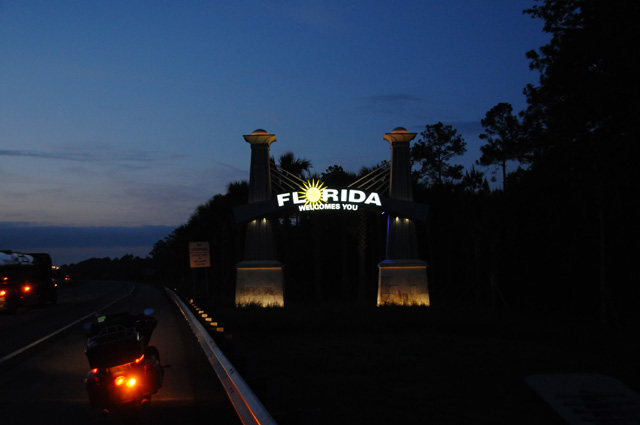 You can ignore that white sign just to the left, between my bike and the Welcome sign. Maybe I will show you the sign a bit better. Here it is.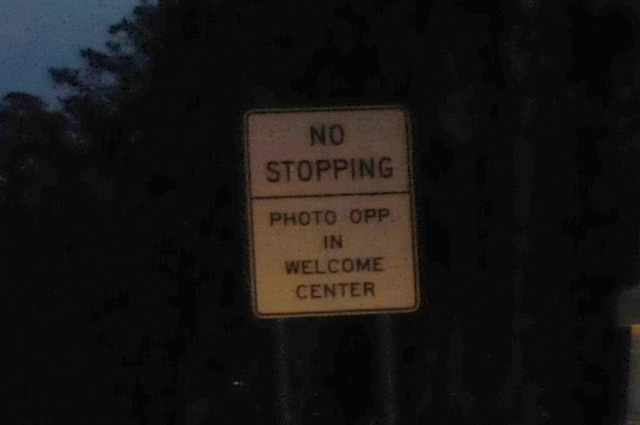 I was unable to read the sign, it was so dark. It was only later when I put this picture into Photoshop that I realized what it said. Had I know that at the time, I would have ridden into the Welcome Center a mile down the road and used the Welcome Center's Photo Opp.
Be that as it may, I kept riding until sunrise. And what a nice sunrise it was.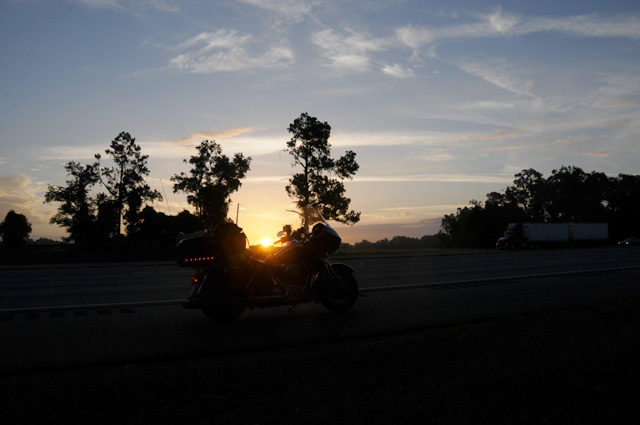 The weather was extremely cooperative. I wore my gaiters all day, but I did not need them. Better to be prepared, though, I thought. I did not wear my rain jacket all day. I departed Ashburn at 5:00 AM and arrived in North Palm Beach at 1:30 PM. I did run through three different brief rain showers. I had spritzing rain many times, but not enough to bother me.
I kept track of rain showers all day with my NOAA Weather Radar app. They were around, just not where I was. My plan of leaving early worked perfectly. Later, there was rain in Ashburn. Later, there was rain along the Florida Turnpike. I was simply ahead of it. Here's the radar shortly after I got home.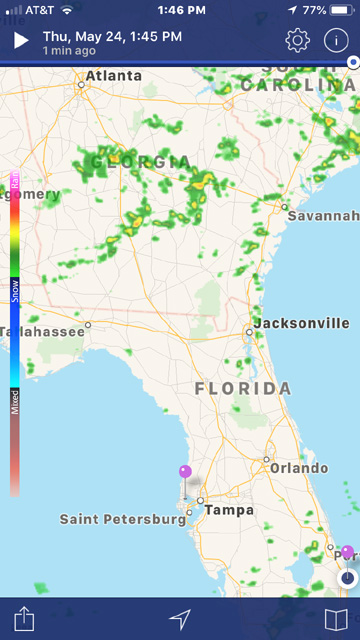 I had a wonderful welcome when I got home. Doris, Hanna's daughter, had put welcome balloons on my F-150.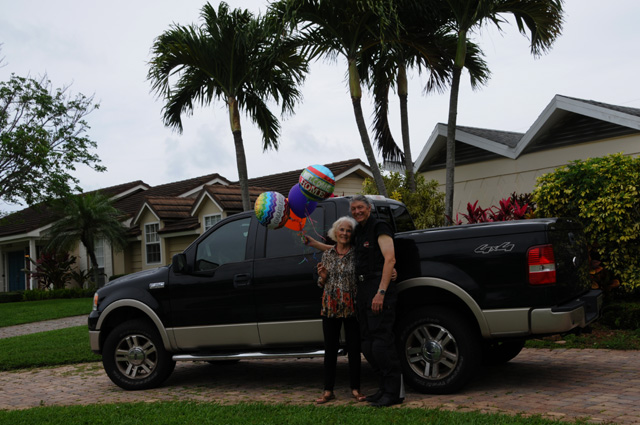 Doris spent the entire three weeks with Hanna while I was gone. Here's Hanna and Doris welcoming the Road Warrier home upon his return.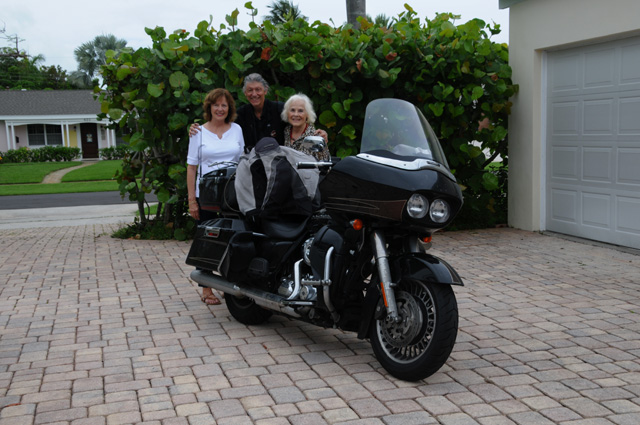 That's my story for today. But please come back tomorrow. I will give you my wrap-up of this ride. Plus other thoughts.
---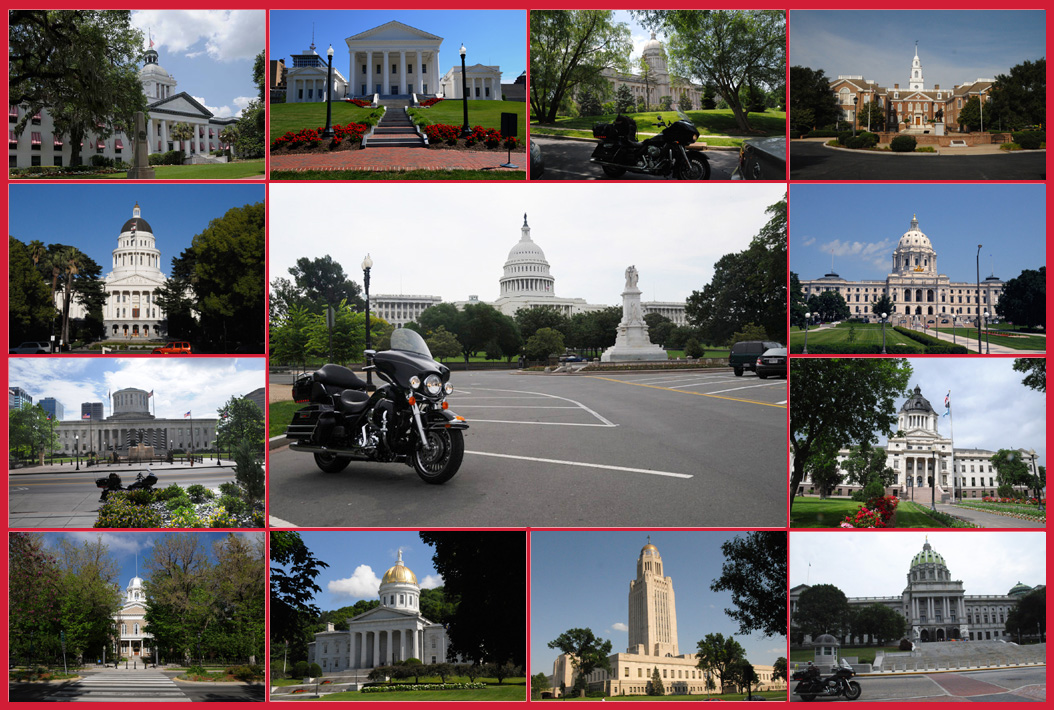 25 May 2018
Wrap Up
I had called this ride my "Capitol Wrap-Up Motorcycle Ride", but I have decided to give it a different name. I now call it my "Wrap-Up Motorcycle Ride". I will explain that in detail later. But first, I would like to do a wrap up of this ride, plus talk about my other rides.
My Wrap-Up Ride was planned in 2015 immediately after my Northwest Territory Ride, to be done in 2016. As I have explained already, I was unable to do it in 2016 and then again I was unable to do it in 2017. Now I have done it. I had been taking pictures of all the Lower 48 US State Capitols on motorcycle rides, there were three remaining, and I got them on this ride, Phoenix Arizona, Boise Idaho, and Denver Colorado. You can see my collection at http://rhopkins.us/uscaps/index.htm.
I started taking pictures of state Capitols on my Route 66 Ride, ten years ago. I did not know at the time that I would extend it to all of the Lower 48. It was two or three rides later that it occurred to me that I should do that. My earlier goal was to ride through all the Lower 48 states. I completed that with my US Northeast Ride in 2014
Let me explain the history of my motorcycle ride travelogues. They began by my simply putting pictures that I took on a ride on my web site so my family could see what I was doing. On my Route 66 Ride, it blossomed into a real travelogue. The Route 66 travelogue was done, also, for my family. But as the ride progressed, other riders on the AMA Route 66 tour learned what I was doing, and told their families to check my travelogue so they could see what was happening. It grew from that. People could find my Route 66 travelogue by doing a Google search for "Route 66". Over time, many others have followed me on my rides, and I have written the travelogues for the public, not just my family.
Let me compare my rides. Here's a list of the rides, and some comparisons. They are listed by date, and keep in mind that the first rides are mostly just pictures. Most of the rides were solo. Route 66 was an exception, I signed up for an AMA ride, there were about 15 other bikes. The Natchez Trace Ride was with Hanna and Doris and Bentley and three dogs, they were in a van. We did not ride/drive together most of the time, but we did meet up for dinner every day. On my US Northeast ride, I met up with Kurt, one of the Route 66 bikers, for seven days of riding, from Maine through Canada to Pennsylvania.
Ride
Miles
Days
Miles Per Day
Gallons
MPG
Lake Tahoe Ride
1,000
5
200
-
-
Death Valley Ride
650
2
325
-
-
US Southwest Ride
2,734
6
456
-
-
Route 66 Ride
9,266
35
265
222.9
41.6
Blue Ridge Ride
3,140
17
185
72.7
43.3
Natchez Trace Ride
2,910
11
265
70.0
41.6
US-50 Ride
8,342
25
334
195.7
42.6
US Northwest Ride
11,016
31
355
252.1
43.7
US Northeast Ride
6,410
25
256
147.9
43.3
Northwest Territory Ride
6,117
23
266
146.4
41.8
Wrap-Up Ride
8,137
21
387
195.5
41.6
Total
59,722
201
Ave = 297
That's a total of 201 days, almost 29 weeks, more than half a year. And a total mileage of almost 60,000 miles. I am surprised how consistent my fuel mileage has been, 41.6 mpg was the lowest and 43.7 mpg was the highest. I am surprised how high my daily mileage average was on the US Southwest Ride, 456 miles per day! With that one exception, my daily mileage on my Wrap-Up Ride was the highest of all the rides. That shows I have still have stamina! I estimate my total motorcycle mileage to be more than 125,000 miles.
Here's a map showing all my rides. Click on the map for a full resolution copy.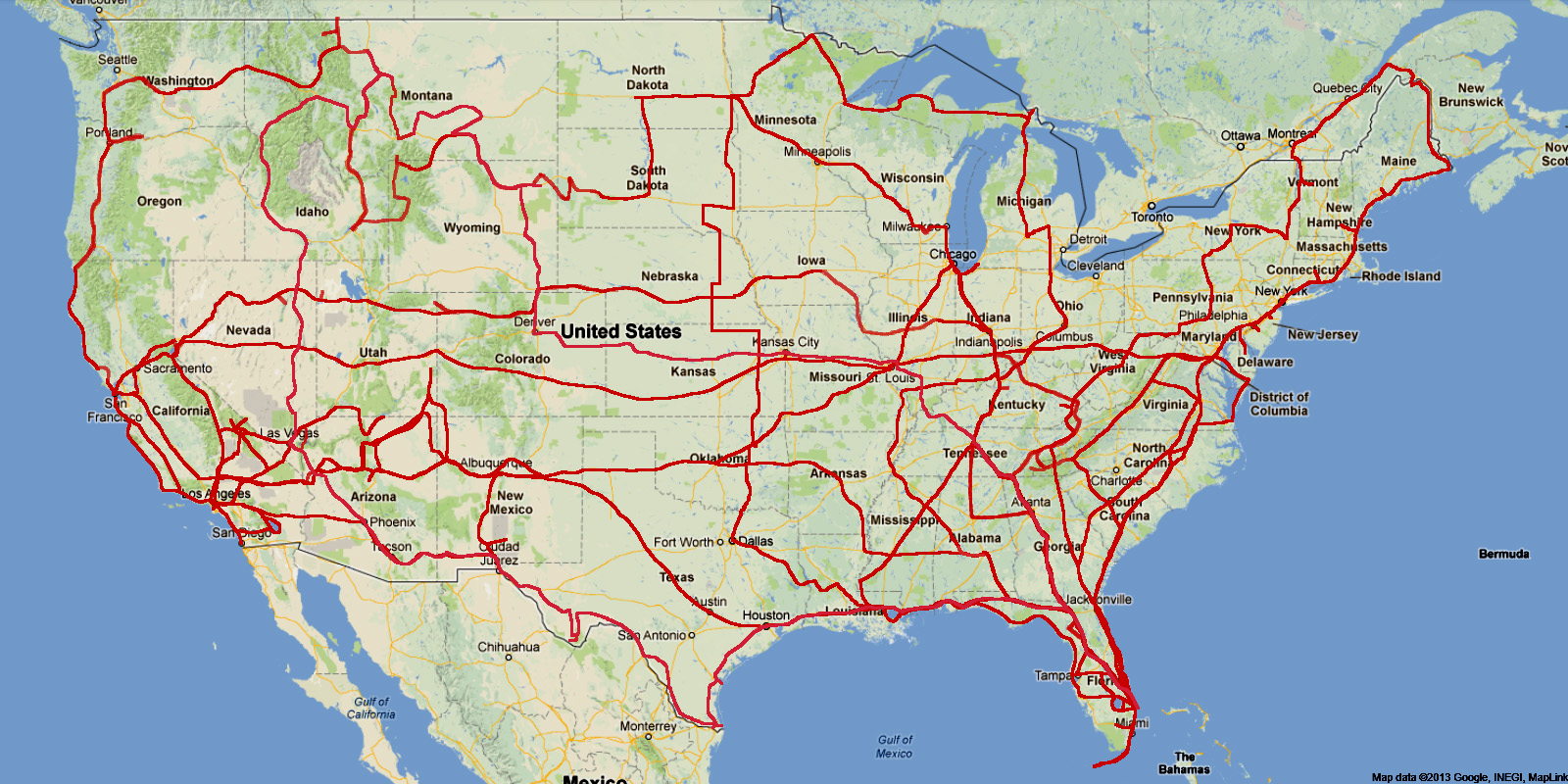 There were some other rides in California that I do not have enough information today to put together a travelogue. They are included in the map, though. Hanna and I visited all 21 of the California Missions, all but a couple were on the motorcycle. One of the rides was to several Missions and lasted a few days. Again, at that time I was not keeping sufficient records to make a travelogue today.
My Wrap-Up Ride was planned to take 21 days, an aggressive schedule, and to be about 8,000 miles. I did it in 21 days, and it was 8,137 miles. This was not my shortest or longest ride in total days. It was not the shortest or longest ride in total miles.
Here are some of my thoughts from my Wrap-Up Ride. Texas is big. I spent 5 nights in Texas, that's exactly 1/4 of my nights on the road. There were 4 days where I was in the desert. The first part was low elevation desert, that's where I had the dust storm. The second part was higher elevation desert, that's where I had my first rain, and it was a cold rain. Montana was pretty, as I reported on my US Northwest Ride, but this time I encountered a lot of road work in Montana. I think it rained most of the time I was in Wyoming and I never saw the sun in Colorado if I remember correctly. The ride home from Denver was just that, a ride home. While these are memories from the ride, I cannot say they are fond memories.
It took me a while to decide on a name for the ride, it was planned in detail before I named it. I considered naming it my "Last Ride", I even wrote that to Dean in an email on the 4th of April. I said, "I do not want to call it "Last Ride". That sounds a bit morbid." I thought about "Wrap-Up Ride" but ended up calling it "Capitol Wrap-Up Ride". But, as you read above, I have renamed it my "Wrap-Up Ride".
On the first day of this ride, I wrote: "Because I anticipate it will be difficult in the future to do such a big ride, I am treating this ride as if it is my last Transcontinental Ride. If I can do another in the future, Great. If it does not work out, so be it."
I thought it might be my last ride, and that has been confirmed during the ride. The days in Montana and Wyoming were especially difficult and frustrating for me. The road construction. The never-ending rain. That's when I fully accepted that this was my last ride. That's basically the reason I decided to go east from Denver after taking pictures of the Colorado Capitol instead of south through the mountains in Colorado and the deserts of New Mexico and Texas. It was over. I was ready to go home.
I have felt this way for a couple of years. I was unable to do a ride in 2016 and 2017. There were reasons, but I did not push to find a solution. I was slow to decide to do the ride this year, but I kept thinking if I don't do it now, I might never do it. I am aware that some of my riding skills are not what they used to be. I am fine on the highway. I am fine in the rain on the highway. In fact, I rode in more rain on this ride than ever before. It is starting and stopping that have become more difficult for me. I don't have the standing still balance I used to have. The bike is heavy, about 900 pounds, and it is mandatory to keep it straight up when standing still. It is not as easy for me as it used to be, I don't know why. Maybe my muscle mass had decreased such that I notice the difference, it used to be easy, now it is not. It's like I have to keep it even more straight up than ever before. My knees are not what they used to be. Maybe that is part of it. My own balance is not as good as it used to be. Maybe that is part of it. I am 75 now. Maybe that is part of it. My slow riding has gotten worse. You will see me walking my bike into a parking space now, not riding it into the parking space. I have become much more cautious. I believe this is not unusual, and perhaps that is part of the reason you see riders transition to a trike. I am not interested in a trike. If I cannot ride a bike with the skills I expect of myself, it is time for me to stop riding.
And so, my dear Readers, I have decided it is time for me to
take off my spurs, hang up my helmet, and put my horse out to pasture.
Dr Bob out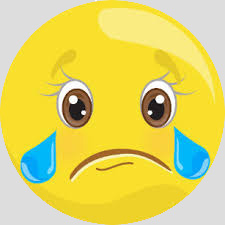 ---