---
15 April 2015, North Palm Beach, FL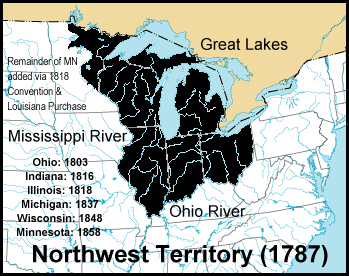 I have zeroed in on what my next ride will be. I had decided to call it my "Northwest Territory Ride", but then I decided that since nobody seems to know what the Northwest Territory is, or was, that it would be a mistake. Do you know what the Northwest Territory is? Look up above and you will see. When I was a school kid in Indiana, this was well covered in my "Indiana History" text book. If you want to know more, you can Google "Northwest Territory".
So, then I decided to call it my "Upper Peninsula Ride". I will be riding through the Michigan Upper Peninsula, it is my greatest distance from home, where I turn around and head back, and I think most people have heard of the Upper Peninsula.
I even prepared this page with the "Upper Peninsula" name, but then I decided I was going to call the ride what I wanted to in the first place, even if nobody but me knows what it means. If you have read to this point, you now know what the Northwest Territory is. So, welcome to my Northwest Territory Ride. I will be riding through every one of the Northwest Territory states, Ohio, Indiana, Illinois, Michigan, and Wisconsin. (Actually, a corner of Minnesota was in the Northwest Territory, but I probably will not ride through any of that portion. But, who knows, I often change my mind during a ride so don't be surprised if I take a side trip into that portion of Minnesota.)
Some of the key things I want to do on this ride are to ride through Memphis because I have never done that, to make good on my promise to award chocolate shakes to the two winners of the "Number of Traffic Lights on US1" contest last year, to get a picture of the Ohio Capitol, the Michigan Capitol, and the Kansas Capitol, to visit family in Indianapolis and Louisville, to ride through Dallas, and to have coffee and beignets at Cafe Du Monde. And, to see the Upper Peninsula.
The planned route is shown below.The rough distance is 5000 miles, and I have targeted possible overnight stops with the arrowheads.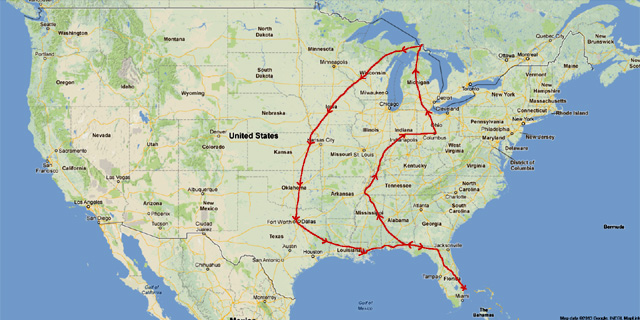 My current plan is to leave home on May 12, 2015. The ride will be about 2 1/2 to 3 weeks long. I plan to ride Interstates in Florida until I head north into Alabama, and then regular roads until I hit I-10 on my way back home.
In case you did not know, I have been riding my motorcycle through state capitol cities to take pictures of the capitols. You can see my collection at US Capitols. I will add three more on this ride, Ohio, Michigan, and Kansas. That will make me three short of getting all of the "Lower 48".
I will do this ride like I have done others, by posting pictures and text every day of the ride. Each day of my journey will be a separate page shown on the menu at the left. You can start at the beginning by selecting the first day, or at the end by selecting the last day. Or, you can have the entire trip on a single page (a long page) by selecting "Single Page". I won't put together the single page until the ride is complete. The little arrows at the top corners and bottom corners of each page will take you to the previous or next page. The map shown near the top of the menu on the left will be updated daily to show my actual track; the small blue bars show where I spent each night; the big blue arrow shows where I am. Any time you go to my travelogue, it will open on my most recent day.
If you are interested in my other motorcycle travelogues, go to the bottom of my home page at http://rhopkins.us/. The map below shows where I will have ridden my motorcycle by the time this ride is complete. You can click on the maps to have a more detailed view.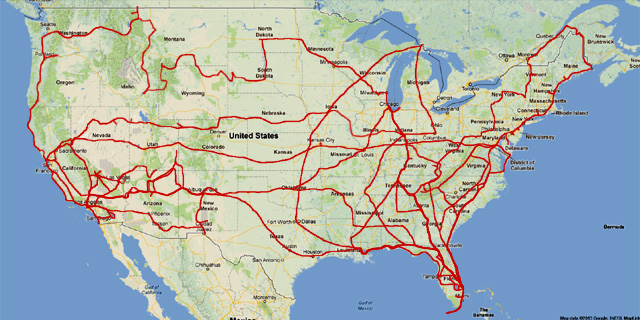 ---
NOTE: 11 May 2015, 8:30 PM ET, North Palm Beach, FL
My Northwest Territory Ride will be delayed one week due to a death in the family. I now expect to start my ride on the 19th of May instead of the 12th of May.
Nonetheless, I will be in Indianapolis on the 16th of May. If I had been on my ride I would have been there on the 16th, but on my bike. Instead I will be in my car, or should I say my cage, a Ford F-150. The significance of this to my ride is that I will be awarding the two chocolate shakes to the two winners of the US1 Traffic Light Count Contest. See the Wrap UP of my US Northeast Ride. I will make an entry to my Northwest Territory Travelogue on the 16th, even though I will not have riden my bike even one mile.
So, come visit me again on the 16th and then follow me daily starting on the 19th.
---
16 May 2015, 11:45 PM, Indianapolis, IN
Earlier this week Hanna and Maggie and I drove my F-150 from North Palm Beach to Pikeville Kentucky. As you can read on my Intro page, we were there for a funeral. I had planned to start my Nortwest Territory Ride on May 12, but I postponed it to start on May 19. I decided to keep two engagements, however, that I had already set up for today, so we drove my F-150 on to Indianapolis. At Noon, I fulfilled my promise to buy a chocolate shake for Dean and for Phil, the two winners of my contest last year for the closest guess to the number of traffic lights on Highway US-1. Here we are, at our table at Zaharakos Ice Cream Parlor and Museum in Columbus Indiana.
At the table, clockwise from the left, are my brother Johnny, my brother Larry, Dean, Phil, Gary -- a friend from my childhood days -- and me.
I have to tell you a little about Zaharakos. First off, I can highly recommend it if you are feeling a little hungry for a chocolate shake (or a banana split as brother Johnny had, or a tenderloin sandwich as I had), or whatever you find on their menu that turns you on.
Here's the front of Zaharakos on Washington Street.
This is inside the Ice Cream Parlor. You can see one of their antique mechanical musical instruments in the center at the back. And yes, it works. Phil made a video of it in action.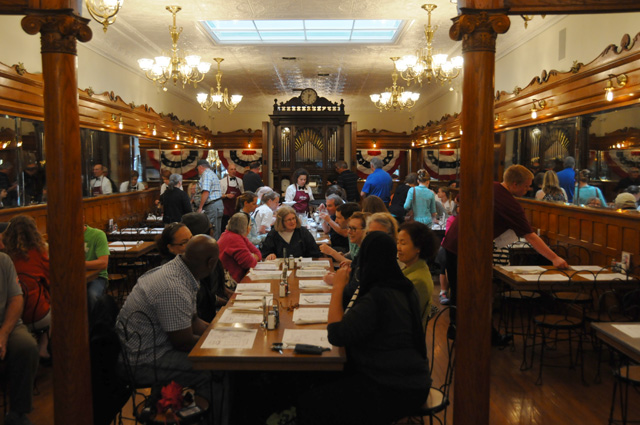 Here are some of the items in the Museum. Their collection includes mechanical musical instruments, fountain dispensers, and other items you would find in an ice cream parlor 100 years ago.
I wish to express thanks to Ken for giving us a tour of the upstairs portion of the building, the living quarters of the Zaharakos family back in the old days.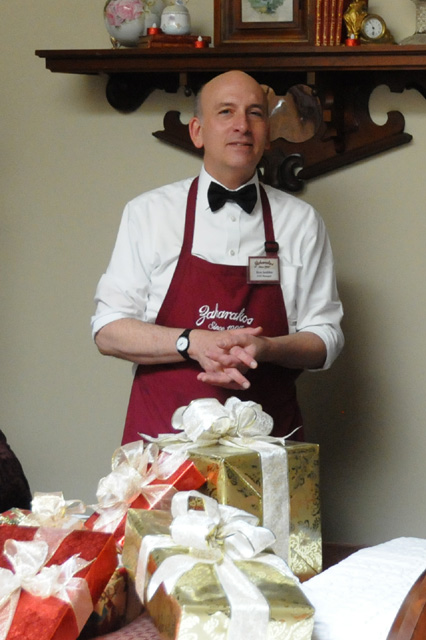 This was the family's dining room.
Eventually it was time to part ways, and time to look over the bikes that were in attendance. It was a rainy day, so Gary and Dean had to put on their rain gear before leaving. Gary is on the left, Dean is in the middle and Phil is posing next to my F-150. You didn't think I could have a page without any bikes, did you?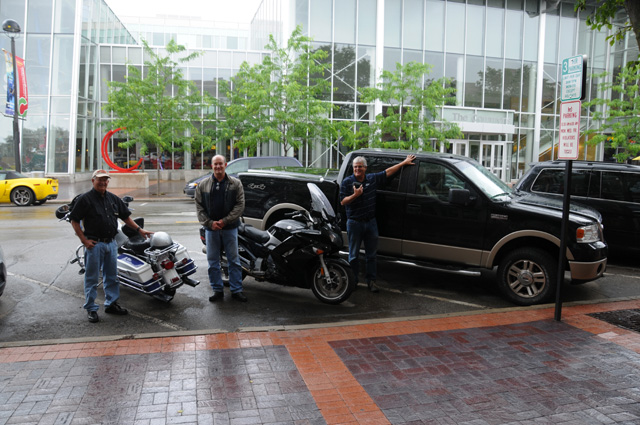 My second engagement was a dinner with my family, a tradition I have maintained for several years. When I am in town, we all do our best to get together for one meal. There were 19 of us present, actually 20 if you count Maggie, our Scottie, but she had to stay in the F-150 during dinner. After dinner we gathered to get a photo of the group. You can see all of us here, except for Rick and daughter Lily who had to leave earlier.
From the left you see Kelly, Hanna, Justin, Spencer, Carolyn, Maggie, Amanda, Larry, Carson, Duncan, Stephanie, Johnny, Olivia, Karen, Jessica, me, Bonita, and Wayne.
That's it for today, over the next two days I will be driving the F-150 back to North Palm Beach, then heading out the next day, Tuesday the 19th, on my Northwest Territory Ride. Please join me then for whatever adventure comes my way.
---
19 May 2015, North Palm Beach, FL
I have decided to delay my Northwest Territory Ride one more day. I have done too much driving (in my F-150) in the past few days, I need a day off. I will leave on my Harley Ride Glide Ultra on Wednesday the 20th of May. I think this is for real.
I drove 645 miles on Monday the 17th and 515 on Tuesday the 18th and I want to rest for a day. Plus I drove another 1,300 or so on Tuesday, Wednesday, and Friday last week. I think I deserve a day off.
I also am considering a small change in my Ride. I may go clockwise rather than counter-clockwise, going to Texas and Kansas first, rather than Memphis and Indianapolis first. I may not decide that until I have reached the westernmost parts of Florida on the 20th. And, the odds favor my riding through Duluth and International Falls.
So come back tomorrow and we'll talk some more.
---
20 May 2015, 11:59 PM ET, Madison, FL
Today I started my Northwest Territory Ride. I had planned to ride 500 to 600 miles, arriving in the western part of Florida, somewhere between Panama City and Pensacola. It did not work out that way. I only got 360.5 miles, I am in Madison, FL, not even to Tallahassee. More about that later.
I got off at a good time this morning, a little after 9 AM. Hanna and Maggie saw me off. Maggie was dressed in black this morning (a Scottish Terrier) to match me, and you can hardly see her. But there she is in my arms with a red collar.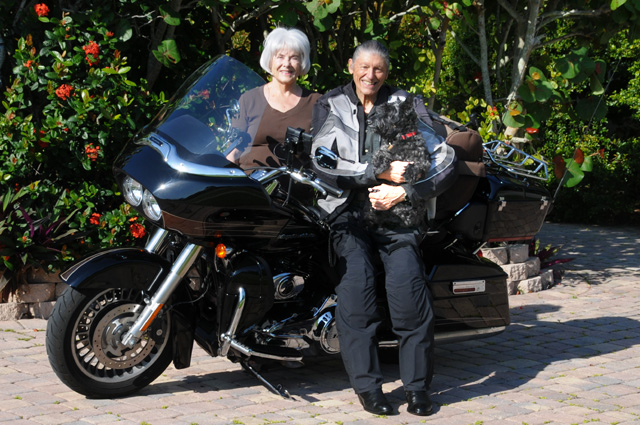 I went up the Florida Turnpike, and had to stop to show you the name of this town.
Hanna and I often go through Yeehaw Junction, on the way to Lakeland or Clearwater, several times a year. I just thought you would get a kick out of the name of this very little town.
The turnpike ends when it hits I-75. I often stop at the exit at the intersection. If I am on my bike, I need gas. This is about 210 miles from home. I decided to have lunch here, at the Hess Gas Station / Steak 'n Shake. You should know that I saw Dean on Saturday (if you have not read the earlier parts of this travelogue, do it now, the page called "Intro" and the pages 5/16 and 5/19). Dean told me he missed reading about my chocolate shakes. If you check my earlier travelogues, you will see that I like chocolate shakes. Well, last year on my US-1 Ride, I did not have one single chocolate shake (or any other flavor for that matter). My doctor had suggested I cut down on sugar.
Well, that doesn't seem to sit well with Dean, so Dean, today I am trying to make you happy by having a chocolate shake. It may be the only one on the Ride (not counting the one on Saturday when I was sort of on my ride, but sort of not on my ride, but we'll have to see, won't we.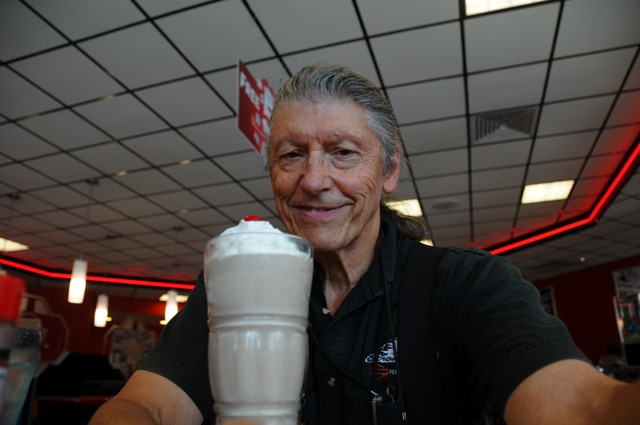 Not long after that, about 120 or 130 miles later, everything came to a stop. I was on I-10 headed west, happy as a lark, when there was a Florida Highway Patrol car on the left with flashing lights, shortly after that one on the right with flashing lights, shortly after that one on the left with flashing lights, then another one on the right where the traffic had come to a complete stop. Man, I sure wished I was in California where I could split lanes.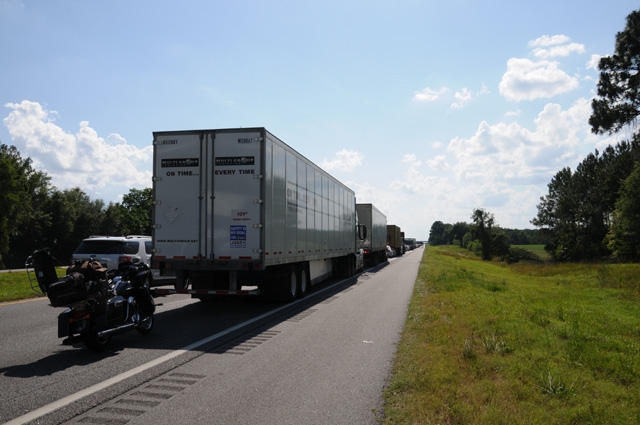 That's my bike, with the tour pack open so I could get to my camera. There was no problem leaving the bike to take the picture as the speed of the traffic at that point was about 0.0 miles per hour. About 2 1/2 hours later I had advanced about 1/4 mile. The sky was getting dark in the west. I pulled out my iPhone, opened my NOAA app, and saw that a thunderstorm was headed straight for me. Not only that, there was a severe thunderstorm alert associated with the storm. I will ride my bike in the rain, but I don't care to sit on my bike in the rain. Fortunately, I had passed under an overpass about a dozen car lengths earlier, so I turned around and rode that short distance in the wrong direction so I could park under the overpass. Within ten to fifteen minutes the skies opened up. Thunder. Lightning. Rain. Blowing rain.
About an hour later, my app showed the storm had completely moved on to bother other people, a rainbow appeared in the east, and I took off. You can see that the traffic is still at a virtual standstill.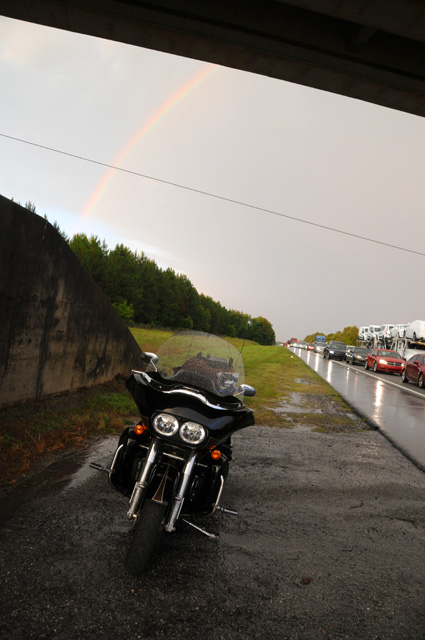 But the traffic had started moving slowly during the storm. It took me 23 minutes to go the next 2.6 miles, which was the traffic accident location. An 18-wheeler had overturned, burned, and spread its load on the roadway. Everything had been pushed off the road and was in piles on the side as I rode past. Suddenly I was running at the speed limit. I stopped 20 miles later to spend the night, about 200 miles short of where I wanted to be.
To end my writing for the day, let me point out that I have a map showing my intended route (see "Map" near the top of the menu on the left), and showing my actual location each night. If I did not follow the original intended route, I update the map to show the actual route and the future intended route. The big blue arrow shows where I am tonight. I have not decided yet if I will go clockwise (to Texas) or counter clockwise (up through Alabama and Mississippi). I will decide tomorrow based on weather forecasts.
Hope you come back tomorrow, I will leave the light on for you.
---
21 May 2015, 9:00 PM CT, Selma, AL
From a traffic point of view, today was really boring. No four hour traffic problems. Not even a one minute problem, except for some of the ridiculously long traffic light cycles. Not even a single drop of rain.
Here are my statistics for the day:
Miles: 333.7
Chocolate Shakes: Zip (In an email today Dean told me that he will sleep better tonight knowing that I had a Chocolate Shake yesterday.)
I was off about 9:30 and headed west. Because I was very close to Tallahassee, I had to run past the Capitol. If you are already familiar with my travelogues, you will know that I take pictures of Capitols. My rule is that I must take a picture, even if I have done it before, simply because I pass through a Capitol city. Here's my artistic view of the Florida Capitol. I like the old Capitol, not the new one, but this picture of the new one is better than nothing. My bike is what makes it artistic.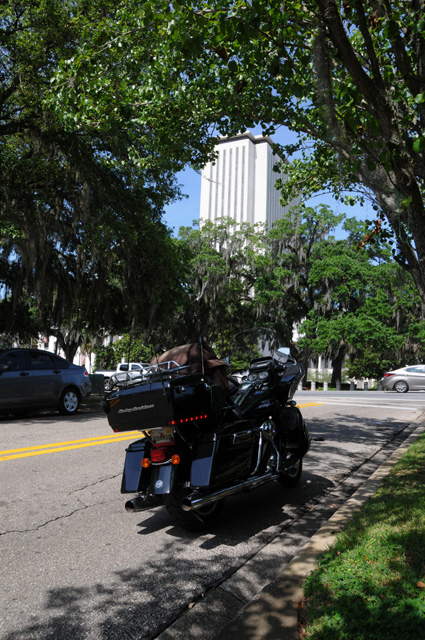 I did take a picture of the new Capitol to try to include the entire thing. It is not easy. The sun is in the wrong place, I hid it behind the building. Because of that, I had to get closer than I wanted to. Anyway, here it is in all its glory.
When I headed out this morning, I was going to New Orleans. The clockwise option. I even sent an email to Hanna saying I was going to New Orleans.
I had lunch in Marianna, Florida. I looked at my NOAA app, and the weather forecast, and saw that bad weather was headed for New Orleans, and it would get there before I would. And it would still be bad tomorrow morning. What I wanted to do was get a beignet and coffee at Cafe Du Monde. Doing that in rain is not to my liking. So, I changed my plan. I decided to head to Memphis, the anticlockwise option. (I had to do that for my European friends.)
So I climbed back on my bike and told Gladys to take me to Memphis. Who is Gladys you ask? Gladys is my GPS. I told her to not put me on Interstates, just regular roads. Two or three hours later, I found myself in Montgomery, Alabama. That had not been my plan, it was all Gladys' fault. She took me there. So, as I said before, Montgomery, being a Capitol city, I had no choice.
When you look at my map you will see a change, I was expecting to be south of Montgomery. But I hope you understand, that's where Gladys took me.
I then looked at Google Maps on my iPhone, I wondered if I was close to Selma. Well, I was, about 40 miles away. So I decided to head to Selma. You probably recognize the next picture, it was in the news a couple of months ago. This year was the 50th anniversary of the Selma march led by Dr. Martin Luther King.
Here's both sides of a sign at the bridge.
And here's a view of the lower part of the bridge. Being an engineer, but not a civil engineer, I like to look at things like this.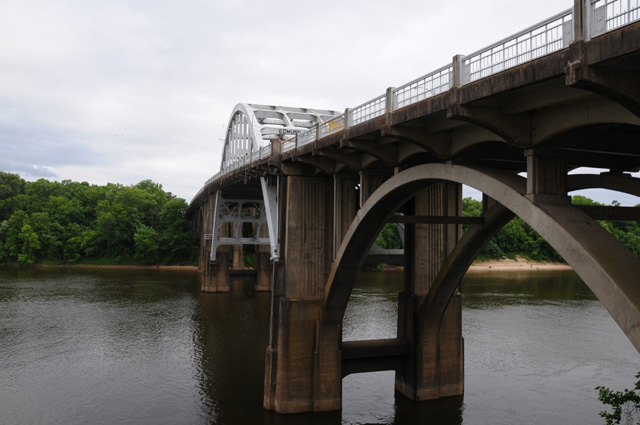 By this time it was getting late enough that I wanted to call it a day. I headed for a Quality Inn in Selma. Along the way I saw this drug store.
I had to stop and take a picture. I have not seen a Rexall Drug Store in years and years. When I was a kid, we always went to the Rexall Drug Store in Osgood, Indiana. I didn't even know that there was still a Rexall Drug Store.
That's all Folks!
---
22 May 2015, 11:00 PM CT, Memphis, TN
I'm back. I have more pictures today, some of them are here for certain people. Since I mentioned it, let me give the first example.
This picture is for Cees.
The signifigance is that this railroad crossing has no gate barrier and no flashing lights. Cees is one of my email biker friends and lives in Holland. He once asked me if it was possible that there could be such a railroad crossing in the United States. The answer is yes, and there are many of them. Seems to me that a Yield sign is a bit of an understatement. Would you not yield to a steaming locomotive? Notice also that this is another example of some yahoo parking his bike in the middle of the road to get a picture.
Today was a delightful day. Sunny all day long. Temperatures in the low 50s to start the day, in the 60s by late morning, and about 70 to end the day. I was on 2-lane roads most of the day, some of them county roads. Here's an example.
There's that yahoo again.
How did I find these roads? I told Gladys to keep me off Interstates, and take the shortest route. That meant lots of turns, probably averaging once every five miles. Also, I wanted a "straight line" route from Selma to Memphis. But, I violated that a bit after lunch. I had lunch in Columbus, Mississippi. I looked at the map on my iPhone and saw that Tupelo was not on that straight line, maybe 30 miles north, so I headed to Tupelo. Why Tupelo?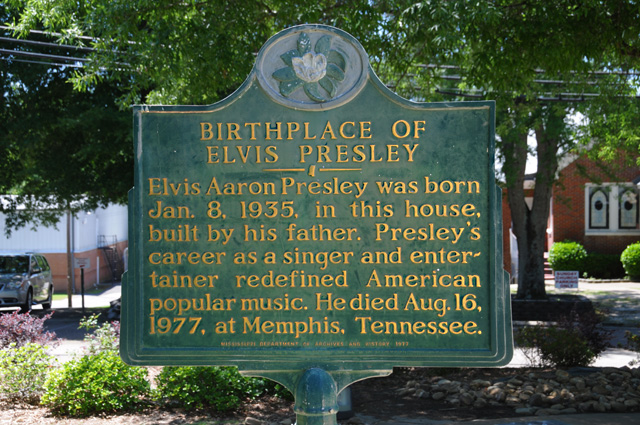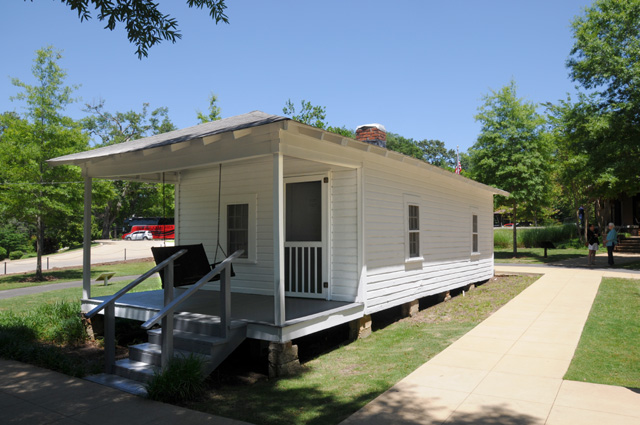 So, that dinky little house was the birthplace of the King.
That house is about the size of the house I was born in. So how come I can't sing?
The next picture is for my brother Larry. He likes classic cars, and even has some. This was Elvis' first car, I believe.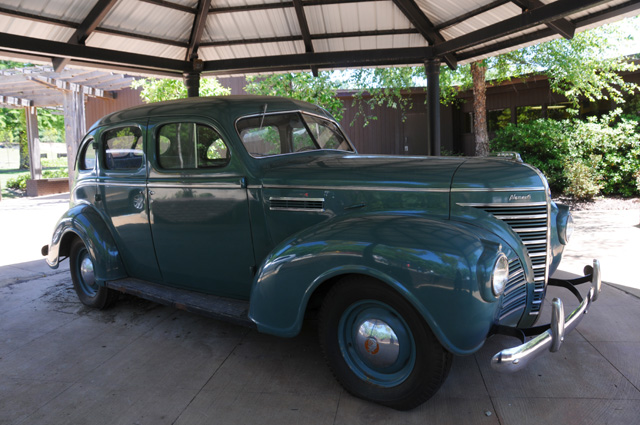 I left Tupelo and soon passed under the Natchez Trace.
Those of you who have read my travelogues will know that I did my Natchez Trace Ride in 2011. Hanna, her daughter Doris, and Doris' husband Bentley, as well as Maggie and Ripple and Bebe, joined me on the ride. While I rode the bike to Shiloh, they visited Tupelo. Since I was close to Tupelo today, I thought I would make it there myself.
After that interlude, I got back on the bike, and told Gladys to take me straight to Memphis. I did not say where in Memphis, I just said Memphis. Here's where she dropped me off. I don't know how she decided that this very spot is Memphis.
I rode the main streets, then parked the bike and walked the promenade. I was headed to a rib place.
Along that promenade is a sign.
Now I would not have put those pictures here, except for one thing. I was on the phone with Hanna as I walked past the sign and mentioned it to her. I said I wasn't inclined to do it, who knows about Piggly Wiggly, maybe some of you know about Piggly Wiggly, maybe you do not know about Piggly Wiggly. But Hanna said she knows about Piggly Wiggly and I should do it for her. So, Hanna, here's your Piggly Wiggly picture.
Did I say Piggly Wiggly enough times?
I wanted Memphis sytle barbequed ribs for dinner. So I headed to Beale Street. On a corner of Beale is this place.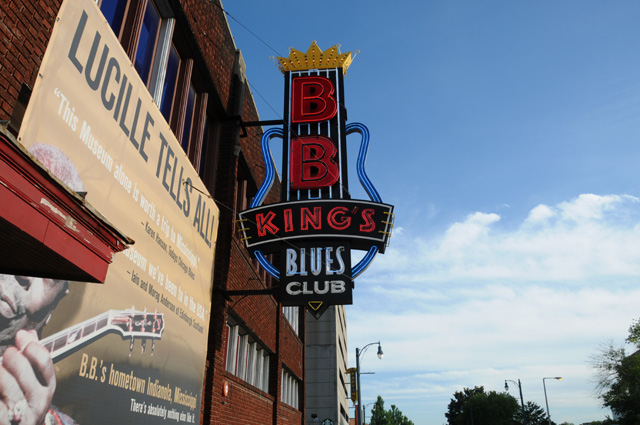 I'm sure you all know that B.B. King died recently. There are thousands and thousands of signatures on this memorial.
I ate across the street, still on Beale Street, at Blues City Cafe. I took a picture of my plate, but only after I had eaten the first rib to make sure it was suitable to show you. You see the picture, don't you? That means it was good.
Dean, I'm sorry to have to tell you that I did not have a chocolate shake today. I hope that first one lasts you a long time.
I picked up 357.6 miles today, 1,051.8 so far. I am running about 200 miles behind my tentative plan. And it was all because of that four hour problem on I-10.
---
23 May 2015, 8PM CT, Chester, IL
What an exciting day. I can hardly wait to tell you all about it. The highlight was entering the Northwest Territory. I entered crossing the Mississippi River into Illinois. I will be in the Northwest Territory for about a week, exploring all of the states of the Northwest Territory.
I rode 275.8 miles today. I had planned to make it a shorter day, timewise as well, but it did not work out that way. Much of the reason was a strange phenomenon, to me at least. I was on a road in southeastern Missouri and it seemed that everybody was having a garage sale. This went on for miles. About every quarter to half of a mile, there would be cars parked on both sides of the road and gobs of things like shirts and dresses hanging on hangers and all kinds of other stuff scattered around the lawn. I couldn't believe that anybody could have so much stuff for a garage sale. I thought I was driving through a K-Mart over and over again. I had the feeling that some Fuller-Brush-like salesman had sold merchandise to every third home and they were now trying to unload it on people driving through. The speed limit was mostly 55 mph, and I would get up to 50-55 then have to slow down to about 5-10 mph because of cars parking and unparking time after time after time. If somebody from southeastern Missouri is reading this and can explain it to me I would be very happy.
I left Memphis this morning first headed west into Arkansas, then a bit northwest, then gradually changing to northeast into Missouri. Then mostly north in Missouri until I crossed the Mississippi into Illinois. I am in Chester which is on the river, so I have just barely entered the Northwest Territory.
I didn't take that many pictures today, I didn't see much that I thought was interesting enough to show you. I did take a picture in Arkansas, it seemed to me that I needed at least one from Arkansas. The northeastern part of Arkansas seems to be primarily a farming area. The land is relatively flat. The roads are relatively straight, occasionally interupted by a chicane which seems to be there to go around a big old tree. Here's my Arkansas photo.
The southeastern part of Missouri, that little piece that sticks down into Arkansas, was pretty much the same. Flat farm land. I took a picture for you to show you what it generally looks like.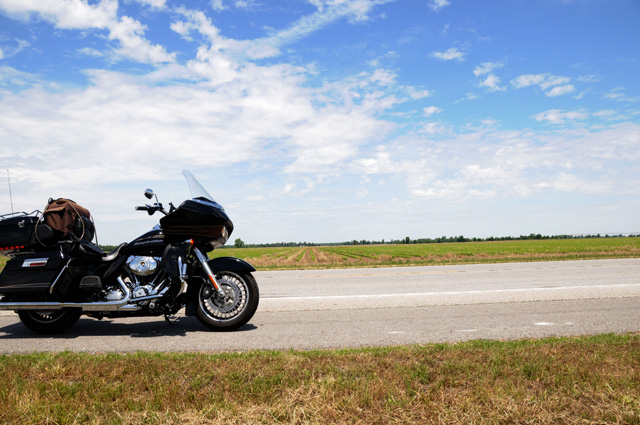 For those of you who are not all that interested in farm land, I made sure my bike was in the pictures so you would have a reason to at least glance at the picture.
My route today was not quite what I had planned at the beginning, the route that shows in my Intro. I have modified the map to show my actual route so far, and to show my anticipated route over the next day or two. My original plan was to go through Indianapolis, but I already did that in my F-150 a week ago. My plan at the moment, and that can change on the spur of the moment, is to go a bit south of Indianapolis. Earlier I thought I would go north of Indianapolis, but I have decided what I want to do tomorrow. There is a certain town that I plan to go through. But, I will not tell you right now. You will have to check back tomorrow.
For the past two days, when I have been riding mostly older country roads, I have been taken at how often a railroad is beside the road. You saw this yesterday in the picture I took for Cees showing a railroad crossing. I took another today just showing the railroad track running along the road, with a big tree in the middle of nowhere. It looks like the tree is in the middle of the railroad track, doesn't it. The constant railroad beside the road reminds me of my Route 66 Ride where there was a railroad beside Route 66 most of the time.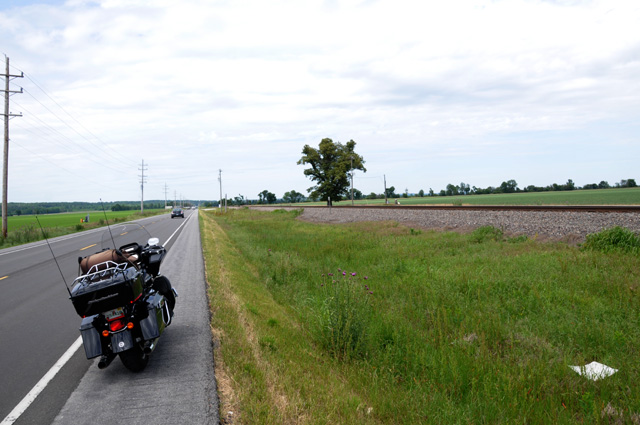 After all the farm land and garage sales, I finally entered the Northwest Territory, here's a sign that welcomed me to Illinois. I'm surprised that the sign does not mention that Illinois is part of the Northwest Territory.
Here's the bridge I crossed, I wanted to get the picture from the other side, before crossing the river, but I was unable to find a place to take a picture.
And this is the Mississippi River looking south from the Illinois side. Illinois graciously provided an area where I could take these pictures.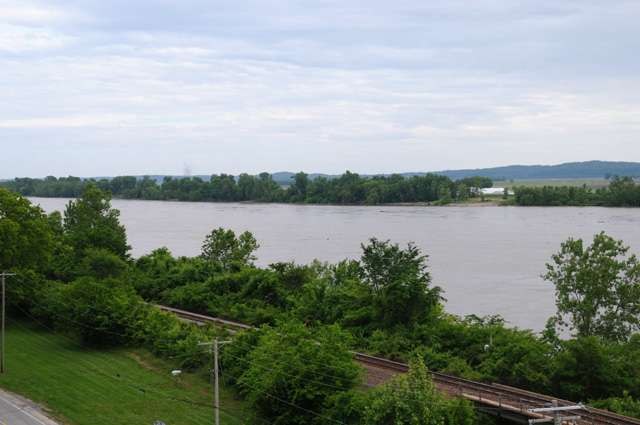 Actually, I think it was the city of Chester that provided the lookout. So, why does Chester proudly provide this spot? Here's their welcome sign, just beside the Illinois welcome sign.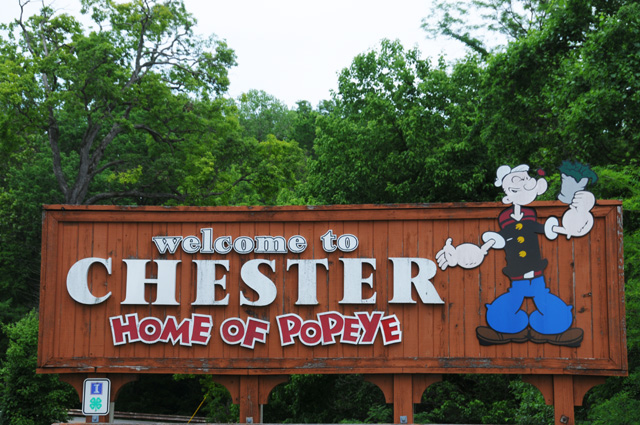 There's even a statue of Popeye, with a plaque.
Here's the plaque up close.
In the past two days, I have been at three birthplaces. Elvis. Piggly Wiggly, And now Popeye.
I wonder what's coming next!
---
24 May 2015, 11:59 PM ET, Corydon, IN
Yesterday I called the numerous garage sales in southeastern Missouri a phenomenon. Well that is indeed the case. Three of my readers have commented to me. The first was my brother Larry from Indianapolis who told me that there is a country wide garage sale about this time of year on US50, that perhaps this was part of it. Dave from north central Arkansas said massive yard sales are done in Arkansas also, with one on US64 called "64 Galore". And Dean from Indianapolis told me that it was a 100 mile long yard sale on MO25 and gave me this link for the yard sale. Thanks very much to each of you.
Yesterday I told you that I wanted to go through a certain town today, but I would not tell you the name of the town at that time, that you would have to wait a day. Nor would I tell you why. Well, look at my byline (Corydon) and you will know the town. Now some of you may understand why. For those of you who do not, you will have to wait till later in today's ramblings.
As for miles today, it was the shortest day so far, only 252.0 miles. And today I violated one of my principles. After four and a half hours of riding, I was only halfway to my destination of Corydon. I considered stopping for the day, but checked the weather and found that it might be raining tomorrow morning in Corydon. Because I wanted to take a certain picture in Corydon, I decided that it would be unacceptable to me to have to take my picture in the rain, so I decided I really had to continue. Not only that, but I had promised you something, and I must fulfill my promises. So what did I do? I got on an Interstate. In the next hour and a half, I rode the same number of miles that had taken four and a half. I must say that the two-lane roads are so much more interesting, I hated to leave them, but I felt it was necessary.
Shortly after leaving Chester, I could see the Mississippi River off to my right. I got this picture. Down among those trees runs a railroad track, but you cannot see it in this picture.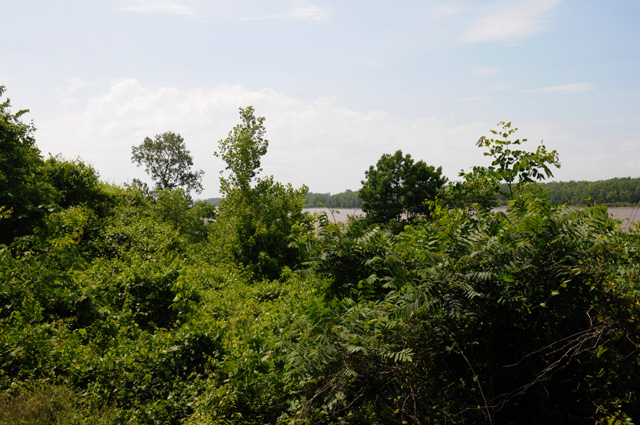 Sometime later I crossed a river, the Little Wabash River. I had to get a picture of it, because a little later I expected to get a picture of the Wabash River. The Wabash separates Illinois and Indiana. So, this is the Little Wabash.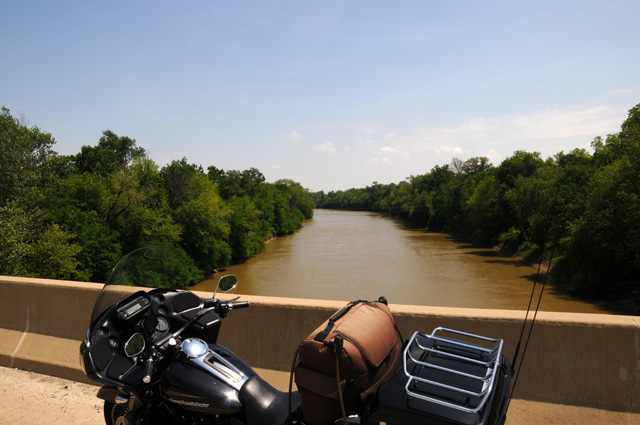 Some of the riding this morning was just delightful. The road had lots of trees on each side, just gorgeous.
What you don't see in that picture, though, is that there is farmland just beside the road hidden by these rows of trees along the road. Look at the next picture and you can see rows of corn through the trees. I thought that was really nice.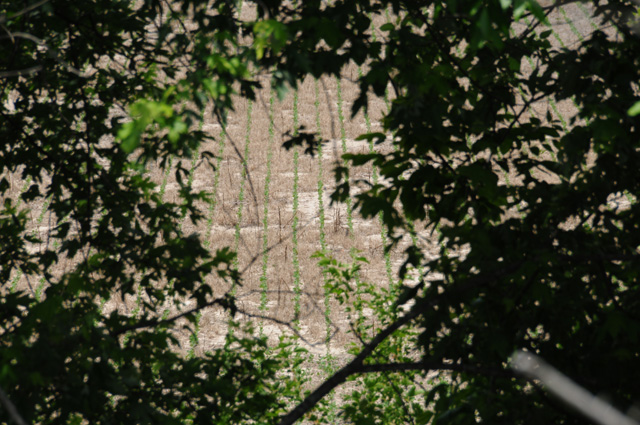 After a while I could see up ahead the bridge that crosses the Wabash. I also saw that there was no lookout point. So I stopped on the narrow shoulder to get this picture of the bridge. That's gravel right beside the bike. I don't like gravel. I am always afraid that my feet will slip on the gravel and I will drop the bike.
So I climbed back on, and rode slowly up the bridge to the top. No cars were coming from either direction, so I quickly jumped off the bike and got this picture. That's the Wabash below, Illinois on the right, and Indiana on the left.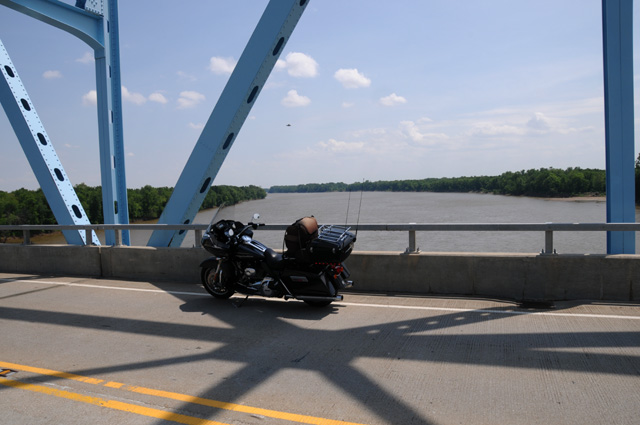 Now I am in Indiana, the second of six of the Northwest Territory states. I felt like singing "Back Home Again in Indiana".
But then I thought it would be much better to hear Jim Nabors singing "Back Home Again in Indiana". He performed at the Indy 500 from 1972 to 2014.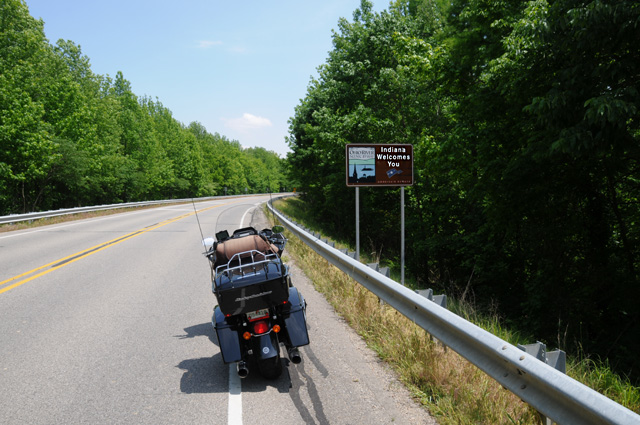 The road I was on went through Mount Vernon, and I got this picture of the Posey County courthouse. Indiana has lots of interesting courthouses.
Finally, after my stint on an Interstate, I arrived at Corydon. Now why did I want to go to Corydon? You know that I am taking pictures of capitols in the Lower 48. Sometimes I take a picture of the old capitol. You will see some of them if you check out my US Capitols page. Well, Corydon was the first State Capitol of Indiana. Here it is.
These two signs will tell you a bit more about the Corydon capitol.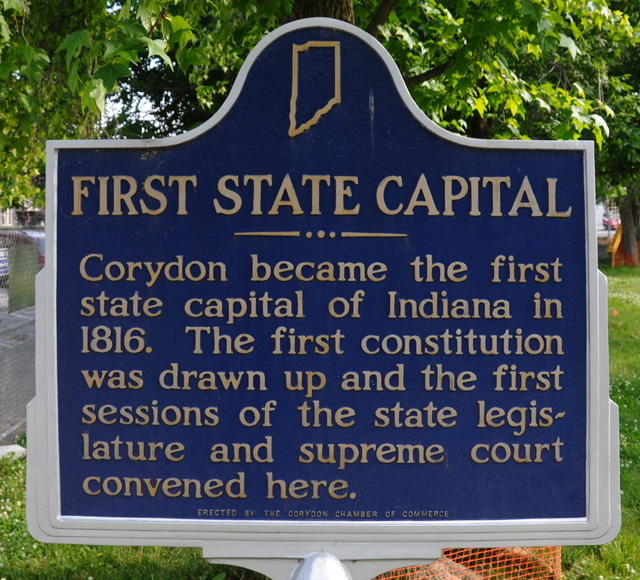 I decided to spend the night at the Kintner House Inn B&B just feet from the Capitol. It first opened in 1873.
Dee is the Innkeeper.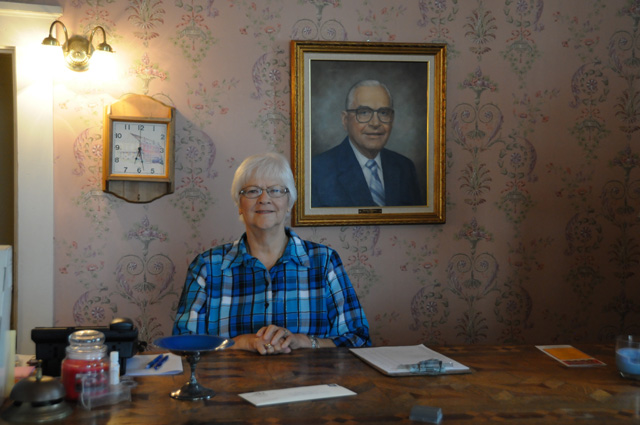 Corydon is only 25 miles or so from Louisville, so I called sister Carolyn to see if she could join me for dinner, she said yes, and a little later she and Wayne showed up, sat on the swing at the B&B, and then we went to dinner.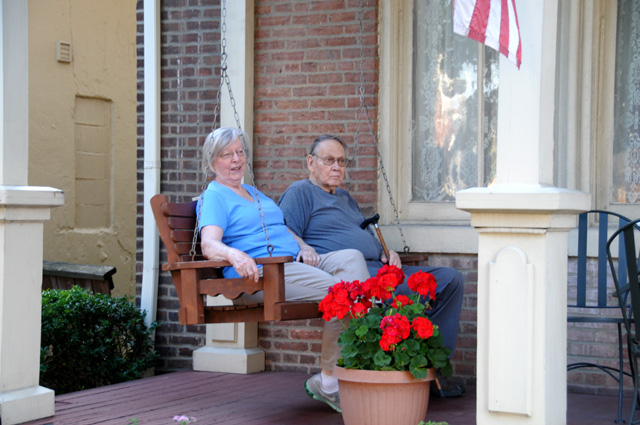 That's it for today. Bye.
---
25 May 2015, 10:00 PM ET, Jeffersonville, OH
Man, did I do something stupid today. I fried my fob. I can't even talk about it now. Maybe later.
The day started out wet. It had been raining in Corydon, just as I had predicted last night. I slept a bit later than normal (I went to bed very late), but still was up in time for breakfast. I was in a B&B, so we had a family style breakfast, about a dozen people, including newlyweds from yesterday. They will be doing a car trip through the west, including Los Angeles and Las Vegas. Breakfast was very good, and I took my time hoping the rain would go away. By 11 AM, it had stopped and I decided to hit the road. You can see from this picture that it was wet. You can see the Zip-Lock bag I have over my GPS on the left handlebar. I had on full weather gear, I expected to be in rain.
I decided to do an Interstate route today, because of the rain. If I am in rain, I would rather be on an Interstate rather than regular roads. I decided to go a longer way, north to Indianapolis, then east to Columbus Ohio. I got to the famous Exit 9 on I-65 and decided to take a coffee break and check weather radar again. Regarding the famous Exit 9, you may not recall, but my bike suffered a heart attack at that very point on my Route 66 Ride. You can read all about it here.
While sipping my latte, I looked at weather again and saw that the rain had moved a little north, and decided that it would be OK to take a more direct Interstate route to Columbus. This meant going ten miles south, across the Ohio River into Louisville, and then going northeast on I-71 through Cincinnati to Columbus.
So I headed out again, but I had taken off some of my rain gear. Within two or three miles I decided that was a mistake, so I pulled onto the shoulder and put my rain jacket back on. I still had my gaiters on. There was light rain, I call it spritzing. Just enough that hundreds of tiny bubbles roll up the windshield and fly over my head.
That all went well, spritzing on and off all the way to Cincinnati, where it stopped. I left my rain gear on, though. About 25 miles north of Cincinnati I pulled off I-71 to take off the rain gear, I decided I didn't need it any longer. And that's when tragedy struck. Actually, it had already struck, I just didn't know it.
Here's a picture of a good fob and a bad fob. If you can't tell which is which, the one on the right is the one that got fried.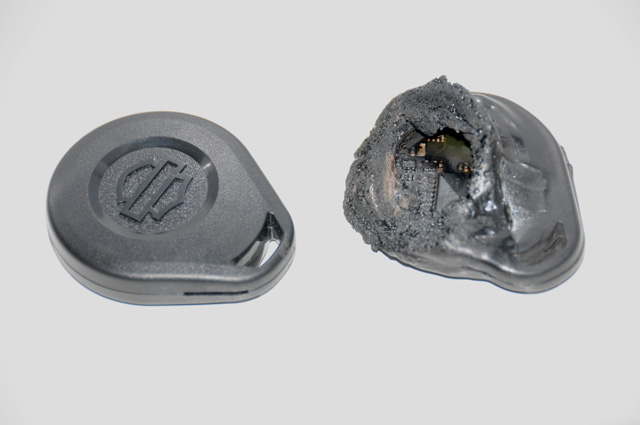 To understand my tragedy, you need to know something about the Harley fob. It is an electronic key, but there are no buttons. For the bike to work, the fob must be within a few feet of the bike. If the fob is not present and you turn on the ignition or shake the bike, a siren will blast and the electronic ignition will shut down totally. So why is that a problem for me? I don't know if the fob still works or not. If I turn off the ignition and the fob is dead, the bike will think I am a burgler and turn on the siren and shut down the ignition. If the fob is not dead, I can turn off the ignition and when I turn it back on everything is OK. But, I can't take the chance. If the fob is dead and I turn off the ignition, I am stuck right there. And today is Monday, and most Harley dealers are closed on Monday. Not only that, it is Memorial Day.
But there is a way out. If you don't have the fob you can use a five digit secret code to make the bike work. You hold down the left and right turn signals at the same time, the bike then goes into a mode where you can put in the secret code. You press the left turn signal the number of times of the first of the five secret numbers, then press the right turn signal, then press the left turn signal the number of times of the second of the five secret numbers, etc.
Great, all I have to do is check for the secret number. Long story short, I couldn't find the code with my papers and owner's manual in the bike. The code was so secret that even I did not know it.
I decided it was too risky to shut off the ignition. I called Harley Road Service. All they can do is tow me to a Harley dealer. But I can ride the bike to a Harley dealer if I don't turn off the ignition. So I gave up on getting help from Harley Road Service and started searching for Harley dealers on my GPS and my iPhone. They were all far away. What I had in mind was riding to a Harley dealer, parking the bike where I could leave it overnight if the fob was dead, turn off the ignition, then turn it back on and see what happens. If no siren, I can continue my journey. If a siren, I call a cab to take me to a hotel.
But first I have to find a Harley dealer. I went into the gas station where I had stopped, with the bike running outside unattended, and asked if anybody knew where a Harley dealer was. Would you believe it, there was a Harley dealer just one block away. I couldn't believe my luck. I headed out immediately, and can you believe it, they were open including the service department.
Let me express my greatest thanks to Chuck Steele (left) and Drew Thatcher of Powder Keg Harley-Davidson, in Mason Ohio, for rescuing me from a perilous situation. The solution was to replace the fob with a new one, that really means two new ones because my spare would become as useless as the fried fob once a new one is made. Drew also determined the secret code so that I will be prepared the next time I fry my fob.
Thanks so much Chuck and Drew.
So why did this tragedy strike me? I carry my keys on a leather strap that goes over my belt. I have had times when the snap would unsnap and my keys are held only by the friction of my belt. That is scary, and in fact, I once lost my keys (but found them again) when the strap fell off my belt. My solution is a chain that also holds the keys and fastens over a belt loop. Reduncancy. Well, what happened was that the keys were not on the leather strap. When I last used the keys to unlock the bike, I stupidly let them hang by the chain because my hands were full, and forgot to fasten them to the leather strap. They were hanging down beside the bike and the pipes fried the fob.
As you already know, I entered Ohio today, the third of the Northwest Territory. I was also in Kentucky, but that is not part of the Northwest Territory. So today I was in both of my "homes", Kentucky where I was born and Indiana where I grew up. I rode 214.1 miles and consumed not one chocolate shake.
Tomorrow I am off to Flint Michigan, assuming I don't fry my fob.
---
26 May 2015, 11:00 PM ET, Flint, MI
Let me start by giving you a picture I took a couple of days ago, but did not include. My brother Larry said that I am really missing a significant part of the history of Indiana and its first Capitol by not telling you this. The tree in this picture was quite important.
When the Indiana Constitution was being written, there was a sweltering heat wave, and the 43 delegates moved outside and continued working under this enormous elm tree. The tree died many years later of Dutch Elm disease, but its trunk was preserved as this monument. You can see the trunk inside the brick framework.
Today I passed through Columbus, Ohio, a Capitol City! One that I have not visited in the past on my motorcycle. So, I have to take a picture.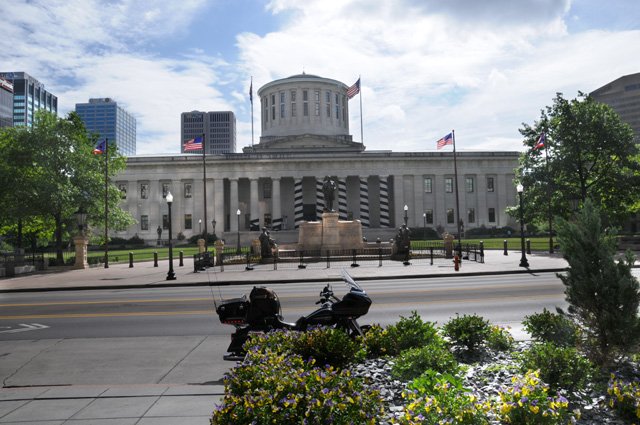 I now have 43 of the Lower 48 photographed on a motorcycle ride. I will get two more on this ride, leaving only three to be done, probably next year.
Yesterday I told you I would be in Flint, Michigan tonight. I have a number of relatives in Flint. They were all from southeastern Kentucky, a coal mining area, and they moved to Michigan, begining in 1953, to be part of the booming automobile industry.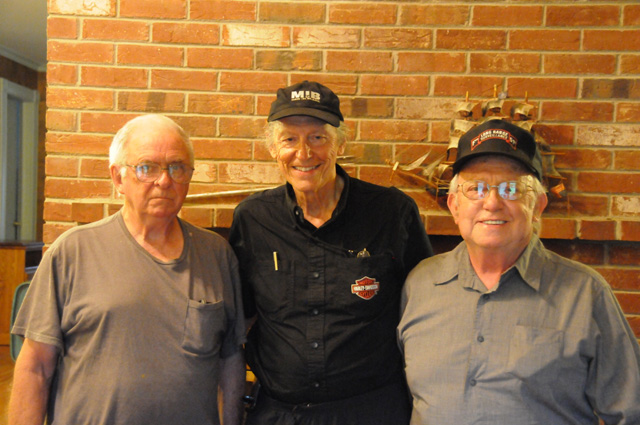 On the left is my cousin Jerry and on the right is my cousin Frank. They are first cousins, I am their first cousin once removed.
My father also was among those leaving the coal mines of southeastern Kentucky, our family moved to southeastern Indiana in 1946.
Today I rode 308.6 miles, I have gone more than 2,000 miles now, the total is 2,102.3.
Tomorrow I will visit another Capitol City, then I will have only four left to get all of the Lower 48.
---
27 May 2015, 11:59 PM, Gaylord, MI
Welcome back. I rode 262.2 miles today. Most, unfortunately, on Interstates. You should note that I use the word Interstate for any limited access roadway. Sometimes what I call an Interstate is really a US highway, but with limited access. Anyway, I started the day on non-Interstate roads, but gave that up for two reasons.
Reason one, I found the roads just too rough. Michigan needs to fix their roads. It was ka-bump, ka-bump, ka-bump, ka-bump, ka-bump, ka-bump, ka-bump, ka-bump, ka-bump, ka-bump, ka-bump, ka-bump, ad nauseum. I thought I was in a Johnny Jump-Up, something I had for my children about 45 years ago.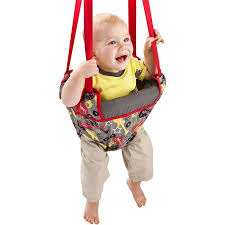 Reason two, there were thunderstorms about. In fact, there was a severe thunderstorm warning just south of Lansing, the capitol of Michigan.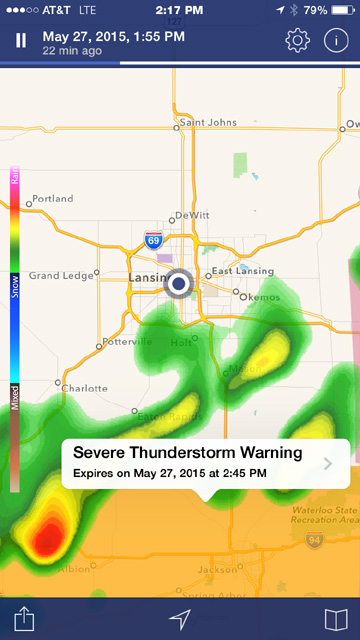 That big black dot with the surrounding circle in the middle is me. It was time to get out of Dodge.
I was about half-way between Flint and Lansing when I first looked at weather radar. Combining reason one and reason two, I decided to abandon non-Interstate travel and get to Lansing before that storm hit. It was moving toward Lansing. One storm had already passed through Lansing. I had some spritzing on my windshield on the way.
Wait a minute, I am getting ahead of myself. Let me go back to an earlier time, a couple or so hours earlier. I told my first cousin once removed Jerry, who made a fantastic pancake breakfast served with his personally made maple syrup (that means tapping the tree, boiling down the sap, etc.) that I wanted to go past a house that was very close to his, one that had significance to me. Back a number of years ago, about 60 of them, I was in this house.
My grandmother lived in this house (in Flint, Michigan). My family was visiting from Indiana. Everybody had gone out shopping, or doing something out of the house, leaving only my father and me in the house. My father was ill. While everybody else was gone, my father became increasingly ill. He told me to call an ambulance. I wasn't sure just how to do that, so I went to a house down the road and asked them to call an ambulance. Dad was taken to the hospital and spent several days there, I don't remember how long, perhaps my older sister remembers. I remember going to the hospital and looking up at the window where he was and waving to him. We children were not allowed to visit in his room. This is a picture of the hospital from about 1955, Dad's room was one of those windows up there.
But back to today. Here's Ruth and Jerry. Thanks to them I had a very good evening last night, a good night's sleep, and a fantastic breakfast this morning.
As you have already read, I was on my way to Lansing. Lansing the is the capitol of Michigan. That means I have to take a picture. Here it is.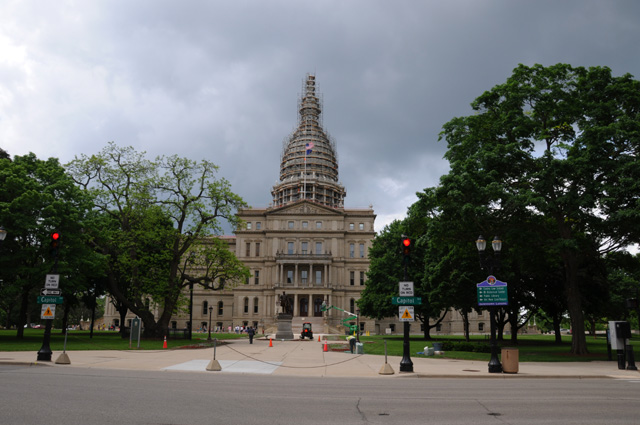 I was quite disappointed to see all that scafolding on the dome. That's two capitols now that have had scafolding when I visited, Maine last year and Michigan now. Both states start with the letter "M". You think that has anything to do with it?
After getting out of Lansing quickly, I headed to Gaylord. Along the way I spotted this windmill farm.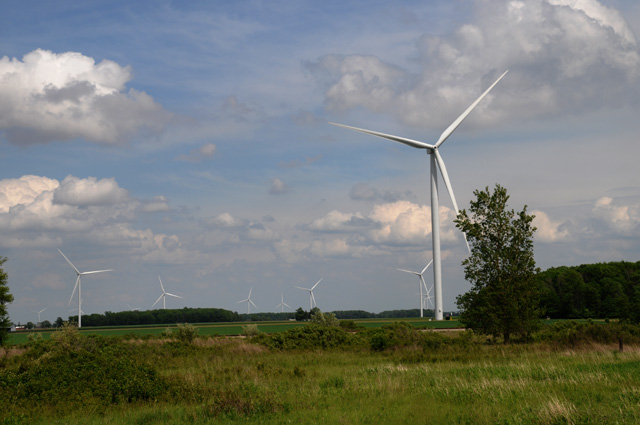 In Gaylord I wanted to visit another relative, my first cousin Genia. As I said last night, a number of my relatives left southeastern Kentucky for the Detroit area, Genia is the daughter of one of those migrants.
Here's Genia and husband Lynn checking out my bike.
The three of us headed out for dinner, but first we had to check on Clyde (black) and Skylar (blue merle), their collies. Beautiful dogs. Made me miss my Maggie.
After a long and delightful dinner, Genia and Lynn took me back to my motel, where I carefully prepared this page, and then fell asleep.
---
28 May 2015, 7:30 PM ET, Sault Ste. Marie, MI
From my byline above, you can see that I am in Sault Ste. Marie. I wanted to ride through Sault Ste. Marie because I like the name. No other reason. I wondered what the name means, so I consulted Wikipedia, and learned that it means "the Rapids of Saint Mary". The Saint Mary's River runs from Lake Superior to Lake Huron and separates the United States and Canada.Just where is Sault Ste. Marie anyway? It is, more or less, the point where Lake Huron and Lake Michigan and Lake Superior all come together (I know, they don't all come together, but give me a bit of poetic license please). Take a look at my icon picture for this ride just below. I put a big red dot where I am.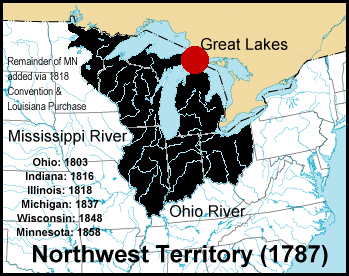 I rode fewer miles today, only 136.9. I got to bed late last night and wanted to take it easy today. The ride through the upper part of Michigan was pleasant, the land is mostly, but not completely, flat and was extremely green with lots of trees. Here's a picture from a lookout point, you can just barely see Lake Burt out there.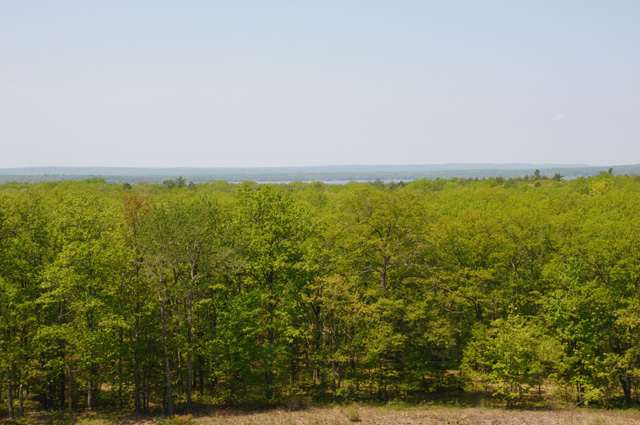 Just a few miles short of Sault Ste. Marie you cross the Mackinac Bridge.
I took that picture at the site of the Old Mackinac Point Lighthouse.
While there, I saw this bird. I am wondering if it is my bird, just aged a bit and now grey as happens to so many of us.
Riding into Sault Ste. Marie, I rode past this restaurant and just had to take a picture for my brother Larry.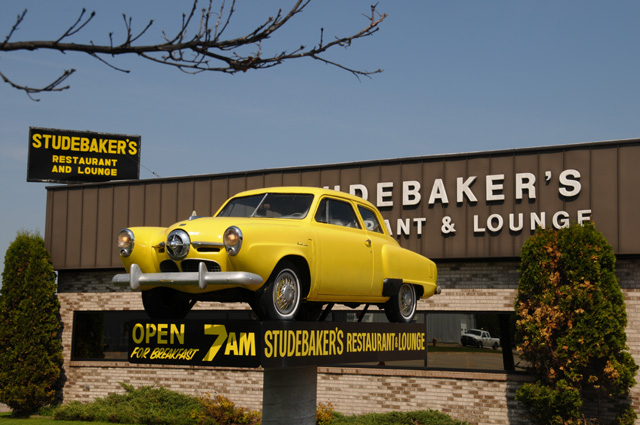 I visited the Soo Locks. There was a big freighter passing through. It was in the second channel, I wish it had been in the first channel so I could have seen it better. Here is a picture of the empty first channel looking toward Lake Superior and then looking at the empty channel toward Lake Huron.
This is a closeup picture of the freighter in the second channel, you can only see part of the freighter sticking up above the grassy area.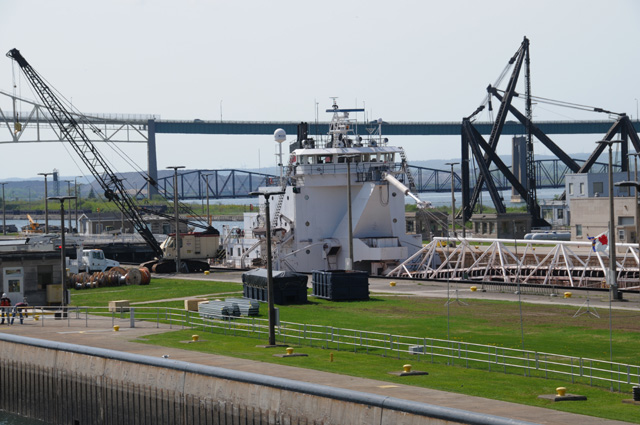 Here is the freighter after he passed through the locks. It is now in Lake Huron, 21 feet lower.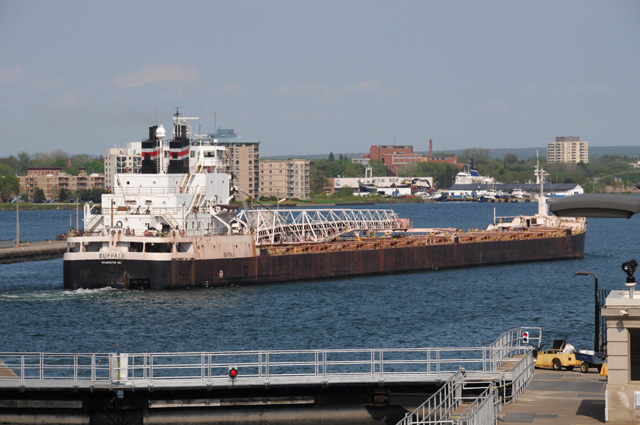 A couple of days ago something strange happened. I had left my bike for a few minutes and when I came back it was with these John Deere tractors.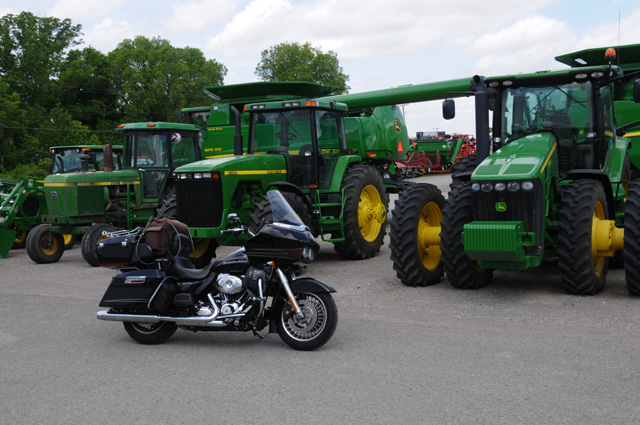 At first I did not realize what was happening, but then I could tell they were talking to each other. I was shocked. And then I suddenly realized that they speak the same language.
Just listen to this. Click on "Harley" below and you can hear what my bike was saying, then click on "John Deere" below and you can hear what the tractor was saying. Then, like me, you will realize that they do speak the same language.
&nbsp &nbsp &nbsp &nbsp &nbsp &nbsp &nbsp &nbsp &nbsp John Deere&nbsp &nbsp &nbsp &nbsp &nbsp &nbsp &nbsp &nbsp Harley
If you click on one and then soon after the other, you can hear the conversation that I heard.
You reckon you can get a John Deere in black?
---
29 May 2015, 11:00 PM ET, Sault Ste Marie, MI
Guess what? Did you look at my byline, or did you just skip right over it? I am still in Sault Ste Marie. I did get in some miles today, though, 7.1 of them. I got more sleep last night than I have for many days, 10 hours. I needed it. I felt much better this morning, ready to tackle whatever the day threw at me. I did a quick glance at weather radar before breakfast, and decided because of weather I could see coming that I would get in maybe 200 miles and then stop for rain. I started munching on my breakfast, and studied the radar a little more closely, and saw how fast the bad weather was moving. That's when I realized I would probably get only 100 miles. I thought about where I would be -- my plan was to ride toward Duluth, more than 400 miles away across the Upper Peninsula -- and decided I didn't want to go into that country and have to find a hotel when it started raining. Plus, I had a real good rate here in Sault Ste Marie at a Best Western. I checked with the desk and they did have a room for me at the same rate, but I would have to change rooms. Not a big deal. I decided to stay.
Then I started thinking about how disappointed my readers would be when I told them I stayed in my room catching up on email and things like that, how boring. And I remembered how I wished a ship had gone through the near lock last night so I could see it better and show you better. So, I headed down to the locks hoping I would see something interesting before the rain hit. And I did.
But let me stick to my first story first. The weather. I could see from radar that there would be two hits during the day. The second hit would be from a cold front that is moving across the country. The first hit would be from a smaller weather system that was leading the cold front. That's the weather that I decided would keep me from going more than 100 miles. Let me show you the radar map from 12:50 PM today.
I am the big black dot on the right center. You can see the weather system that was already circling me. It is about 100 miles wide. This is the time that I took my last picture at the locks and hopped on the bike and headed back to the Best Western. That is the weather system that I would have hit after about 100 miles. Just to give you an idea of the map size, you can see Duluth, 400 miles away, just at the westernmost tip of Lake Superior. I may or may not have made it as far as Marquette before running into rain. As I have told you before, I do ride in rain, but I prefer not to if I don't have to. Well, today I did not have to so I stayed where I was. Also in the radar picture just above, you can see the cold front approaching from the west of Duluth. It is worse than it looks on this map, it runs far to the north and to the south.
Here's another radar picture, from a couple of hours ago.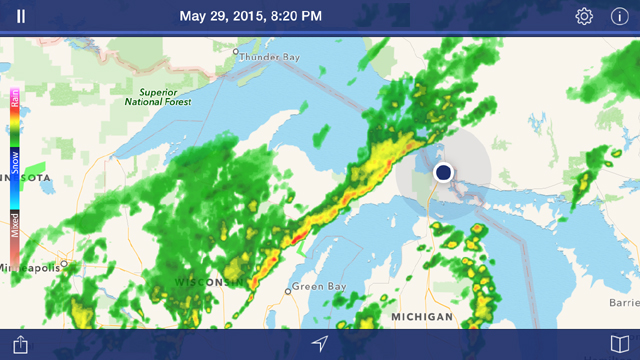 The weather system you saw over me in the 12:50 PM radar picture has disappeared off the right side of the radar, and the front is now approaching us here in Sault Ste Marie. My hope is that the front has completely passed over by morning. It will be sunny all day after it does pass. I expect it to be colder tomorrow also, I will probably be riding with temperatures in the 40s.
Enough with the weather. Let's talk about the locks. Here's the boat we will be following through the lock. The first thing you should notice is that it is as wide as the lock, it just barely fit. It is a barge with a tugboat pushing it. At the moment all you can see is the barge. It is coming out of Lake Huron into Lake Superior, which is 21 feet higher.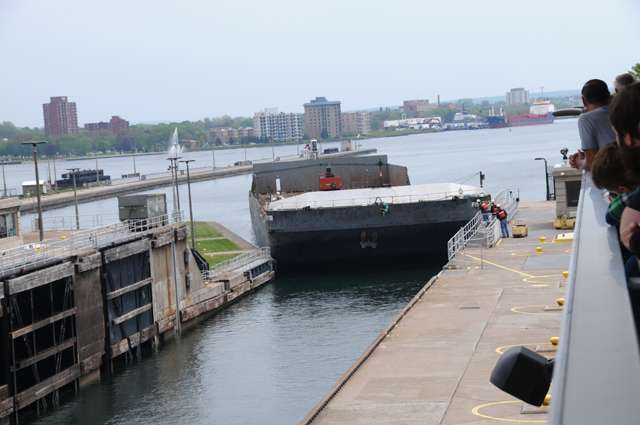 Here's the water depth, you can see it is a little lower than 33 feet, maybe 32.5 feet. The numbers may be hard to read, the top number is 56 feet and the bottom number is 33 feet.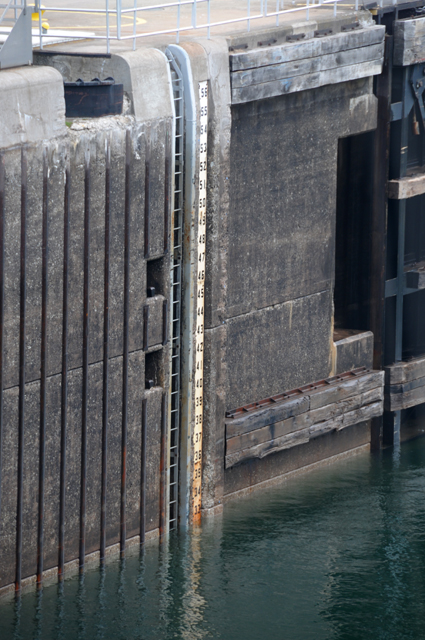 Here's a closer view at the water level.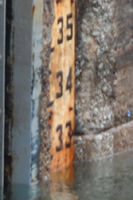 Slowly, ever so slowly, the tugboat pushed the barge into the lock. You could hear scraping sounds much of the time.
Finally they are in position, and the gates are closing on the Lake Huron side. You can see the top of the tugboat here. Also note how low the barge is sitting in the lock. The top of the sides are just about the same height as the dock.
The gates are almost closed now, time to start raising the water level.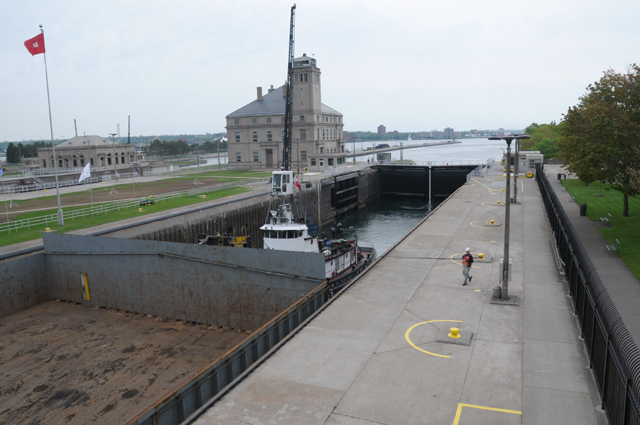 Pumps are not used to raise the water level, they just let water flow in from the high side. And out to the low side when going the other direction.
Six minutes later the barge has risen considerably. See how the men on the barge are at the same height as the man on the dock. All those yellow things are showing, they were hidden in the picture six minutes earlier.
Look how much higher the men on the barge are now. They are well above the man on the dock. Look how high those yellow things are. Look how high the sides of the barge are, they were at dock level before. This is 38 minutes after the Lake Huron gates closed.
Now the water level is almost 54 feet, maybe 53.5 feet, 21 feet higher than it was 38 minutes ago.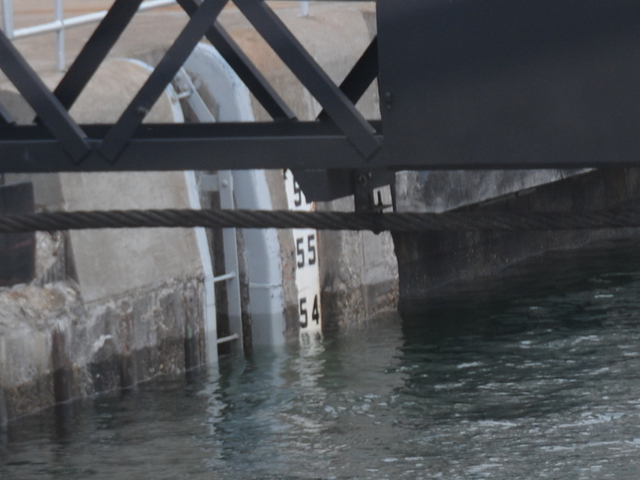 All done, they are moving into Lake Superior.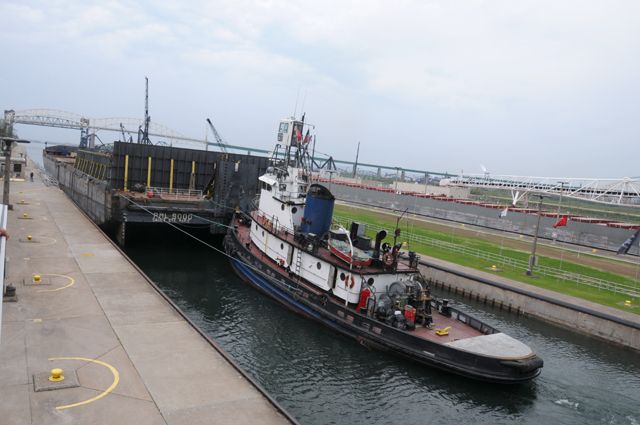 ---
30 May 2015, 9:45 PM, Silver City, MI
And a good evening to all my loyal followers. The single word that can summarize today is COLD. And even with the cold, I rode 317 miles, only about 5 of them on Interstate.
As you know, if you have read the past day or two of my ramblings, a cold front has gone through the area where I presently exist. The temperature in Sault Ste. Marie when I left this morning was a balmy 46°. As I rode west through Munising and Marquette, I could feel it getting colder. The thermometer on my Harley was showing low 30s. I was fine, but my fingers were not, approaching frostbite. I had five layers on my upper body.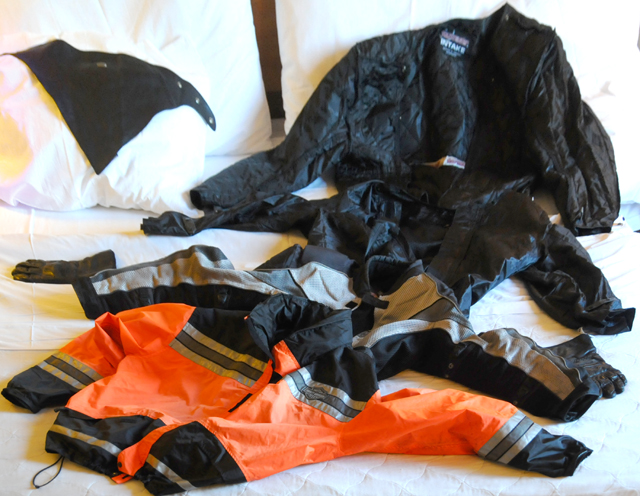 At the top right is my summer jacket liner for cold weather which I wore over my (short sleeve) shirt, just below that is my summer jacket liner for rain, just below that is my summer jacket with armor, and just below that is my rain jacket (or windbreaker). In addition I was wearing my leather bandanna which you see on the upper left and my winter gloves which you see on the far right and far left center. I wear a full face helmet, so face and nose and ears were just fine.
All of a sudden a light flashed before my eyes. I said, "Dagnabbit [a term I learned from Hoss Cartwright], why didn't I think of this before. I am sitting on an oven and all I have to do is stick my hand in the oven." I put my hands, one at a time for a minute or two, below me near the rear cylinder and my fingers were fine. I did that on and off throughout the day. Maybe I need heated gloves. But, this is the first time I have wanted them in, maybe 10 years. The oven worked fine.
I got up when I woke up, had breakfast, and checked radar with my NOAA app. Everything looked good. The rainy weather associated with the cold front was not going to be a problem today. Here is what I saw on my iPhone. I am the black dot near the right. I did notice the "Freeze Warning". And, as I said, I did not freeze, but my fingers did, that is until I remembered the oven that I had taken along for the ride.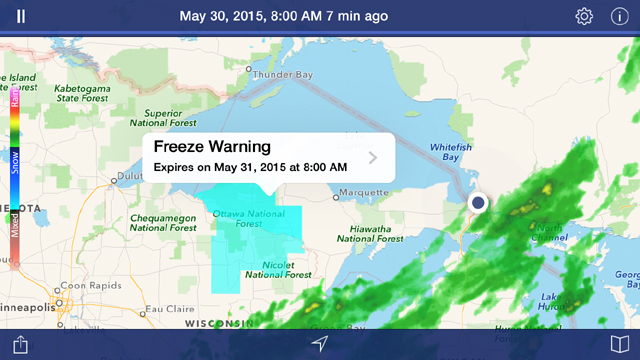 Here's a shot of the front of the Best Western and water puddles, but no rain, just before I left. You can see two bikes up there, both Harleys, mine is on the right.
I rode south a few miles to catch the main road going west, and soon as I headed west I could see the clouds ending on the back side of the cold fron.
Sometime later, I was taken by how long the straight roads were here, something I usually associate with desert riding in the west.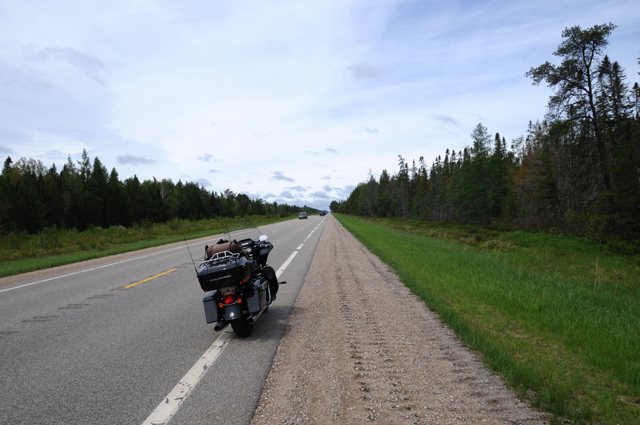 Did you see the railroad tracks on the left side in the picture above? I doubt it, I cannot see them either, but they are there. Take a look a the next picture, taken seconds later looking to the left.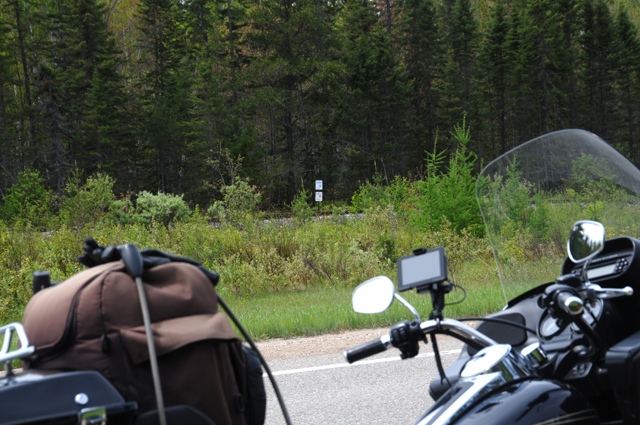 Sure enough, that is a railroad track.
Later I had my first glimpse of Lake Superior.
Here's another view, a few miles down the road.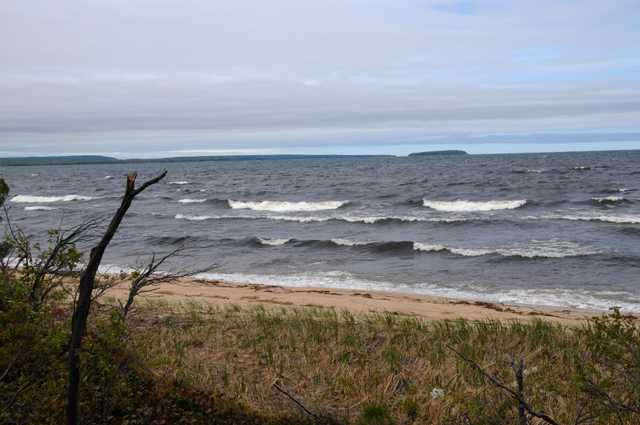 And another view, same location.
Much later in the day I headed into a Michigan State Park. This is the road. It was one of those pleasant rides with big trees on each side, almost touching overhead.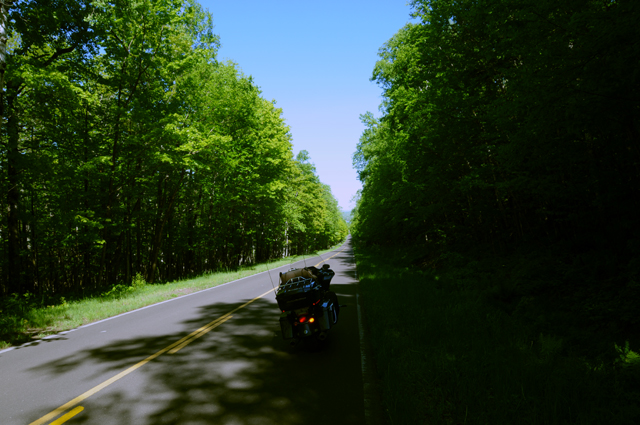 I was headed up Porcupine Mountain. Once I reached a parking lot near the top, I had to walk up this board walk. Have you ever seen a boardwalk before that has switchbacks?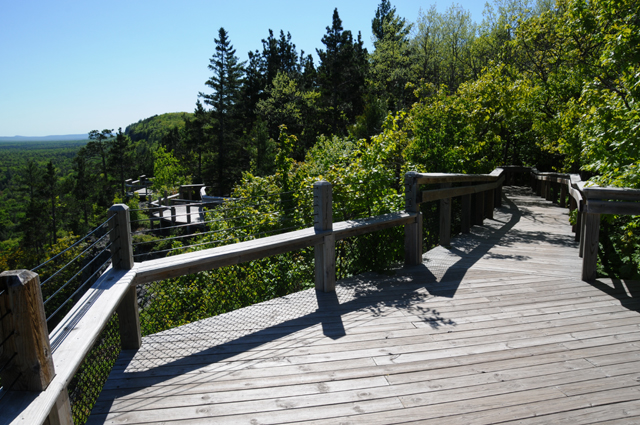 And here's the view I was going for, the Lake of the Clouds.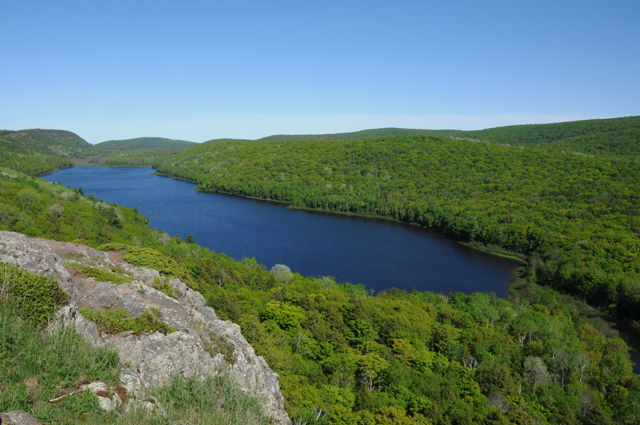 ---
31 May 2015, 10:45 PM CT, International Falls, MN
I am in the spot that is often the coldest in the United States. I am here of my own free will. Actually, it was warmer here today than the spots where I was in the past day or two just south of Lake Superior. I rode 338 miles today, none on Interstate, but some on a limited-access US highway. On US-53, the last 30 or 40 miles into International Falls, there were numerous sections under construction, a road where there was gravel, with appropriate warning signs. Normally I avoid such roads. I must have wanted to get here very badly to ride such a road.
I wanted to come here for one reason only, I have never been here before, and it seemed like a good idea.
I wanted to come and see the "International Falls". But, as you may realize, there is no such thing. More than 100 years ago there was a waterfalls here, but no longer, now it is just a dam. Here is the waterfalls/dam. Through a chain-link fence that is higher than I can reach up and hold my camera. I needed a stepladder, but I didn't see one handy.
To get to this point, you have to be in the "no man's land" between the United States and Canada. Here's where you have to be, just up ahead.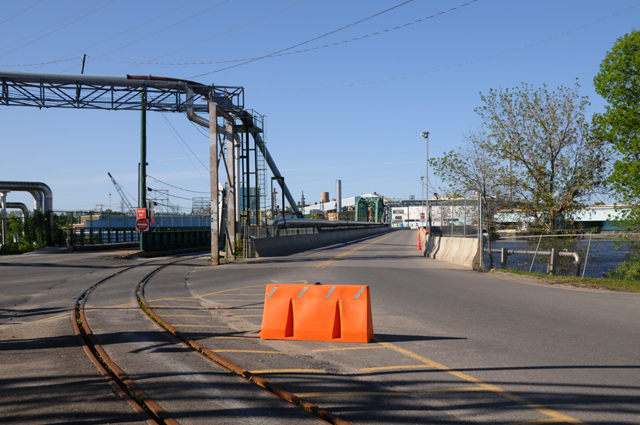 In this picture, I am in the US, across the bridge is Canada. Fortunately, for me and for my readers, the very kind US border agent allowed me to walk on the pedestrian walkway, which you see on the far left, to get the picture of the waterfalls/dam. Makes me think of Checkpoint Charlie.
Something that looked more interesting to me was this group of rocks in the river, again through the chain-link fence.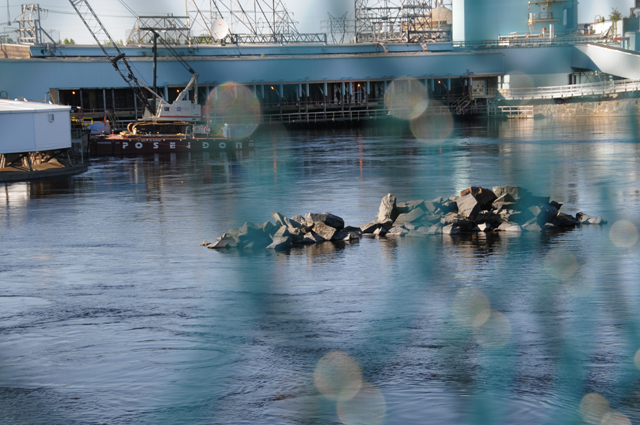 Now that I have gotten the issue of International Falls (NOT) out of the way, let me take you back to a time earlier today.
I was scooting along very happily when I rode across this bridge. If you cannot read the name of the river on the green sign on the left, it says, "Presque Isle River".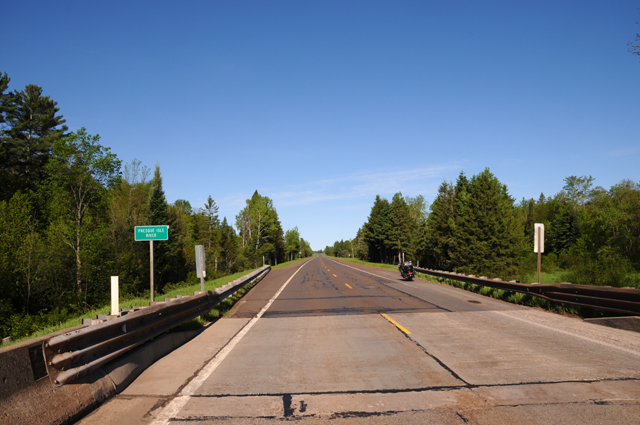 I thought this was a nice enough river, so I got a picture or two for you. This is the view to the right, which is downriver.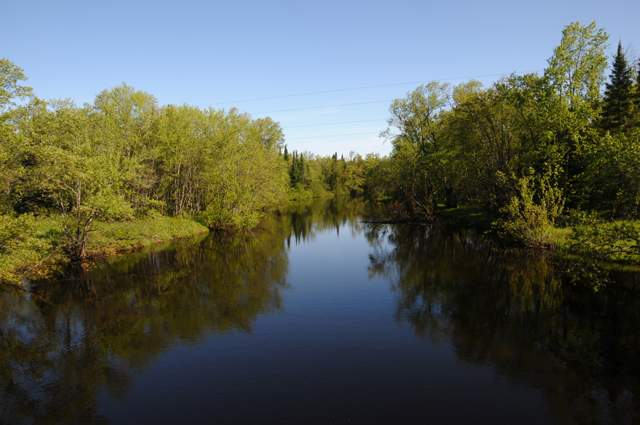 Very soothing, isn't it.
Here's the view to the left.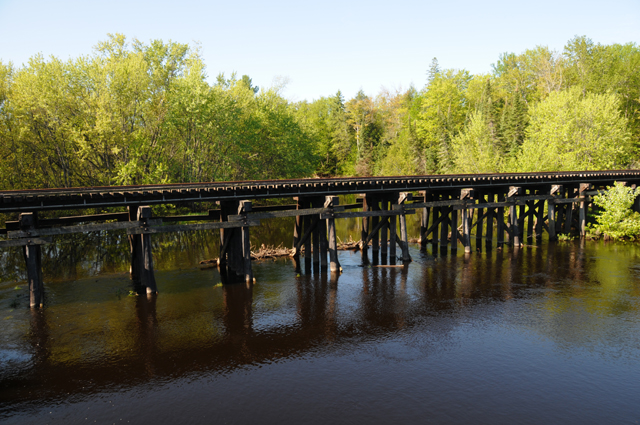 Wow! Another railroad! And a wooden trestle! It made me thing of my younger days. When I was a kid, I had an American Flyer train set.

When I was a young adult, I had a Marklin model railroad, with a Crocodile engine and a catenary system.
Those days are long gone, now I have a Harley.
I took pictues along the way when I saw something that looked interesting to me, and I thought might look interesting to you.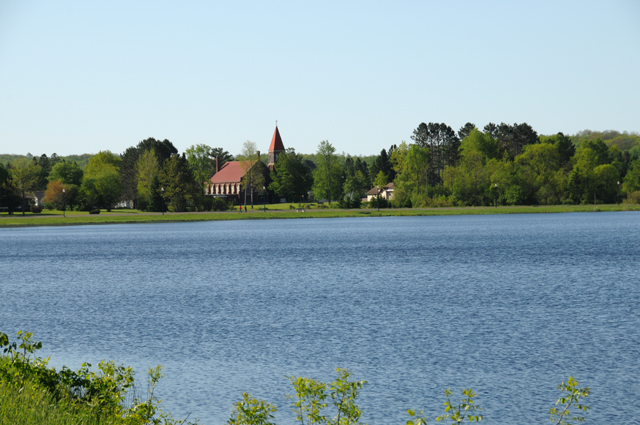 Another view ahead. It looked much better in real life than it does in this picture. But I still like it. The road disappears in the distance. The land is not flat, sort of rolling.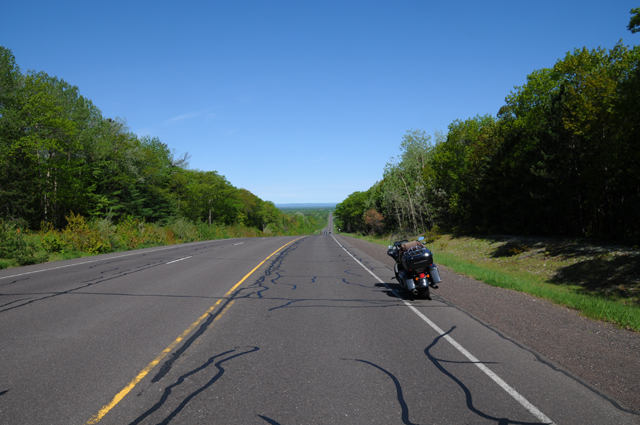 A marina.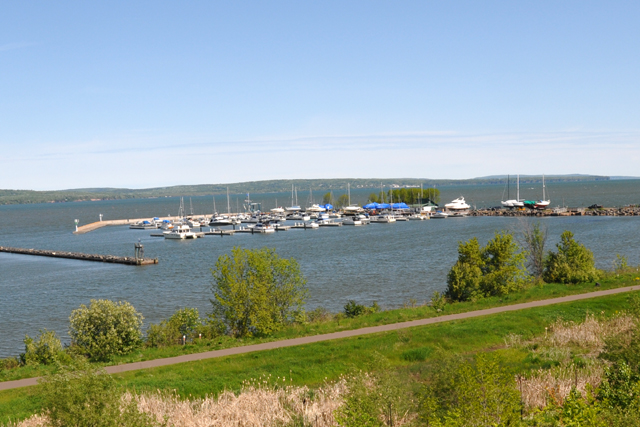 Are these birch trees? There were many, many of them. Not just here but all along the road for miles, interspersed with pine trees.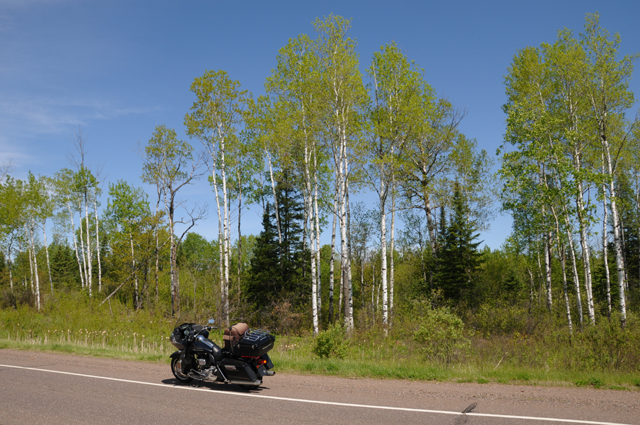 In Duluth, I rode past the Aerostich company. I have Aerostich riding pants. I really wish they had been open, but it was not to be, it was Sunday. I might replace my Roadmaster summer jacket with an Aerostich jacket. But not today.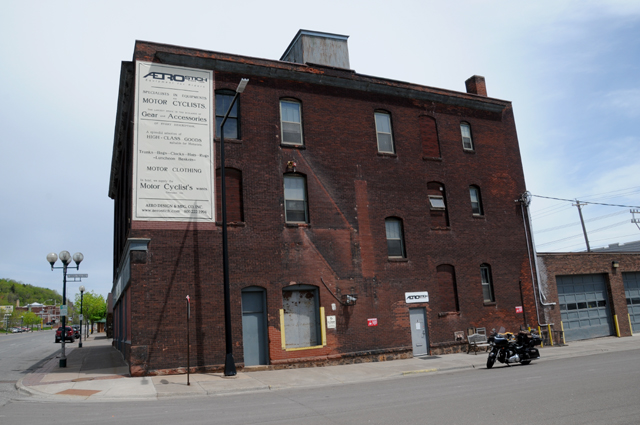 This is the big sign on the side of the building. It was a rather unimpressive building. Aerostich makes impressive riding gear. Probably they best you can get.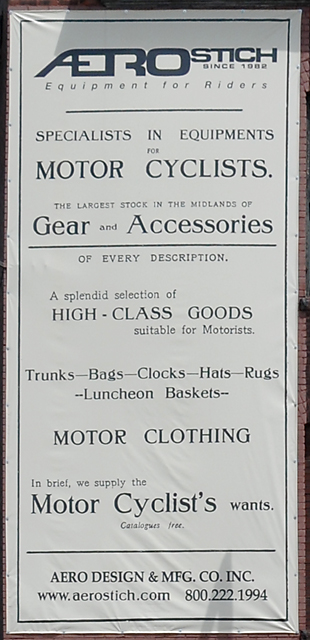 Tomorrow I will head south, I have gone as far from North Palm Beach as I will get, tomorrow I will be headed home. I may ride through Fargo tomorrow. I will be headed to Topeka, Kansas (a capitol city if you did not know).
I have passed the 3,000 mile mark, 3,163.5 as of today.
I have riden through all six of the Northwest Territory states. I had been in Michigan for a few days, today I rode through Wisconsin and into the part of Minnesota that is above Lake Superior. Once again, here is my Icon for this ride.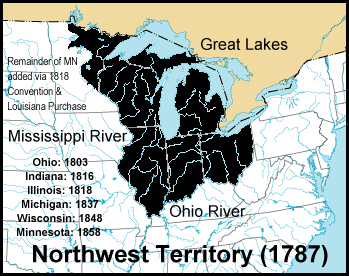 I rode into southern Illinois from the west, into Indiana, due east into Kentucky and then up into Ohio, up through Michigan then west into the Upper Peninsula, into Wisconsin, then north into Minnesota.
Tomorrow it will be goodbye Northwest Territory.
---
1 June 2015, 10:30 PM CT, Fargo, ND
I made a mistake yesterday. And nobody caught it. Yesterday I showed this picture.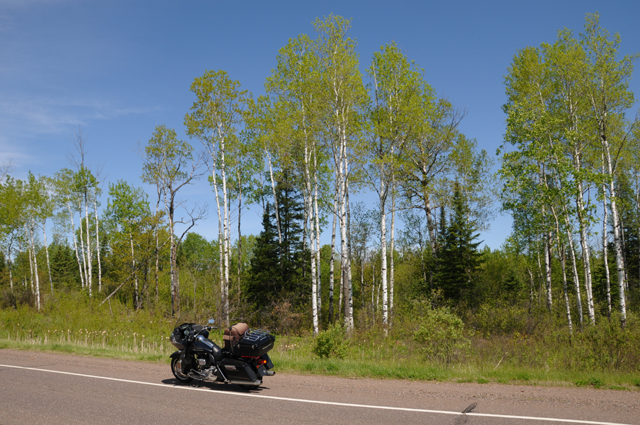 And I said, "Are these birch trees? ..."
They are NOT birch trees. Why didn't somebody point out my error? I spent all day today wondering if they were birch trees. They continued throughout my journey today, and I was bothered by it, thinking that they might not be birch trees. I could hardly ride so consumed was I with this issue. At one point I stopped and plucked some leaves from one of the trees. Over lunch I did an Internet search. I kept thinking that they might be a tree that I have seen in the west, Colorado comes to mind. I couldn't remember the name of that tree. One of the problems with getting older is that you cannot remember things as well. Well, that's not exactly true, I remember perfectly, I just cannot pull it from my memory. It is there, just not accessible. All morning I tried to remember what that "western" tree is, but I finally had to resort to Google. I discovered that the tree name I could not pluck from my memory is an "aspen". That's what I was trying to remember. So, over my lunch, I did a search on how to tell a birch tree from an aspen tree. Both have white bark. Both have green leaves. So what's the difference. I went back to my pictures from yesterday. Not only did I take the picture above, I took a closeup of the bark and a closeup of the leaves. I am showing both below.
Closeup of bark from yesterday.
And another picture I took of bark today, after my lunch time Internet study, to make sure.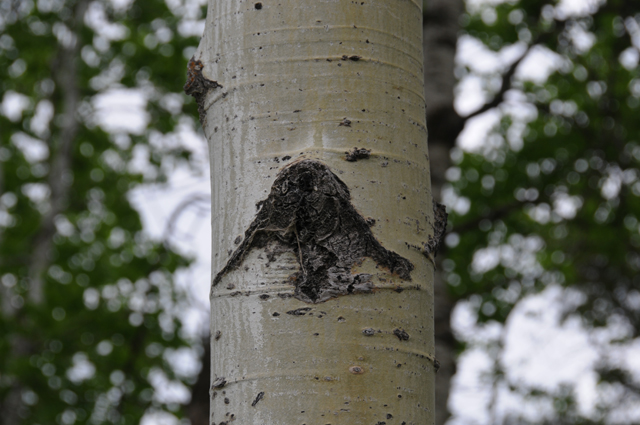 Notice the straight sides of the black spot, almost like a triangle? That is an aspen.
Closeup of leaves from yesterday.
And another picture I took of leaves today, after my lunch time Internet study, to make sure.
Notice the almost circular shape of the leaves that are not serrated? That is an aspen.
So readers, I apologize that I mislead you into believing that an aspen was a birch.
Now to today. I rode 273.0 miles. I am in Fargo, North Dakota. I have been here before, on the same motorcycle, on my US Northwest Ride. Two years ago I entered from the west, this year I entered from the northeast. As I entered Fargo, I rode over a bridge that I recognized. Here is is, from two years ago. The date was July 1, 2013. I crossed the bridge from west to east, today I crossed in the other direction, from east to west. I have to say the bridge is much more impressive in real life.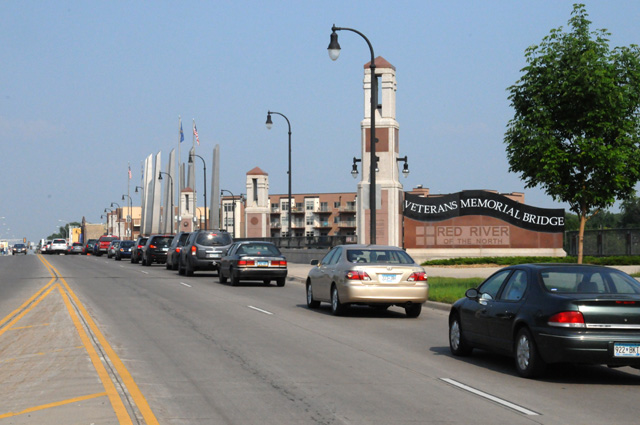 Can you believe it, I have ridden so many miles on my motorcycle that I am crossing bridges I crossed before 2,500 miles from home? I am trying to make each ride be different. But, I guess when you keep riding you will cross points you have ridden before, although in a different direction.
Today was not cold like the past two days. I did not have the five layers I showed you two days ago. Missing were the two liners of the summer jacket. I wore only the summer jacket and windbreaker, and I took off the windbreaker later in the day. Tomorrow I will probably wear only the summer jacket.
I left International Falls later than normal, I had a business call to make first. Then I rode 110 miles and it all looked like the picture below.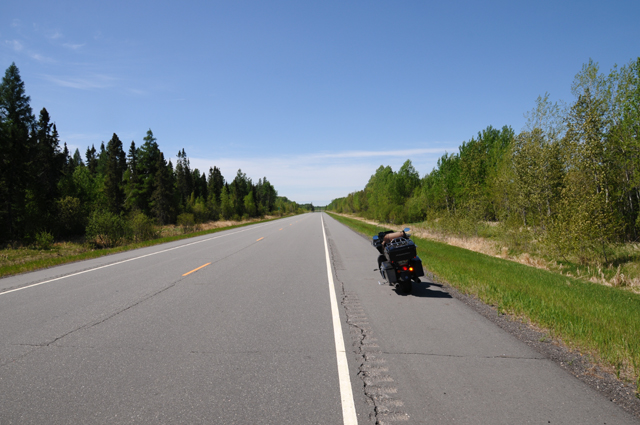 The same thing, for miles and miles and miles. At mile 65, there was a tiny village, about a dozen buildings. Otherwise, nothing but a house every few miles. I passed two vehicles in the 110 miles. None passed me. Other than those two vehicles, I did not see a single other one in my direction of travel. To put it mildly, I was alone out there. But, there were vehicles coming towards me, maybe every five minutes I saw one.
I crossed the Big Fork River. I had to stop, on the bridge of course. Here's a view looking downriver.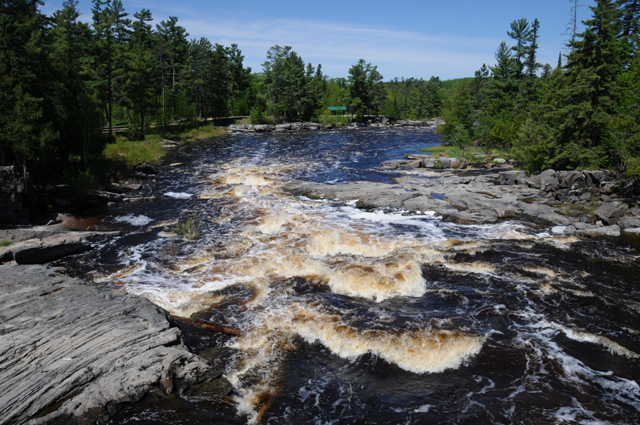 And a view looking upriver.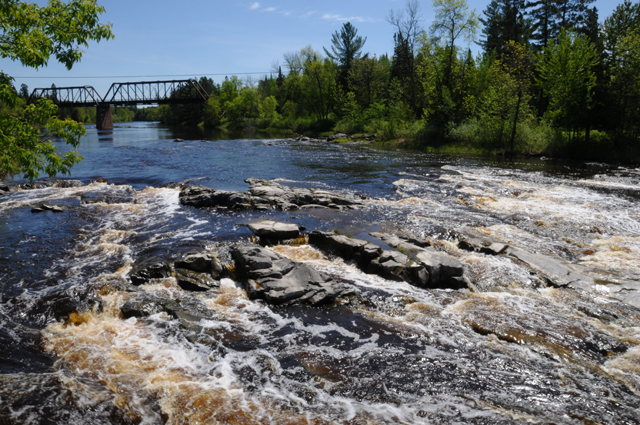 Do you think that might be a railroad bridge?
I have seen many highway mirages in my time, and I never get tired of looking at them. They are amazing. The road acts like a mirror, or it looks like there is water on the road. Here's my highway mirage for today. Do you see the reflection of the vehicle on top of the hill?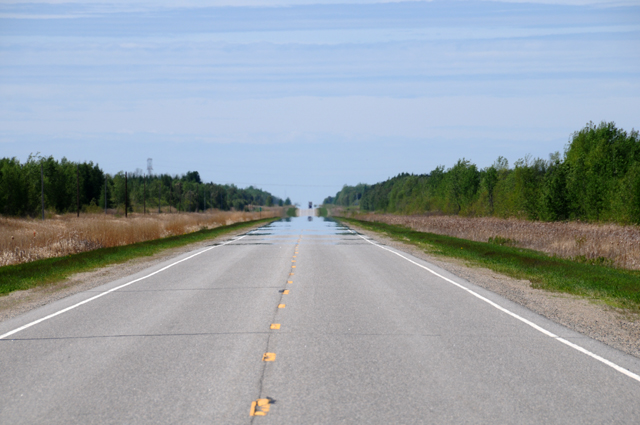 A car came toward me with its headlights on. I could see the headlights directly, and I could see them in the mirage. Simply amazing. I kept on the alert after that to get a picture like that for you, but it was not to be.
---
2 June 2015, 9:30 PM CT, Watertown SD
I didn't expect to be here tonight, Watertown that is. I thought I might even be in Nebraska. Not that I have anything against South Dakota, it's just not what was in my mind for tonight. Only 95.8 miles. Why am I here? This little critter just below.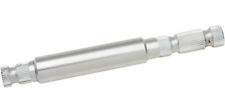 So, what is this? It is the $25 thing that keeps this from happening.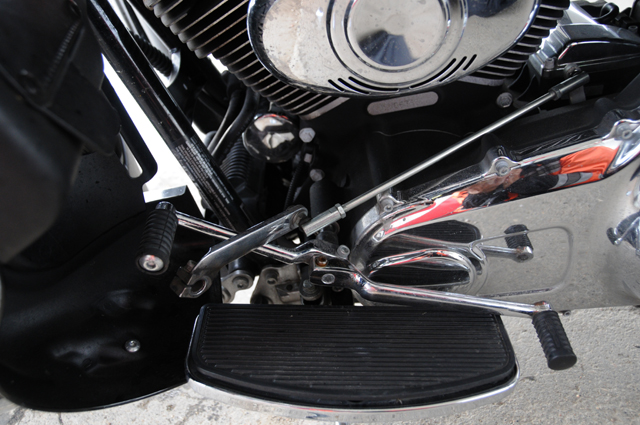 If you are not sure what it should look like, just glance below.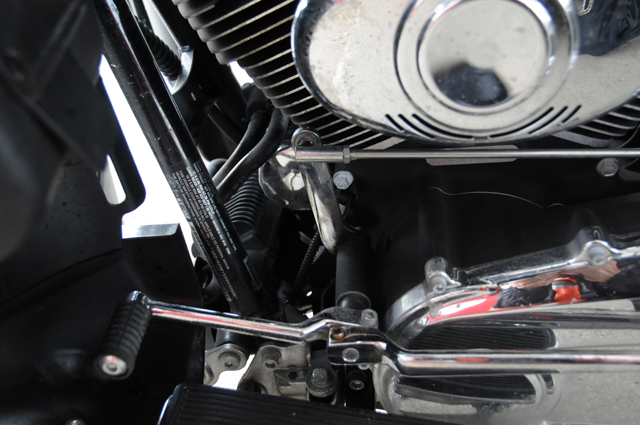 The critter is a "shifter shaft". It connects the heel and toe shift levers to the transmission linkage. The picture just above looks somewhat orderly, whereas in the one above the parts are sort of strewn about. Which is exactly what happened. I was riding Interstate because I wanted to go faster, I had an Internet meeting that I wanted to take over coffee at noon in Watertown, yes, the same town where I am now. I could see after a while that I was not going to get to Watertown before the meeting. In addition, I could see that I might not have enough gas to get to Watertown. So I took an exit in the remote countryside where I was to get gas. I figured I would just stay there and do my meeting. As I was riding up the exit ramp, I shifted down, and my foot felt absolutely nothing there. I moved my foot up a bit and tried to shift down. Nothing. I moved my foot all the way against the bike and tried to shift down. Nothing. I thought I should take a look, so I leaned over the bike and saw that the parts were strewn about just as you saw in the picture above.
I almost pulled to the side to stop, but decided that might not be a good idea, I should keep rolling. So, I continued in 6th gear, going slower, but with the clutch in the "zone" (riding the clutch for those of you who don't know what the "zone" is) and keeping revs high. Fortunately there was no traffic on the side street so I ran the Stop sign, I was afraid I would never get the bike rolling again with only 6th gear. I continued limping along about 1/4 mile to the gas station, turned left into the station, again thankful there was no oncoming traffic which would have required me to stop. I rolled up to a gas tank, then climbed off to see the mess in the picture above.
I did a check on my iPhone to see where the nearest Harley dealer was, and saw that it was Watertown. I called them, and spoke with Todd in service. He told me that he could help me out, should be able to fix the problem after the bike arrives. He could come pick it up. I told him that I needed to call HOG (Harley Owners Group) first, because they provide free towing to the nearest Harley dealer.
That was a nightmare. I won't go through the details, but it took more than an hour just to get a tow set up. And guess who did the towing? HOG arranged for Todd to get the bike. Why they didn't do that an hour earlier bugs me. I was getting extremely annoyed, a manager came on the line, and they decided to do what I wanted, which was to have Todd get the bike. Finally, three and a half hours after I shut down the bike, it was rolled into a trailer. It took another hour to get to Watertown. Donny came to pick me up, he is one of the mechanics. He also did the bike repair.
Here's my tip of the hat to Todd and Donny of Glacial Lakes Harley Davidson in Watertown South Dakota. Thanks guys.
That pickup is what towed me there, in the trailer.
And one more comment on the breakdown. At the gas station a very kind gentleman offered to give me a ride wherever I needed to go. He gave me his phone number before he drove off, telling me to call if I needed anything. So here's my tip of the hat to Chauch. Thanks very much.
When the bike was ready to roll, I considered riding another two hours south, there would have been enough daylight. Todd discouraged me from doing that, though, because of weather that was building up. Here's a radar shot.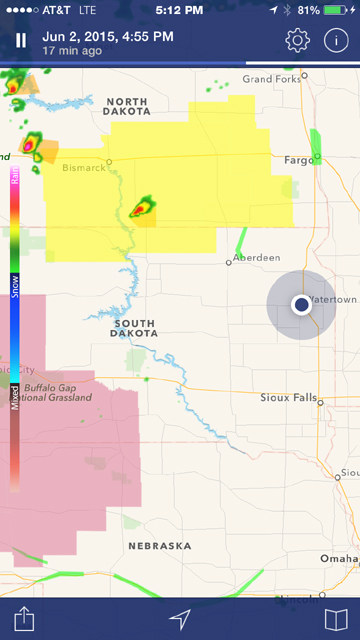 That fat black dot is me, in Watertown, at 4:55 PM Eastern Time. I was thinking of riding to Sioux Falls. The yellow area to the northwest is a Tornado Warning. The magenta area to the southwest is a Severe Thunderstorm warning. It looked to me like Sioux Falls would be farther from any tornado, but Todd said the severe thunderstorms might move to Sioux Falls, that's what often happens. So, I called my local Best Western and decided to spend the night. I just took a look at the radar now, five hours later, the yellow area has been moved almost to Fargo, the magenta area has not been moved, but the thunderstorms within that area are now at the eastern edge.
Let me go back to an earlier time today, when I was running along through the deserted countryside. I took a picture to show you what it looks like, basically flat farm land.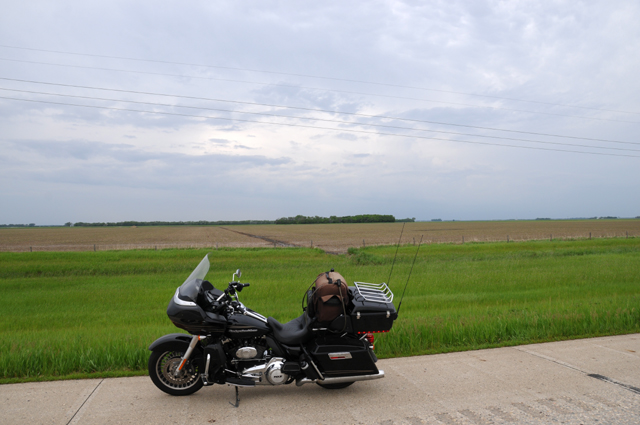 Just now, I started wondering if that picture was North Dakota or South Dakota, I don't remember now, and discovered something. That picture was taken 38 minutes before the broken critter picture. So, it had to be in South Dakota, but more interesting, the shifter still worked at that time. It must have broken when I did my final shift into 6th gear after that stop along the roadside.
And one last picture for you. While I was waiting for Donny to show up in the tow truck, I had lunch. The gas station is also a casino, so I had lunch there. I had an Indian Frybreak Taco.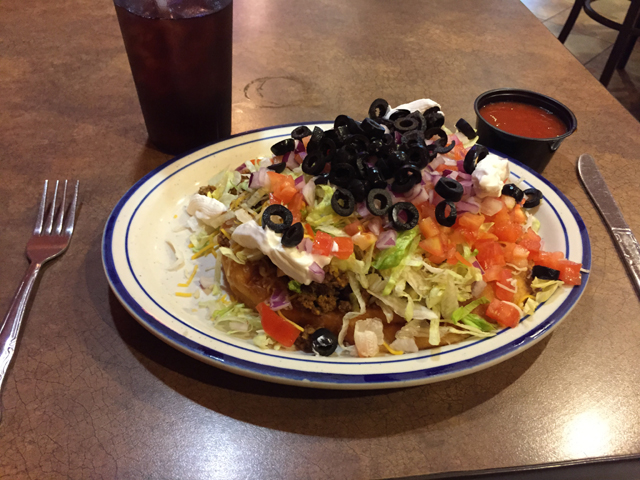 ---
3 June 2015, 10:30 PM CT, Columbus NE
I got an email from Phil (winner of one of the chocolate shakes) asking for more details on what went wrong with the bike yesterday. He wanted to check his bike before setting off on a long trip in the near future. Yesterday I thought about giving more details, but didn't, so I will do so now.
Nothing actually was broken. The spline on the transmission link side of the shifter shaft was worn enough that the short vertical link slipped off, no doubt due to a combination of usage and vibration. I was able to put it back together, but it was very loose and I did not trust it to stay together. Normally if you take the toe/heel levers and try to push them toward and away from the bike, there is no movement. Mine, after I put it back together, was moving about half an inch. What I don't know is whether or not it was loose like that before it came apart. Todd, at Glacial Lakes Harley, told me this was not uncommon.
Here's my first picture of the day, outside the motel.
As you can see, today was a rain day, at least for the first few hours. I checked radar early, and then again before setting off. The picture on the left was a radar image at 7:30 AM Eastern Time, the picture on the right was at 10:05 AM Eastern Time. I was in Watertown SD, so the time there was an hour earlier. My first look was when I got up. My plan was to ride south. But you can see that it was wet and would get wetter since the weather system was moving to the east. So, I decided to ride west then south. You see the road going south at the western edge of the rain, the road that runs through Aberdeen, I figured that by the time I got going, that road would be clear, and the road going west would be clear.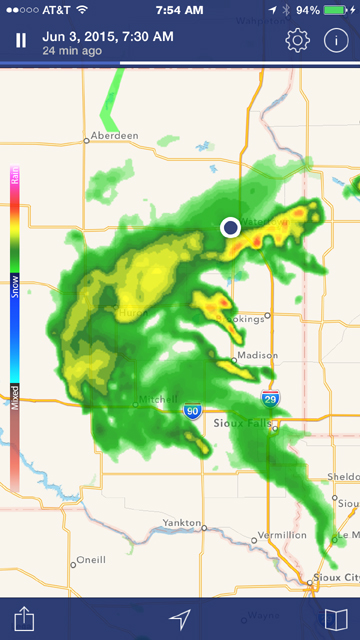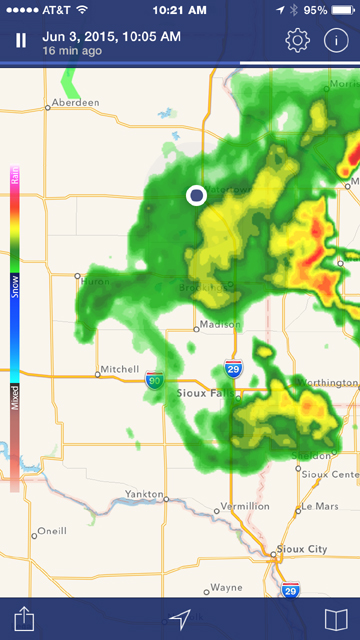 About 2 1/2 hours later, I had left the motel in light rain and was having an Egg McMuffin and hot Latte at a McDonalds before heading out to the west. I talked with a guy whose name was Jerry wearing a Can-Am Spyder T-shirt, told him I planned to head west because of the rain that was going on as we spoke, and he told me that I should not do that. He said there is construction on the road going west, and the road is very bad, not at all suitable for a motorcycle. He rides a motorcycle himself, and lives in Watertown, so I figured he knew what he was talking about. He was suggesting going a little north first, then west, then south to that road beyond the construction.
Now you should look at the radar map on the right above. This was about the time we were talking. I decided to simply go south on I-29 instead, and ride through the rain. It didn't look that bad, mostly green with some yellow, and no red, the bad stuff.
So that's what I did. I was in light rain the first 30 miles, sprinkling rain the next 10 miles, then no rain for 20 miles, then spritzing rain for 10-20 miles. Then all clear. What I call spritzing rain is less than sprinkles, little specks hit the windshield and roll up and over my head. I went west on I-90 when I got there. Here's what it looked like at that time. The rest of the day was just as gorgeous as this.
I decided to do something corny today. My brother Larry had suggested this to me two years ago, but it would have been a couple of hundred miles out of my way, but this time it was only about 70 miles out of my way.
This is the Corn Palace in Mitchell, South Dakota. They say it is the only one in the world. Those pictures are made of corn cobs.
Here's a better view of the side.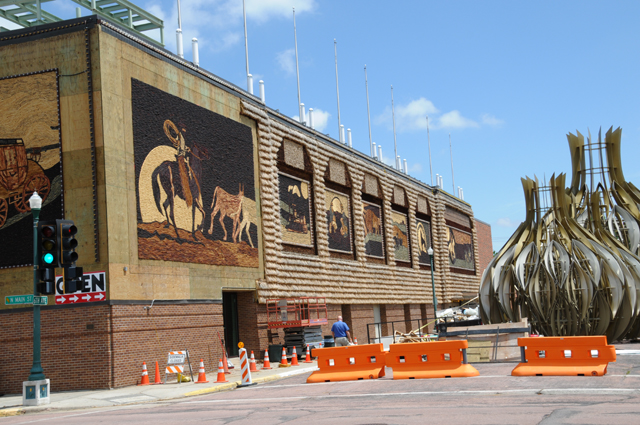 Here's one of the pictures.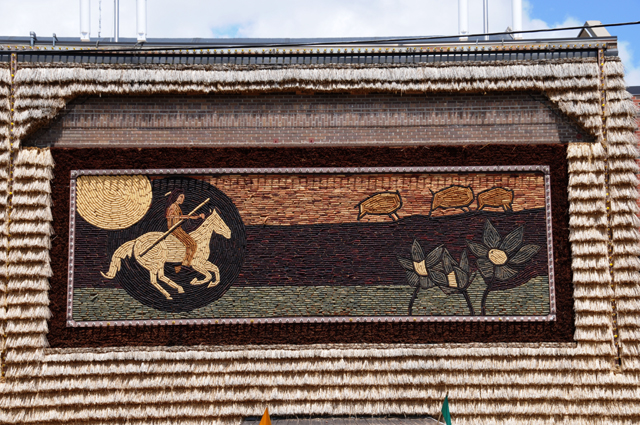 And here's a close up view of one of the pictures.
And a close up view of the area outside of that picture.
A lot of construction was going on, you can see that in the first two pictures.
I rode from Watertown to the Corn Palace on Interstates, because of the rain, but rode regular highways the rest of the day. I picked up a total of 368.8 miles today, more than half on regular highways.
I crossed the Missouri River today. Here's the motorcycle bridge.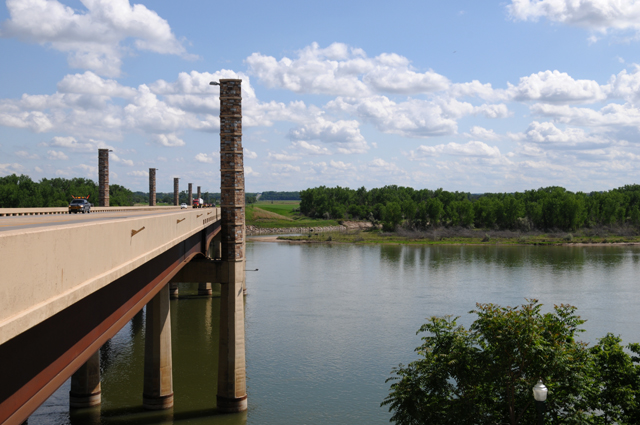 And here's the railroad bridge.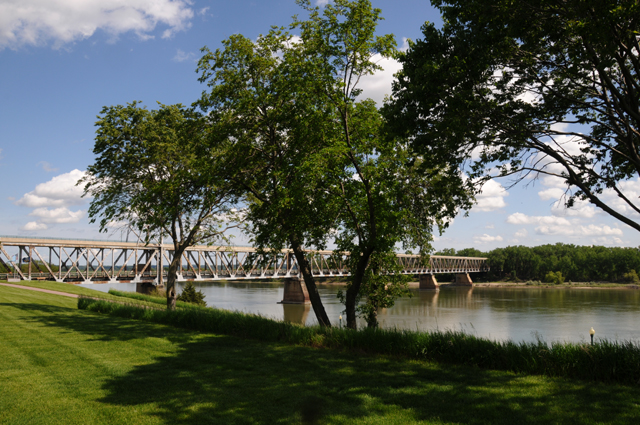 I have taken other pictues of the Missouri in times past, here's one from two years ago that I took in Montana, 1,000 miles away.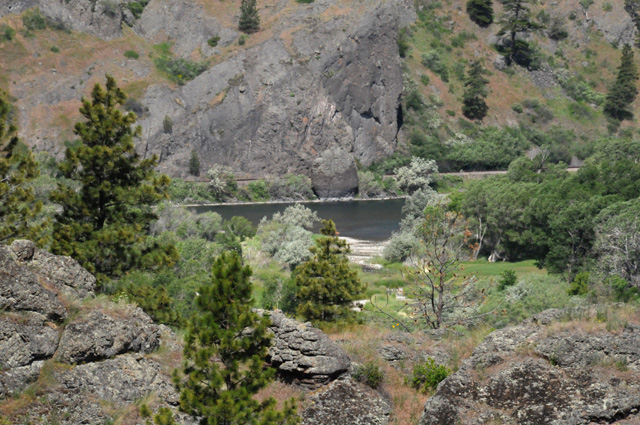 The Missouri is a big, long river, the longest in the United States, 2,341 miles altogether. The Mississippi is only 2,202 miles long.
Have you noticed that I am riding right down Tornado Alley? Last night there was a tornado watch north of me, tonight there is one south of me. Hopefully it will stay that way, not where I am.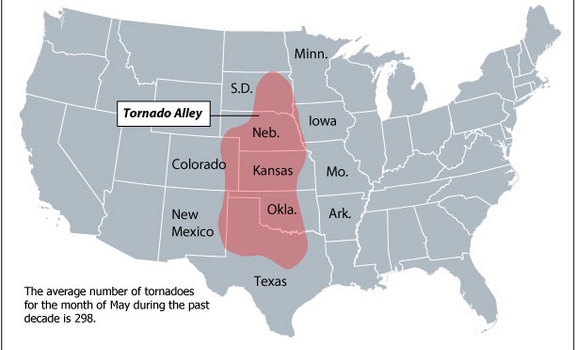 I hope to have another Capitol for you tomorrow. See you then.
---
4 June 2015, 11:59 pm CT, Topeka KS
Tonight I am going to obsess about the weather. As I said last night, I am in Tornado Alley. I think maybe I like hurricanes better. They only happen every now and then. As far as I can tell, severe thunderstorms with the potential for tornados happen every few minutes here, or so it seems. Two nights ago there were tornado warnings to the south of me. Last night there were tornado warnings to the north of me. Now there are tornado warnings just to the west of me. About an hour ago we had a hail storm. The morning started this way, and now the evening is ending this way. Let me show you more radar pictures, from this morning. Two pictures again, the left one from 8:30 AM and the right one from 12:40 PM.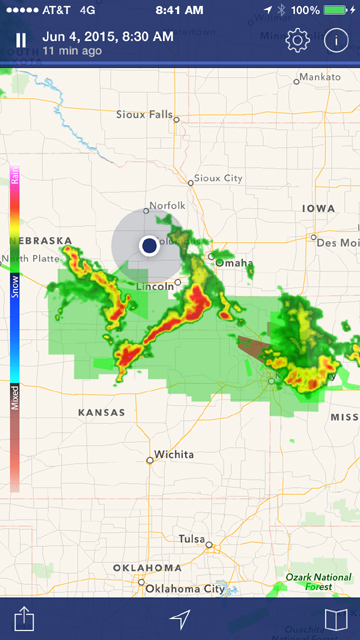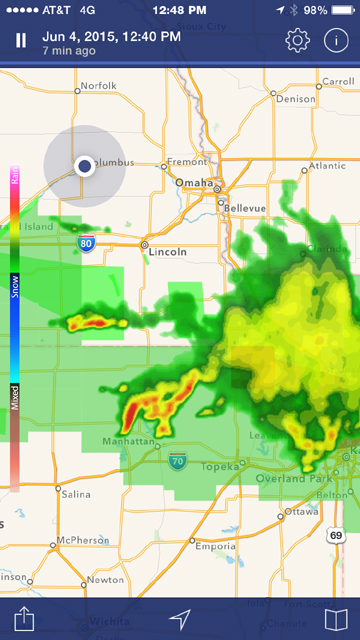 Again I am the big fat dot in the middle. In the left picture note the storm on the left running from northwest to southeast. It is moving directly toward me. My destination for today is Topeka, which is northeast of Wichita, just about where the green begins. The green is a flood warning. It is easy to see that to get from my location, Columbus NE, to Topeka without going through storms will not be easy. I decided to postpone my departure, maybe go later in the day, maybe spend a second night in Columbus NE. I decided to wash clothes while waiting to decide about a departure.
The second radar picture is four hours later. The storm that was headed directly for me has passed over and out of the picture. Yet the stuff between Columbus NE and Topeka is still there. I decided that I would take the western route, down that road that is a little bit west of Columbus NE. That is US82. I would take it toward Salina, then across to Topeka. That's what I did, and it worked.
About half an hour later I had the bike packed and got gas across the street, actually US30. I took two pictures, the first one looking north and the second one looking south. I am glad I wanted to go south.
The next three pictures are many miles down the road, approximately where that finger of storms was on the western side of the second radar picture, crossing US82. I did go through some rain getting there, but not very much, and it was light. I stopped to take off my rain jacket and take the Zip-Lock Bag off my GPS. All three pictures were taken at the same spot. The first one shows flooding in the farmland off to my left. Remember, all that green stuff in the radar picture is a flood warning. You can see one of those long automatic sprinklers in the field. I doubt they used it today. You can also see clear sky on the left and dark sky on the right.
The second picture looks back to the north, where I have been.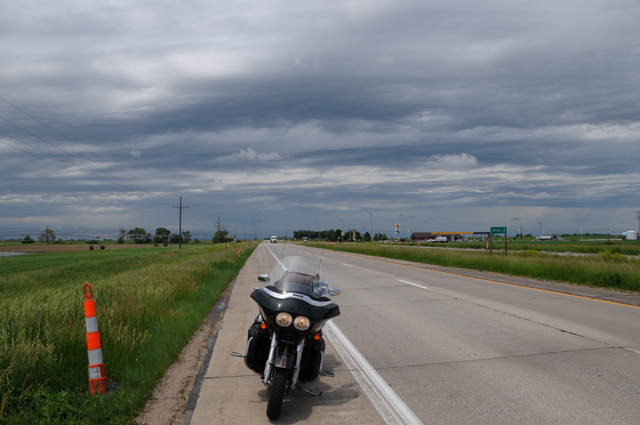 And the third picture looks to the south, down towards Salina. Smooth sailing. You can see more of the flooding off to the right.
Next photo is many more miles down the road, now I have turned east toward Topeka. Can you see that the land is not completely flat. It's sort of like a water bed with waves. Do they still make water beds?
Now I have moved further east, and you can see what is happening to the north of me. That area got darker and darker. The way it was spreading was cutting off the sunshine to me, but those clouds were quite high and did not produce any rain. That's the storm that hit me here an hour ago with the hail.
I did go look at my bike after the hail storm passed over, but I did not see any damage. The bike was under the portico of the motel, but at the edge of it. Hail stones were bouncing everywhere, including under the center of the portico.
When I got into Topeka, I headed immediately for the State Capitol. I was greeted by this little fellow. He seemed as interested in me as I was in him. He is a red squirrel, back home in Indiana we also called them fox squirrels. Where I lived in New Jersey and in Virginia and in Florida the squirrels all seem to be grey.
And here's my capitol picture. Topeka, the capitol of Kansas.
Here's the statue on the top, I have him from behind because that's where the sun was.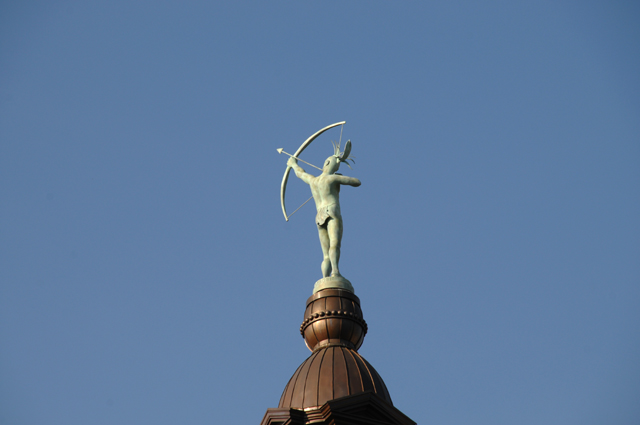 I wanted to get three new capitol pictures on this ride, now I have them. I have only three of the 48 left, Denver, Boise, and Phoenix. My plan is to get them next year. I have updated my US Capitols site with the Capitols from this Ride, the Old Indiana Capitol, the Ohio Capitol, the Michigan Capitol, and the Kansas Capitol.
I rode 304.8 miles today. I crossed the 4,000 mark today, I have ridden 4,205.9 miles so far on this ride. I have about 2,000 to go to get home.
---
5 June 2015, 9:45 PM CT, Broken Arrow OK
This morning was different from mornings the past few days. I did not have to worry about the weather. It was warm to hot, a change from days past. I rode 248.7 miles today, I quit early, the heat made me tired.
I have been showing you pictures of the dismal situation at the motel each morning, so today I want to show you how different it was.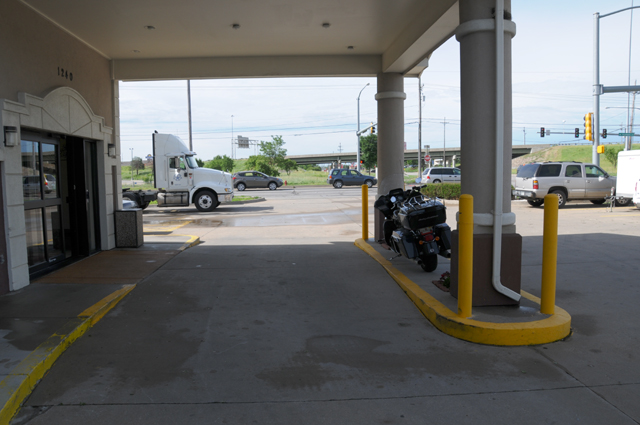 Notice not a drop of water on the pavement. Notice the blue sky with white clouds, not dark forbidding clouds. And the day stayed just that way.
I told you last night about the hail storm in Topeka. Well, the bad weather continued throughout the night. I was awakened by a very loud noise about 3 or so in the morning, it was my iPhone flashing a flood alert with a blaring sound. I said, "so what, what's different?" I looked out the window and it was raining, there was some thunder and lightning, so I shrugged and went back to sleep.
By the way, there are tornado warnings out for western Kansas again tonight.
I had parked the bike out of the weather, as I told you last night. This morning I wanted to show you how I parked it overnight, among the flowers.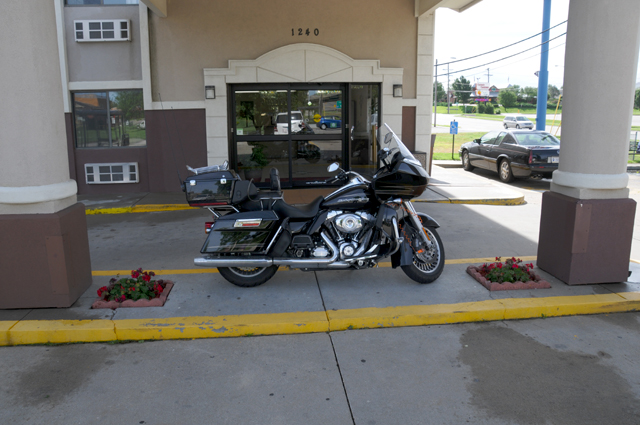 Hanna said to me in an email that Kansas must have a boring landscape, so I took this next picture for her. See how the land goes up and down? It is not boring, just in some places.
As I was scooting down the road, I saw a low-flying airplane. I thought that I must be near an airport, but not so. When I saw what it was, I stopped and took a bunch of pictures, three of which I will show you.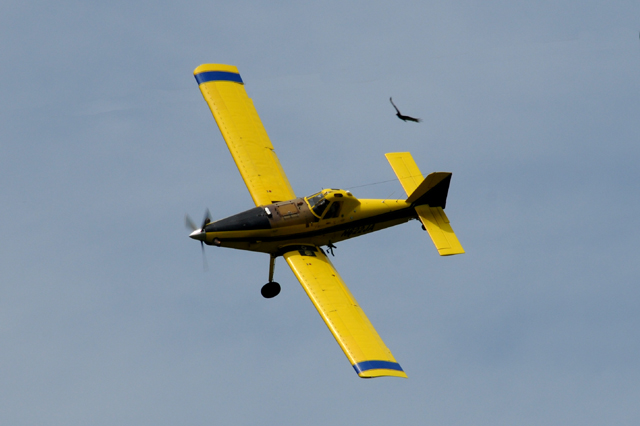 It was a crop duster. I stayed there while he made a few circuits, then I got back on the bike and took off again. Did you see that he had company in the picture above?
As he gets low over the crop, he falls behind this tree.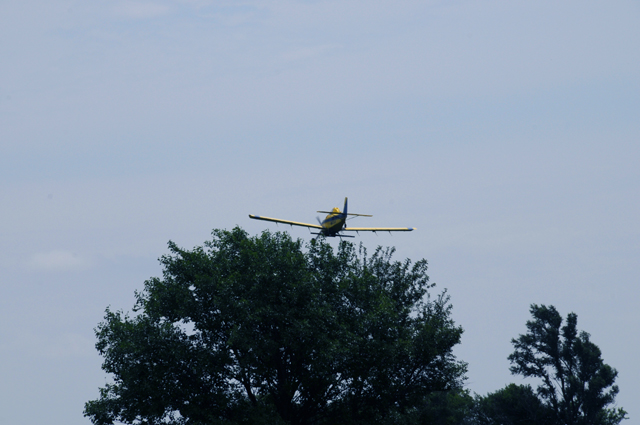 And somewhat further down the road, my bike convinced me to take a break so he could chat with some of his friends. If you don't understand, go back to the last part of 28 May.
Today I crossed paths I have ridden before. I crossed US50 this morning, and I crossed Route 66 this afternoon. I am staying in Broken Arrow, which is adjacent to Tulsa, and Route 66 goes through Tulsa. I wanted to ride Route 66 for a mile or two, for old times, and it included the bridge that crosses the Arkansas River. In the picture below the bike is just at the end of the bridge heading toward Chicago.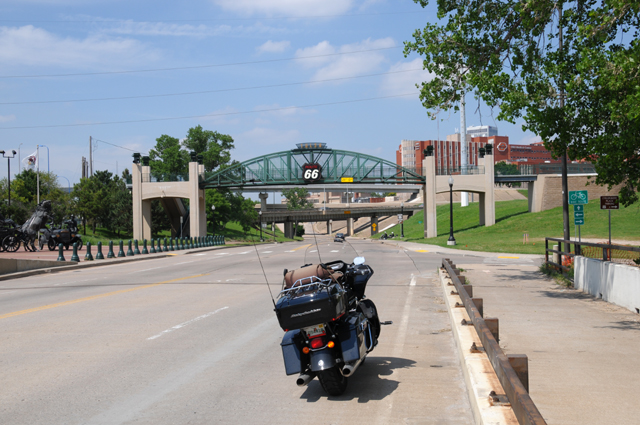 When I first arrived in the northern part of Tulsa, I took a break to look at the map. I knew I would be crossing Route 66, and I wanted to make sure I knew it when it happened. So I reviewed where Route 66 is as it goes through Tulsa. I decided to go to the bridge.
While looking at the map, I saw how close I was to Broken Arrow. I had not been there before, but I remembered it from my Route 66 Ride. Here's a picture from that ride, and here's what I said, "Fourth graders from Broken Arrow, Oklahoma visiting the Will Rogers Museum. They are about the age I was when I was here in 1952." That means they will be Seniors this fall.
When I took that picture, the adults with the children agreed for me to put the picture on my web site, and then the children would be able to see the picture on the Internet at school the next day. I exchanged a couple or so emails with one of the ladies (she is the lady who told me what the bird was that I had put on my web site a couple of weeks later -- it was the state bird of Oklahoma).
So, when I saw how close I was to Broken Arrow, I decided that I had to spend a night there.
I got a picture of the Arkansas River today.
I have photographed the Arkansas River in the past at two different places. This was in Kansas on my US50 Ride, about 2/3 of the way from Hutchinson to Dodge City. A bit smaller there, isn't it.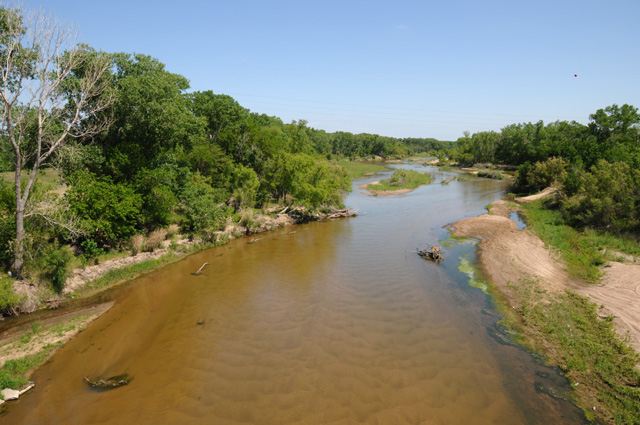 And this was at Royal Gorge, in Colorado, more than 1,000 feet above the river.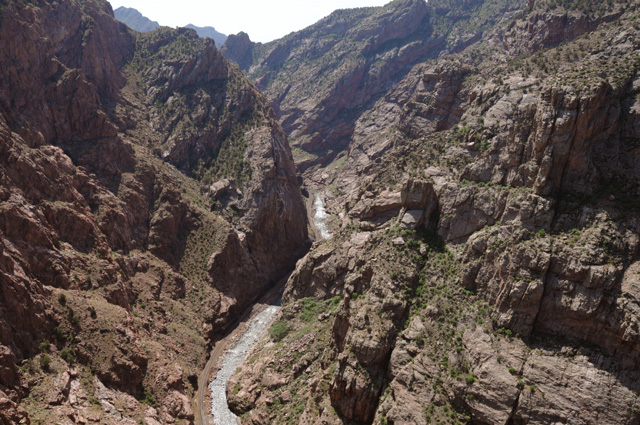 ---
6 June 2015, 9:45 PM CT, Canton TX
I made it through Dallas today.I didn't take any pictures in Dallas, it was just too difficult. I would have liked to get a picture of the skyline, all those very tall, very modern buildings. So if you want to see the Dallas skyline, there are no doubt numerous pictures on the Internet. I rode past Dealey Plaza. Again, I would like to have taken a picture, but it was just too difficult. Too much traffic, no place to park, or even pull over and get a quick picture. I didn't want to try to find a parking garage and walk around. I wasn't in the mood for that. I wanted to ride through Dallas, not necessarily photograph Dallas, and I accomplished my mission.
So my memories of Dallas will have to remain in my mind. Am I glad I rode through Dallas? That's one of the things I wanted to do on this Ride, and I did it. Am I a better person for having done so? I doubt it, but I can say that I have ridden my bike right through the center of Dallas.
I can only give you an estimate of my miles today, 325 miles. Why just an estimate? I parked at the front of the motel this evening and shut off the bike to go in and see if they had a room. They did. When I returned to the bike and turned it on, the mileage display, a small LED display, remained dark. I hoped it would work after the bike cooled down, it did not. So I will have to use Google Maps to estimate the miles. I sort of remember what I did, close enough anyway. I hope the total miles are being accumulated and only the display is bad. That way I will know total miles after it is repaired. Tomorrow is Sunday, I don't have much hope for getting anything done. Monday is usually an off day at Harley dealers, so Monday is probably out also. Maybe I can find a place on Tuesday and get it repaired.
I have only four pictures today. The first is the Canadian River. This is looking to the east. That bridge you see is still in service. It is the Calvin River Bridge and was erected in 1919. I saw a pickup truck crossing the bridge. That's the kind of bridge I often saw on Route 66.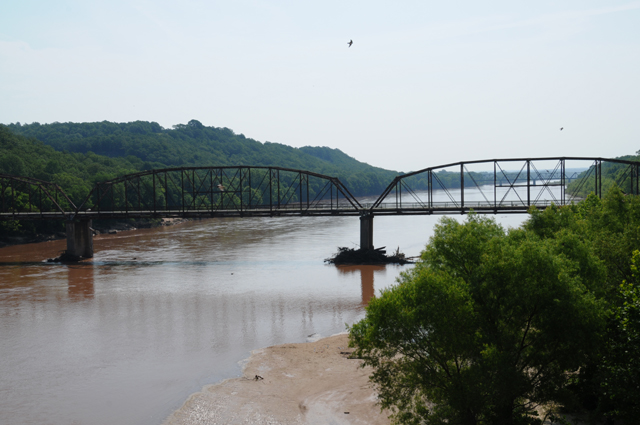 And this shot is looking west. Again, the Canadian River. I crossed the Canadian River on Route 66.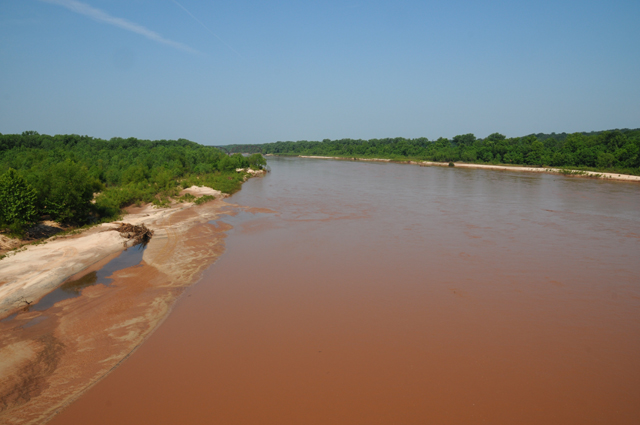 When I approached the bridge, from north to south, I did not notice the name of the river. Crossing the bridge I saw that the river was a significant one, so I stopped at the end of the bridge to see the name, and when I saw it was the Canadian River I had to get some pictures. Here's my bike waiting patiently for me to return.
My last picture today is the Red River. I knew approximately when the Red River would be coming up, it is the border between Oklahoma and Texas. I could see the bridge up ahead, and slowed down hoping I could stop on the bridge. There was a lot of traffic, this was US75, and the road is sort of limited-access at this point. There was some shoulder on the bridge, not wide enough for a car to fit, but wide enough for my bike to fit. I had slowed down so cars would not be directly behind me, and halfway across the bridge I pulled onto the shoulder, jumped off the bike, grabbed my camera, got three or four very quick shots not even looking through the viewfinder because I was in a big rush, put the camera back into the tour pack, jumpted back on the bike, and took off. I was stopped just seconds. But I got what I wanted. Ladies and Gentlemen, the Red River.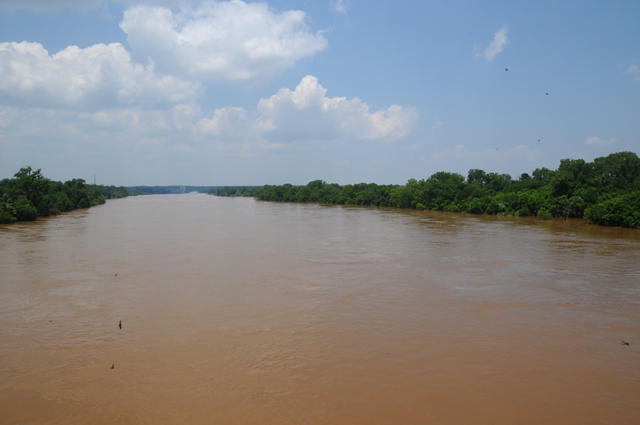 ---
7 June 2015, 10:00 PM CT, Alexandria LA
Can you tell me what is wrong with this picture?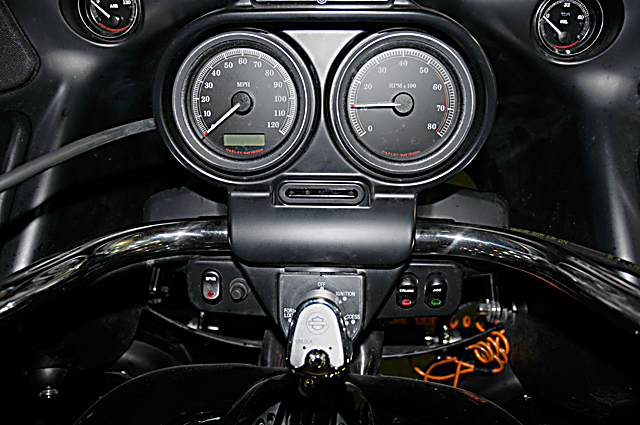 If you know a Harley dashboard, you will know that the engine is revving at 1000 RPM. You will also know that the Ignition is turned OFF. Makes for a mighty quiet exhaust note.
Last night I told you that the mileage display on the bike was dark, not realizing at the time that the speedometer and tachometer were dead also. It turns out that there were some other problems, but all contained on the speedometer and tachometer. The speedometer always reads 0. The tach always reads 1000. The lights in the speedometer and tachometer window do not work (things like cruise control on, in 6th gear, low gas, and another thing or two that I don't remember at the moment). Plus the odometer does not work. Everything else seems to be OK. The other gages work, the bike works. So I rode today without any of those things. I knew my speed from Gladys (my GPS). I started the day by going to a Harley dealer about 50 or so miles to the east of me. On the Harley site on the Internet it said it was open on Sunday. Not the case. After I got there and they were closed, I called and sure enough, the recording said they were closed on Sunday. My next choice was another 60 or so miles further east. I called them, they were open, but absolutely nobody from service.
I made my way further east and south, I am in Alexandria, Louisiana. There is a Harley dealer here, and they are open on Monday, including service, at least the sign on the door says so. I rode past there just to check where it is. I will call them first thing tomorrow morning to see if they can take care of the problem for me.
My estimate for today's miles is 290.
A few minutes after I left my motel this morning, I saw a creature in the road that seemed to be in no rush to get off the road, and I was afraid he would get run over, so I brought my bike to a rapid stop, on the shoulder this time, and walked back to give him some assistance.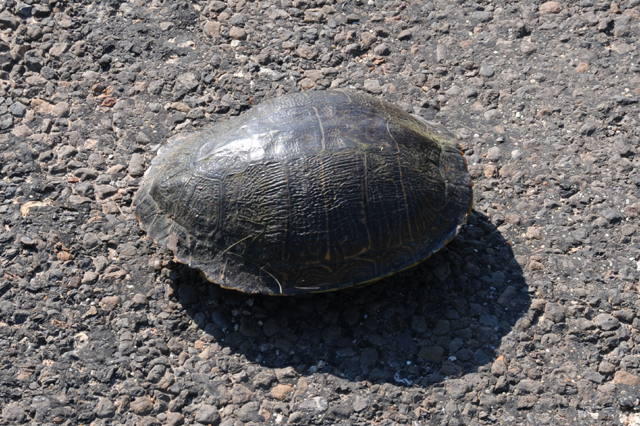 I carried him into the grass a few feet off the road, and pointed away from the road. Hopefully that's where he wanted to be and he didn't go back on the road afer I left.
I tried to find some spots that show what eastern Texas looks like.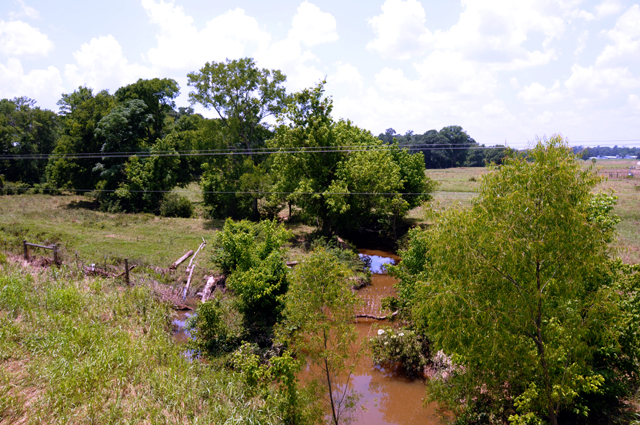 These cows are not fools, they know where it is cool.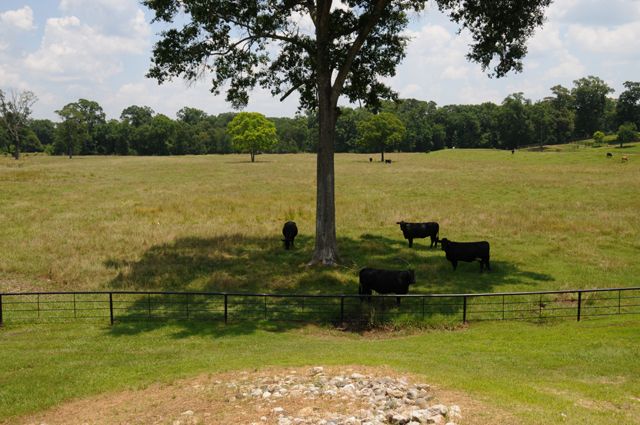 Every one of them turned to look at me.
I have been riding only on regular roads. The road below was two-lane sometimes, four-lane sometimes, and divided sometimes. But there always seemed to be trees right up to the road on both sides.
This is the end of Texas, and the beginning of Louisiana. The state line is about where the bridge is.
I have been riding both Interstate when needed, and regular roads, but mostly regular roads. They can be US highways, state highways, and county highways, mostly US highways. I have been thinking about the difference in Interstate and non-Interstate riding. Here's how I see it. When I am on an Interstate it feels as if I need to get somewhere, when I am on non-Interstates, it feels like I am on a ride. That's a much better feeling. That's why I do these rides.
---
8 June 2015, 9:00 PM CT, Alexandria LA
Well, you can see from my byline that I am still in Alexandria. I didn't ride many miles today, only from the hotel to the Harley dealer and back to the hotel.
I took one picture.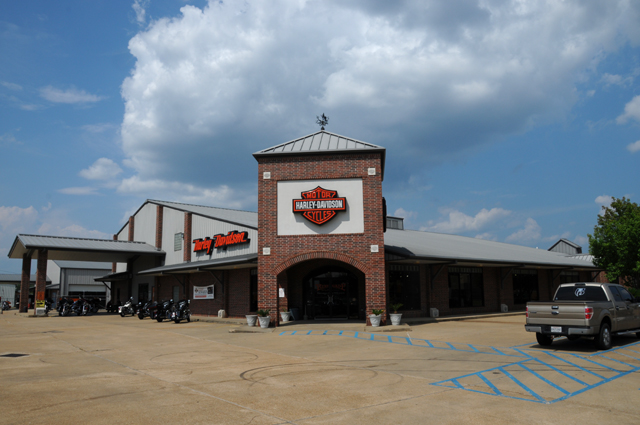 Keep in mind that what I try to do with my pictures and text is to give you a feeling of what I experienced that day.
I guess I am done for tonight.
But maybe before I sign off, I should tell you a little bit of what happened when I was at the place you see pictured above. You know I had some dead gages (tach and speedometer and some warning lights). I had tried changing a fuse. There are about a dozen of them, and they all have names that sound like something else, like radio, ABS, etc., except for one called instruments. I changed that fuse but the gages were still dead. I did that yesterday morning.
I woke up early today and headed to the Harley dealer, I wanted to be there early, before the official opening for the day. I was there about 15 minutes early, and they were already accepting some bikes. They were very good to me and got me in the shop right away. The problem turned out to be a broken wire, the wire that carries power to the gages. Keep in mind that there were other gages that did work, just not those two that are separate in the layout. The wire that was broken was inside a harness that runs from the battery area which is under the rider's seat along the frame up under the gas tank to the neck and then into the gages. It is hard to say why that wire inside the harness was broken, it was not at a stress point, it was in the middle of a tied down harness. I saw the bike at one point in the shop, they were showing me where the problem had been, and all kinds of things were hanging off the bike where it had been taken apart.
It was late afternoon by the time I got the bike, too late to go anywhere. I had a phone committment that meant I needed to stay put.
I am about 120 miles from Baton Rouge, and another 80 from New Orleans. My plan had been to ride into New Orleans, and now I am trying to decide if I want to do that or just keep riding toward home. My initial plan had been to ride Interstates to get back home when I reached I-10 (except for riding through New Orleans), which will happen tomorrow. The reason for riding Interstates to get home is that it is hot and muggy and I have ridden the same part of Florida many times.
Now my gages work. Now my odometer works. It did not count miles during the dead time -- I know that because the mileage showing after repair was approximately what my estimate was when it quit working.
I estimate that I rode 14 miles today.
I estimate that I rode 296 miles while the odomoter was not working. So my total official trip miles as of now is 5,115.
---
9 June 2015, 11:59 PM CT, Pensacola FL
Well, you remember that last night I was trying to decide whether or not to ride through New Orleans. What I really had in mind was going to Cafe Du Monde to have coffee and beignets. Did I go or not? Here's the answer.
Wait a minute. That's the lovely Hanna with me. How can that be, she is in North Palm Beach. Did she come out here to join me?
Here's the real story. I decided when I got up this morning that I would skip New Orleans this time. That picture is from late October when Hanna and I were in New Orleans on the way to Austin for the US Formula 1 race. We will be there again this year. I decided that once this year would be OK.
The morning was so delightful, I almost decided to change my mind and go to Cafe Du Monde now. But this happened.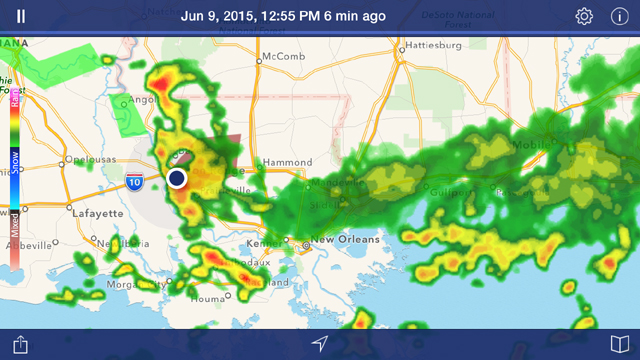 That's me, the big black dot toward the left. You cannot see all the lightning strikes I saw, nor hear the thunder I heard. As the rain started, I rolled into a gas station to park under the roof. They were kind enough to let me stay. There was flooding. I got two emergency alerts on my iPhone, one for flood warning and one for flash flood warning. Water was several inches deep running down the side of the street.
Well, it turned out to be a two-hour stay.
Not only that, look again at the radar and spot I-10, the way I planned to head back to Florida. That's right, you don't see much of it, it is raining all along the I-10 corridor. And it looked like all this would continue for hours.
After the two-hour wait, and I was standing the entire time because there was nowhere to sit, there was just light rain, the flooding in the street had subsided, so I headed out, on I-10, skipping New Orleans. The big yellow and red storm had passed slowly to the west, I was in the green stuff on the right of the storm. As the day progressed, all that stuff covering I-10 moved slightly south, so I was in rain only half an hour, then under a heavy cloud cover all along the way.
Let's go back to Alexandria for a moment. I awoke early, I had plenty of sleep. I grabbed breakfast and was on the road.
What did I see along the way? Another railroad. I was beside it for some time. Sometimes it was on the right, sometimes on the left.
Did you notice that I parked on the shoulder, not on the road?
At one point when it was on the left, I did not know it was there, it was hidden behind a row of trees. Suddenly there was the loudest horn I have ever heard, and it went on, I almost jumped off the bike. I checked the mirrors, nothing was there. Then I worried, "Oh no, another wiring problem on the bike, that's my horn". Then I realized that it was a train right beside me hidden behind the trees. You reckon the engineer blew his horn for me?
Here's a scene along the road. I think that is soybeans.
Guess what I found?
Remember our discussion of Piggly Wiggly earlier, in Memphis? If you don't remember, go back to May 22 and see the historical sign about Piggly Wiggly.
I continued toward Baton Rouge on US-71, and was on one of the roughest roads I have ever been on. The bike was jumping all over the place. The speed limit was 55, I was running about 45 to make it almost tolerable. I thought about using one of my bungee cords to help hold me on the seat. It felt like I was on a bucking bronco. Here's a typical view of the road. This went on for about 20 to 30 miles.
When I stopped to take that picture, a car drove up behind me. It was a gentleman that had been in a McDonalds a little earlier who had told me to ride safe as I was leaving after having my morning Latte. He stopped to make sure everything was OK with me, no problem with the bike. That was very nice of him to check.
Here's the bridge across the Atchafalaya River.
And here's the bridge across the Mississippi River.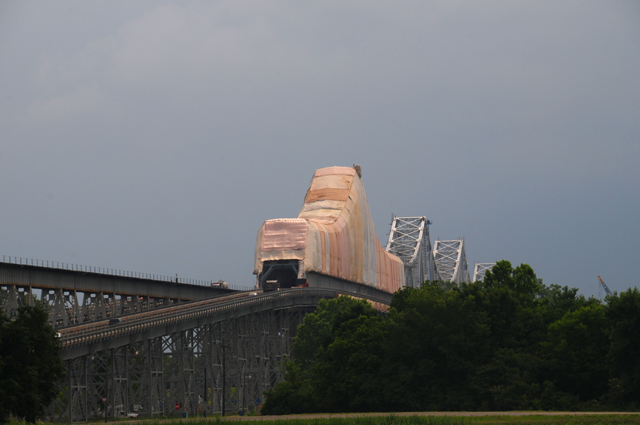 When I finally left the gas station and headed out on I-10, I decided I would go as far as I could, expecting to run into the rain. I did not run into rain. I rode 382.8 miles today. I made it to Florida, and suddenly the sun was shining. Can you believe that? Maybe that's why they call it the Sunshine State.
Do you see that bike up ahead of mine? That biker stopped to make sure I was alright. There are all kinds of helpful people around, aren't there.
---
10 June 2015, 11:30 PM ET, Gainesville, FL
Today was basically a ride day, only on Interstates. I rode I-10 from Pensacola to I-75 and then south on I-75 to Gainesville. I rode 350.2 miles. I thought I would be in rain in the Tallahassee area, but that was not the case. Radar showed precip earlier, but by the time I got there it had moved south. I had a late start, I had a number of things I had to take care of first.
When I was riding I-10 just north of Tallahassee, I had the sudden urge to try to get a better picture of the Capitol than I had already taken. I have taken pictures of the Florida Capitol a few times now, but I thought I should give it another try. This is the view that I like the best, it is actually the first view I ever had of the new Capitol, about 20 years ago. As I have said a number of times, I much prefer the old Capitol to the new Capitol. Here you see both the old and the new. I think I like this picture the best of any I have taken of the new Capitol.
I have a cousin who lives near Gainesville, Cookie. She and her husband Dave joined me for dinner.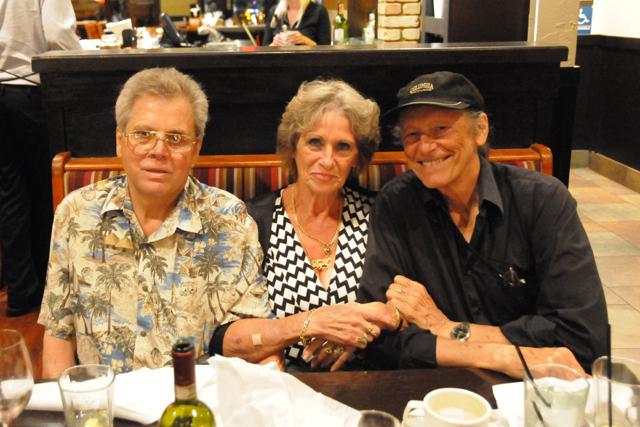 I have known Cookie since we were little kids, she lived with us during part of her high school years, but from high school years on we have rarely seen each other. I stopped to see her on my US Northwest Ride two years ago, and again on this ride.
Today will be the last full day of my Northwest Territory Ride, I expect to get back home tomorrow afternoon. I will do my normal post tomorrow, and then a Ride Wrap Up later, probably on the 12th.
---
11 June 2015, 8:00 PM, North Palm Beach FL
As expected, today was my last day on the road. I don't have a lot to report today, the ride was all Interstate, on I-75 and the Florida Turnpike, and I-95.
I will do a wrap-up of my trip, my impressions, whatever occurs to me to say, but that will not be today. I expect to spend time on that tomorrow. So, come back in one more day for my last posting of this journey
I was up early this morning, I was not surprised that I woke up early. I know that riding in Florida can be affected by weather, almost on a daily basis, and that afternoons are usually worse than mornings. I knew that my ride would be about 250 miles (actually 269.5) and it would go diagonally across the state through Orlando. I checked radar, and there were storms that might affect me. I quickly took care of the things I needed to do before I could get on the road.
I was packing the bike when I heard some noise. Thunder. Here's what it looked like.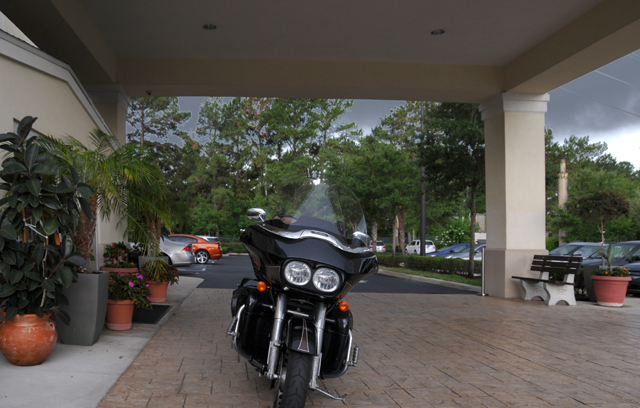 I was ready to leave less than five minutes later, but it was already raining. I left in the rain. The rain continued for fifteen to thirty minutes, I am not sure, but then it ended. It was never heavy.
Then it turned sunny for a few miles. I stopped along the road and removed the rain gear.
Then there was a cloud cover. The cloud cover was good, it kept the temperature down.
About thirty miles before reaching home, it became sunny, and hot. I was really getting hot when I reached home.
All I wanted to do was relax by the pool with Hanna and Maggie. I had been on the road for 23 days, so I was ready to just lay back and take it easy for the rest of the day.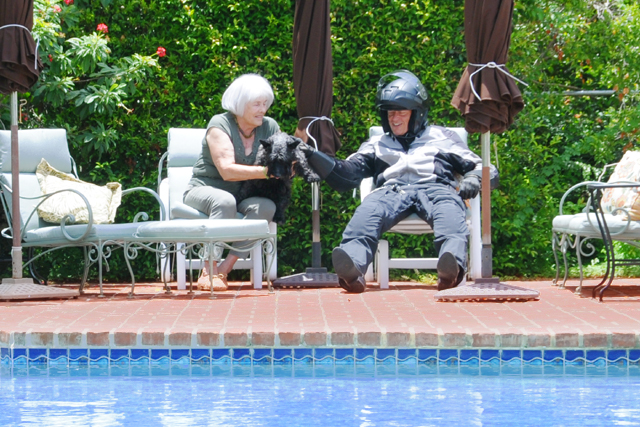 Hanna gently told me that I might have to make some readjustments now that I am no longer on the road, like, I don't have to wear the riding suit all the time now!
---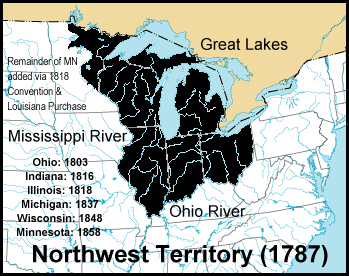 12 June 2015
Wrap Up
Another of my rides has ended, my Northwest Territory Ride. I hate to see them come to an end, but I must say I am glad when they are finished. It is an intensive time, it takes a lot of energy, plus I can only tolerate so much of a good thing. I rode through all six of the Northwest Territory states, Illinois, Indiana, Ohio, Michigan, Wisconsin, and Minnesota. The red lines on the map below show where I went on this ride. My overnight stops are marked in blue. The big blue arrow shows the start and end points, North Palm Beach.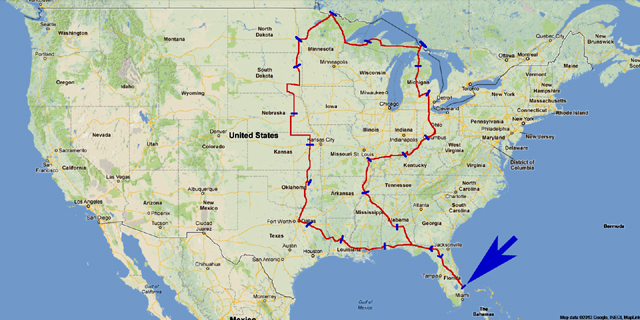 The map below shows where I have ridden my bikes.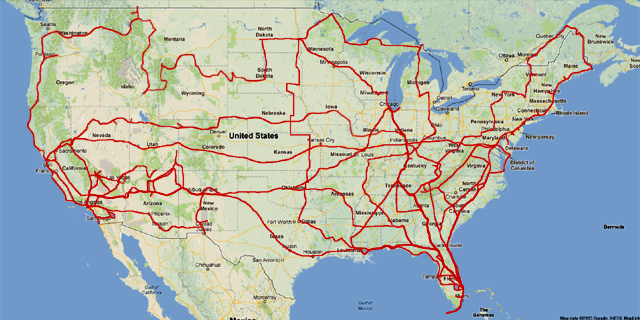 This ride was beginning to feel difficult toward the end, though, too many things were zapping my energy -- the weather -- the bike issues. Let me address them separately.
There were three bike issues, none of them that bad or expensive, but a nuisance:
1. My fried fob (see 5/25). It was 100% my fault, I was stupid for not making sure the fob was securely attached to my belt rather than hanging down on the pipes. I sure am glad that I did not turn off the ignition, the problem might have been much worse. I forgot to mention that the battery went dead at the end, just when I tried to start the bike to ride away from Powder Keg HD, the battery did not have enough left to turn over the starter, Drew had to jump it for me, but then everything was OK.
2. The shifter shaft (see 6/2). As far as I know, this one was not my fault, the spline was worn causing the shifter to come apart. I have read that using too heavy a foot on shifting can cause this type of wear, so maybe I did it, maybe not. I think I will be gentle with the shifter in the future, just in case I did it.
3. The broken wire (see 6/8). This has to be a fault in the manufacture of the bike, a wire in the middle of a harness that is not under stress. This problem worries me the most, because of harness problems I had on my Route 66 Ride. Wires kept breaking in the harness that goes around the neck. Is this bike going to have future broken wire problems? I sure hope not. (For the Route 66 wiring problems, see 8 May at Route 66 Ride)
The weather problems were greater in number:
1. The first problem was caused by a bad 18-wheeler accident on I-10 in FLorida (see 5/20). I had a 4-hour wait on the highway, and the wait included a severe thunderstorm that passed right overhead.
2. I rode in rain between Louisville and Cincinnati (see 5/25), and this may have contributed to my fried fob problem. (But it was still my fault. With the extra layer of the rain jacket, the fob is not visible but hidden under the jacket, I would be less likely to notice that it was not on my belt.)
3. I lost a day in Sault Ste Marie (see 5/29) because of a cold front that came through, blocking me from going west. The radar images showed very heavy rain, and I don't want to ride in that stuff.
4. Tornado Alley severe weather (see 6/2, 6/3, 6/4). Seems that I was having to ride around storms a lot. There were tornado warnings every night very close to me. There were flood warnings where I was. These things did not cause a lot of delay, or cause me to get wet, they just played with my mind.
5. Rain in Baton Rouge (see 6/9). This one was very tiring for me, it was getting late in the ride, I was trapped at a gas station, and I had to stand for two hours. This is probably the issue that caused me to write this entire section on bike and weather issues. I had simply shrugged off all the problems until this happened, and this made me start thinking more about the other problems.
One more comment about bike problems, the problems this year were minor compared to what happened on my Route 66 Ride. On that ride I was towed three times. The problems were not minor. And, getting them fixed cost a lot of money.
On the positive side, I saw several relatives, some I had not seen in a long, long time.
I met with Dean and Phil to award them their choclolate shakes, and with my brothers and sister and their families, and saw a childhood friend that I had not seen in about 50 years (this part was actually done when I was in my F-150, it had been scheduled to be during the ride, but it didn't work out that way, but I still consider it a part of this ride).
And, as always, I just love sitting on the bike cruising along in the breeze enjoying all the sights around me, especially on country roads. That's why I do these rides. The problems noted above do not diminish that enjoyment.
I rode an estimated 6,117 miles (about 296 miles with a broken odometer). I was on the road for 23 days, that would make my average day 266 miles. If you only count the 21 days that I went somewhere, it would be 291 miles per day. I used 146.4 gallons of premium fuel. My overall gas mileage was 41.8 mpg. The highest tank was 47.5 mpg riding country roads in Ohio and the lowest was 37.5 mpg between Topeka and Broken Arrow. I am not sure why that was the lowest mileage tank, I cannot remember anything specific that day that would have caused that result. This was before the broken odometer, so that is not a factor.
I did not have a predetermined route planned, just major places I wanted to go. I changed my mind several times on where to go, for example, International Falls was not in my original plan. My ride south from International Falls to Dallas was pretty much north to south. I had thought it would be more an arc from the eastern part of the Upper Peninsula to Dallas.
I had one chocolate shake, that's right, just one, and I did it for Dean, not for me.
I rode through 20 states, Florida, Alabama, Mississippi, Tennessee, Arkansas, Missouri, Illinois, Indiana, Kentucky, Ohio, Michigan, Wisconsin, Minnesota, North Dakota, South Dakota, Nebraska, Kansas, Oklahoma, Texas, and Louisiana. I would have ridden through Iowa, but was pushed west by the weather.
I took 602 pictures. I showed you 183 of them.
And something new for this ride, I gave you two audio clips, the sound of a Harley and the sound of a John Deere. If you feel like listening to them again, go to 5/28.
I picked up three more of the 48 Capitol cities, Ohio, Michigan, and Kansas, plus the old Capitol of Indiana. I also visited the Florida Capitol in Tallahassee two times, on the way north and on the way back south. Plus I visited the Capitol in Montgomery, Alabama. You know that I am taking pictures of the Capitols. You can see them on my US Capitols page. I am missing only three of the 48, Colorado, Idaho, and Arizona. I plan to get them on my ride next year, and to visit my daughter Cindy in the desert in California. I will probably ride through Death Valley again, I have done that a few times already. Next year's ride may look something like this, I have not given it a name yet.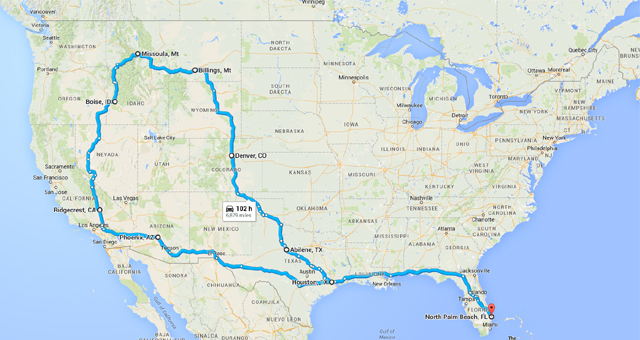 I will leave you now for another year, please do come back next year.
---